Sort Stack
From the Super Mario Wiki, the Mario encyclopedia
Jump to navigation
Jump to search
Sort Stack
Appears in
Mario Party Advance
Type
Single-player mini-game
Time limit
60 seconds
Music track
The Room Underground
Sort Stack is a single-player minigame found in Mario Party Advance. Its name is a pun on "short stack."
Introduction
[
edit
]
The character leaps onto a cart in front of a bookshelf. A sweat drop appears inside a text bubble above them before the minigame starts.
Gameplay
[
edit
]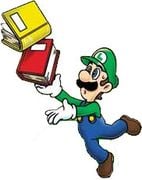 The player has to sort all the books by placing them on the proper shelves, as many of the books are mixed up. The books must be sorted by color, with red being the top shelf, blue the third, yellow the second, and green the bottom. The player is able to hold only two books at a time. The player earns points every time a shelf is cleared.
In the Shroom City mode, the player must organize one shelf in 30 seconds to win. In Mini-Game Attack, the player is given 15 seconds to organize one shelf. In Play Land, the player must organize as many shelves as possible within the time limit. Additionally, organizing a shelf adds a number of seconds to the time limit, depending on the length of the shelf; it is three seconds for a three-section shelf, six for a two-section shelf, and nine for a full-length shelf.
Controls
[
edit
]
– Left/Right
– Right hand
– Left hand
In-game text
[
edit
]
Put away each book where it belongs. You can only hold two at a time!
Names in other languages
[
edit
]
Language
Name
Meaning
Japanese
せいとんライブラリー
Seiton Raiburarī
Tidy Library
French
Rangement
Tidying Up
German
Lesezimmer
Reading Room
Italian
Biblioteca
Library
Spanish
Biblioteca
Bookcase