Nintendo Magazine 2023 summer
From the Super Mario Wiki, the Mario encyclopedia
Jump to navigation
Jump to search
Nintendo Magazine 2023 summer
Release date
2023
Nintendo Magazine 2023 summer is an issue of Nintendo Magazine, released on Nintendo's Japanese website, as well as in stores starting July 21, 2023.[1] This issue is also available in English.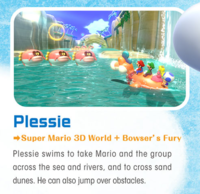 Plessie from Super Mario 3D World + Bowser's Fury appears on page 27 in the This summer, which is your ride? section:
Plessie swims to take Mario and the group across the sea and rivers, and to cross sand dunes. He can also jump over obstacles.
Page 29 features Donkey Kong in the Calling all Muscle Masters! section, appearing in Donkey Kong Country: Tropical Freeze:
The jungle king with unlimited power. Even in front of a formidable enemy, he never forgets his drumming. His favorite food, bananas, is his source of energy.
Page 30 in The Anatomy of Famicom section compares the size of a Super Mario Bros. (Famicom) cartridge to the Super Mario Odyssey (Nintendo Switch) cartridge. The next page shows a screenshot from Super Mario Odyssey.
The First Famicom appearance section on page 32 features Mario and Donkey Kong, both appearing first in Donkey Kong:
Mario is always bright and cheerful and instantly recognizable with his blue overalls, red cap, and trademark mustache. He and his brother Luigi have been very active in Famicom games. The arcade game, Donkey Kong, was the first game in which Mario appeared.
Donkey Kong made his first Famicom appearance in Donkey Kong, the very first Famicom game. In this game, Donkey Kong was not a playable character but an enemy who kidnapped Lady.
Page 35 features a practice question for Famicom National Poll. Correct answers are highlighted:
Choose all of Mario's power-ups that first appeared in Super Mario Bros. 3.
The next page covers the Super Mario franchise merchandise from Nintendo OSAKA.
Pages 42 and 43 cover the Mario Kart 8 Deluxe – Booster Course Pass.
The section The Seven Mysteries of the Nintendo Switch on page 47 features Sphynx, referred to as Sphinx, who can be seen flying in the Metro Kingdom in Super Mario Odyssey:
No.5 A Mysterious Flying Sphinx!?

There seems to be sightings of something that looks like a flying Sphinx in New Donk City of Metro Kingdom. It's quite hard to believe that something of that size would be flying in the air. However, there is even some awfully specific information circulating that "you should capture the Binoculars at the Main Street Entrance and look up at the sky in the northwest direction." People who are interested should give it a try.
Pages 48 to 51 feature games announced at Nintendo Direct, including Super Mario Bros. Wonder, WarioWare: Move It!, and Super Mario RPG.
Captain Toad: Treasure Tracker appears in the "Play by yourself" category in the Game Mapping section on pages 52 and 53.
Appearing exclusively in the Japanese version of the magazine, Super Mario Odyssey, Super Mario 3D World + Bowser's Fury, New Super Mario Bros. U Deluxe, Super Mario Maker 2, Mario Party Superstars, and Super Smash Bros. Ultimate appear on pages 63 and 64 as recommended titles.
External links
[
edit
]
References
[
edit
]