List of Mario Tennis Open Mii gear
From the Super Mario Wiki, the Mario encyclopedia
Jump to navigation
Jump to search
It has been requested that more images be uploaded for this article. Remove this notice only after the additional image(s) have been added. Reason: Images for all gears)
In Mario Tennis Open, the Mii can equip gear in order to alter their statistics. The gear must be bought with coins earned from the Special Games from the Clubhouse. They must first be obtained by playing matches against opponents, which unlocks a random piece of gear. Gear based off characters will reflect the characters stats. Costumes may also be unlocked by clearing certain conditions, such as Starring a character or collecting a certain amount of coins. Statistics can altered in 9 different ways, each in three categories. These are shown in the form of pie charts.
Power
Serve: The strength of the serve.
Stroke: The strength of a hit after the ball has bounced.
Volley: The strength of a hit before the ball has bounced.
Spin
Side: The left or right curve after the ball has been hit.
Topspin: The amount of spin placed on a Topspin shot. The higher the stat, the higher and faster the Topspin.
Slice: The amount of backspin placed on a Slice shot. The higher the stat, the slower and lower the Slice.
Speed
Top Speed: The maximum speed of the character.
Acceleration: The amount of time it takes to reach the Top Speed.
Mobility: The amount of movement that takes place while charging the ball. Also increases lunging distance.
Rackets
[
edit
]
Rackets affect the Power and Spin stat.
* - reused in Mario Sports Superstars
Uniforms
[
edit
]
Uniforms affect the Power and Speed Stat.
Wristbands
[
edit
]
Wristbands affect the Power and Spin stat.
Shoes mainly affect the Speed stat and a little bit of Power.
Costumes
[
edit
]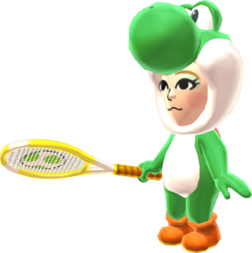 The costumes can be used to customize the player's Mii character. Usually, these costumes are unlocked when the player accomplishes a task. The costumes increase the Mii's stats just as other outfits increase stats.