User talk:Vommack
From the Super Mario Wiki, the Mario encyclopedia
Jump to navigation
Jump to search
Welcome, Vommack!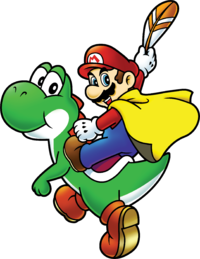 Hello and welcome to the Super Mario Wiki, a collaborative knowledge base dedicated to the Mario franchise. We're glad to have you as a member! If you have any questions, just post them on the FAQ talk page or ask an experienced member, patroller, or administrator.
The following pages contain guidance and information about reading, authoring, and participating in the Super Mario Wiki community. If this is your first time visiting, please read our introduction.
How do I do that?
Specific help
Categories
You are welcome to browse through the following categories:
External resources
Things you can do
Feel free to delete this message when you're done reading it. We hope that this information is helpful and that you have a great experience contributing to our encyclopedia and community. Remember to enjoy your time here and to also have fun!
Sincerely,
The MarioWiki Staff
First thank you for your contributions on World 2 (New Super Mario Bros. Wii). I recommend you don't add in second person view such you, your, etc. To know more look here. Thank you for reading this.
Am sorry this was meant for the other user.
You mean here?
No you need to make a TPP first. Raven Effect (talk)
You should the info to Cheep-Cheep's article first, by the way how did you know the source of Bubba not appearing in SMS?
What's the name of both guides?
Okay then, i'll go ahead and delete it.

L151

Wario Land 4

[

edit

]
Hey Vommack. Please check out the WL4 nomination page for an update.
Hi. Does this edit fix the problem?
IGN also commented on the level design, so I change it to that.
Please respond soon, The nomination ends on December 3.

Shokora (talk · edits) 04:54, 9 November 2012 (EST)
RE: Oh, alright
[
edit
]
About the Mario's Tennis Page
[
edit
]
Yoshi's Safari came out in 1993 in September of that year
} and here is proof of that
} and so one would have to assume it's Peach because of that and the name wasn't reverted back to Princess Toadstool until Super Mario RPG
} -
Pwwnd123
(
talk
)
Yoshi's Safari is irrelevant. Mario's Tennis refers to her as Toadstool.--Vommack (talk) 12:09, 20 April 2014 (EDT)

How, it is never shown in game actually and where does it refer to her as Toadstool instead of Peach? Is it in the manual or somewhere else besides since the name Princess Peach initially didn't stick so yeah Super Mario RPG explictly states the name as Princess Toadstool but the other games don't throughout this time period from late 93 to 1995 besides Yoshi's Safari was the first time the name Princess Toadstool was absent and her Japanese name was used and no other game used it so yeah it was tempoary. - Pwwnd123 (talk)

I have yet to see so much as ONE source other than you referring to her as Peach. Everything I have seen refers to her as either "Princess" or "Princess Toadstool". You have been REPEATEDLY told not to do this. It is not Peach. Continue this and you WILL be banned.--Vommack (talk) 12:19, 20 April 2014 (EDT)
Hi there. I saw you are making articles on NSMB levels, great job. I just want to advise you to avoid using you in articles, rather write it in third person. Also please put star coins under a bigger header in the future. Thanks :) KP (talk · edits)


why are you trying to start it again it's over you did not need to go on my wall and try to start it again and i was not arguing i was just saying what i was trying to say that's is all so stop trying to start some thing that is all ready done ok? Grand Master Gamer
I'll do that later. Gotta go!

ToadAwesome12

MP Basis
[
edit
]
Hi. I'll edit my sandbox to a new version, I hope you'll enjoy and handle it. It contains samples for both my proposals. As I cann't make a oldid link to my sandbox, I'll give you the link directly User:Tsunami/Sandbox

TSUNAMI

The text is basically the same as the old version, I don't think that is worth to copy an article only for a sample... I think that is better focus on improving this sample (if possible), then maybe I'll copy the article to see how it is. Maybe July 3rd I'll try to do that

TSU

NA

MI

Thinking further, that's true, I'll edit right now

TSU

NA

MI

I did it, but I mostly refresh old text. By editing, I think about changing it a bit. And the last of your comment is unsigned... I'll put your sig for you :)

TSU

NA

MI

I'll think how to incorporate the space counter and I'll edit the sandbox toworrow. Bye :)

TSU

NA

MI

Hi, watch this article's table: Blast Cannon. It could be a way to put the respective spaces in the articles... I hope that saturday comes soon... but there is a problem: since sunday I'll go to Delfino Isle, I'm not sure that Internet will work fine.

TSU

NA

MI
Okay, mostly I was refering to myself, as I do not like being swore directly at.
[
edit
]
That user actually called me something, and I didn't appreciate it. Perhaps its okay on the wiki, but it's not okay to me.Toadbrigade5 (talk) 19:25, 5 July 2014 (EDT)
She said, sign in unless you are a ___ like me. Yes she is jokingly calling herself one, it still refers to me since I didn't sign in. Toadbrigade5 (talk) 19:29, 5 July 2014 (EDT)
Procedure for Feature
[
edit
]
Hey Vommack. First, thanks for helping me time ago with MP basis. I was asking if you could delete your oppose or transform it into a support, because I deleted the rewrite. I have my reasons, only that they are hidden in the article! Click "edit" to see them under FASTAT. Well, if you have another good reason for opposing, feel free to write it, but I cann't find any.

TSUNAMI

Proposal
[
edit
]
When you've voting on proposals, such as the one on the recipes talk page, you need to supply a reason for your vote; otherwise, it doesn't count. Even something like "per all" will do. Hello, I'm Time Turner.
About Scuttle Bug
[
edit
]
Hey, since you're the person who noticed that the enemy known as Klamber in a Prima guide is instead called Scuttle Bug (with a space rather than as one word) in the Super Mario Sunshine Nintendo Power guide, can you add the page number reference to that article if it's at all possible? (Also, regarding your successful proposal from a little while back that I can see was meant to split three enemies from the Scuttlebug page - what was the reason Spoing and Sprangler from Super Mario Galaxy were never split? Am I missing something here?) LinkTheLefty (talk) 19:57, 7 May 2015 (EDT)