User talk:TeridaxXD001
From the Super Mario Wiki, the Mario encyclopedia
Jump to navigation
Jump to search
Welcome, TeridaxXD001!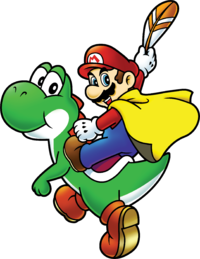 Hello and welcome to the Super Mario Wiki, a collaborative knowledge-base dedicated to the Mario franchise. We're glad to have you as a member. If you have any questions, just post them on the FAQ talk page or ask an experienced member, patroller, or administrator.
The following articles contain guidance and information about reading, authoring, and participating in the Super Mario Wiki community. If this is your first time visiting, please read our introduction.
How do I do that?
Specific help
Categories
You are welcome to browse through the following categories:
External resources
Things you can do
Feel free to delete this message when you're done reading it. We hope this information is helpful, and that you'll have a great experience contributing to our knowledge-base and our community. Remember to enjoy your experience here and to also have fun!
Sincerely,
The MarioWiki Staff
Category image
[
edit
]
Remember to a insert the game image category into the image file it represent. Example: File:GBCDKC.jpg -> [[Category:Donkey Kong Country Images]]
Staff credit template
[
edit
]
Please remember to always insert the staff credits (as the ones you created) into the Template:Staff in alphabetically.
Good job with the Staff lists, keep it up! --

™ The 'Shroom 16:27, 26 February 2013 (EST)
You rip some quality sprites, nice job.

Shokora (talk · edits) 10:18, 14 July 2013 (EDT)
New Stub
[
edit
]
One or more pages that you have recently created have been deleted or marked as a
stub article
 (
Super Mario World: Mario & Yoshi's Adventure Land
). Please consider the following ideas and suggestions when expanding/creating an article:
Before saving a new page, be sure that you have put as much effort and information in the article as you can.
Make sure that the page follows all of the rules that are outlined in the Manual of Style.
Perhaps upload a few images that can be used on the article.
Please don't take this notice as a dejection; this is just an informative notice and we encourage you to keep contributing.
--

19:24, 14 September 2013 (EDT)
Educated guess
[
edit
]
Can you explain what you mean by that, because my interpretation makes it sound like you're not entirely sure and as a result you may be adding incorrect information. Yoshi876 (talk)
Virtual Boy Wario Land
[
edit
]
Hello. I noticed that you have been uploading and creating articles for Virtual Boy Wario Land recently. It's fantastic that you want to do this, but I would just like to say that I have been working on the article outside of the wiki for many months now. I have almost finished drafting articles for all the enemies and objects in the game. I've got stored over 300 images, most of which are in-game sprites which I have ripped. May I ask you, if you don't mind, if you'd let me take the articles for the game on as a project by myself?

Shokora (talk · edits) 00:37, 26 September 2013 (EDT)
Autopatrol
[
edit
]
Greeting TeridaxXD001. Due to the quality and frequency of your contributions, the Mariowiki staff has agreed to promote you to Autopatrolled status. Note that this does not carry any additional powers or responsibilities, and that it mostly serves to make patrolling edits easier on our end. --Glowsquid
Request
[
edit
]
I noticed that you rip sprites quite well, could you possibly rip some sprites for Donkey Kong Land, as I feel that the tables that say 'No image available' should have one? Yoshi876 (talk)
Autopatrolled rank
[
edit
]
The admins have decided to repurpose the autopatrolled rank to be for honouring and keeping track of former admins only, as its original purpose as a tool for streamlining patrolling duties for the admins has not worked out as we had hoped. The fact that your edits will no longer be automatically patrolled in no way reflects your trustworthiness, nor does it diminish your own contributions to the wiki. We hope you understand. Keep up the great work! - Walkazo 19:54, 11 December 2013 (EST)
About reissue page...
[
edit
]
Actually, I think All-Stars was on the correct spot - as you can see on this page, a lot of the unused data matches leftover content from the NES versions (even SMB3's original debug function), suggesting that the games are more like graphical updates or enhanced ports rather than complete remakes. LinkTheLefty (talk) 18:11, 23 December 2014 (EST)
But a port is pretty much just a straight conversion. Every other site in the Internet would count them sepately. TeridaxXD001 (talk) 11:36, 27 December 2014 (EST)
Super Mario Bros. Print World
[
edit
]
What edition of the program did you get the artwork in Category:Super Mario Bros. Print World Images from? The MS-DOS version I have doesn't display the art that large on screen, and I haven't figured out a way to get print output.--Immewnity (talk) 23:46, 1 September 2015 (EDT)
This was a while back, so my memory on the subject is a little rusty. But as I recall, there's an option to resize the sprites via clicking and dragging. As a result, they're not at their native size. I could go back and screencap them without enlargement, if that's what you're saying. I was using Windows Virtual PC running Windows 98, I believe, rather than a straight MS-DOS emulator, and it didn't display fullscreen, so that may also have something to do with the size. TeridaxXD001 (talk) 18:02, 2 September 2015 (EDT)