Toad and Go Seek
From the Super Mario Wiki, the Mario encyclopedia
Jump to navigation
Jump to search
This article is about the minigame in Mario Party 9. For the Five Fun Guys' challenge in Paper Mario: Color Splash, see Five Fun Guys § History.
Toad and Go Seek
Appears in
Mario Party 9
Type
Free-for-All minigame
Music track
Fun Times
Toad and Go Seek is a Free-for-All minigame featured in Mario Party 9. The minigame's name and gameplay are based on the children's game hide and go seek, also known as hide-and-seek.
Introduction
[
edit
]
The players stand in a square, turning their heads as if they are looking around. Then, a video of a blue Toad running into a Toad House is played.
Gameplay
[
edit
]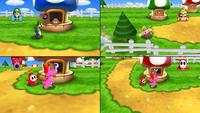 Players try to be the first to successfully find the house with the Toad in it, with the rest of the houses being occupied by Goombas. Players run around, knocking on doors. If players carefully watched the video of the Toad, there is little to no guesswork involved.
There is a two-minute time limit for this minigame. If the players do not find the right Toad House within a minute, a map appears to help them out.
In the Step It Up version of this minigame, the camera zooms into the player who found the Toad first.
In-game text
[
edit
]
Rules – "Remember which house Toad enters, then be the first to pay him a visit!"
Controls – "Hold the Wii Remote sideways. Press to move and to knock on a door while standing in front of a Toad House."
Names in other languages
[
edit
]
Language
Name
Meaning
Japanese
さがしてキノピオ
Sagashite kinopio
Search Toad
Chinese
奇諾比奧躲貓貓
Qínuòbǐ'ào duǒ māo māo
Toad Hide-and-Seek
French
Toc, toc, Toad !
Knock, knock, Toad!
German
Toad-Versteckspiel
Toad Hide-and-seek
Italian
A casa di Toad
To Toad's house
Spanish
Escondite Toad
Toad Hide-and-Seek