The 'Shroom:Issue LXIII/Fun Stuff
From the Super Mario Wiki, the Mario encyclopedia
Jump to navigation
Jump to search
Director Notes
by Gamefreak75 (talk)
No news is good news. Be sure to tune in next issue for some exciting stuff.
Mystery Images
HI! Sorry, I got confused with the background.

Trivia
by Raven Effect (talk) Did you know that:
The boss Clawgrip, is the only boss in ''Super Mario Bros. 2'' that isn't from '' Yume Kōjō: Doki Doki Panic?''
Bob-ombs have rarely seen hands that are only in ''Super Mario Bros. 2'' and ''Paper Mario''?
Out of the 4 Renzor boss fights in ''Super Mario World'', only one of them is required to beat the game, and that's the one at Chocolate Fortress?
The Bowser's Castle in ''Mario Kart 64'' contains an area with a green Thwomp in a cave?
According to ''Super Mario Bros.'' the ? blocks are actually Toads cursed by Bower's black magic?
That despite appearing in Mario & Luigi: Superstar Saga, Geno is still owned by Square Enix?
Quiz
By Post-Damage Invincibility (talk)



Hello people who love Mario trivia quizzes! There's so many countless Mario games where true fans can put their knowledge to the test! You've come to the best place for a Mario quiz, on the newsletter of inarguably the greatest Mario-related website on the planet. This quiz contains two Stumper questions at the end, a Stumper and a Super Stumper. A Stumper is a type of Bonus Question. They are questions only a true-blue overalled Mario fanboy can answer, and if you happen to know one or both, they are worth a whopping five bonus points each!!! That means the best possible score for this quiz is 30/20! Unless stated otherwise, Bonus Questions are usually worth on one extra point, but missing them can never hurt your score. However, they can triumphantly take your score over the maximum!
Simple Riddle: Looking up at the ceiling can be quite revealing. Eye the bright light to make your world quite an alright sight. On a round rug where Mario's feet touch the floor, look up and soar to a cloudy place you adore, in which you've never been before, where your coins be like scarlet. Name the game where this occurs.
Medium Riddle: Into what do big Kongs who are slow go to grow even mo'?
Challenging Riddle: Where do you find 119 from 120 on an island so very sunny?
What's the first world Mario sees a Monchee in Mario vs. Donkey Kong?
From the game Paper Mario, name the move that looks just like the egg-throwing move in Super Mario World 2: Yoshi's Island.
Monty Moles obstruct the racers in only one course in Mario Kart 64. Name it.
How many courses in Super Mario 64 can Mario lose his hat? Name them.
Name the 4-Player Mini-Game in Mario Party 3 in which the players fights the other players on a set of conveyor belts with Podoboos?
Which court in Mario Hoops 3-on-3 contains a Gooper Blooper?
What character wielded the Minimizer?
In Super Mario Galaxy, name all the Galaxies where Mario has to beat the Spooky Speedster in a race for a Power Star?
In which Mario Sports title did an old man ask the player if he was the little imp who tried his course long ago?
What does the mayor first say when Mario rescues him on top of the golden mushroom at the end of The Goopy Inferno?
In what game does Wario get his ugly mug on the Moon in the best possible ending?
In Donkey Kong Country 3, how many rooms are in the first Bonus Level of Doorstop Dash?
According to the instruction Manuel for Mario Golf 64, "This energetic gal is the best female player on the circuit." Who was this referring to?
Also in Mario Golf 64, how many yards is the first hole in Toad Forest?
In what game does Wario have to smash his Alarm Clock?
In Paper Mario, how many Star Pieces are unearthed by shaking the ground on Pleasant Path?
Stumper: Stumper: What game is the following quote from and who says it? Also, under what circumstances? "Hey, you! How about lending me your clothes? No dice? What a drag."
Super-Stumper: Super Mario Advance 4: Super Mario Bros. 3 came with E-Reader cards called Power-Up Cards. What did the player get from the Item 12 Power-Up Card?
Click to find answers!
Super Mario 64
Hunky Chunky Barrel
Delfino Airstrip (Because 119 from 120 is 1. What is there 120 of in Mario Sunshine? Correct, Shine Sprites. So in other words, Shine Sprite #1, or the first Shine Sprite. Where do you find it? You guessed it, Delfino Airstrip.)
Donkey Kong Jungle
Shellshot
Moo Farm
3, Snowman's Land, Shifting Sand Land, Tall, Tall Mountain
Treadmill Grill
Pirate Ship
Bowser
Boo's Boneyard Galaxy, Ghostly Galaxy
Mario Golf (GBC)
Whew! You saved me! Thanks a bundle!
Wario Land: Super Mario Land 3
2
Maple
363
Wario Land II
2
Stumper: Super Mario Bros. 3, any of the Kings in this quiz's pic if Mario saves them wearing a Hammer Suit
Super-Stumper: 5 Starmen
Guess Who
This character appears in the sixth chapter of the game.
This character gives out two key items.
This character resides in the western part of the area.
This character will ban Mario from their residence if the plumber whacks their tree too many times.
Guess that Game
This game was released in 1999.
This game has Transfer Pak functionality (characters can be transferred from another game).
This game has eight courses.
The European/PAL version of this game has a different intro theme.
Word Search
By Gamefreak75 (talk)
Sorry for the delay! The answers to April's word search. Answer
This month's word search: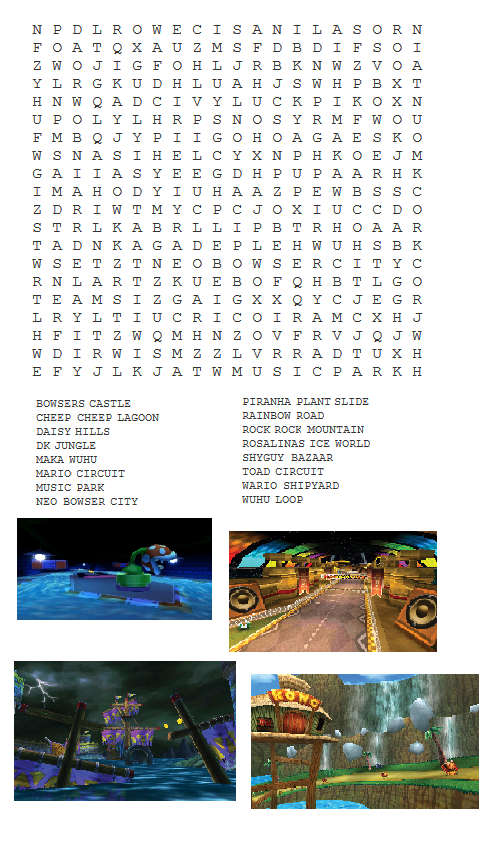 Find the Differences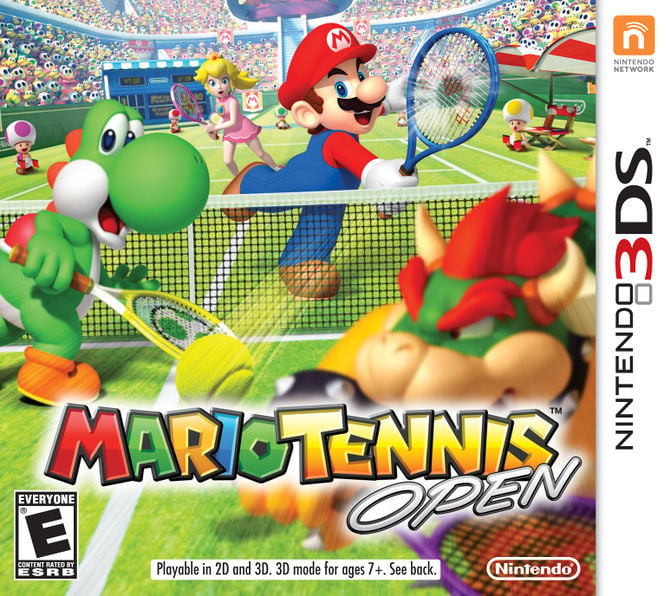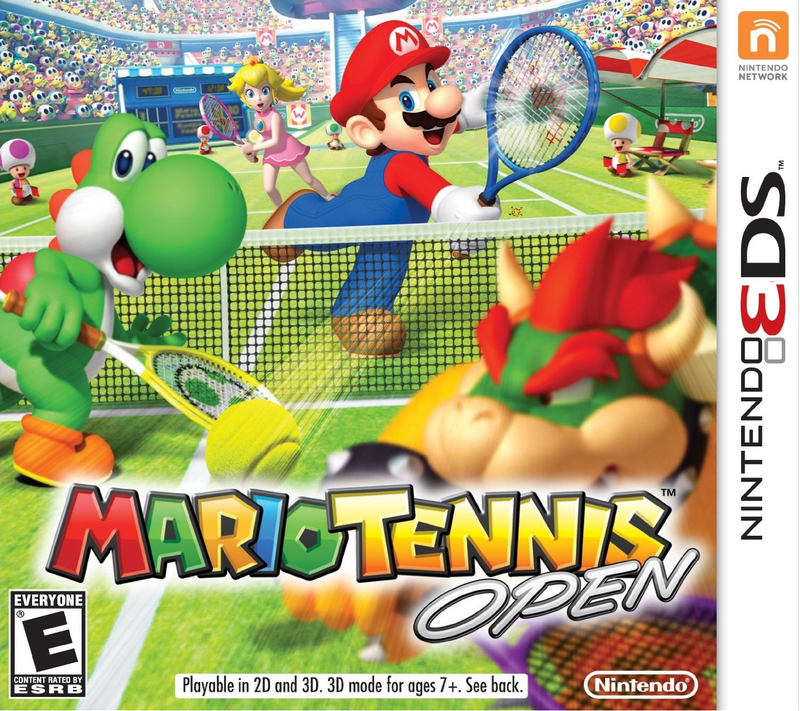 Hiding Koopa
By General bob-omb (talk)
A goal of one million coins? Mario is going to need plenty of gold flowers for this one... but with so many coins wouldn't the value of a coin plummet? There goes the economy. (Oh, and its hiding koopa. The paratroopa doesn't count.)