The 'Shroom:Issue 194/The 'Shroom Spotlight
From the Super Mario Wiki, the Mario encyclopedia
Jump to navigation
Jump to search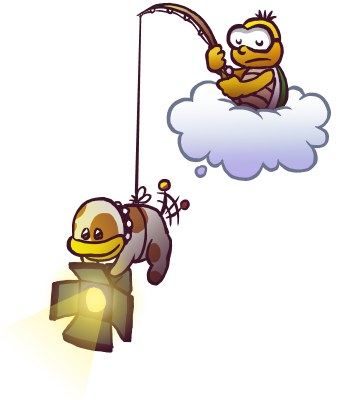 Hello readers of The 'Shroom, and welcome to Spotlight. Spotlight is a community project which aims to fix up the articles on the wiki which have issues. These issues can range from poor writing, to a lack of images, to even just needing a credible source.
We're The 'Shroom Spotlight, and the wiki's our game- okay, I'll spare you from any more of whatever that was. It's me, Waluigi Time, back with more 'Shroom Spotlight, that little piece of the paper where I point out problems on the wiki and then other people get to fix them. Not a bad spot to be in, if you ask me.
Another great month of focuses! BMfan08 (talk) got us that elusive article for Chute, Score. Jakks Pacific is technically still a stub, but has undergone some decent expansion thanks to the combined efforts of 1468z (talk), RHG1951 (talk), and some guy named Waluigi Time. 1468z also rewrote the imposter article. Swallow (talk) solved the image problems on Bowser's Kingdom, and speaking of images, that Waluigi Time weirdo uploaded a rendered version of File:CatMarioSM3DW.png. Finally, ChristopherPAraujo (talk) grabbed a source for Crocodile Cauldron. Excellent work all around, let's keep it up!
And now onto this month's focuses:
| Article | Category | Focuses |
| --- | --- | --- |
| Juliet Jelenic | Wanted article | This actress made her debut voicing Lumalee in The Super Mario Bros. Movie, and she's the only one left to play a significant role that's still missing an article. The only hope is the sweet relief of article creation. |
| Starship Mario (board) | Stub article | A lot of our articles on Fortune Street boards are really short, but there's a lot more that could be written about them. Give Peach's Castle (board) a read to see what a complete board article should look like, then get ready for blastoff! |
| Body Check | Rewrite and expansion required | Almost any character can use this move in Mario Super Sluggers to safely get on base... but how? There's no mention of the controls here! Score a home run by adding how to actually perform the move to the page. |
| Cheep Cheep Falls | Articles that need more images | 18 holes complete this golf course, but 17 of them are missing images. It's no Cheep feat, but gathering images for the remaining 17 holes would be much appreciated! |
| File:Buzzy Beetle With Goombas.jpg | Image quality requested | I believe this is what we call a bit crunchy. You're normally not supposed to be looking for the Buzzy Beetles in Goomba Spotting, but a higher-quality screenshot of their appearance in the minigame would be great. |
| Dusty Dune Galaxy | Citation needed | The trivia mentions a specific maneuver that can get Mario a little less than alive. There's no source for this though, and without video evidence, it's better that we don't mention it at all. Think you can dust some footage off? |
Now just before I leave you, I'd like to tell you about unimplemented proposals. There are currently thirty-nine that need to be implemented, dating as far back as 2018, so think of this as a continuous Spotlight goal until they're all completed. Additionally, there are many unresolved discussions that we would love to see come to some sort of conclusion. Some might have already concluded and just need the template removed, others have been waiting for a response for years.
Thanks for tuning in to the newest edition of The 'Shroom Spotlight! Be sure to turn up next month, where we'll be reviewing the progress on the above focuses. If you have any questions or suggestions about this month's set of the article focuses, then please get in touch through the dedicated topic if you have a forum account. If not, then please contact Yoshi876 on his talk page, but you are far more likely to get a quick response if you go through the forums. You are also welcome to make suggestions on what you think we could focus on in our next edition! Thank you, and good luck!