The 'Shroom
:
Issue 174/Fun Stuff
From the Super Mario Wiki, the Mario encyclopedia
Jump to navigation
Jump to search

Staff Notes
Greetings, beautiful 'Shroom readers! Welcome to this September edition of Fun Stuff. At the time of you reading this, I'm going to be moving into my college dorms, which is... staggering, to say the least. I mean, the last time I was in full, in-person school was the middle of junior year, and now suddenly I'm going off and being independent as a college student?! It feels unreal. I'm excited, but also a bit anxious. Only time will tell how this coming school year goes for me. For those of you freshly in your own school buildings, I hope your studies are going well, and I know you can rock this!
As for Fun Stuff this month, all I have to report is that Kirbyo (talk) will be shifting to a volunteer basis for his Trivia Time! section. He hasn't been able to make it for this issue, but don't fret, as we'll be seeing his return soon enough.
That's all from me up in the office. Take care of yourself, much love to you, and enjoy this start of fall 'Shroom issue!
Section of the Month
Congratulations to FunkyK38 (talk) for another first place ranking! Additional kudos to Ninja Squid (talk) and MarioMorty (talk) for second and third place respectively, and thank you to all of you for reading and voting!
FUN STUFF SECTION OF THE MONTH
Place
Section
Votes
%
Writer
1st
Where in the Marioverse is Carmen Sandiego?
9
36.00%
FunkyK38
2nd
Hiding Koopa
7
28.00%
Ninja Squid
3rd
Crossword
4
16.00%
MarioMorty
---
Anagrams
Written by: BBQ Turtle (talk)
Hi all, welcome back to another edition of anagrams! This month, I've out together a set of WarioWare Gold themed anagrams, as WarioWare: Get It Together! came out earlier this month... but to avoid spoilers for everyone (myself included), I won't be making anagrams of that just yet. I know we have some themed issues coming up soon, but suggestions for future themes from readers are always welcome, so feel free to send me your suggestions either on my talk page or by sending me a PM on the forums. And with that, I'll let you have a Gold at these anagrams!
How it works... Basically, this puzzle consists of solving the anagrams. Each month has a specific theme, which will give you a clue about what sort of words or phrases the anagrams will be. I've also included the boxes that the anagrams will fit into, so you'll be able to tell how many words it will solve to be and how many letters will be in each word, which should give you a hand too. You'll also notice that within each set of boxes, one of the squares are yellow. As you solve each anagram, note down the letter which appears in the yellow squares, and if you can solve all of the anagrams, you'll also get a bonus anagram to solve from completing all of the others. I've included the letter configuration for this one at the bottom too, just to give you an extra helping hand. Best of luck!
1. ACCIDENTALLY OMITS AD
2. LOON RUB
3. SHAME A LUGE
4. WAIL OR BOW
5. LAST THIEF
6. LULL EX VIE
7. JET ECHO LOSS
8. GEAR MY SNAKE
9. ICY ROCKET GUN
10. A SWEET GUILT
11. GO PLUCK GNAT
Bonus anagram:
Answers
Diamond City Castle
Orbulon
Mash League
Wario Bowl
That's Life
Luxeville
Joe's Clothes
Sneaky Gamer
Young Cricket
Twist League
Potluck Gang
Bonus anagram: Wario Deluxe
Word Search
Written by: Chester Alan Arthur (talk)
Hey guys WarioWare: Get It Together! is out and it's totally fun and it also makes this section totally topical! Words can be found forwards, backwards, and in other words.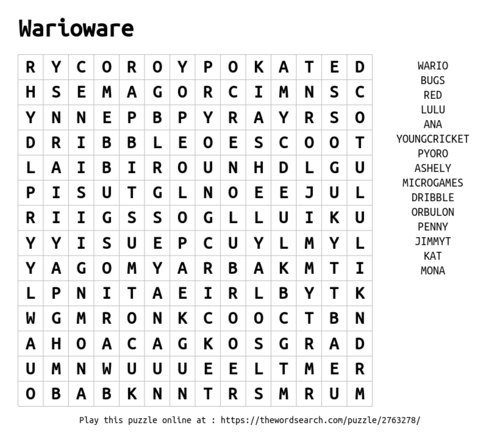 Answers
Crossword
Written by: MarioMorty (talk)
Hello everyone, it's MarioMorty, and welcome back to another edition of Crosswords. Now with the NFL season kicking off I figured I'll do a sports themed one, so here is a Mario Sports Game Crossword. Due to constraints, Mario & Sonic at the Olympic Games titles will not be on here, and numbers should be written with letters (1=one, 2=two, etc). Otherwise enjoy, and GO BEARS.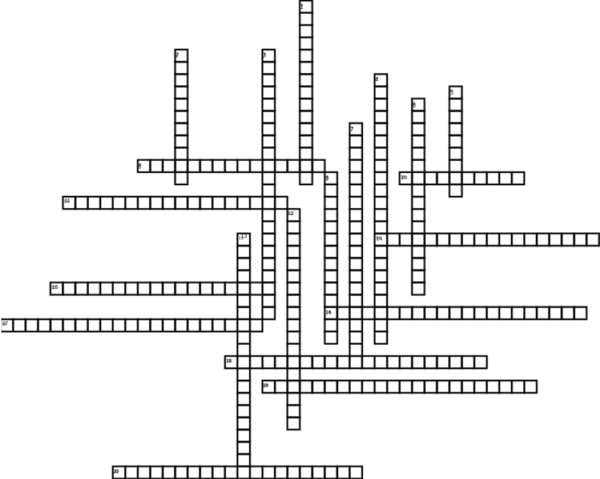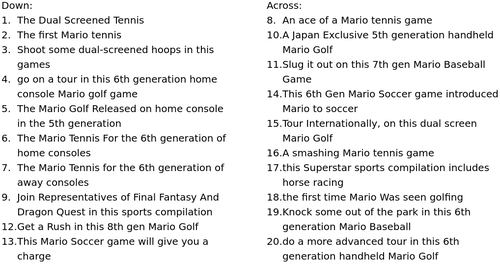 Answers
Hiding Koopa
Written by: Ninja Squid (talk)

Hey! That tennis ball was not even out of the field! Who's the stupid judge! Clearly they don't know a single thing about tennis!
Oh, huh... hello there, 'Shroom readers! A new round of Hiding Koopa is awaiting you here.
Sorry about that, but I have been following the New Wikisburg Tennis Tournament lately, and the matches are becoming more and more intense. I have to say I got so carried away that I decided to install a TV near my desk in Fun Stuff's office to make sure I don't lose anything from the current match. I have only been warned by Rose to keep quiet, but I may have been shouting a little too often. :worry:
Speaking of tennis, my five Koopas are currently hiding in an artwork of Mario Tennis Aces, so I guess I am not the only one who is into tennis at the moment. Good luck finding them all!
Now, time for me to resume watching the tourn- Hey! Is that Shmaluigi in the audience!?

Answer:
Did you find them all? Regardless, thank you very much for your support, and I hope you will come back next month! In the meantime, look at our sign up page, and apply to the 'Shroom!
Picross
September has certainly been a busy month! School has begun, and WarioWare: Get It Together! came out. But, there's another exciting game coming out soon, that being Mario Party Superstars, and so that is the theme of this issue's Picross. I hope you're ready to party with picrosses! For new readers:
For new readers to this section, here's a short explanation about it: Every issue, you'll find two to four picross puzzles based on a certain theme, based on a Mario game, series, character, or item. If you have any ideas for themes, feel free to suggest them here. If you're new to picross, or need a refresher on the rules, here is a step-by-step walkthrough. You can also find many tutorials online. To play, download the picture and print it, or open it in a drawing program of your choice. Happy solving!
Level 1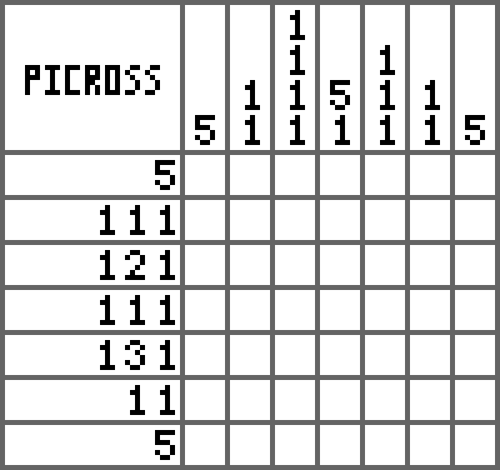 Level 2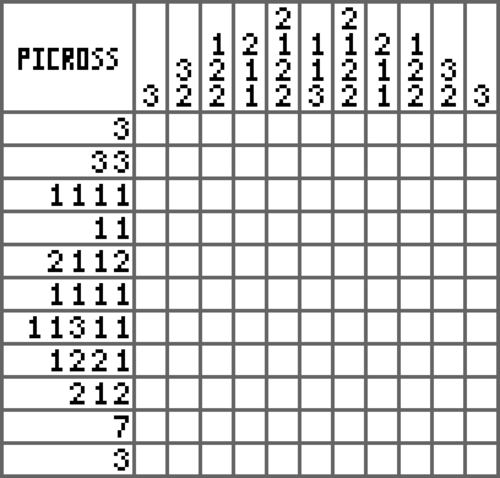 Solutions:
Level 1
Level 2
I hope you had fun! Come back next month for another set of picross puzzles.
Where in the Marioverse is Carmen Sandiego?
HOW TO PLAY
Each issue, you will be given a case to solve and clues to use to help you find the solution! Use your Mario knowledge to crack the case!
You will begin each case at the scene of the crime, and you will be given three clues from passerby as to where the next hot spot is and what game it's from. Using your knowledge of Mario games and the Super Mario Wiki, figure out where the crook is and go track them down! There are four locations each round: the crime scene (1) at the start, two locations (2 and 3) with clues, and the hideout for the crook of the month (4). Answers for locations will be given with the corresponding round, for example, the clues from the crime scene will lead you to location 2, and once you open the spoiler bubbles for location 2, you will be given the correct answer. You can open the clues for each location in any order you'd like, but be careful! You may encounter an incorrect clue that could throw you off the case!
Clues offered will give you a hint either about the next location or the game it's in. Unlike a regular Carmen Sandiego game, you do not have to collect information about the crook you are tracking down.
Challenge round (optional):
-Find all locations and games correctly in two minutes or less
-Find all locations and games correctly without using the rest of the Wiki for help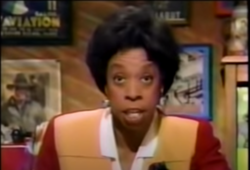 "Gumshoe, we have a request from Luigi this time for you. I'm sure you know about Mario Kart Live, where players race remote control karts on an AR track in their homes. Currently, there are only two racers available: Mario and Luigi. Well, Luigi has come to us seeking help: his kart set has been stolen by someone! Without the kart, he can't join Mario and the others in these mini-Mario Kart races. We've interviewed witnesses at the scene, and it sounds like our culprit is Carmen's master of mischief, Greedy Goomba. Does she want to join in on the races, or is she planning something much more sinister currently? We'll keep an eye on the situation while you're out on the case, so get going, gumshoe!"
Crime Scene

The Crime

Luigi's Home Circuit kart has been stolen. Get it back!

CLUE 1

"Ready for the feast? The food is great!"

CLUE 2

"I wish I could get some ice water… I'm getting sick of hot drinks."

CLUE 3

"Have a ball to the moon and back!"
Location 2

CORRECT ANSWER

Luncheon Kingdom from Super Mario Odyssey

CLUE 1

"Aren't you green with envy at our production here?"

CLUE 2

"This place is great when we're at full power. When we're not… well…"

CLUE 3

"This game got a sequel on the Switch."
Location 3

CORRECT ANSWER

Green Energy Plant from Paper Mario: Color Splash

CLUE 1

"Oh, yeah, there's a lot of Yoshis that live here!"

CLUE 2

"Are you here to see the races? You can buy cookies here too to help the racers."

CLUE 3

"The precursor to Mario & Luigi and Paper Mario, in a way."
CASE CLOSED
HIDEOUT ANSWER: Yo'ster Isle from Super Mario RPG: Legend of the Seven Stars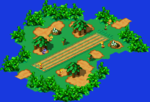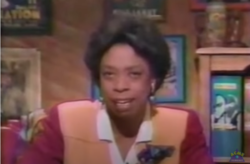 "Good work, gumshoe! As we thought, this was a caper for Carmen- we found the kart set at a drop point waiting for her to pick it up. Greedy Goomba wasn't there at all, unfortunately, which means he's still at large and available for Carmen to tap in the future. We're still concerned that this was some kind of front to distract us from Carmen's activities elsewhere, so we've been monitoring other locations as well. But the kart was returned successfully to Luigi, and he's sent you a set of Power Stars as a thank you. They've been added to your collection- by now, you should be able to get through a few levels of a Mario game without running out with all that you've received as rewards. Great job, gumshoe, and we'll let you know where your next case ends up being!"