The 'Shroom
:
Issue 174/The 'Shroom Spotlight
From the Super Mario Wiki, the Mario encyclopedia
Jump to navigation
Jump to search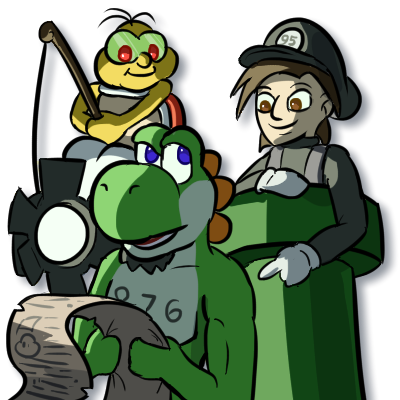 Hello readers of The 'Shroom, and welcome to Spotlight. Spotlight is a community project which aims to fix up the articles on the wiki which have issues. These issues can range from poor writing, to a lack of images, to even just needing a credible source.
why is it september - this is the small note Alex95 left for me so there'd be a paragraph here during construction, and it's pretty much perfect. September is not a month many of us look forward to, especially in the northern hemisphere as it signals the arrival of colder weather. But for our southern hemisphere readers, enjoy your incoming heat! We might be a few months out from snow, so I'll just try chucking some leaves your way.
Most of our focuses were either finished or attempted last month, which is great! Rookie Course was created by Ninelevendo (talk) and Ray Trace (talk) fixed the link on Luigi's Mansion, which was just a simple URL change. Paper Plumm (talk) and GamesJam82 (talk) helped add what was missing to Princess Daisy (film character) and DK: Jungle Climber respectively, but both still need finished. Molten Bowser and File:ERA quiz card.jpg went untouched.
And now onto this month's focuses:
| Article | Category | Focuses |
| --- | --- | --- |
| Iceburn Circuit | Wanted article | Don't worry, a new Mario Kart hasn't popped up without your knowledge, this just a place in the Snow Kingdom that needs an article. So, let's hit the (snow)ways and get building this... and then maybe a snowman. |
| Gold Goomba | Stub article | Gold Goombas are often worth more points than standard ones in Mario Party games, and while it rings true for Mario Party 5, the article doesn't note what minigames these golden enemies appear in. |
| Wobbly Bobbly | Rewrite and expansion required | Perhaps one of the best-named articles on this site, that WarioWare game mode is missing information on the exclusive microgames. Turtles may be famously slow, but I'm sure we can fix this issue within a month! |
| Super Mario Galaxy | Long trivia section | Super Mario Galaxy is a great game, which means it comes with a great deal of trivia. Most of it is pretty neat, but there are a lot of points in the section. Perhaps some could go in other sections? Some of it revolves around the Nvidia Shield version, so it might be worth making a new section about regional differences. |
| Mexico City | Articles that need more images | The capital of Mexico, North America, Earth, Milky Way has appeared in two pieces of Mario media before. We have an image of the city in Mario is Missing!, but we need something from the Saturday Supercade. |
| Konga Coliseum | Citation needed | The Konga Coliseum is located on Donkey Kong Island and sits 31,000 people. ...We think. No idea if that's true or not, it reads like someone just threw in information that seemed plausible. |
Now just before I leave you, we'd like to tell you about unimplemented proposals. There are currently sixteen that need to be implemented, some of which date back to 2018, so think of this as a continuous Spotlight goal until they're all completed. Additionally, there are many unresolved discussions that we would love to see come to some sort of conclusion. Some might have already concluded and just need the template removed, others have been waiting for a response for years.
Thanks for tuning in to the newest edition of The 'Shroom Spotlight! Be sure to turn up next month, where we'll be reviewing the progress on the above focuses. If you have any questions or suggestions about this month's set of the article focuses, then please get in touch through the dedicated topic if you have a forum account. If not, then please contact us on Yoshi876's talk page or Alex95's talk page, but you are far more likely to get a quick response if you go through the forums. You are also welcome to make suggestions on what you think we could focus on in our next edition! Thank you, and good luck!