The 'Shroom
:
Issue 158/The 'Shroom Spotlight
From the Super Mario Wiki, the Mario encyclopedia
Jump to navigation
Jump to search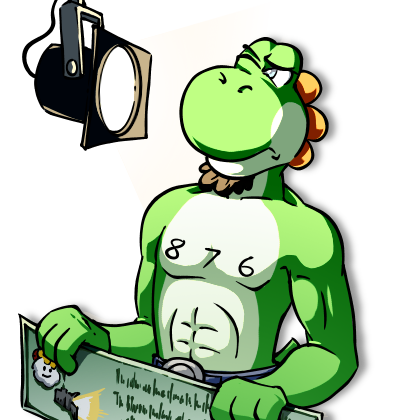 Hello readers of The 'Shroom, and welcome to Spotlight. Spotlight is a community project which aims to fix up the articles on the wiki which have issues. These issues can range from poor writing to a lack of images, to even just needing a credible source.
Welcome to May's edition of Spotlight. Current world events mean that many of us are stuck inside at the moment, hopefully finding ways to enjoy ourselves, whether through movies, or more likely games. However, with so many of us indoors at the moment, something great that you could do with your time is contribute to this month's edition of Spotlight.
March wasn't our best outing in recent months, but April improved that and we got 50% of our focuses completed. So thank you to Toadette the Achiever (talk) for adding additional information to Raven, Goombuigi (talk) for adding the story section to Dr. Mario (game) and Baby Luigi (talk) for heavily improving the quality of File:BC-MK7.png, it looks incredible now. Sadly, World 3 (Dr. Mario World) was uncreated, Russ T. still needs a source backing up him being called the Wise Toad and Sticky Situation (level) still needs images for its collectibles.
And now onto this month's focuses:
| Article | Category | Focuses |
| --- | --- | --- |
| Basic Training (challenge) | Wanted article | Mario + Rabbids: Kingdom Battle was a surprisingly popular game, and it came with a whole host of co-op challenges. However, all of these co-op challenges need articles. So, using an online connection, grab a friend and get us started with Basic Training. |
| Lots O'Fish | Stub article | It's been a small while since we featured a level here, so let's try and get a layout section for this Yoshi's Story level. |
| Machine Made | Rewrite and expansion required | The Machine Made are part of Smithy's Gang in Super Mario RPG: Legend of the Seven Stars but this article is lacking a lot of information. Although it gives the basic information, it doesn't go into detail about where they're fought, what the battle is like etc. Also, this article has quite a long trivia section, so bringing that down is also a priority. |
| Rosalina | Citation needed | It's not very often that we have a Featured Article as a Spotlight focus, but this time it is necessary. There is a claim on the article that Rosalina was planned to appear in Super Mario Odyssey. The claim seems dubious, so if there is no source for this fact, it'd be best to remove it. |
| Patty (Dragon Quest) | Articles that need more images | Patty is a playable character in Fortune Street and while we have some images of her, we don't have any in-game screenshots of her. So get a Photography Store and snap some shots! |
| File:PM3DS nsmbw grassland.png | Image quality requested | I am aware that Paper Mario: Sticker Star has an almost infamous reception, but luckily you don't even have to play the game to grab a clearer image. Just track down a high-quality trailer that this screen is used in! |
Now just before I leave you, I'd like to tell you about unimplemented proposals. There are currently eighteen that need to be implemented, one of which dating back to 2015, so think of this as a continuous Spotlight goal until they're all completed.
Thanks for tuning in to the newest edition of The 'Shroom Spotlight! Be sure to turn up next month, where we'll be reviewing the progress on the above focuses. If you have any questions or suggestions about this month's set of the article focuses, then please get in touch through the dedicated topic if you have a forum account. If not, then please contact myself on my wiki talk page, but you are far more likely to get a quick response if you go through the forums. You are also welcome to make suggestions on what you think we could focus on in our next edition! Thank you, and good luck!