The 'Shroom
:
Issue 158/Strategy Wing
From the Super Mario Wiki, the Mario encyclopedia
Jump to navigation
Jump to search

Director Notes
Written by: Hooded Pitohui (talk)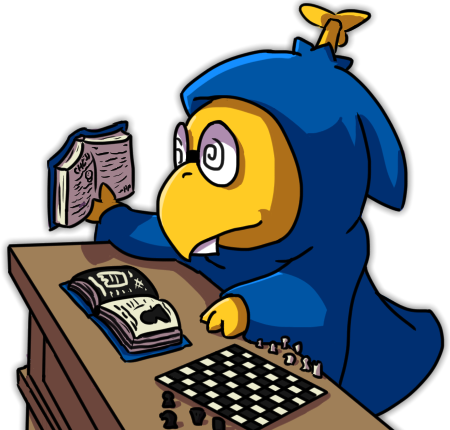 Hello, all of you readers of The 'Shroom! It's a rather quiet time of year for The 'Shroom, the calm before the storm before things get busy with Awards, polls, a summer special issue, and other events. The same holds true in Strategy Wing. Things are rather uneventful around here this month, but we still have our usual suite of great sections for you to enjoy. Unfortunately, Koops ran into some technical difficulties with his video production, but, he still has a section this month, and has quite an extensive guide to promotions in The Blazing Blade. Shy Guy on Wheels also ran into some unfortunate difficulties, and, as a result, there is no SGoW's Declassified Mario Kart Wii Survival Guide this month. Fret not, as I am assured it will return.
If you want to help make things a little more active and eventful around here, check out Strategy Wing's section on the sign-up page. We welcome writers of all types, covering a variety of subjects. If you're pressed for time, that's okay! Short sections work as well as long ones, and there's some great examples of short sections to draw inspiration from right on that page. Whether you want to share tips and techniques or you'd rather just delve into a historical and factual analysis like Mach Speed Mayhem and SGoW's Declassified Mario Kart Wii Survival Guide do, we can find you a place on the team.
Speaking of Mach Speed Mayhem, don't forget to vote! I hear that this last voting cycle was quite the active one, for some reason... Of course, I wouldn't know anything about why... It was decided by one vote, too. Be sure to vote this month, since you could be the one to tip the scales.
Section of the Month
Continuing his campaign with Lynn, ManKoops (talk) takes first place in Section of the Month with his battle against Lundgren in Fire Emblem: The Blazing Blade. Yoshi876 (talk), meanwhile, lays claim to the enviable accomplishment of tying with himself for second place, with his purple-powered profiles of Purrloin and Waluigi's Pinball's staff kart. Voting totals were a little low, so let me remind you to vote as an expression of thanks to our hard-working writers! I saw Mach Speed Mayhem's voting this month, so I know you're out there reading!
---
Tips and Challenges
---
You'll have to give yourself a promotion with this list!
[read more]
---
Do the parts of Music Park's Mario Kart 7 staff kart work in harmony?
[read more]
History and Facts
---
Try to understand. Try to understand. Spade's a magic man.
[read more]
---
You don't need to adjust your antenna to catch this analysis of Dedenne's Pokédex entries.
[read more]
Koops, Your Emblem is on Fire
(Note: I am aware the video may be a bit laggy, maybe even more, but it is the best I could do before the deadline, so please bear as I find a better way to to record. This section was hectic for me to make, so please be patient while I sort things out.)
Part 8: Infinite Power.
Howdy Howdy Howdy, pards! Hope you ain't having any trouble in quarantine, and yes, this is the first section I'm writing as of the confinement. I hope y'all stay safe in those cubes of yours. Instead of going outside, why not stay home and just enjoy (or try to enjoy, looking at the... technical issues I've suffered) my section?
Last time, we massacred some losers because they stole it from us, Ninian's precious ring, and then we bypassed the not so "Vortex of Strategy" (adding a ballista on the map =/= strategy), and now we are in the heart of Caelin. Who will be the victim of our blades today? What wacky new gimmick will the game throw at us? Let us find out!
Who goes there? Is it a mountain? Huh? NO! It's no mountain but lord Wallace himself! I swear that bald head had me fooled for a second. A retired knight of Caelin, constantly testing himself. We have out first Armor Knight, and what does that entail exactly?
Wallace
Level 12 Armored Knight.
Bases and Growths:
For Wallace, I will display his unpromoted bases here, but will also show how his stats look right after promotion, since he's meant to be promoted like this. Do note that skipping Lyn mode also auto-promotes Wallace in the main story.
HP: 30 > 34 (70%)
Strength: 13 > 15 (45%)
Skill: 7 > 9 (40%)
Speed: 5 > 8 (20%)
Luck: 10 (30%)
Defense: 15 > 17 (35%)
Resistance: 2 > 5 (35%)
Con: 13 > 15
Move: 4 > 5
Weapon Ranks: (A) Lances > (A) Lances + (E) Axes.
Wallace, the first Armor Knight we get if we play Lyn mode! Although... he is far from the best one we can get. First of all, Wallace's biggest flaw is his class. Armor Knights only have 4 movements so, unless you slow down purposely for him to catch up, he's gonna struggle to keep up with your team. The early promotion you can give him in Lyn mode does kinda mitigate this as the promotion to General gives him one extra point of movement, putting him in the same league as most your infantry units, such as Lyn or Erk. Armor Knights wield lances, which are a pretty decent weapon type, and as a General, Wallace also gets access to Axes, probably the best weapon type in this game. However, Wallace is still pretty slow (although promoted Wallace is decently fast for Lyn mode) and will eventually end up falling behind everyone else as soon as they start promoting, not to mention the fact that mounted units exist. Although these problems are typical of the Armor Knight class and are expected on Wallace... that doesn't make them good in any way. Wallace does have a big defense stat, especially for Lyn mode, and he won't be taking any damage from any physical generic enemy, and mages may be just able to scratch him. Use him when the siuation calls for it, and don't worry about him getting too much exp because you're in the end of Lyn mode anyway and everyone should be alright and ready to go to the main campaign. Don't be afraid to rely on him. Enjoy his good stats while they last. Because when he comes back in the main story, you probably won't want to use him anymore. It's also worth mentioning that NOT promoting him in Lyn mode makes him appear unpromoted in the main story, and looking at the circumstances of the map where he rejoins... that puts him in grave danger. Wallace may still find some uses, and is not completely useless or irredeemable, it's just hard to get him to be one of your best units.
Promotion guide.
And now, for the important subject at hand... Promotions! Promotions may look scary to a new player, especially a new player who has been told different things by different people. Worry not, I, Koops, will make you feel at ease!
You can promote a unit once they've reached level 10, provided of course that you have the right item. The many promotion items are as follows: Knight Crest, Hero Crest, Elysian Whip, Orion's Bolt, Guiding Ring, Fell Contract, Earth Seal, Ocean Seal, and finally the Heaven Seal (that last one is a special case that we won't be talking about just now). It is good to keep in mind what classes promote with these.
Now the biggest confusion with promotions for a new player is: When do I promote this unit? At what level should my unit be to be able to promote? Of course, the game tells you that a level 10 unit can be promoted, but what I mean here is, a lot of people have difficulties figuring out when is the OPTIMAL time to promote. Your level caps at 20, giving you the option to wait 10 levels after reaching level 10, and after promotion, your level resets and you can go another 20 levels. Some people say that promoting at level 20 is better because it "unlocks a unit's full potential" and promoting earlier makes you miss out on some levels, and therefore some stats. But here's the thing. Growth rates are... Growth rates. They're not guaranteed, and every 100 exp you give to a unit may or may not be worth it. What really matters are your actual stats. This game has notoriously weak enemies, so you don't need super powerful units to streamroll through it. My advice? Promote your units when their stats look good enough to the point where you don't need to be much stronger, basically, or when you feel like they really need a boost. If a unit is too weak, then getting them exp just becomes harder. Meanwhile, all you need to really do is give this unit a promotion so that their stats are raised by a bit. That boost can help tremendously. I usually promote my units at level 15, because at that point I feel like there's little point to waiting longer than necessary and my unit is already good enough. Kent already had 11 strength and 11 speed, and by the time he gets to level 15, his stats will be even better. If there is a game where promoting early is never an issue because enemies suck this much, it's this one. In other games, you may have other reasons for promoting early, but we'll get there when we get there.
Here's a handy-dandy guide of what base classes promote into what advanced classes. We'll sort these by promotion items.
Knight Crest.
The classes who promote with the use of a Knight crest.
Cavalier promotes into Paladin. Cavaliers are mounted units on horse with high mobility. Cavalier initially use Swords and Lances, and after the promotion to Paladin can now use Axes. Keep in mind, when promoting to Paladin, you will only have an E rank in axes, so to be able to use better axes, you might want to start using some right away. E rank axes gives access to Iron, Steel and Hand axes right off the bat, so training your axe rank shouldn't be that big an issue. One of the best things about this promotion, as with many others, Paladins gain one move, putting them at 8 move per turn. This makes them very mobile and allows them to perform their jobs as rescue-droppers easier. Paladins are a powerful, and flexible class, so by all means, use cavaliers.
Class Caps:
Stats in parentheses show where the stat caps for a female member of this class.
All Classes cap HP at 60 and Luck at 30.
Str: 25 (23)
Skl: 26 (27)
Spd: 24 (25)
Def: 25 (24)
Res: 25 (26)
Knight promotes into General. Knights are low-move units with high defense and strength, but low speed. The promotion gives a much needed +3 boost to speed that definitely helps an Armor Knight (although not that much in the case of Wallace). This promotion also gives access to Axes, a nice weapon to have in a game where enemy lances are abundant. The problem with this promotion though is that it doesn't make the armor knight all that much better outside of combat. They will still be the slow, and lagging rear-guards of your army, but they do have a badass-looking sprite, so if you wanna use them for that, go ahead. If you wanna use an armor knight, tho, I suggest you use the second one this game gives you.
Good luck trying to reach 24 Speed as a General.
Hero Crest
Hero Crest are usually limited, although many units need it to promote.
Mercenary promotes to Hero. Mercenaries are the basic Sword-wielding infantry boys. Just like the other two promotions discussed earlier, Hero gives you access to axes. The Hero isn't much different than his fellow Merc, except he has better stats. Mercenaries are usually pretty good as is, and Heroes are even better. That said, Heroes' one use is combat. Their contitution is decent enough to the point where they can wield heavier weapons and rescue a lot of other units, but other than that, there isn't much to it. Definitely a good class though, so do use them when you have the chance (Access to Axes also gives them Hand Axes, and therefore 1-2 range, which is invaluable in this game).
Myrmidon promotes to SwordMaster. Myrmidons are very fast sword units who are somewhat squishy. SwordMaster are typically the fastest class, as their speed cap is above anyone else at 30. Their main niche is having a 15% crit bonus, making them more likely to land critical hits, which can potentially make for a deadly killing machine. However, SwordMasters are a majorly handicapped class, especially in a game where lances and axes dominate. For starters, SwordMasters only know one weapon type, Swords (Duh). Swords have very limited 1-2 range that aren't amazing to begin with, and they have relatively low might, coupled with the SwordMasters' usually relatively low strength. That, and although being very fast is not a bad thing, enemies in this game are so slow that anyone can double within a few speed level-ups. You do have your occasional fast enemies, but they're not plentiful in this game. SwordMasters perform decently in Player Phase but this is a game where the better way to go about it is to attack, equip a Javelin/Hand Axe and watch as the enemy suicides into your strong units. SwordMasters are good at picking off any stragglers that you don't want your main units to deal with, but other than that they're not all that great. At least in this game. They do have cool animations though, and the crit bonus is a fun thing, especially if you have a weapon with extra crit on it, so it's understandable why people like using them. If you play really casually, you'll find them useful too.
Fighter promotes to Warrior. Fighters are typically slow units with very high Strength and access to Axe... and not much else. The promotion gives access to Bows. It's not a weapon type you need all that much, especially when you already have axes, but it can be useful to deal with sword users, and one-shotting flying enemies is a thing too. The main problem I have with this promotion is that despite Fighters being pretty slow normally, the promotion doesn't give them any speed at all. It sucks. Warrios aren't fantastic, in fact I think none of the Fighters in this game are much worth using, but there is a prepromoted Warrior who joins at some point and who definitely is better.
Note that Warriors also receive 40 Exp to their bow rank, meaning that they can quickly get to use D Rank Bows after few battles.
Elysian Whip
Only two classes promote with the use of an Elysian whip, one of which we haven't actually seen in-game yet.
Pegasus Knight promotes into Falcon Knights. The promotion gives access to Swords, which doesn't seem all that great, but if you want an easy way to counter axes and not weigh down your squishy Pegasus Knights all that much, then swords are a decent option. This promotion focuses on strength, defense and resistance, and gives no speed, but Pegasus Knights are so fast anyway that this is a non-issue. Even when they don't fight, they still fly. All of the Pegasus Knights, Florina and her older sisters, and by extension potential Falcon Knights in this game are great units who are all worth using, so I definitely recommend you use at least one of them. Also one of them is my favorite FE character, so hehe. Side note, in case you haven't guessed, Pegasus Knight is my favorite class. In all my FE teams, one of the Pegasus Knights is always the one unit who carries the whole game. Use Pegasus Knights, guys. They're an amazing class and they're extremely fun to use too. Who knows, maybe just like me, you'll find a best girl thanks to that?
Also did I mention that Pegasus Knights are the best cla-- ok I'll stop.
The other class here is Wyvern Rider.
Wyvern Rider promotes to Wyvern Lord. Wyvern Riders are another flying class separate from Pegasus Knights who have better strength and defense, but less speed and skill and resistance, to contrast with them. Wyvern Lords, like Pegasus Knights (at least in this game), gain the ability to use swords. Do keep in mind that Wyvern Riders are, like their Pegasus counterparts, also weak to bows, so keep an eye out for those. Both Wyvern Riders are good units, and worth training, even for the fact that they're fliers alone.
Also having 28 Defense cap, which is very close to 30, kinda makes the Generals' niche pointless when there's a class that can be about essentially as tanky as they while also being able to fly. Even more hilarious is the fact that the defense cap for Binding Blade Wyvern Riders is actually 30.
Orion's Bolt
This promotion item is typically used on Bow-users.
Archer promotes to Sniper. Snipers are usually good at fighting in the Player Phase, but not much else. They's like SwordMasters but from 2 range and without a crit bonus, anlthough Sniper are better because they're easier to keep in the back while SwordMasters need to get to the frontlines to do their job. The one problem is getting an Archer to a high enough level for them to promote. Not that great but if you wanna fill your team, then go ahead.
Nomad promotes into Nomadic Trooper. These quick riders of Sacae use both bows and swords, giving them both 1 range and 2 range, but not simultaneously. Nomadic Troopers usually have relatively low constitution for male mounted units, so that allows them to pick up the heaviest of allies. They're fast and have nice strength, they're a good class. Rath is the only potential Nmd Trooper in this game tho, so if you want one you have to commit to using him.
Interestingly, although Rath is the only playable Nomad in this game, the female stat caps still exist because there actually are some random female Nomads in the game, and they use the same stat caps as in Binding Blade. It's also worth noting that Nomadic Troopers cap speed at 30, just like SwordMasters, but they're also mounted and have access to both 1 and 2 range (Rarely simultaneously tho) and better strength overall, making them infinitely better. Even though Rath doesn't exactly reach SwordMaster levels of speed but it's still hilarious.
Guiding Ring
Guiding Rings are, most of the time, the most prominent promotion item, because so many classes require it to promote.
Mage promotes to Sage. Sages gain the ability to use staves, which is a very helpful boon for people like Erk, and gives Mages utility beyond just fighting. Sages are usually somewhat squishy but it isn't hard to keep them safe. Definitely one of the best classes.
Both Monk AND Cleric promote into Bishop. Bishops use both Light Magic and Staves. Which means that a Monk promoting to Bishop gains staves, and a cleric promoting to Bishop gains Light magic. Bishops usually are the units with the highest staff rank, so Bishops have superior staff utility and can be good at fighting enemies occasionally. High-ranked staves can do more other things than healing, so having these options is definitely a good thing. That's what I meant when I said that Serra and Lucius were connected by their classes in a way.
Priests/Clerics also get +1 Speed upon promotion.
Shaman promotes into Druid. Just like other magic classes, Druids gain the ability to use Staves. They also get +3 speed which definitely helps the sole playable Shaman in this game combat-wise.
Troubadour promotes into Valkyrie. Troubadours start off using only staves, but usually have better utility than clerics due to having a horse. Valkyries also get access to Anima magic, making Valkyrie perhaps one of the most felxible classes in the game, since they can use staves, attack, and have the functionalities of a cavalier. They are often frail, though, so keep that in mind.
Fell Contract
There is only one fell contract in the entire game, and it's also very possible that you miss it on a blind playthrough. Fell Contracts promote Thieves.
Thief promotes into Assassin. Assassin is a better combat class than thieves. They are still locked to only swords, but they have a hidden skill called Silencer, or as more recent games call it, Lethality. If it triggers, it one-shots any non-boss enemy. Its activation rate is low tho, since it only occurs when the RNG rolls a number lower than the half of your crit-rate. Using a killing edge improves the odds of it happening tho. Promoting your thief to assassin takes away the ability to steal from enemies, however, but they can still use lockpicks.
That's it... that's all the promotion offers. Not even one Move...
Those are the easiest class caps to memorize.
Ocean Seal
There is only one Ocean Seal in the game, and it's easily missable. You can either sell it at a very high price or use it to promote a Pirate.
Pirate promotes into Berserker. Berserkers don't learn any new weapon types, but they gain the same crit Bonus of 15% that SwordMasters get, and Berserkers using Axes means that they can have that AND 1-2 range. There are two potential Berserkers in this game, both of which are pretty good in my opinion, although one of them is already promoted so you don't need 2 Ocean seals to use both.
You know, it just hits me that Berserkers have pretty amazing caps. It's a shame that reaching caps is not a likely scenario most of the time but this is still pretty cool.
Earth Seal
The Earth seal is a special case among the other promotion items. It works just like Master Seals in any other game, meaning that they can be used to promote anyone. You want to promote three cavaliers but only have two Knight Crests? Well here's an Earth Seal right around the corner. You cannot promote Thieves, Pirates and Lords with those, however.
---
Just a little heads-up, Promo Gains actually very slightly differ based on the unit's gender. Males usually have more strength and defense, while females get more skill, speed and resistance. In the Mage class's case, Females have more Magic but Males surpass them in skill. This is true for both the gains and the caps. These stat variations are almost always only one point apart tho, so it doesn't affect anything in the grand scheme of things.
With all of that, I hope this was helpful, and next time, we will be finishing off Lyn's story and finally move on to the main game. See you guys then!
Racing Like the Staff
Hello readers and welcome to Racing like the Staff, a section where I do 150cc on different Mario Kart games, but the twist is, I take on the Grand Prix by using the combination that a staff and expert staff member used in that Cup. If you're still a little confused, by this I mean if the track is in the Mushroom Cup, then that's the Cup that I race in. Unfortunately, I don't have copies of the Mario Kart games before Mario Kart 7, so it's only that, 8 and Deluxe that will be getting this treatment.
Today, we're continuing on with our Mario Kart 7 tracks, as the ongoing outbreak means I'm actually in a different place than my consoles. And I thought this this time, I would go with a track that I'm not really a fan of. I don't think Melody Motorway is a bad track, I just don't find it particularly that interesting. To be completely honest, I think the only good track from the Flower Cup in Mario Kart 7 is Alpine Pass.
The combination for normal staff for Melody Motorway is Rosalina with the Royal Ribbon, Roller tyres and the Super Glider, and the stats are as follows:
Speed – Two and a half bars
Acceleration – Just under four bars
Weight – Two and a half bars
Handling – Five bars
Off-road – Just over two bars
Wuhu Island Loop
I thought I had a good start, but the numbers don't lie and I was only up to seventh by the first Item Boxes, and was hardly gaining. Triple Mushrooms could've given me a substantial lead, but after hitting a car, I was only in second place behind Shy Guy. And Shy Guy was able to keep ahead of me, and it felt like I was never gaining on him. A Blooper was what saved the day, due to the way the AI drive after getting squirted, and I was past him just before the third sector. But it wasn't a good lead, and I felt he was quite close to perhaps being able to pass me if we went on longer.
Mario Circuit
Given the speed issues last time around, I was worried going into this course. And my worries looked a little founded at the start as Shy Guy, Honey Queen and Bowser all attempted to pass me, with Honey Queen briefly being successful. But soon they were starting to eat my dust, and I was pulling off a small lead. The only times I had real concerns was at shortcuts, as a Mushroom would put either Shy Guy or Bowser right behind me, but they always just trailed off in the end, or in Bowser's case drove into a Goomba. The Spiny Shell that Shy Guy got on the final lap could've been damaging if he'd gotten it earlier though.
Melody Motorway
The start was all over the place this time, as everyone got in a good one, and everyone put in a challenge. I was soon able to pass my a strangely surgent Donkey Kong and Wiggler, but it wasn't until the second glockenspiel that I got Luigi behind me, and that's where everyone stayed, although Princess Peach was throwing one too many fireballs for my liking.
Alpine Pass
Another decent start, but Bowser, Princess Peach and Shy Guy all passed me by, and the Fire Flower I got only got me past Shy Guy and Peach despite hitting all three of them. Bowser was powering ahead, but a Mushroom and a shortcut got me ahead of him by a decent margin, one that he comfortably ate into during the second lap, and really closed down by the third, so that by the time we'd been struck by a Lightning bolt he was right behind me. I might've held him off it if wasn't for DK's Spiny Shell. Despite Bowser passing through the blast, the Boost Pads helped him out and I finished in second behind him.
This isn't a combination I'd be recommending. I can completely understand Bowser being able to easily gain on me, but when you're struggling to catch up to Shy Guy, you know there are issues going on. I'm not sure where the bursts of speed for Mario Circuit came from, but this Kart is pretty slow and doesn't give many benefits to offset that.
The Expert Staff combination for Melody Motorway is Rosalina with the Soda Jet, Roller tyres and Parafoil. The stats are as follows:
Speed – Just over three bars
Acceleration – Just under four bars
Weight – Just over two bars
Handling – Four and a half bars
Off-road – Just over two bars
Wuhu Mountain Loop
Like last time, my start wasn't amazing with the positions I gained, but at least I was up to sixth place this time. A repeat of the Triple Mushrooms, but not driving into a car, put me into a solid first place, and I was able to feel decent with it. Sadly, Koopa Troopa launched a Spiny Shell at me, but thankfully as I threw my Green Shell behind me, and it hit DK, only Princess Peach passed me, and I was quickly ahead of her, and I went on to a very good win.
Mario Circuit
Like last time, Honey Queen managed to briefly pass me, but a Mushroom really helped me get a lead. However, after the jump, I landed on a Green Shell, which allowed Honey Queen back past, and I didn't repass her until the start of the lap. And I stayed firmly in the lead, despite Honey Queen launching a last minute speed boost.
Melody Motorway
It wasn't Honey Queen launching a big challenge this time, but actually DK and Princess Peach, and although I easily passed DK, me and Peach were battling it out side by side, until I took her out with Bananas after the first tambourine. Unfortunately, a Blue Shell thrown took me out, and Peach and DK passed again, but a Triple Mushrooms got me past them just after the Piranha Plants. It looked like I could manage to win again, but on the final lap, Shy Guy hit me with Lightning, and Wario had just chucked another Spiny Shell. It didn't surprise me, after being hit on the final corner, to see DK go past and take the win.
Alpine Pass
It was a difficult start, as Princess Peach got ahead of me, but after a series of battles, I finally ended up ahead of both her and DK, although Peach was able to use a shortcut to get ahead of me. Thankfully, she drove right into a swarm of Swoops and this gave me the lead. I thought I might be lucky enough to romp home with the win, but on the final lap again it became a struggle after I had to shoot right down in the big gliding section as a Spiny Shell came my way. Peach once again got ahead, but I passed her on the second gliding portion and this time kept the lead.
I enjoyed this combination a lot more than the previous one, but when it comes to recommending it, again I have some difficulties. Looking at the mini-map, most of my wins weren't assured, even if I did manage to hold off my competition. It's not the worse combination and you can certainly use it to success, but it's not a combination I'll be using outside this section.
I hope you enjoyed this section, and I'll see you next month. If you've got a combination you'd like me to review next, feel free to private message me on the forums.
Mach Speed Mayhem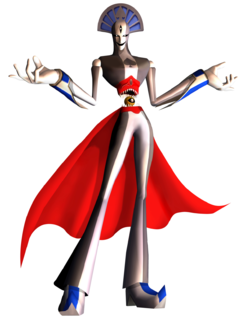 Hello, 'Shroom readers! Welcome again to Mach Speed Mayhem, for another installment in what's rapidly shaping up to be the Year of AX! After quite the fun, over the top voting period (seriously, read it if you can), the ultimate winner of this month's slot was #34: Spade! An accomplished magician, he's decided to bring his skills to the racetrack. Keep your eyes on him, because who knows what he's going to do next?
Main Series
Spade is another of the ten racers who are introduced primarily for F-Zero AX and secondarily for F-Zero GX. Like the other racers in that category, Spade is simply available from the start in AX; you don't have to do anything special to use the Magic Seagull when at the arcade. In GX, however, you can either bring him over from AX via memory card compatibility, or you can earn him through Story Mode. Unique among the AX racers, Spade is not acquired by clearing a specific chapter on Very Hard! Instead, he goes one difficulty level below. Clearing a given chapter of Story Mode on Hard allows you to get special parts for the build-your-own-car mode, but if you clear all nine chapters on Hard, you'll get Spade and his Magic Seagull without ever touching an AX machine. No skipping to the end, either - Chapter 9 only gets you 1/9th of the way there, you'll have to get the clean sweep on Hard to get this particular machine.
Now, on to the character himself. Spade's the star magician of a circus that has fallen on hard times. He's not willing to give up without a fight, though, so he's gotten together with his circus buddies to set him up for F-Zero racing. After all, with the payouts from F-Zero, that'd be more than enough to keep them afloat! They might not have picked the best choice of pilot, though; Spade is indeed a flashy and skillful driver, taking risky and impressive techniques... but he's also very fickle. Sometimes he'll coast through a race, and sometimes he'll even drop out! As a result, his record is far from impressive. Interestingly, nobody's ever seen behind the expressionless mask that is Spade's face. Not even his circus pals! Though he doesn't bring them up in his interviews - instead, he says he wanted the greatest stage in the galaxy, and that his plan for the money is to triple it with magic. Actual magic? Counterfeiting? Smart investment decisions? Who knows. Regardless, whether it's because he feels it doesn't fit his image or he doesn't want the cameras on his friends, Spade keeps them out of the limelight.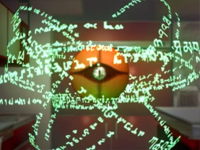 He's very happy to have the limelight on himself, though! In his interviews, Spade has no problem hogging the stage. He brags about how the race was underwhelming and he made all sorts of unnecessary precautions, calling even the best of racers like Captain Falcon mere children when compared to him. He claims he's already experienced every thrill the galaxy has (with magic being the best), and he wants to have his magic broadcast throughout the galaxy. He's a magician to his heart, as his advice to his racers is to not ignore him - if they focus on the finish line, they'll miss all the tricks he plans to play! He's also quite ready to make ominous threats, such as telling his rivals to prepare their life insurance for their more dangerous rematch, and asking his TV fans if they enjoyed the explosive show of destruction that he put on. All in all, his interviews make it very clear that Spade is in his element when on live TV.
Spade's body is an interesting case. His expression is fixed and unchanging, the two halves of his body perpetually float above and below the eyeball in place of his torso, and one of his idle animations involves him spinning the top and bottom halves of his body in different directions. What is he? Well... the game actually makes that pretty clear! If asked about his body in an interview, Spade says that when he was born, he was "enclosed in a globe". He also has a three-year-old son who he's very proud of, and says the kid is starting to look just like him. The clincher is actually the video that plays after clearing a Master difficulty cup with Spade - sure, every racer has them, but Spade's is one of the few that offers character insight rather than just goofy comedy. The video starts with the eyeball floating alone, surrounded by magic sigils, after which the entire body of Spade materializes. Between these data points, it's clear that Spade's true body is the eyeball, and the rest of his body, top and bottom, is a magical construct. F-Zero really likes to make its aliens alien rather than just humans with a paint job, and I like that.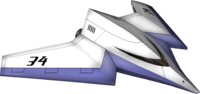 There's also his car to consider! The Magic Seagull is one of the more unique-looking designs in the series - in fact, of the 41 machines in F-Zero GX and F-Zero AX, it's the only car where you can't see the driver in the cockpit during a race. The black glass is completely opaque from the outside... though presumably not to Spade himself. The machine was built by Spade and his circus pals in their free time, with someone named Milk Do Samba taking the lead on construction as shown by the vehicle profile information. It's got listed stats of B body, A booster, and E grip, which are semi-accurate - the body and booster are both pretty good, but not as good as those letters imply, and the grip is actually quite a bit better than you would think, the Magic Seagull having a hard time going out of control. It's got a low top speed, though, only going a couple notches above 1000 km/h - definitely the machine's biggest weakness. Additionally, each vehicle has a hidden stat for its width, and Magic Seagull's hitbox is quite a bit wider than any other machine, even runner-up Rainbow Phoenix. You've gotta stay away from those walls if you want to maintain any speed here! Notably, there's no door, so according to the bio if the machine blows up Spade goes with it... though considering his magic and his weird body, he'd probably be fine.
That covers what I've got to say on Spade and his one appearance in two paired games! Without further ado, here's the thread so you can tell me who I'll write up in June!
Pokédex Power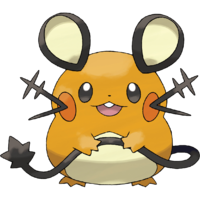 Hello everyone, it's me, Yoshi876 again with a new edition of Pokédex Power, the section written by the person who does not have a sleep pattern that would be envied by a Snorlax. I thought lockdown might give me ample opportunities for sleep, but with a lack of curtains in the rooms and the sun rising quite early, this is not the case. Perhaps if I ate like a Snorlax I could, however, fall into a food coma, which might be quite nice.
But we're not looking at Snorlax this time around, despite him being my favourite Generation I Pokémon, instead we're going to be looking at the designated Pikachu clone from Generation VI: Dedenne. I find it quite nice that all the generations have this Pikachu clone, a small Electric-type rodent, although considering that Pikachu can evolve, even being in a three-tier evolutionary tree, I do wonder why none of the clones actually do.
I did end up using Dedenne quite a bit during my playthrough of Pokémon Y and I found him to be a very useful part of my team when I called on him. His STABs were perfect for what I needed him for, and although I don't have either UltraSun or UltraMoon, I would consider using him again if he became available in future games. But does Dedenne have good Pokédex entries? Let's find out…
Generation VI
| | |
| --- | --- |
| Pokémon X | Its whiskers serve as antennas. By sending and receiving electrical waves, it can communicate with others over vast distances. |
| Pokémon Y | It uses its tail to absorb electricity from power plants or from outlets in houses, and then it fires the electricity from its whiskers. |
| Pokémon Omega Ruby | Its whiskers serve as antennas. By sending and receiving electrical waves, it can communicate with others over vast distances. |
| Pokémon Alpha Sapphire | It uses its tail to absorb electricity from power plants or from outlets in houses, and then it fires the electricity from its whiskers. |
Pretty much all of Dedenne's Pokédex entries for Generation VI focus entirely around its whiskers, but at least with X and Omega Ruby we learn why it's got the moniker of the Antenna Pokémon, as that's what those whiskers serve as. On a side note, although this isn't touched upon in the mainline games, I'm glad this Pokédex entry was referenced in Super Mystery Dungeon with Dedenne serving as a communicator by using its whiskers. And as most Pokédex entries with Electric Pokémon deal with how they harvest their electricity in some form, Y and Alpha Sapphire provide that information, with the old standard of electrical outlets and power plants. I guess it could be a lot more thrilling, but I can't really see a Dedenne enjoying being struck by lightning, unlike other Electric-types.
Generation VII
| | |
| --- | --- |
| Pokémon Ultra Sun | It sneaks into people's homes and steals electricity from their outlets. When your electric bill seems off, it's the handiwork of this rascal. |
| Pokémon Ultra Moon | Its upper whiskers are sensors that survey its surroundings. Its lower whiskers are organs that shoot electricity. |
Generation VII usually gives us some interesting factoids, but sadly this one heavily relies on the previous generation. However, we do learn from UltraMoon that Dedenne's whiskers are multi-use, one for surveying its surroundings, and presumably communicating, and the others for shooting the electricity out. Although UltraSun is mostly a rehash of the previous entry, I do like how Dedenne is linked to the real world, although I wouldn't have expected Dedenne to be considered a pest Pokémon like a Ratatta is.
Conclusion I wouldn't say this is particularly a strong set of entries, especially with most of them revolving around one part of Dedenne, those being its whiskers. I guess you need to justify calling it the Antenna Pokémon, but one set of entries detailing this would've been enough. And given the multitude of entries dealing with how Electric-types generate their electricity it would've been nice to either explore a side they haven't done with other Pokémon, or just leave it out. The Generation VII entries are the weakest of the bunch, even if UltraMoon slightly expands our whisker knowledge and UltraSun moves it into the real world. What I'd love to see in a future entry is its relationship with other Pokémon, it looks like such a friendly one, and I can imagine it sharing an apple with a Pikachu if the two of them were sat together, or perhaps they'd compete with one another.