The 'Shroom
:
Issue 150/The 'Shroom Spotlight
From the Super Mario Wiki, the Mario encyclopedia
Jump to navigation
Jump to search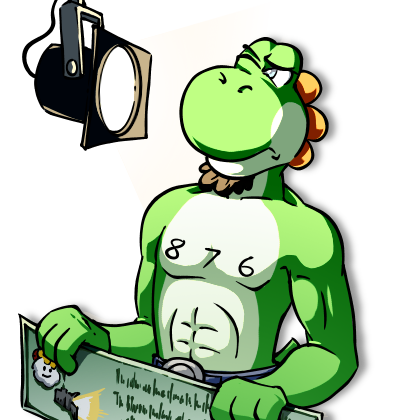 Hello readers of The 'Shroom, and welcome to Spotlight. Spotlight is a community project which aims to fix up the articles on the wiki which have issues. These issues can range from poor writing to a lack of images, to even just needing a credible source.
Welcome to August's edition of Spotlight. And this is our 150th issue, although not our 150th edition of Spotlight, imagine all of the articles we will have fixed when we get around to then. I hope that you guys give this edition of Spotlight a good read to help get all issues fixed on this milestone issue, and I hope you enjoy the spectacular edition that has been created for you throughout the rest of this paper.
We've had a really good run of things as of late, but eventually the drop had to happen. That is not to say we did bad, achieving 50% of our goals is certainly an achievement, and hopefully we'll achieve all of our goals this time around. For the goals unfinished, United Kingdom Quiz! still needs to be created, 10-Coin still needs the Mario & Luigi: Superstar Saga information and File:Green Rabbit.png still needs to have its quality improved. As for what was done, TheFlameChomp (talk) added a great layout section for Poison Canal Cannon Run, Toadette the Achiever (talk) scoured the internet for a source for the claim on Red Balloon and removed the information when none was forthcoming, and L151 (talk) uploaded an image for Cute Tail Fail, and has since been uploading images for the levels in Mario & Luigi: Bowser's Inside Story + Bowser Jr.'s Journey that didn't have them.
And now onto this month's focuses:
| Article | Category | Focuses |
| --- | --- | --- |
| Blown Away (microgame) | Wanted article | I was blown away to learn that this microgame from WarioWare: D.I.Y. didn't have an article on the wiki yet (yes, my comedy is here all month). And I'd be even more blown away if someone created an article for it (seriously, I'm here all month). |
| Swiss Cheese Alps | Stub article | I love Swiss cheese, climbing mountains, not so much. But what I'd like more than Swiss cheese at the bottom of a mountain is for this article to be expanded. Did anything plot relevant happen in the Alps? We don't need an episode summary, just noting of what happened here. |
| Dry Desert Mushrooms | Rewrite and expansion required | Last month, a stub focus needed a level expansion, this time around it's a rewrite-expand. Anyhow, a more descriptive level layout is needed for this New Super Mario Bros. U level. |
| Abandon Ship (minigame) | Citation needed | Okay, this sounds like a really cool trivia bit, and I so hope this is true. But what we need is a link to the Fruit by the Foot commercial that featured this minigame. |
| Sasquatch Family | Image requested | From what I understand, no one has really seen a Sasquatch, let alone a family of them. However, a Sasquatch Family do appear in WarioWare Gold at the Peridot Campgrounds, so it would be cool if we could get an image of them for the article. |
| File:NSMBU Inventory.png | Image quality requested | I love GameXplain as much as the next Yoshi, but we really shouldn't have their watermark on our images. This should just be an easy recapture, as all you need to do is show off a varied inventory, it doesn't have to have the same items, and it doesn't even need to be in the Layer-Cake Desert. |
Now just before I leave you, I'd like to tell you about the NIWA Spotlight. This is a project being run by Alex95 (talk) and can be found in this paper's Pipe Plaza section. Much like this Spotlight, the NIWA Spotlight aims to fix up articles across various Nintendo franchises, that are all part of our NIWA group. I'd also like to tell you about unimplemented proposals. There are currently twelve, which is two more than last month, that need to be implemented, some of which date back to 2015, so think of this as a continuous Spotlight goal until they're all completed.
Thanks for tuning in to the newest edition of The 'Shroom Spotlight! Be sure to turn up next month, where we'll be reviewing the progress on the above focuses. If you have any questions or suggestions about this month's set of the article focuses, then please get in touch through the dedicated topic if you have a forum account. If not, then please contact myself on my wiki talk page, but you are far more likely to get a quick response if you go through the forums. You are also welcome to make suggestions on what you think we could focus on in our next edition, and as the next one is Halloween, we will be focusing on spooky focuses only! Thank you, and good luck!