The 'Shroom:Issue 145/The 'Shroom Spotlight
From the Super Mario Wiki, the Mario encyclopedia
Jump to navigation
Jump to search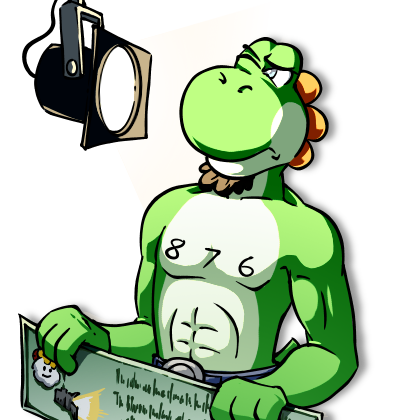 Hello readers of The 'Shroom, and welcome to Spotlight. Spotlight is a community project which aims to fix up the articles on the wiki which have issues. These issues can range from poor writing to a lack of images, to even just needing a credible source.
Welcome to April's edition of Spotlight. And the last ever edition of Spotlight that I will probably write as a student. My final exam is mid-May, and once that is finished I am no longer a university student, and will instead be looking outward into the world of work. But worry not, I will continue ahead as your Spotlight manager for the time being.
We had a 50/50 success rate last month, which isn't our best, but it is by no means our worst. King Bob-omb's Powderkeg Mine is still a stub and needs a layout section, Quicksand still needs a source and more images and File:Paper bowser jr..png could still do with less blurriness and a better crop. But looking on the brighter side, Luigimaster123 (talk) created Captain Toad: Treasure Tracker Fun Quiz; Bloober (talk) and WigglyWiggler (talk) expanded the information on Paper-Cone Goomba; and Toadette the Achiever (talk) and Doomhiker (talk) purged Mushroom City of its trivia.
And now onto this month's focuses:
| Article | Category | Focuses |
| --- | --- | --- |
| Omega-onion | Wanted article | It seems like a lot of us have enjoyed the 3DS version of Bowser's Inside Story, however there a couple of articles missing. One is on the Omega-onion article, and I'd love to help, but all I can do is theorize that this is somehow onion related. But hopefully, by the next edition, you'll have expanded my Mario knowledge in this area. |
| King Kaliente's Battle Fleet | Rewrite required | Yes, this focus has returned to the Spotlight for this month. Now the main issue here is the repetitive writing, the phrase "the player" shows up quite a lot, and sometimes it shifts focus to a "he" creating a little confusion. A small tidy, and maybe the cutting of some sentences would improve this mission article. |
| Yarn Block | Rewrite and expansion required | This article is basically complete, however, it is missing some vital information, chiefly where they appear. Just mention what Wario Land III levels these blocks appear in, and the tag can go. |
| Unfurl Block | Citation needed | I feel like we've been covering Paper Mario: Colour Splash for quite a bit here on Spotlight, but we're going to keep doing it. Apparently, these are also called !? Blocks. You know the drill, find a source, or remove this unsourced piece of information. |
| Asako Kozuki | Image requested | It's a welcome return for a second image based focus this month, and for this edition, we're looking for a picture of the Japanese voice actress Asako Kozuki, who voiced Princess Peach in the Japanese version of Mario Kart 64 and Mario Party. |
| File:Dice Block MP6.png | Image quality requested | It's the most important part of any Mario Party being able to move, and yet this image of the Dice Block from Mario Party 6 is quite blurry. If someone could fix that up, maybe we can see what number we roll. |
Now just before I leave you, I'd like to tell you about the NIWA Spotlight. This is a project being run by Alex95 (talk) and can be found in this paper's Pipe Plaza section. Much like this Spotlight, the NIWA Spotlight aims to fix up articles across various Nintendo franchises, that are all part of our NIWA group. I'd also like to tell you about unimplemented proposals. There are currently seven, which was two less than last month, that need to be implemented, some of which date back to 2015, so think of this as a continuous Spotlight goal until they're all completed.
Thanks for tuning in to the newest edition of The 'Shroom Spotlight! Be sure to turn up next month, where we'll be reviewing the progress on the above focuses. If you have any questions or suggestions about this month's set of the article focuses, then please get in touch through the dedicated topic if you have a forum account. If not, then please contact myself on my wiki talk page, but you are far more likely to get a quick response if you go through the forums. You are also welcome to make suggestions on what you think we could focus on in our next edition. Thank you, and good luck!