The 'Shroom
:
Issue 145/Fake News
From the Super Mario Wiki, the Mario encyclopedia
Jump to navigation
Jump to search

Editorial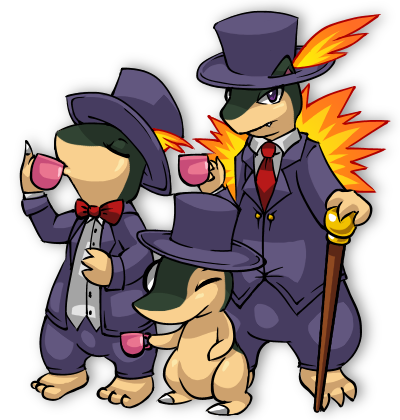 HEY HOW'S IT GOING welcome to the Fake News, I'm MCD and you bet we have a fun-packed edition of Fake News, specifically engineered to appeal to YOU! That's right, YOU - as in YOU reading this, right now. There's one seat, and it's got YOUR name on it. We knew YOU'd be reading, so we planned ahead and included everything we know YOU like:
Abstract welcome notes somehow called 'editorials'
The weather for somewhere you do not live
People who are dead
Cable TV
Real estate
Wow, look! It's your five interests! You'd better enjoy the issue because we really had to stretch our resources to fit them all in.
(On a more serious note, YKMR3000 (talk) has sadly resigned from writing for the Game Corner - we thank him for everything he's done for the team and wish him best of luck for the future!)
Section of the Month
FAKE NEWS SECTION OF THE MONTH
Place
Section
Votes
%
Writer
1st
TV Tomorrow
59
64.84%
Quizmelon
2nd
Obituaries
32
35.16%
Yoshi876
---
News Report
---
In space, no one can hear me make this joke.
[read more]
Entertainment Features
---
Quizmelon tells us what to watch on the telly.
[read more]

Good evening, viewers, from MKBC6, with your weather forecast for the week ahead.
| Day | Predicted | Temperatures | Forecast | Chance of Precipitation |
| --- | --- | --- | --- | --- |
| Monday | | High: 54 Low: 32 | Mostly cloudy with a few patches of sun. Breezy. | 20% |
| Tuesday | | High: 59 Low: 40 | Partly cloudy clearing to sunny midday. | 0% |
| Wednesday | | High: 45 Low: 33 | Rain starting early then transitioning to snow overnight. | 80% |
| Thursday | | High: 32 Low: 24 | Snow accumulations up to two inches. | 90% |
| Friday | | High: 39 Low: 29 | Possibility of some afternoon showers. | 50% |
| Saturday | | High: 58 Low: 35 | Cloudy clearing early and clear skies overnight. | 0% |
| Sunday | | High: 65 Low: 43 | Warm and clear. Winds picking up mid to late evening. | 10% |
This week we will see a variety of different weather conditions. It's going to get wet mid-week, so break out your rain boots and keep some road salt handy to keep from slipping outside. The end of the week is looking much better, with warmer temperatures and clearer skies ahead.
The week, we will be covering your forecast for Mementos so you can plan ahead for what to expect as you raid the dungeon.
| Day | Predicted | Temperatures | Forecast | Chance of Precipitation |
| --- | --- | --- | --- | --- |
| Monday | | High: 82 Low: 64 | Dark and stormy. High chance of Reaper. | 80% |
| Tuesday | | High: 78 Low: 63 | Smoggy and damp. | 60% |
| Wednesday | | High: 54 Low: 36 | Flu season begins. Take caution of status effects. | 90% |
| Thursday | | High: 56 Low: 37 | Soggy weather will prolong flu-like conditions. | 100% |
| Friday | | High: 60 Low: 39 | Be cautious not to fall into despair. | 90% |
| Saturday | | High: 62 Low: 38 | Flu conditions easing. | 60% |
| Sunday | | High: 65 Low: 48 | Could this be a day to meet a Wild Card? | 0% |

Kamella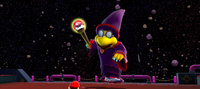 What do Kamek and Kammy Koopa have that Kamella doesn't? The answer: their lives. Wow, this started off a lot darker than it probably should have. Anyway, one of the magical Magikoopas has breathed their last, and that description is quite apt given how Kamella died.
Despite being part of Bowser's Elite Super Space Troops – trademark pending – Kamella made one very big mistake, she completely forgot to bring a space helmet with her to breathe. There have been raging arguments over whether Kamella was a moron for not bringing one with her or a victim of circumstance. Mario was able to jet around in open space without one and seemed to do just fine, at least in some games, and Rosalina also appeared to do fine, although in her instance it can be chalked up to her being a cosmic creature rather than from a planet with oxygen.
My sources within the Koopa Troop inform me that it was common knowledge that Kammy Koopa did not like Kamella, believing that she may try and steal her husband, Kamek, away from her, in fact, it was rumoured this is why Kamek was absent in Paper Mario. When I contacted Kammy to try and get some words from her she instead laughed for a solid 20 minutes. When I hung up the phone, she cast a spell so I could continue hearing her laughs for the next 30 minutes. I tried to contact Kamek, but he was away on official business, something about enlarging the weapons of the Koopalings instead of just blasting Mario with his magic. Nothing "New" there then.
As Kamella died in space, Bowser decided that she didn't need a funeral, and she is currently floating around somewhere in the Space Junk Galaxy. However, it is thought that some being populating the Hocotate Ship may bring her body on board and try and sell her on their homeworld to try and save their space freighter company, or something like that…

TV Tomorrow returns for April with the usual format, the usual writer, the usual fictional television scheduling and the usual dearth of anything actually humorous in the introductions. I'm as excited for TV in the month of April as you are, so let's get to the top three shows of tomorrow's Mushroom Kingdom broadcasts!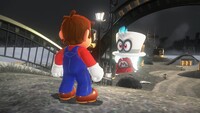 New: Bonneton Exposed
MKBC1, 9pm
Genre: Investigative documentary
Hero of the Mushroom Kingdom and all-round TV star Mario hosts this documentary aiming to shed some light on the shady underbelly of the Bonneton hat industry. Is Crazy Cap as friendly a company as it seems? Who is the CEO really, and what is he doing? Is there more to the cap-shaped airships than we think? This show promises to find out.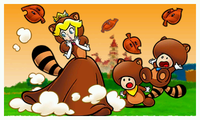 Tanookitis
MKBC3, 9pm
Genre: Cartoon/horror comedy
MKBC3 doesn't get many viewers, but Tanookitis has become in recent years the most popular show on the network. Set in the far future where an epidemic is causing people to turn into raccoons, the show follows an animated version of Princess Peach as she tries to find a cure. Now in Season 3, the critics remain pleased and the show has a bright future.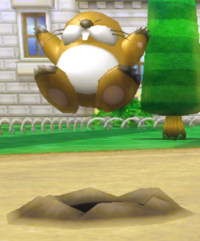 The Monty Mole
Party Channel, 8.30pm
Genre: Reality competition
The reality competition hosted by Anderson Koopa premieres its third season tomorrow. Twelve contestants; among them, a Monty Mole, attempting to sabotage their efforts to make money in a series of tasks. To make things harder this year, one of the contestants is actually a Monty Mole. But does that mean Monty Mole is the Monty Mole? The series promises to be exciting.
And that's not all, of course; there's plenty of other enjoyable programmes being broadcast not tomorrow but later this April that may enthrall you. My contract won't let me talk about those, though, because they're not on tomorrow. Perhaps I should appeal to change the name of my column? 'TV Tomorrow And Also Later In The Month As Well' isn't quite as catchy. Oh well. See you next time!
Selling Out
Selling Out Issue XII: A Little Too Waterfront Property
From the Author
Welcome to this month's edition of Selling Out. It's been one heck of a month with finals and my first year of college coming to a close. I do not ever remember being so busy. Anyways since I could not get out a traditional article this month we will be covering a different kind of property guide! Anyways enjoy and I will see you all again in June!
Introduction
This time of year people are starting to flock to beaches for vacations, and that everyone has the passing thought of what it would be like to live on the water year round. Well instead of paying the exorbitant prices that come with property on the beach, how about property on the water. Houseboats are a viable alternative to buying a beach house, but there are a few things you should consider before you buy.
Finding a Proper Agent
There are plenty of real estate dealers who have experience with houses on the land. It's truly a love story as old as time isn't it? Well unless you want the whole purpose of a houseboat to be defeated try doing some research on potential advisors before going into the process, or at least try reading For Dummies: Buying a House Boat so the waters won't be over your head.
Making A Plan
Just as with normal property it helps to have an idea of what you want in mind. Work with your agent to try and find something within your budget as well as what suits your needs. Do you have the time and money to be putting in repairs to old boats? Do you need something fresh off the market? Also is the houseboat a permanent or occasional residence? These are some questions you will want to answer.
Doing an Inspection
As the business of selling houseboats is based off commission there are going to be many sellers who are trying to get you to buy the property without seeing the visual fine print. Make sure to do an inspection of the houseboat itself as you would a normal property so you are not being misled in any way. If you do not have the time to do this, there is always the option for a professional inspector to look at the property instead.
Financing
There are loans for houseboats available, but these lenders are very sparse so you may need to do some digging. Since they are far from the traditional loan most places will require either a higher down payment (around 20% minimum) or a higher interest rate (1-2% more than normal property for knowledgeable lenders).
Other Considerations
Being on the water the homes may require more frequent repairs that mainland property. It is important to budget for these expenses. Moving costs too can be extremely high if you are planning to reside in a place far from the dealer you are purchasing from. Other important things as well are power and water supplies. They won't be connected to a grid like normal homes so you may need to pay extra for fuel generations and more frequent trips to the store for water.
Closing Remarks
A houseboat purchase is just as involved as a normal home, so be very thorough with the process and consider your wants and needs properly before you start this process. It may be a big hassle, but if you are lucky you can end up living a life you never knew you wanted. Good luck readers!