The 'Shroom
:
Issue 145/Fun Stuff
From the Super Mario Wiki, the Mario encyclopedia
Jump to navigation
Jump to search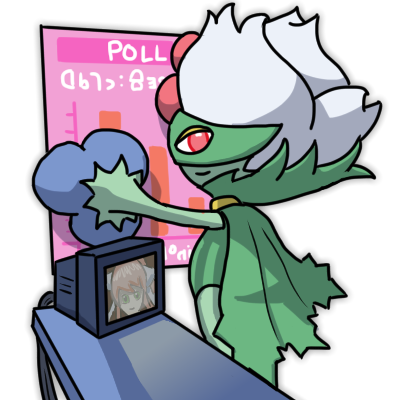 Staff Notes
Greetings, 'Shroom readers! Welcome to the April edition of Fun Stuff. Unfortunately, we are without Fools this month (unless you count Chester Alan Arthur (talk)), but thankfully, what we lack in-jokes, we more than make up for it in fun sections! So if you're rolling in those after-Spring Break lulls like I am currently, go again and stimulate that noggin of yours by getting to playing!
As always, we are looking for new writers, so you know the drill: Check out the sign-up page here for details and ideas, and we hope to see your submission soon!
Section of the Month
Congratulations to LudwigVon (talk) on claiming first place with his wonderful resurrection of Guess Who!. Congrats to FunkyK38 (talk) for claiming second place, and thank you to Lakituthequick (talk) for the wonderful maze and tribute, which landed him in third. Thank you to the rest of our wonderful writers, and make sure to vote, dear reader!
FUN STUFF SECTION OF THE MONTH
Place
Section
Votes
%
Writer
1st
Guess Who!
20
40%
LudwigVon
2nd
Where in the Marioverse is Carmen Sandiego?
13
26%
FunkyK38
3rd
It's aMAZEing!
8
16%
Lakituthequick
---
Word Activities
---
This section always manages to stick the Landing!
[read more]
Graphic Activities
---
There's snow much fun to be had with this maze!
[read more]
---
How do these Koopas keep disappearing? It's certainly Odd...
[read more]
Mind Games
---
You Charging Chucks are going to love this month's edition.
[read more]
Anagrams
Written by: BBQ Turtle (talk)
Hi there everyone, welcome to April's edition of Anagrams! It's the 30th anniversary of Super Mario Land this month, so I thought I'd put together a set of anagrams based on this game to mark it. And of course, if you have any ideas for future themes, or have found any funny anagrams that I could potentially work into a future issue, feel free to let me know either by leaving a message on my talk page or by sending me a PM on the forums- I'd love to hear your suggestions! Now, onto the anagrams!
How it works...
Basically, this puzzle consists of solving the anagrams. Each month has a specific theme, which will give you a clue about what sort of words or phrases the anagrams will be. I've also included the boxes that the anagrams will fit into, so you'll be able to tell how many words it will solve to be and how many letters will be in each word, which should give you a hand too. You'll also notice that within each set of boxes, one of the squares are yellow. As you solve each anagram, note down the letter which appears in the yellow squares, and if you can solve all of the anagrams, you'll also get a bonus anagram to solve from completing all of the others. I've included the letter configuration for this one at the bottom too, just to give you an extra helping hand. Best of luck!
1. CAN HANG
2. POLKA BLOB HOMES
3. PIPE MANOR
4. GO INTO MUSKET
5. AT SMOKING NODE
6. ALPHA INN TRAP
7. MAKING MUD DO
8. AMAZON GUARDS
9. SELL POWERFUL BAR
10. BOOK IN TIN
11. DARN A SALSA
Bonus Anagram:
Answers
Ganchan
Bombshell Koopa
Marine Pop
King Totomesu
Easton Kingdom
Piranha Plant
Muda Kingdom
Dragonzamasu
Superball Flower
Biokinton
Sarasaland
Bonus Anagram: Chai Kingdom
It's aMAZEing
Written by: Lakituthequick (talk)
Hi there, welcome to It's aMAZEing!
Today's maze is a Snow Bunny, an item in Paper Mario: The Thousand-Year Door, background element in Mario Party 6, and a bit of a Japanese tradition if it has snowed.
Why snow in spring you ask? Because as I started this, it snowed outside, despite it being over 20°C out three days before. Weather is weird.
Do you have an idea for a maze you'd like to see? Leave a message on my talk page or find me on the forums and send me a personal message, and your idea and name may be featured in a future episode!
How to play:
Copy the image into your favourite art program (like Paint, Photoshop, GIMP, etc.)
Click the line, pencil or brush tool and adjust the size as needed
Draw your line through the maze from start to finish
Zoom in and out as needed
Alternatively, print it out and use a pencil!
To view the answer, click here!
Hiding Koopas

A new month, a new Issue, a new Hiding Koopas!
Hello, 'Shroom readers, and welcome to a new edition of Hiding Koopas! Like previous editions, the goal is the same. Five Koopa Troopas are hidden in the artwork below. Do you think you can find them all? Well, good luck!
Nintendo recently announced with the arrival of the Nintendo Labo VR Kit, a new VR experience for Super Mario Odyssey. So, to celebrate the occasion, I chose an artwork from that game!

Answer:
Did you manage to find them? In any case, thanks for playing, and come back next month!
Where in the Marioverse is Carmen Sandiego?
HOW TO PLAY
Each issue, you will be given a case to solve and clues to use to help you find the solution! Use your Mario knowledge to crack the case!
You will begin each case at the scene of the crime, and you will be given three clues from a passerby as to where the next hot spot is and what game it's from. Using your knowledge of Mario games and the Super Mario Wiki, figure out where the crook is and go track them down! There are four locations each round: the crime scene (1) at the start, two locations (2 and 3) with clues, and the hideout for the crook of the month (4). Answers for locations will be given with the corresponding round, for example, the clues from the crime scene will lead you to location 2, and once you open the spoiler bubbles for location 2, you will be given the correct answer. You can open the clues for each location in any order you'd like, but be careful! You may encounter an incorrect clue that could throw you off the case!
Clues offered will give you a hint either about the next location or the game it's in. Unlike a regular Carmen Sandiego game, you do not have to collect information about the crook you are tracking down.
Challenge round (optional):
-Find all locations and games correctly in two minutes or less
-Find all locations and games correctly without using the rest of the Wiki for help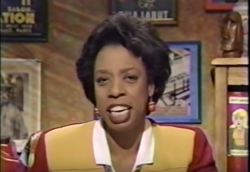 "Carmen is back to her sneaky tricks, gumshoe! She's managed to bag every bunny in Super Mario Odyssey! Now the bunnies wouldn't be missed normally since they can be a tricky and annoying challenge for Mario, but in stealing all the bunnies, she's also stolen all of the moons that those bunnies were hiding! Now if Mario wants to collect them all, he needs you to go track the thief down! We've narrowed it down to Nasty Nabbit, one of Carmen's goons. Go get him, and bring those bunnies back!"
Crime Scene

The Crime
CLUE 1

"Hope you brought your quiz face. You'll need it to get in."

CLUE 2

"Grab those stone keys to get out of here."

CLUE 3

"Grab your trivia buddies and head off to fight the dragon!"
Location 2

CORRECT ANSWER

Shhwonk Fortress from Paper Mario: The Thousand Year Door

CLUE 1

"Bring some scuba equipment with you!"

CLUE 2

"Careful, there's a squid near the treasure."

CLUE 3
Location 3

CORRECT ANSWER

Sunken Ship from Super Mario RPG: Legend of the Seven Stars

CLUE 1

This place used to be a hotel, until the plants took over...

CLUE 2

"Watch out for the ghosts here!"

CLUE 3

"You'd better bring your flashlight for this one- it's a dark and bumpy ride ahead!"
CASE CLOSED
HIDEOUT ANSWER: Haunted Towers from Luigi's Mansion: Dark Moon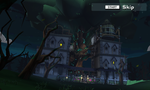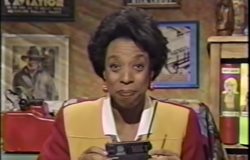 "Good work, gumshoe! We headed for the towers to find the suspect cowering out in front with a bag of bunnies, and took him into custody! Mario sends his warmest thanks for returning the little tricksters, and now he can continue his adventure to collect every moon by catching rabbits. I think you'll find a little Easter bonus yourself this year! Keep up the good work, gumshoe, and we'll call you with your next case!"
Trivia
Written by: Chester Alan Arthur (talk)
We're gonna do things a little differently this month: everything is going to be about sports. So did you know?
That the Arizona Cardinals have never lost a home NFL playoff game?
That the Buffalo Bills once lost 4 consecutive Super Bowls?
That the Columbus Blue Jackets were the last team in the NHL to win a playoff series?
That Virginia was the first 1 seed in the history of the NCAA tournament to lose to 16 seed?
That the St Louis Blues are 0-12 in Stanley Cup Games?