The 'Shroom
:
Issue 136/Pipe Plaza
From the Super Mario Wiki, the Mario encyclopedia
Jump to navigation
Jump to search

Director's Notes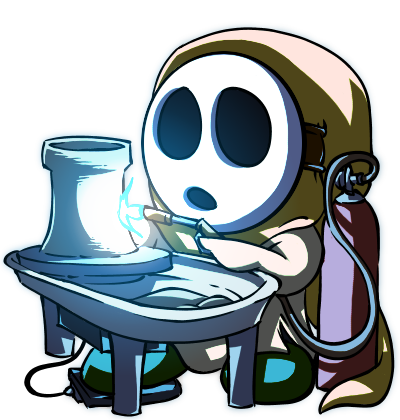 Written by: The Pyro Guy (talk)
Hello! I'm back from being busy, taking the torch back from Superchao to resume my duties of writing these notes. Thanks Perch for helping out last month, and to my writers for managing to endure this rollercoaster of management. While I was away I played Splatoon 2 for the first time, and I'm glad they kept the Heavy Splatling from the first game because that's pretty much the only thing I'll ever use online. Thanks Nintendo.
Anyway, here's another Pipe Plaza for you to enjoy, perhaps a little more bite-sized than usual, mainly due to the things I'm going to write after this sentence. There's a couple of things for you to know this month; firstly, long-time writer Yoshi876 (talk) is stepping down from writing Retro Feature. Thank you for your work both as a writer and a former director. On the other hand, we've now got Monthly Report under our belt, written by LudwigVon (talk). I'd welcome you but you already write for this team, so... thanks for doubling up for Pipe Plaza! And finally, no Poll Committee Discussion this month. It'll be back next time, I'm sure. Now, onto the next thing.
Every day that passes is a day closer to the Awards Ceremony. Presentations to present, tournaments to play, and awards to give (and perhaps receive if you're lucky). So! I'm sure everyone is enjoying their summer by working hard for this event. Make sure that you do both of those things. There's a lot of Fun Stuff happening so it'd be a shame to miss out on all of it.
Section of the Month
We have a tie between Alex95 (talk) and Superchao (talk)! Congrats to both of you, and to Lakituthequick (talk).
Pipe Plaza SECTION OF THE MONTH
Place
Section
Votes
%
Writer
1st
Upcoming Games
5
25%
Alex95
1st
Interview
5
25%
Superchao
3rd
Anniversary Announcements
4
20%
Lakituthequick
---
MarioWiki Sections
---
A look over the wiki's stats of the past month.
[read more]
Monthly Report
Hello readers! This is your Statistics Manager here with a new edition of Monthly Report. In this section, I give you an overview of the statistics of the Super Mario Wiki. So, let's take a look at the wiki stats for June, and compare it with the previous month.
June Statistics
Statistic
As of June 15, 2017 (18:15)*
Content Pages
20,935
All Pages
174,458
Files
95,564
Edits
2,301,589
Edits per Page
13.19
Registered Users
25,345
Active Users
331
Bots
4
'Shroom Writers
44
Autopatrolled
41
Patrollers
2
Administrators
13
Bureaucrats
4
Proprietor
1
May — June Statistics
Statistic
As of May 13, 2017 (20:12)*
As of June 15, 2017 (18:15)*
Percentage Change
Content Pages
20,887
20,935
+0.229%
All Pages
173,666
174,458
+0.456%
Files
94,956
95,564
+0.640%
Edits
2,288,195
2,301,589
+0.585%
Edits per Page
13.18
13,19
+0.075%
Registered Users
25,171
25,345
+0.691%
Active Users
293
331
+12.969%
Bots
4
4
0%
'Shroom Writers
44
44
0%
Autopatrolled
41
41
0%
Patrollers
2
2
0%
Administrators
13
13
0%
Bureaucrats
4
4
0%
Proprietor
1
1
0%
*All times EST.
Thanks for taking your time to read this section. I hope you enjoyed your reading. See you next month!
Anniversary Announcements
Written by: Lakituthequick (talk)
"I'm now imagining going to the bus stop next week and suddenly Anton will jump out from behind a lamppost and throw that URL in my face."
Hellooo and welcome to Anniversary Announcements! When you read this I'll be sitting in Sweden somewhere but let's not be distracted by that!
The Thwomps
The Awards polls have closed on the 17th! The results have been tallied and sent to the presenters. Presentations are due on 10 August.
Speaking of presentations, if you want to be a presenter for one of the presentations, sign up right here! The more presentations are filled in, the less workload the back-up presenters will have! Do it for them!
Tournaments
Now for tournaments! In the table below, you can find information about the tournaments that are up for sign-ups or being planned. For more information on each of them, go to their respective forum topics.
Anniversary Scavenger
Lakituthequick
The sequel to the one from last year, where players find cards over the boards and The 'Shroom. Currently being planned out, with a planned start at the end of July or begin of August.
August
Art Contest
Anton
The art submission period has ended! You can now vote on your favourite submission per skill tier until

11 August

. You can find the submissions and the polls in the special section in this edition of The 'Shroom.
Voting closes

11 August

Forum topic
Guess the Results
Anton
Lakituthequick
Turboo
Here you can give your guesses for what you think the results of the awards are, and earn points for correctly placing them in the first, second and third place.
Until

17 August

Forum topic
Killing Game
GBAToad
Lord Bowser
Smasher
Superchao
All players have received their roles for this game, and the game has started on the 15th.

15 July

Forum topic
The Legend of Zelda: Breath of the Wild photo hunt
GBAToad
Very much alike to one of the main missions in the game, in this tournament you will search for locations based on pictures, and you in turn take pictures of these locations as well.
August
Mario Kart 64 Time Trials
Alex95
The first two rounds have been played! Both rounds were won by Fantanoice.

2 July

Forum topic
Mario Kart 7
Yoshi the SSM
Due to a lack of enough sign-ups, this tournament has unfortunately been cancelled.
Forum topic
Mario Kart 8 Deluxe
Lakituthequick
A vanilla versus tournament. The players will be divided into groups that race at specified times. The top 2-4 of each group will proceed to the next round.
Individual matches will be raced in a room hosted by the hosts, at 150cc, All Items.

30 July

to

19 August

Forum topic
Mario Kart 8 Deluxe Battles
Lakituthequick
A Battle Mode tournament. The players will be divided into groups that battle at specified times. The top 2-4 of each group will proceed to the next round.
Individual matches will be raced in a room hosted by the hosts, without teams, Normal Items, 4 minutes. Each round will feature its own mode, in the order Shine Thief, Balloon Battle, Coin Runners and Bob-omb Blast.

30 July

to

19 August

Forum topic
Super Mario Odyssey Hint Hunt
The Pyro Guy
The first round of the hunt has been extended to allow more people to send in their answers.

10 July

to

24 July

;

20 August

to

27 August

Forum topic
Super Mario Odyssey scavenger hunt
2257
Anton
Mr. Edo
A tournament involving a clue or phrase, which players will then try and retrieve a good picture of.
Committee Interviews
Welcome to Committee Interviews! In this part of Anniversary Announcements, I will do short interviews with the members of the Awards Committee, so you can get to know them a bit better!
This month: BabyLuigiOnFire and NEXandGBX!
BabyLuigiOnFire
| | |
| --- | --- |
| | This is your first time in the committee. Why did you decide to join? |
| | I decided to join because I wanted to try out something new for a change. I've been in the Poll Committee for several years and aside from that, I've never really been involved in community activities, especially such a large event like the Awards. Sure I did edit the MarioWiki and post on Marioboards but I had never been involved much more than that. I had been heavily around here since September 2009, and I felt like not being part of the awards for so long needed to change. |
| | How do you experience the AC, being new in it? |
| | First of all, I think it was pretty overwhelming. Since the Awards has been there for quite some time, I felt like most people in it already knew what they're doing. How I adapted to it was to just go with the flow and pipe in a comment when necessary. Eventually I got used to it. |
| | Alright. As you mentioned, you have also been in the Poll Committee. Did this influence what you did in the Awards Committee? |
| | Being in the Poll Committee did help me understand what makes for a good poll, but on the flipside, I found out the poll creation is a lot different than on the Poll Committee and I did flopped up some suggestions in there. In the Poll Committee, polls have to be short, very specific, diverse, and consist of less options and rotate around more quickly. Awards Committee polls are more permanent and therefore have to stick with a topic that will last or at least attract the most voters as possible. |
| | That is a good comparison. |
| | What do you find to be the most fun part of being in the AC, or the awards in general? |
| | I haven't gotten the chance to present anything yet but my head is swarming with ideas right now with what to draw, how to present, and therefore, will take advantage of my artistic skills to be put to productive use for the community. I guess the presentations are the best part, no doubt about it. It's also fun seeing what other users come up with. |
| | Did you set any goals when you joined? |
| | One of my goals was to try to attempt to be dedicated enough to come at every meeting but of course...I'm not that great at that, forgetting that there is one that day, despite PM's from Anton giving nice reminders. I also don't want to procrastinate for my Awards Presentation, and rushing out a piece is terrible, speaking from experience. I'm still forming ideas in my head for the Awards Presentation though, so when the poll results come in, I guess I'll write a presentation around that. |
| | We'll know how that worked out in a couple weeks then, after the Awards! |
| | Do you think you will try and join again next year? |
| | Not sure about that. That depends on how well things go at the presentations. And also how well things go in my personal and game modding life. |
| | We'll see then! |
| | That brings us near the end of the interview! Do you have anything you'd like to add? |
| | Uh, one question? |
| | Go ahead. |
| | If there was a best baby character award, would Baby Luigi win it? |
| | I'd say he has a very good chance of winning, yes. |
| | I am satisfied. |
| | Alright! With that I'd like to thank you for your time, and have fun with the presentations! |
| | Thanks for inviting me to the interview! |
NEXandGBX
| | |
| --- | --- |
| | This is your first year in the committee. What was your reason for joining? |
| | Because despite it having been 4.5 years at the time and 5 years as of the time this issue is coming out since I joined, I've never really done anything of note to help the community. |
| | Since I did pretty well as a bystander in 2016, I was hoping I could be just as helpful here and, unfortunately, I don't think I was. |
| | Why do you think so? |
| | I didn't contribute as much to the meetings as I did in 2016, despite being a committee member this year. |
| | Granted, that may be partially because we got done with meetings after just a few weeks, but I still feel like I could have been more on top with them. |
| | I see. |
| | How do you experience being new in the AC? |
| | It didn't take any time at all to get used to, it's like how I handled 2016 only I get to count as full votes in meetings and plan out various awards among other things. |
| | Back then, I contributed to the discussions but only counted as a half-vote. I think for 2017 they changed it so non-members don't count as votes at all. |
| | Correct, it changed last year. |
| | What is, in your opinion, the most fun part of the AC and/or the awards? |
| | I love seeing what other people have cooked up with their hard work, as well as making presentations myself and participating in tournaments. |
| | Have you set any goals when you joined? |
| | I wanted to participate in as many discussions as I could but, like I said earlier, I don't think I did a very good job at it. There's always next year, assuming I don't get kicked out. |
| | Transitions nicely into my next question, do you think you'll try and join again next year? |
| | Most likely, since I don't think it's too late to retry and make an even better awards next year. |
| | Alright, we'll see how it goes then! |
| | With that we are near the end of the interview! Would you like to add anything? |
| | I guess I should also note I had a goal to make a nice comic for this year's awards, but I won't be able to get that done so I'm at least hoping to improve upon my presentations from last year. But aside from that, I've got nothing. |
| | I know exactly what you mean. |
| | Well, with that I'd like to thank you for your time! Enjoy the rest of the Awards! |
| | Thanks! |
There are also some new people in the committee, although not everyone gets used to it as quickly. Luckily it all ended up being okay in the end.
Also, interviewing myself for this would be really cheesy, so luckily Superchao did that. Scroll down a bit for that!
And that was it for this month. I haven't refilled my cheesy outro lines yet, so I'm just gonna say bye. Bye!
All information above was correct as of 14 July 2018.
Upcoming Game
'Fantasy Strike'
Developer
Sirlin Games
Publisher
Sirlin Games
Platform(s)
PC, Nintendo Switch, PlayStation 4
Release date
Summer 2018
Genre
Fighting
Rating(s)

| | |
| --- | --- |
| ESRB: | - Rating Pending |

Mode(s)
2 player simultaneous
Input

Nintendo Switch:

Joy-Con

Nintendo Switch Pro Controller
Hello everyone! I am Alex95, and welcome back to Upcoming Game! I'm sure you've all heard the news: there's a new fighting game coming to the Nintendo Switch! It features plenty of characters, veteran developers, and new mechanics! I'm sure you've all heard of this one: Fantasy Strike! …What do you mean that wasn't what you were thinking?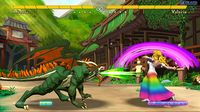 You may have actually already played Fantasy Strike, as the game came out on Steam last year. But it's coming out on the Nintendo Switch (and PlayStation 4) this summer! Fantasy Strike is a traditional fighting game; nothing like that other fighting game coming for Nintendo Switch on December 7th this year that everyone is talking about. It plays more along the lines of Street Fighter, which makes sense considering it was designed by an ex-Street Fighter developer! The fighters and moves are quirky and over-the-top, something similar to the recent Dragonball FighterZ. The visuals even look similar.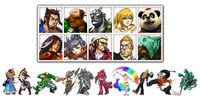 Regarding the fighters, there don't seem to be a lot compared to recent Street Fighter games. There are only ten from what the site is showing. A samurai, an archer, a sumo wrestler, ninja lady, a stone golem, magician #1, painter lady, magician #2, a gambling panda, and a fish. …A panda and a fish. Interesting choice of characters so far! With various and… unique characters such as these, there's bound to be one for both newcomers and fighting game enthusiasts alike! From what is advertised on the site, it seems this game is built around ease-of-accessibility. The moves are single button presses and combinations, with the move lists "so concise they can fit on the screen." Hm… simple moves, beginner friendly, diverse characters… I swear I played something like that before…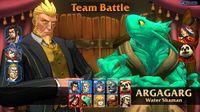 Regarding the fights themselves, you can have 1-on-1 matches or 3-on-3 matches. The 1-on-1 match is pretty basic: you just try to defeat the other guy before they defeat you, using whatever moves your characters have at their disposal. The 3-on-3 matches, though, is where things get interesting. You have to win the best of five rounds, and your characters are chosen at random. Your characters will loop around if they all get defeated, but you have to beat your opponent's characters with all three of yours if you want to win. By that, I mean you have to beat one of your opponents characters with your three fighters, and then do the same with the other two opponent characters. These matches can be done in local multiplayer, or can be taken online! Ranked battles has also been confirmed to be available at a later date.
Speaking of online, it looks like Sirlin Games is taking a different approach to connections compared to another fighting game on Wii U. Instead of your button input going to your opponent and waiting for their command, the input takes effect immediately on your end. This may make your opponent pop back into sync, but it's not often. This is GGPO's rollback-style networking, which is meant to help prevent, or at least reduce, laggy loading times between internet connections. You may have seen this in effect when playing Mario Kart online, when opponents just randomly pop back into place on the track.
Thoughts
I don't play a lot of fighting games outside of Super Smash Bros. (by the way, there's a new Smash coming out! I don't know if anyone's heard about it yet.) But this looks pretty impressive, with the stunning visuals and easy gameplay. The game's coming out on Nintendo Switch sometime this summer (it may even be out by the time this article goes up. In which case, whoops!), but it's available to play on Steam right now! If you want to know some more information, you can check out the official site right here! (warning: lots of gifs) Until next time, see you around!
Interview
Hello, 'Shroom readers! Welcome to my seventh interview this year - how time flies, huh? This time around, I'm going for longtime community member Lakituthequick! Having started off once somewhat controversial, LTQ has shaped up and become a bedrock of the community - including quite a lot of improvement for the awards. He's done all sorts of little things for everyone that helps make life easier, especially including hosting the 'Shroom's staff wiki! Now's our chance to talk to him, so what does he have to say?
The Interview:
Superchao: Hello, 'Shroom readers! Welcome once again to the self-determined and self-declared best section the 'Shroom has! None other than the interview!
Superchao: And for our latest installment, I've hooked Lakituthequick for you all!
Lakituthequick: Thanks for having me! Nice to be on this side of the table now!
Superchao: Of course, you know as well as I do what I'm going to start you off with, so I'm sure you're prepared to tell me: how did you find the Super Mario Wiki?
Lakituthequick: I think I was playing Super Mario 64 DS at some point around 2010 or so. I somehow stumbled across the Wiki while searching for some specific Stars.
Lakituthequick: I ended up joining because I wanted to add a reference to Super Mario Bros. from Mario Hoops 3-on-3 according to my contribs. Though the first thing I still remember was adding a glitch in New Super Mario Bros.
Superchao: Oh? What glitch inspired you to start writing?
Lakituthequick: A glitch that would occasionally somehow clip you through the ground when you walked of a bonus block if it was exactly one pixel above a one-way ground.
Lakituthequick: Not gamebreaking, but it was funny nonetheless.
Superchao: Neat! See, folks? Sometimes Mario still can bring good people to us.
Superchao: So that's how you joined the wiki, but what I'm curious is - what got you /involved/? What got you joining the boards and participating in the community?
Lakituthequick: I honestly don't remember that that much. I believe I once submitted a section to The 'Shroom at some point in 2011 or so, though that thing got lost and I never heard back from them. Thinking back at that section makes me glad really. It was terrible.
Lakituthequick: I also liked to do a lot of gnome work on the wiki before getting more into the forums. On the forums I started out by asking help for a thing and playing forum games, though I don't really participate in those anymore.
Lakituthequick: The Wiki gnomework eventually lead to Walkazo promoting me to Autoconfirmed, until they changed the purpose of that rank.
Superchao: Just gotta keep chipping away! Even if it's hard to balance time...
Superchao: I gotta admit, way back in 2011, you had a reputation for being insufferable. You've really shaken that by now, and improved your attitude fantastically. Anything in particular cause that?
Lakituthequick: This may be the result of some real life changes as well. I have been diagnosed with autism when I was very young and would not really think about other people's feelings and stuff. I've had help with that and also because I went on scouting in 2012, I've learned more to interact with other human beings and be more mindful of what to say (or not). This carried over to interactions on the Interwebs.
Superchao: It certainly did! You've become one of my favorite examples of "look at this jerk not being a jerk anymore". Excellent work!
Lakituthequick: Thanks!
Superchao: What draws you to the boards, anyway? Both before and after your improvement. Like... why do you stick around?
Lakituthequick: I have an old teacher that still uses me as an example on similar parts.
Lakituthequick: I think this is mostly because of the Awards and the organisation around it. I found out about it in 2012 I believe and joined the AC the year after. Been there ever since.
Lakituthequick: I just love the organisation of it all and making some presentations.
Superchao: I can't blame you, the organizing of the awards is what keeps drawing me back to them. Even when I don't think I have enough time, I make time!
Superchao: Help.
Superchao: So is that your favorite part of the Awards, then?
Lakituthequick: Oh boy, I like so many things… I would say of course the presentations, always nice to see what people have come up with, and also the organising of things like Anniversary Scavenger and working on something for Guess the Results, if simply because I like to do things differently.
Lakituthequick: Also of course Anniversary Announcements! I like putting stuff in tables.
Superchao: It's kind of amazing how much you've become part of the awards experience. Between announcements, scavenger, and staff spot, this is a lot further than back in 2012
Lakituthequick: Absolutely.
Superchao: What inspired the scavenger hunt, anyway?
Lakituthequick: It came to me at some day. I remember when The 'Shroom organised a scavenger hunt with pumpkins, and I also wanted to do something differently where people wouldn't have to own a specific console or game. I came up with the collectibles because of a similar design in Nintendo Badge Arcade. This all clicked together somehow.
Lakituthequick: Wanting it to work work automatically with a complete album was me being me I guess.
Superchao: I've noticed you have quite a lot of programming and website design interest... as your current 'Shroom staff position tells us.
Lakituthequick: That's correct. I'm studying in this field too and have followed internships for it, so while MarioWiki related stuff is hobby, it is also what I like to do elsewhere.
Superchao: Any particular reasons, or did you just wake up one day and decide website design was where you planned to go in life?
Lakituthequick: Some parts of this I recall just vaguely. I once got into Game Maker in places I went and managed to get my dad to purchase a license for it. It contains a code editor too for more advanced users. I didn't initially understand it but the existence of code stayed with me.
Lakituthequick: Somewhere along the line my father started doing the website of my primary school and I came along sites that would host snippets of code. The connection is vague but I started tinkering with it. Eventually I discovered one could do more with it and it grew from there.
Superchao: And now you're the official website designer for the 'Shroom. How far we come.
Lakituthequick: Yes, even if I haven't had much to do with the current design, I am glad to be here now.
Superchao: What do you like about website design, anyway?
Superchao: You're clearly passionate about it, and you have a lot of energy for it. Is it just the opportunities it gives, or more than that?
Lakituthequick: I like how there is so much you can do with it and how different projects all require different designs and functionality. You have simple websites where people read about stuff like company sites and, well, wikis, but also complete applications that don't require more than just a browser. It's pretty diverse and that's why I don't get bored of it quickly.
Lakituthequick: The fact that I can make a living with it later is a nice bonus, but I just love doing it.
Superchao: Hey, I can't blame you. Variety's part of why I'm interested in my fields of study!
Lakituthequick: I'd ask you what your fields of study are, but then you wouldn't be the one asking the questions anymore.
Superchao: Very true! We can't upset the natural balance of the interview until the end. For now, we must remain rigidly in our defined roles.
Superchao: To that end, I'm curious if that's your long-term ideal? Going into website design as your job, rather than just for fun
Lakituthequick: I consider myself more of a developer than a designer, but that aside yes, I want to go into it for my job, but that won't take the fun away.
Superchao: That's the ideal, after all. Work being fun. It's... not easy to find, though :V
Superchao: So I wish you the best of luck!
Lakituthequick: Thank you!
Superchao: So, we've talked about the community in general and the Awards. What about the 'Shroom, what drives you to assist with it so much?
Lakituthequick: Well, I mentioned earlier that I once submitted a section, but it got lost and didn't take of (there are now good policies in place to avoid that from happening). I did still want to write something, and while I was in the Awards Committee, I noticed that Anniversary Announcement had a very… inconsistent publishing schedule. That's what got me into it again.
Lakituthequick: I've also been regularly asked to do a guest section, so that kept me hooked even before AA.
Superchao: Hahaha, yeah, AA was... something that could have used more work. It helps to just have a single regular dedicated writer, I'd say. Like you!
Lakituthequick: Yeah, I'm the first one consistently write it for more than one season, and this is year 4, so it goes pretty well I'd say.
Superchao: It ever amaze you how long you and everyone else have been at the place?
Lakituthequick: For AA or in general?
Superchao: Both, really.
Lakituthequick: It's diverse, in AA four years versus one or less is quite a difference. Elsewhere I see lot's of familiar faces every year, such as Fake News and the Awards direction, while others vary more.
Superchao: Fake News will never lose MCD. ...Probably
Superchao: Sometimes I wonder just how long we're going to keep this up, considering how well everyone's been adapting to having jobs and lives. It's honestly impressive!
Lakituthequick: I think it is the community and team effort that keeps it all spinning. Maybe a nice place to flee to when real life isn't. That's how I see it at least.
Superchao: I'm basically dead certain anyone who's been around with the community long enough at this point is here for community and not just because they need to talk about Mario
Superchao: EVEN YOU!
Lakituthequick: And you are correct! I'd get tired quickly if the "hey this is my favourite X in X game" question was the only thing happening.
Lakituthequick: Even if that is literally what the Awards are about. Irony.
Superchao: Honestly, at this point, I feel the awards have become a backdrop for community celebration, in a good way
Superchao: We use them as an excuse to do fun things with each other, create cool content, and just have a time of year we come together as a bunch of friends
Superchao: Maybe in 2007 and 2008 the primary purpose was actual evaluation of what's the best X in X game, but it's changed over time, in my view
Lakituthequick: Yup, that's what the Community category (and Userpedia before that) was created for after all.
Superchao: Imagine the young people who have no idea what 2007 awards were like
Superchao: They lucked out
Lakituthequick: To be honest, I have only looked at it quickly sometimes because I had nothing else to do, and it was quite something back then. They trusted people to post their presentations without checking if they really had one apparently!
Superchao: Not just that, but they did presentations that covered two or even three at once.
Lakituthequick: The horror
Superchao: It was a different time...
Superchao: Speaking of Mario, though, you mentioned Mario 64 DS as the game that brought you to the wiki.
Superchao: What do you think of it?
Lakituthequick: I discovered it when I wasn't aware of the N64 version. Actually before I even knew other consoles than the DS existed. That aside, I really liked the game, and think I would still like it if played it today. It aged a lot better than the original did.
Lakituthequick: The minigames are also a nice addition, even if the rabbits were impossible to find if you only needed like one more.
Superchao: You and Anton can be buddies in thinking Super Mario 64 didn't hold up well! THE ULTIMATE TEAM
Lakituthequick: Probably! Like I know it was a pioneer game in the industry, but in comparison to now...
Superchao: That's actually how I feel about Ocarina of Time. Every time I try to play it, I go "wow! I could be playing one of the 3D Zeldas I really like instead!"
Superchao: Are there other Mario games you like as much, though?
Lakituthequick: Well, right now it is Super Mario Odyssey I like a lot because it is very reminiscent of 64, plus it also looks good. If we are talking about games back then it would be Mario Kart DS, because it felt good. It also more or less introduced me to Lakitu! I was very surprised to find him an enemy in SM64DS after.
Superchao: Yeah, I was wondering myself why you named yourself after Lakitu.
Superchao: Just like him a lot, huh?
Lakituthequick: Yeah, you could say that
Lakituthequick: I've always been interested in flying without needing fancy equipment for some reason. The cloud also adds some symbolised freedom. It somehow stuck with me.
Superchao: Well, hey, I can't blame you for liking Lakitu for that! It's better than my reason for liking Shy Guys. Was it one of your favorites that introduced you to him?
Lakituthequick: I've spend plentiful hours in that game yeah. Though I also liked SM64DS a lot.
Lakituthequick: Now I think of it, I also liked a lot how the Lakitu Bros. 'filmed' the events of the game. I discovered that in the mirror room back then.
Lakituthequick: They told it at the start of the game, but I didn't know much English back then.
Superchao: I've seen that described as a second-person perspective. I have no idea if that's an accurate name for it, but it's certainly a unique take!
Lakituthequick: I think this borders on third person, and 'second person' is fixed over the shoulders or something. Your millage may vary.
Superchao: Who knoooows.
Superchao: Since you mentioned 64 DS brought you to the wiki, and that you didn't know much english yet, was that your first ever Mario game?
Lakituthequick: I think that was MKDS.
Superchao: Oh, neat. You got started with one of your favorites! Always a good way to enter
Lakituthequick: Definitely!
Superchao: Besides Mario, are there any other video game series that often stand out to you as highlights?
Lakituthequick: Hm, I am a bit closed minded when it comes to other series. Breath of the Wild is my first real Zelda game (that costs money), to give an indication. So... that series could be seen as my non-Mario highlight.
Superchao: Why's that?
Lakituthequick: I don't know, I guess I don't really need games with fourty storylines or violence and stuff, so Mario is very appealing and doesn't leave much of a gap for other genres. You could say that BotW was an extreme change in comparison.
Superchao: I suppose, but it's always good to at least branch out. Better to give new things a try than write them off, huh?
Lakituthequick: I guess so, but I'm good currently. I'm not so bad that I don't try demo's in the eShop at least, so who knows, maybe something I really like comes along eventually.
Lakituthequick: I just remembered, I play some Lego games occasionally too.
Lakituthequick: Fun fact: Lego introduced me to Star Wars.
Superchao: I'm surprised you didn't just get buried in Star Wars via nerd culture
Lakituthequick: I'm not that deep into Star Wars culture, just the movies.
Lakituthequick: I know an "Expanded Universe" exists, but that's where that ends.
Superchao: It's... very expanded.
Superchao: So how'd you start gaming to begin with, anyway?
Lakituthequick: I went to places and other kids would play DSes occasionally. Naturally I wanted one too and eventually got one for my tenth birthday. At first I only had a Disney Tamagotchi-like game on it because it featured Winnie the Pooh (I absolutely loved Pooh, still do). Then later my father's colleague provided a totally legitimate library of NDS games which included a bunch of Mario games.
Superchao: And you promptly threw all of the non-Mario out the window, right :V
Lakituthequick: I did try out a bunch, but Mario stuck more.
Lakituthequick: It's been a while, I don't remember all games.
Superchao: It's okay, it happens. I started with an NBA game, and look at me now!
Superchao: I can see why you went on from there, though. DS was a good system.
Lakituthequick: Yup, the multiplayer and dual screen aspects were utilised correctly. Plenty of Mario Party DS with friends along the way.
Superchao: But isn't friends a requirement for that?
Lakituthequick: Ssst
Superchao: Besides video games and internet, are there any other hobbies you strongly have?
Lakituthequick: I am a member of Scouting and regularly do things there. We are having our yearly summer camp as we speak actually. Aside from camps I volunteer as help with younger branches occasionally and we do fun things with our own age group.
Superchao: Ooh, what got you interested in that? You've never struck me as the type, nothing personal :V
Lakituthequick: I have been lured into it in a way with stories, and while not everything I was promised is here, I really liked it and it stuck.
Superchao: Hey, that's always worth it! What's your favorite part about scouting?
Lakituthequick: Probably pioneering, which is constucting things with poles and rope.
Lakituthequick: Also in my favourites is a yearly event which involves a lot of mapping and communication, which I have build an application for. I need not explain why I like that :P
Superchao: Heheheh, it's pretty obvious!
Superchao: So, would you say this is the last question?
Lakituthequick: Only if you believe in it...
Superchao: I suppose I do.
Superchao: Do you, though?
Lakituthequick: Considering you asked, not really, no!
Superchao: damn... you got me
Superchao: Well, thanks for being here
Lakituthequick: Anytime, thanks for having me!

In Conclusion: A solid pal and an accomplished website worker, LTQ is a great person to have on your side when you're trying to do things in the MarioWiki community... or in general, really! I hope this interview has helped convince you that if you want to reject LTQ's help for some bizarre reason, you really shouldn't be too quick to do so!
NIWA Spotlight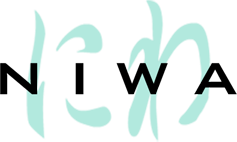 Hello everyone and welcome back to NIWA Spotlight, a NIWA-focused spotlight that covers one article from all of our partnered wikis that need help. These can range from articles that need more information or created to images that need replacing or uploaded. Notice something on a different wiki you can't fix and want to get the word out? Let me know on my talk page or in this forum topic and it will be added to a future issue. For our Mario-related topics, check out the current The 'Shroom Spotlight!
I added an corrected some images to SmashWiki's Coliseum page, but not all of them got fixed.
As of the time of this writing, the Nintendo Wiki is currently down for maintenance. Because of that, I'm unable to access the wiki and choose something for this month's list.
I ask that any additions that could be made to the Donkey Kong Wiki be made to the Super Mario Wiki instead, where possible, as per this discussion. And remember to follow the wiki policies when adding content!
Category
Wiki
Subject
Direct Link
Wanted Article
Dragon Quest Wiki
A Flying Bed? What sorcery is this? I hath heard of Flying Carpets, but a bed? Preposterous! Though perhaps someone with Dragon Quest VI could tell me more…

Flying Bed

StrategyWiki
MapleStory seems like a…very large game. Many of its subpages have yet to be made, so if you know this game, pick one and start creating!
MapleStory
Stub Article/Section
ARMS Institute
A majority of the Party Crash event pages are lacking in information, namely the rounds that occur during the events. Conflict of Interests is one such page with this missing information.

Conflict of Interests

Fire Emblem Wiki
The gentle giant Benny is a character from Fire Emblem Fates. Yep, that's it. I remember fighting him in Birthright, but it seems he has bigger roles in Conquest and Revelations.

Benny

Golden Sun Universe
Donpa was the mayor of the town of Lunpa, who stepped down due to his old age. Article tells us his story and feelings toward his thieving son, so it look like the article is just asking for more quotes.

Donpa

Hard Drop Tetris Wiki
Welltris is, well… Tetris. It looks like it could be for an older PC system, since it released in 1989 and one of the screenshots has a computer in the background. It also has a couple figure skating? What is this game?
Welltris
Lylat Wiki
The Krazoa are ancient spirits which protect the planet Sauria in Star Fox Adventures. Along with that being the only line of information on the article, it could also use some more images.

Krazoa

Starfy Wiki
Soil is a fish with a drill on its head in the Japanese only Densetsu no Starfy 4. It apparently appears in a group of three only once in the game. What else does it do?

Soil

Wars Wiki
Andy has a clone in Advance Wars?! Didn't know that, and I certainly wish I knew more. Alongside missing information, the article is also missing an image and there's another Andy Clone page that could be created.

Andy Clone (AW1)

Rewrite
Metroid Wiki
Adam: The Screw Attack ability is powerful and versatile. However, it seems our information on it is needlessly condensed and also needs to be updated. Any objections to improving our information?

Screw Attack

Pikipedia
There's a guide for getting through Twilight Hollow in Pikmin 3, but it is horribly jumbled. A proper rewrite from someone who knows the area would be helpful.

Twilight Hollow#Strategy

SmashWiki
A specific section on the Lock article is asking for a rewrite, but the whole article needs work. When the very first sentence is full of jumbled grammar, there's a problem.

Lock

WikiBound
The List of EarthBound characters is exactly that: a basic list. Some links need fixing, and maybe some images could be added to show who is who.

List of EarthBound characters

Additional Images
Bulbapedia
In Pokémon Rumble Blast, there are these things called Glowdrops that can heal every Pokémon in the player's party. They sound important! What do they look like?

Glowdrop

Icaruspedia
Palutena: Say, Pit? You still remember the time we fought each other?
Pit: Why do you keep reminding me? I'm trying to forget about it…
Palutena: Yes, well, I need you to go back to that chapter and get some more screenshots of the mission.
Pit: No, no, no, I'm not going through that again!
Viridi: Well, it's a good thing Palutena isn't the one controlling your flight path in that chapter! Haha!
Pit: Viridi? What are you-- No, put me down!
Palutena: Have fun, Pit!

Palutena's Temple (chapter)

Inkipedia
There are many brands across the Splatoon games, one of these is named "Skalop". A full catalog of images would certainly help its business.

Skalop

WiKirby
Air Ride is the main mode of Kirby Air Ride, where all the actual racing takes place. The racing occurs on diverse areas, from meadows to snowy mountains to space. Shame there's no images of either of them.

Air Ride#Courses

Image Quality
Zelda Wiki
The point in Hyrule Warriors when the Master Sword truly awakens is a special sight. All the warriors are gathered as Link holds up the—Lana, what are you wearing?

File:HW - True Master Sword.png

Citation Needed
F-Zero Wiki
The Skull's real name is unknown, but some sources claim that it may be Sterling LaVaughn. However, these sources have wanted to remain anonymous, so some tracking is necessary.

The Skull

Nookipedia
Anabelle the anteater's page claims that she replaced Ankha the cat's place in Animal Crossing: Wild World. As you can probably tell by this section name, a citation is needed.

Annabelle
Retro Feature
Written by: Yoshi876 (talk)
Hello readers, this is your Spotlight and former Pipe Plaza director here with another issue of Retro Feature. In this section, we look at previous sections that featured in The 'Shroom from yesteryear.
I decided fairly early on when I started Retro Feature that Retro would be seen as roughly five years. And as coincidence would have it, this issue is my five-year anniversary for writing for The 'Shroom. Now in that time I have seen us have many directors from Super Mario Bros. (talk) to Superchao (talk) to RandomYoshi (talk) and of course our current management Meta Knight (talk). I have seen so many writers come and go, and seen so many brilliant sections. And of course some of those section I myself have written. In my time for The 'Shroom, I have written for every sub-team, and been lucky enough to be a Director for Pipe Plaza, and for one issue Fake News.
For those interested in the sections that I have written, I've written Obituaries, Featured, The 'Shroom Spotlight, Quiz, What's on the Box, Ongoing Fan Projects, Retro Feature, Character Reviews, Movie Reviews, Mario Kart: Wheel Tips Corner, and Pokédex Power. There have also been a couple of guest submissions along the way. Out of those sections I no longer write Featured, Ongoing Fan Projects and Mario Kart: Wheels Tips Corner, and now there's another section to add to that list. This will be my final Retro Feature, although hopefully not the end of my involvement with Pipe Plaza. I sincerely hope you guys enjoy my first ever Obituary, I think they've improved over the years.
Lakitu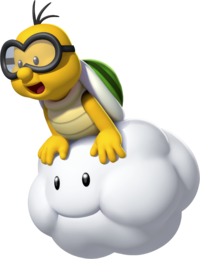 Science finally caught up with thousands of
Lakitus
today as they realized that their clouds are not actually solid objects, and as a result they fell through them to the cold, hard ground below. Many would have survived had they not been carrying
Spinys
with them, as many were impaled on their spikes (the Spinys however were perfectly fine) and were later arrested with the charge of Lakitu-slaughter. We would supply images but they were deemed too grotesque, and so I hung them up in my living room; it livens up an otherwise dead room. There are several implications with the untimely tragedy of
Macbeth
, but we can't dwell on Shakespeare for too long as the Lakitus' deaths also carry grave implications. For starters,
Mario
was complaining to me that he can no longer hijack their clouds and ride them to get
Star Coins
, which makes collecting them all that more annoying. We also discovered that there would be no-one to fish racers out of lava or water and as a result Mario Kart fatalities are at an all-time high. However, the main implication of their deaths is that they can no longer serve the
quite ineffective
great leader of the Koopa Troop, Bowser.

"I'll miss those guys, the way they used to leap out of the water was both majestic and powerful…, what? You mean those aren't Lakitus? Oh right, you mean those guys. Yeah, they'll be missed I mean they were quite effective", was his official statement.
However, the Union of Players Everywhere released a statement saying 'Thank everything that Lakitus are gone, they were just too difficult to kill, especially Lakithunder'. The players who released this statement were all later found to be noobs and were forced to write another statement that has yet to be published.
A funeral was going to be held, but the manager of Funerals R Us decided that there were too many to bury at once and so they elected to leave all the Lakitus where they were. Many friends of the Lakitus objected to this and threatened court action, but they were killed off or mysteriously disappeared convinced that it was for the best.