The 'Shroom
:
Issue 136/Palette Swap
From the Super Mario Wiki, the Mario encyclopedia
Jump to navigation
Jump to search

Director's Notes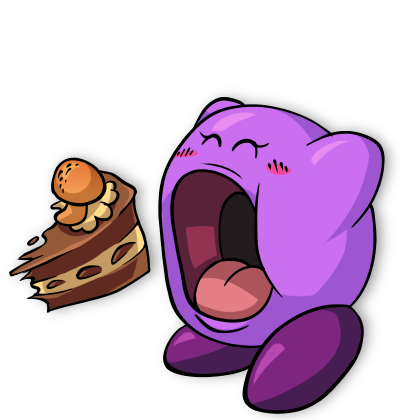 Happy July, everyone!
Recently, Octopath Traveler came out, and I have really been loving it. The music is stellar, the graphics are gorgeous and the team mechanics are fun to use. My only real complaint is the boss battles can get a bit long and boring, but it could be worse (it could be Yiazmat!). Either way, if you love RPGs, don't miss this one, it's a real treat.
This month we are featuring our artwork sections! All of our writers have put their best work forward, so I won't keep you any longer!
Section of the Month
WOW was this a close one! We have tie this month, between Hooded Pitohui (talk)'s Mario's Boombox section on Levar Allen's music and Henry Tucayo Clay (talk)'s Take Cover! variety section. The Pyro Guy (talk) was a close runner-up with his updates on Ongoing Fan Projects. Thank you to everyone who voted, and please continue to vote!
---
Art Sections
---
Pyro updates on artistic endeavors around the community!
[read more]
What's on the Box?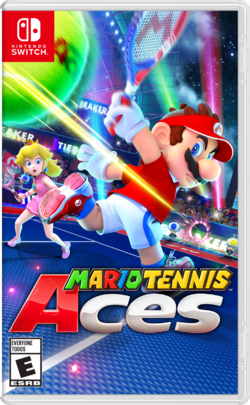 Hello readers, and welcome back to What's on the Box.
I hope you enjoyed the E3 conference this year. It looks good to me, but sadly not many Mario games were announced, which means less boxart for us to cover in the future. But no matter, one new game that is coming to us is Mario Tennis Aces as it releases later this month.
As is expected with a Mario game, the boxart features Mario. It also features Princess Peach, and several spectators including Toads, Koopa Troopas, Goombas, Paragoombas, Shy Guys, Sledge Bros. and Magikoopas.
Ordinarily I might complain about a boxart like this being a bit bland, but I think I'll take a break from that this month because this boxart is insanely beautiful. I love how the night sky looks, and how the lighting effects are seen on the court, with some even obscuring parts of the audience. I love every ridge on the court floor, the fact that the TVs on the side are showing that Mario and Princess Peach are at a tiebreak point in their game, and the reflection in Mario's eye; although it is a shame that another competitor is not reflected in it. I also love how some members of the crowd are showing their support for Mario by wearing his iconic hat, but it looks like they're less fussed with the Princess being there seeing as none of them are wearing crowns or any of her other adjournments.
That's not to say that some improvements can't be made. Like I said, it'd be nice if another competitor, Luigi for example, was reflected in Mario's eye. Also, as much as I understand why a generic court was used, it would have been nice to have seen a less generic court and one of the more unique ones. But other than those mine nitpicks, this is a truly stunning boxart.
Ongoing Fan Projects
Written by: The Pyro Guy (talk)
| User | Thread | Description |
| --- | --- | --- |
| Niiue | Niiue's sprites | Here you can find Niiue posting many sprites and projects, such as a phone boss, a car or even a flaming tree. |
| Fawfulthegreat64 Master of Dimensions) | FTG's art | A collection of Mario-themed artpieces. His last posts have been renders of ships, titles and Waluigi. |
| Koops (Everyone) | Koops' art thread. | One of our newer threads containing drawings by Koops, such as fan-art for Smash Bros. |
| Turboo | The Chair (MW10T) | This is Turb's art thread. He's recently made a picture of Mario, but- hey, I think the nose is smaller than usual! |
| Toadbert101 (Rin Shima) | Stuff I make - dont ask for anything | A thread of Toadbert's Oregon series and other artwork. He has recently created a cool drawing of a Bionicle. |
| Atari-Dude | Super Mario Odyssey NES | A playable recreation of New Donk City in an 8-bit environment. It's good, trust me. |
| Fawfulthegreat64 (Master of Dimensions) | FTG's videos and such (Recent: SPM hacking showcase + character mod) | FTG has recently modded Dimentio into Super Paper Mario, plus other mods exploring the game's 3D mechanics. |
| Doc von Schmeltwick | Doc von Schmeltwick's SMAS SMB3 expanded sprites | This is a thread containing DvS' original spritework based on the games of old. The most recent post shows off an overwhelming number of Burts. |
| Cardboard Tube Knight | So, I write fan fiction | A couple of fanfictions that CTK has written, such as an Avengers AU starring Mario characters. |
| Alex95 | Alex95's Thread of Stuff (Power Master/The 'Shroom/YouTube) | A thread all about Alex95's various creations, from his Power Master games to his YouTube videos. He has recently shown off a new look for an underground boss. |
| Gato | Super Mario Gear Solid | A game by Gato placing Mario in a universe with mechanics from the Metal Gear series. |
| Roller | Roller's Reasons | A thread where Roller posts his works, from writing to sprites. The most recent stuff is all memes and poems. |