The 'Shroom
:
Issue 136/Fun Stuff
From the Super Mario Wiki, the Mario encyclopedia
Jump to navigation
Jump to search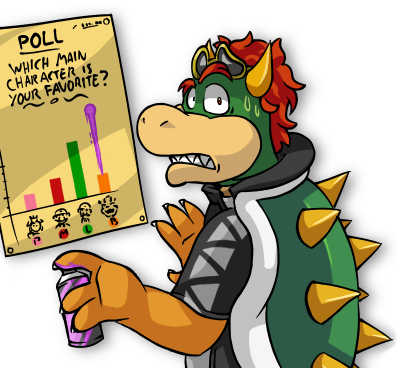 Staff Notes
Written by: Lord Bowser (talk)
If Team Octopus loses this Splatfest I will riot Octoboy is too precious to lose and Octogirl is cute af too and Inklings are kinda annoying TBH when they spam Booyah every 5 seconds like goddamn we get it you're having fun but simmer down squids you get annoying and grating with your callout spam alright now lets all get along and help Team Octopus win what they so richly deserve
Anyway, it's July! You know what that means; Awards polls have just closed up, which means its time to work on presentations! Help out our dear Anton by signing up for one or four! It also means it's time to vote in the Art Contest! Check out our prized artists' works in the Contest page in this very paper!
In other sad news, Camwood777 (talk) has unfortunately resigned from Picross due to real-life issues. I do wish him the best, and he will be missed. If you're interested in filling his spot on the team, or any other Fun Stuff spot - maybe even make your own! - make sure to contact me!
That's it for this intro. I hope you enjoy this issue of Fun Stuff!
Section of the Month
Congratulations to all of our writers for their works!
FUN STUFF SECTION OF THE MONTH
Place
Section
Votes
%
Writer
1st
Mystery Images
17
29.82%
LudwigVon
2nd
Where in the Marioverse is Carmen Sandiego?
16
28.07%
FunkyK38
3rd
Quiz
14
24.56%
Yoshi876
---
Graphic Activities
---
I'm a master in the sport of, uh... sportsball.
[read more]
Anagrams
Written by: BBQ Turtle (talk)
Hello everybody, and welcome to this month's edition of anagrams! I've been enjoying playing some Mario Tennis Aces recently, so I thought I'd let you enjoy some Mario Tennis Aces themed anagrams this month- and don't worry, if you haven't quite finished the story mode yet, there are no big spoilers (I haven't even beaten the Snow Ogre yet, I got stuck on the Shy Guys on the train for a while). Aside from that, any suggestions for a theme next month or funny anagrams you've found are more than welcome, just let me know on my talk page or PM me on the forums. OK, anagram time!
How it works...
Basically, this puzzle consists of solving the anagrams. Each month has a specific theme, which will give you a clue about what sort of words or phrases the anagrams will be. I've also included the boxes that the anagrams will fit into, so you'll be able to tell how many words it will solve to be and how many letters will be in each word, which should give you a hand too. You'll also notice that within each set of boxes, one of the squares are yellow. As you solve each anagram, note down the letter which appears in the yellow squares, and if you can solve all of the anagrams, you'll also get a bonus anagram to solve from completing all of the others. I've included the letter configuration for this one at the bottom too, just to give you an extra helping hand. Best of luck!
1. CAMP INCH HO
2. NOMINAL OF WALNUTS
3. REFASHION PLANT TRAPS
4. AM AMID MEAGER
5. THEN ZOOS
6. HENCE LEGAL PLAN
7. ELF UP CROW
8. URBAN SKIS
9. STORK ITCH
10. AIM IN A MUSTARD
11. PEA IN THERAPY
Bonus Anagram:
Answers
Chain Chomp
Snowfall Mountain
Piranha Plant Forest
Madame Mirage
Zone Shot
Panel Challenge
Flower Cup
Bask Ruins
Trick Shot
Marina Stadium
Petey Piranha
Bonus Anagram: Special Shot
It's aMAZEing
Written by: Lakituthequick (talk)
Welcome back to another It's aMAZEing!
Exactly one year ago I requested that Meta Knight feature a basketball. Why not continue the trend of a sports ball by having a volleyball this time? Unlike the basketball, this one may not touch the ground.
Do you have an idea for a maze you'd like to see? Leave a message on my talkpage or find me on the forums and send me a personal message, and your idea and name may be featured in a future episode!
How to play:
Copy the image into your favourite art program (like Paint, Photoshop, GIMP, etc.)
Click the line, pencil or brush tool and adjust the size as needed
Draw your line though the maze from start to finish
Zoom in and out as needed
Alternatively, print it out and use a pencil!
To view the answer, click here!
Where in the Marioverse is Carmen Sandiego?
HOW TO PLAY
Each issue, you will be given a case to solve and clues to use to help you find the solution! Use your Mario knowledge to crack the case!
You will begin each case at the scene of the crime, and you will be given three clues from passerby as to where the next hot spot is and what game it's from. Using your knowledge of Mario games and the Super Mario Wiki, figure out where the crook is and go track them down! There are four locations each round: the crime scene (1) at the start, two locations (2 and 3) with clues, and the hideout for the crook of the month (4). Answers for locations will be given with the corresponding round, for example, the clues from the crime scene will lead you to location 2, and once you open the spoiler bubbles for location 2, you will be given the correct answer. You can open the clues for each location in any order you'd like, but be careful! You may encounter an incorrect clue that could throw you off the case!
Clues offered will give you a hint either about the next location or the game it's in. Unlike a regular Carmen Sandiego game, you do not have to collect information about the crook you are tracking down.
Challenge round (optional):
-Find all locations and games correctly in two minutes or less
-Find all locations and games correctly without using the rest of the Wiki for help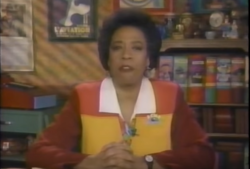 "Gumshoe, we've got a big problem this time! It's no small heist, Bowser's Castle has been swiped! Bowser's Castle has always been a home for final levels in Mario games, whether traditional platformers or sports games, and it's where the Koopa King and his children plot and live with their Koopa army. This time we have received word that Carmen herself has pulled off this heist. It could be our chance to finally catch, her, gumshoe! Don't let her get away! "
Crime Scene

The Crime

Carmen has captured Bowser's Castle! Find that palace!

CLUE 1

"She's going to get grabbed for sure."

CLUE 2

"This game had the best story Mario's ever had."

CLUE 3

"Such a fantastic Wii game!"
Location 2

CORRECT ANSWER

River Twygz from Super Paper Mario

CLUE 1

"Don't get burned, there is still plenty of fire here."

CLUE 2

"Ah, time for the third chapter of greed..."

CLUE 3

"Here, have an apple. You'll need it later."
Location 3

CORRECT ANSWER

The West Crater from Wario Land 3

CLUE 1

"You'll probably have an easier time getting through here without having to escort someone."

CLUE 2

"You might want to bring a razor in with you..."

CLUE 3

"This one took such a loooooooong time..."
CASE CLOSED
HIDEOUT ANSWER: Sluggy the Unshaven's Fort from Super Mario World 2: Yoshi's Island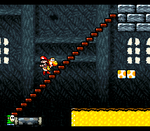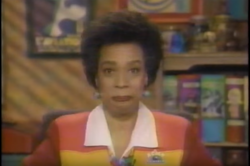 "You've done it, gumshoe! We rushed right to the location you specified and Carmen was there for us to nab! We've got her, cadet! Bowser's Castle was there, safe and sound, and it has been returned to it's rightful place in the middle of Bowser's Kingdom. You've done a truly great job this time, gumshoe, we here at ACME are all so proud of you! Carmen will be locked up behind bars for a long time to come! You've earned yourself a first class vacation to the Mushroom Kingdom!"
INCOMING TRANSMISSION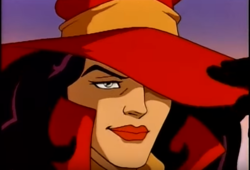 "Well done, rookie, finding me amid all those clues. I'll admit defeat for now. But if you truly think you've gotten the best of me, you've got another thing coming. I'll be back, and when I get out of here, you'll have a whole new mess to figure out."
Quiz
Howdy 'Shroom readers, welcome to the Quiz!. As you may have figured out from the name, this is a section where I quiz your Mario knowledge.
Despite having it for just over a year, this month was the first month that I actually played my Nintendo Switch. The two Mario games are Mario Kart 8 Deluxe and Super Mario Odyssey. So to commemorate me starting these games, I am basing this month's quiz off of those two games. Get quizzing!
Easy
What is the first thing that you capture in Super Mario Odyssey?
Which six characters were brought into Mario Kart 8 Deluxe?
What is the name of the airship that Mario and Cappy travel in?
Medium
Which SNES course returns in the Battle mode of Mario Kart 8 Deluxe?
What colour are the Power Moons in the Cascade Kingdom?
Which character does the staff use on Mario Kart Stadium in 200cc?
Hard
What are Moon Rocks called in the Prima guides?
How much boost to your Ant-gravity speed stat do the Triforce Tyres give?
What is the only painting that the player can access before having access to the Mushroom Kingdom in Super Mario Odyssey?
Answers:
Easy
A frog.
Dry Bones, King Boo, Bowser Jr., Gold Mario, Inkling Girl, Inkling Boy.
The Odyssey.
Medium
Battle Course 1.
Yellow.
Gold Mario.
Hard
Mysterious Cubes.
+0.25.
Yoshi's House.