The 'Shroom
:
Issue 136/The 'Shroom Spotlight
From the Super Mario Wiki, the Mario encyclopedia
Jump to navigation
Jump to search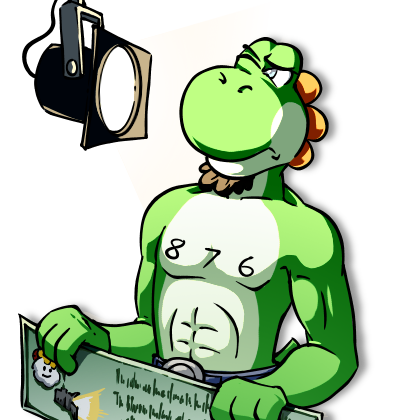 Hello readers of The 'Shroom, and welcome to Spotlight. Spotlight is a community project which aims to fix up the articles on the wiki which have issues. These issues can range from poor writing, to a lack of images, to even just needing a credible source.
Welcome to this July addition of the project. Things are starting to heat up over here in England, especially since we're the middle of a heatwave right now. But, let's make sure this edition of Spotlight is just as smoking hot"
We had a 100% success rate with our Luigi-themed focuses last month, which is absolutely incredible. In fact, they were completed in about a week, just goes to show how popular the green guy is around here. I thought that Tony Rosato was going to be one left untouched, but Toadette the Achiever (talk) created it; he also added enough information to the Mario + Rabbids: Kingdom Battle is no longer a section-stub. Both YoshiEgg1990 (talk) and TheFlameChomp (talk) added the missing quotes to List of Luigi quotes; YoshiEgg1990 also re-uploaded File:NSMBWiiTC-F24-Front.png and uploaded an image for Marrakech. And finally, YoshiFlutterJump (talk) was able to re-source the previous dead link on Paper Luigi.
And now onto this month's focuses:
| Article | Category | Focuses |
| --- | --- | --- |
| List of regional coins in the Luncheon Kingdom | Wanted article | The Luncheon Kingdom is full of food, but we can't buy food without any money. So an article with the locations of every Regional Coin in this kingdom is definitely required. |
| Paper Kamek | Rewrite and expansion required | The article explains his role in a story sense, but how does this paper being fight? And is there anything else for the story section, I might not be far into the game, but I'm sure he had a part to play in Doop Doop Dunes. |
| Cloud Strife | Citation needed | We all love a good bit of Super Smash Bros., but this time we're looking for a source regarding some information on the Final Fantasy series. See if you can find a source for the claim that Final Fantasy VII was intended for the SNES. |
| Training Barrel | Image requested | In Donkey Kong 64, Cranky teaches the player the basics in a special Training Barrel. But how are we meant to progress if we don't even know what the barrel looks like? Stop monkeying around and grab that banana... I mean image |
| File:Smiley Bomb.PNG | Image quality requested | The bomb might be smiling, but after looking at the image's quality, I'm certainly not. Let's fix up the blurriness this so there can be smiles all around. |
| Invincible Mario | Articles that need more images | What we're looking for here is every instance of an Invincible Mario in the franchise. And also, let's spread the images out, currently they're all languishing in the Gallery section, leaving the rest of the article looking incredibly sparse. |
Now just before I leave you, I'd like to tell you about the NIWA Spotlight. This is a project being run by Alex95 (talk) and can be found in this paper's Pipe Plaza section. Much like this Spotlight, the NIWA Spotlight aims to fix up articles across various Nintendo franchises, that are all part of our NIWA group. Now, Alex struggles to get people actually contributing to the project, so if you can, give him a hand!
Thanks for tuning in to the newest edition of The 'Shroom Spotlight! Be sure to turn up next month, where we'll be reviewing the progress on the above focuses. If you have any questions or suggestions about this month's set of article focuses, then please get in touch through the dedicated topic if you have a forum account. If not, then please contact myself on my wiki talk page. You are also welcome to make suggestions on what you think we could focus on in our next edition. Thank you, and good luck!