The 'Shroom:Issue 109/Palette Swap
From the Super Mario Wiki, the Mario encyclopedia
Jump to navigation
Jump to search

Director's Notes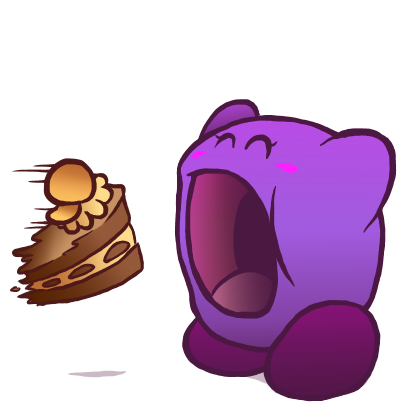 April! It's spring where I live, and I'm just glad to be getting out of the cold.
By now, all of you know that we've tragically lost the amazing Walkazo (talk) a few weeks ago. Not only was she a great contributor to Palette Swap on all counts, but she was an incredible person who I bitterly regret not getting to know better. Walkazo, may you rest in peace among the stars, and know that we'll never replace you.
We have a couple of pieces of artwork dedicated to her in this month's issue from our sub-team, but I'm currently collecting more for a complete section for Issue 111, so if you have a tribute that you'd like to contribute, please feel free to PM me on the forums with it.
Unfortunately, as most of you know from last month's issue, Crocodile Dippy (talk) has stepped down from her music sections and album reviews. I'm sorry to see her go, as her sections were always very entertaining to read, but I wish her the best as she continues to direct.
On a brighter note, I am thrilled to welcome The Pyro Guy (talk) to the team! He will be taking over the new fan-made edition of What's on the Box?, and you can check out his first article below (and you totally should because it's awesome!)
Additionally, The Adventures of Little Mario is back as well! Walkazo was always about 20 steps ahead of me, and she finished a season's worth of strips before the section even started. We've been working with Pantaro Paratroopa (talk) to get them from her computer, so it is thanks to him that we have the honor of publishing the final episodes of his late sister's series.
Last thing, usual plea: Palette Swap is now considerably understaffed, especially since most writers are working on a bi-monthly schedule. As usual, if you'd like to apply to write for us, send any questions my way on the forums, or PM Henry Tucayo Clay (talk) with an application for the section you'd like to write for. New ideas are welcome, and any random art/music submissions you'd like featured can have a home here as well!
~FunkyK38
Legend of Zelda Music Contest
Entries are now closed! Voting will start tomorrow, April 24th, on the forums! Thank you to everyone who entered a piece in our contest!
Pokémon Art Contest
Voting is over, and I am happy to announce our winners! Thank you everyone who voted, and thank you to everyone who entered!
The top spot was super close, but in first place, with 11 votes, it's Meta Knight (talk), receiving 5 'Shroom tokens!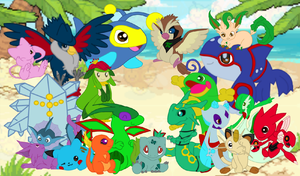 In a close second, with 10 votes, Hypnotoad (talk), netting 3 'Shroom tokens!

And in third, with 1 vote, The Pyro Guy (talk), earning 1 'Shroom token!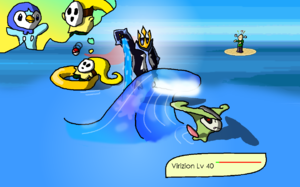 Thank you to all of our wonderful artists and to YOU, who voted for our winners! Please do continue to vote in the Zeldamon Music contest!
Section of the Month
Thank you to everyone that voted, and thank you from me for keeping Walkazo's streak alive. She put her all into her comics, and I'm glad to see our readers supporting her work still.
Music Sections
---
Dippy continues the late Walkazo's series by discussing Fwosh.
[read more]
---
Packy debuts his new section by discussing Pentatonix!
[read more]
The Adventures of Little Mario
Drawn by: Walkazo (talk) (edited by Pantaro Paratroopa (talk))


What's on the Box?
Written by: The Pyro Guy (talk)
Welcome to a new issue of "What's on the Box?" in which I take a look at some wonderful fan made box arts for already existing games or for games made up by the creator.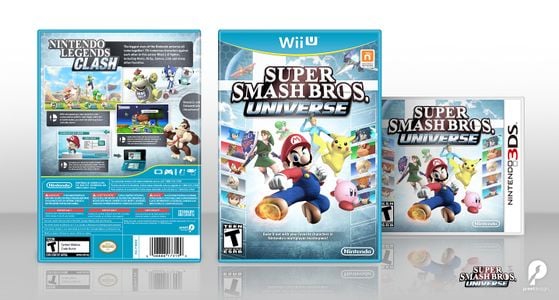 This fan box art for Super Smash Bros. for Nintendo 3DS and Wii U, by an artist named YoshiStar, was created three years ago. Interestingly, the general community believed that the current title was a placeholder name until the developers thought of a more interesting name; I must admit, "Universe" seemed to be the most popular suffix for the game. Onto the actual content, the front cover details Mario, Link, Kirby, Pikachu, Yoshi and Zero Suit Samus posing in what I believe to be original art (bar Yoshi) with Tails from the Sonic series riding his Tornado and an Arwing covering the background. Another feature of the front is that several character portraits from both old and new characters decorate the edges, but with reused artwork or fan made 3D models.
Moving on to the back cover, we can randomly see an official Donkey Kong artwork filling in some space, as well as reused Bowser Jr., Oshawott and... Sonic (if I recall correctly he isn't a newcomer) artwork showcasing the new characters that join the "Universe". The two gameplay scenes look authentic from a distance, but when I zoomed in it turned out that it was more official art placed into a picture of a new stage.
I was surprised at how accurate some of the mentioned features were despite having little information on the subject, such as: bringing characters between versions, customization options, the inclusion of Bowser Jr. and Rosalina and a couple more minor points. Overall, this box art is actually very pleasing to look at, not to mention imaginative foresight into the future of Smash Bros. While YoshiStar didn't create his own game, he sure did a good job for a game only just announced at E3 2013. I'll see you next time.
Game Mods
Written by: Baby Luigi (talk)
Hello, this is Baby Luigi once again writing about game mods. You may have noticed that a section here is missing, The Adventures of Little Mario, which cannot be further continued. One of our best editors here, Walkazo (talk) on MarioWiki has passed away due to a car accident. Car accidents are the number one killers for people her age, and even though chances are you'll likely not die from one, it is an extremely unfortunate probability that hasn't been in Walkazo's favor. I've always considered Walkazo one of my buddies here, and she's the only person here who also shares an interest of birds. She has shared her bird banding experiences and has discussed other bird-related things. I am upset that I cannot further my discussion of birds with her, nor can she learn and observe birds on the West Coast where I live, as well as probably tell her of the one day I will see Common Grackles on the East Coast, and she'll be dearly missed by everyone here. I will not forget her at all.
On a more positive note, this month's Game Mod is something I had under a while. Yes, it's another Baby Luigi hack, but this time, it's for another game. Presenting to you, Baby Luigi Over Toad in Mario Party 9 !
This is a simple model replacement for Mario Party 9. He goes over Toad, the main reason is that Toad's skeleton is a perfect fit for Baby Luigi. They're nearly the same exact proportions, with a giant head, stubby arms, and stubby legs. I guess this is a reason I gotta appreciate Toad being in many games, even though Toad IS one of my favorite characters.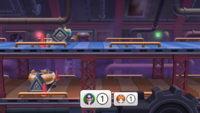 However, this mod comes with a blatant problem; you can probably guess that it's the lighting. No matter how closely I attempted to replicate the shader parameters via Brawl Box, I had undesirable results, so I HAD to make the model use Geometry for Normals shading instead of model normals. And I think the shaders parameters is the reason Baby Luigi tends to disappear in certain camera angles. Another "problem" is that I didn't replace EVERY HUD in the game. HUDs are all over the place, and they're in many different files and folders with their own purpose. That's gonna take a while to replace them all.
Oh and I forgot, like in my New Super Mario Bros. Wii mod, Toads all share the same model, so the Free-Play Toad (Blue Guy) and the host Toad (Yellow Guy) are replaced by yet another Baby Luigi. Hnnng. At least the Toad and Go Seek Toad isn't affected, but if you look at his model and the other Toad, it's considerably lower poly and therefore, considered a "different model".
(*cough cough* I know how to make two different-looking models with one model *cough cough* it involves swapping textures and transparency in animations *cough cough I'm currently working on an update for my Baby Mario Bros. over Toads mod that involves unique head models *bllarrrrrggghh*)
All HUD here is a custom-made render made by me, Baby Weegee. It still looks different from the rest of the renders, but I think it's still pretty nice looking for a custom one, where people usually take renders from other games for their own game HUD.
By the way, I have figured out how to make sound replacements for New Super Mario Bros. Wii and Mario Party 9. It's a lot more steps than just click and replace: to paraphrase you extract the section you want out of the .brsar, you replace your sound in that group with Brawl Box, save it, then you take a hex editor, copy and paste your new sound wave hexadecimal from that group, then open the .brsar with a hex editor, and replace the original hexadecimal with your new one. Is this a complex process? Sure, but my section isn't about making sound replacements so I won't go into too much depth about it.
Oh one more thing, here's a sexy video I made showcasing off this hack, because otherwise, it would be impossible to showcase sound mods. Oh and if you see ads, it's not because I monetized this, it's because YouTube's copyright system matching the ID of songs I used literally less than a third of.
https://www.youtube.com/watch?v=7hIHN-ubrlM
And if you see a Pink Mario....well just ignore it.
If you read my section, well thank you! If you want to offer any suggestions on what I should cover, drop a message to me on my talk page, PM me on the forums, or drop me a message any where I can read, such as my Steam profile or my deviantart profile. There's still a bunch of untapped mods out there I'd love to discuss about, even if I never got the chance to play their source game, namely Skyrim or other games I may never heard about. If I haven't, I'll research the mods on YouTube and other websites. If not, look forward to my next section in May!
Rest in Peace Walkazo....and Baby Luigi out.
Art Tribute to Walkazo
Drawn by: The Pyro Guy (talk)
It pains me to say that Walkazo (talk), our veteran staff member and 'Shroom writer, tragically passed away in a traffic accident on the 27th March, 2016. It was an honour to even talk to her, and she was the one who motivated me to draw my comic and hone my drawing. And because of that, I've redrawn a picture of her that I first drew when I was learning how to draw. After her support, I've come far from that, so here's my tribute to the wonderful Walkazo.

Mario's Boombox
Written by: Crocodile Dippy (talk)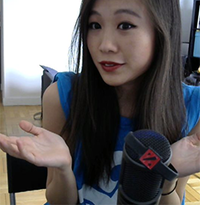 Hey readers, this is your beloved Critic Corner director here, Crocodile Dippy (talk). As you're no doubt aware by this stage, prolific Wiki Bureaucrat, studying ornithologist, writer of Mario's Boombox, and my dearest friend, Walkazo (talk), passed away in a tragic car accident last month... she was a deeply important person to me, and I will no doubt have her on my mind for the rest of my life, both for the good times we had and the things I should've said. She did so much to touch the lives of those around her, and one of the ways she made an impact was through this very section here in The 'Shroom, where she illustrated amusing little music topics that she wanted to share with others. I thought it'd be right to see the season off by completing the next three Mario's Boomboxes in her stead, and she and I often spoke of ideas I had for this section in the event she had to take a month off, so here it goes.
So, first up, I want to share with you all the work of a small Youtube personality who nonetheless has a fair presence in the Dota 2 community; Fwosh. Fwosh is a popular participant in the Dota 2 scene despite not being a professional player or caster, instead being known for her cosplay, fan works, and association with professional figures in Dota 2, occupying a similar space to PyrionFlax or SirActionSlacks. While many people know her from SingSing's ridiculous streams, what I want to cover here are the works that dominate the majority of Fwosh's Youtube channel, her song parodies. For a long while, Fwosh has dedicated her Youtube channel primarily to doing dorky Dota 2-related parodies of popular and Disney songs, although as can be expected from novelty music, some tracks are better than others.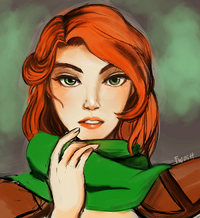 But before then, back when she first made her Youtube account in late 2007, it was used to upload her own piano renditions of video game and anime tracks, with her first piece being a remix of Tidus and Yuna's respective themes from Final Fantasy X. She would go on to release more live recordings of her piano performances over the next two years, some highlights being the Elite Four theme from Pokémon Red and Blue, Zelda's lullaby from The Legend of Zelda: Ocarina of Time, and Sakura's theme from Naruto. But it wouldn't be until early 2014 that she would shift her focus into parodies, starting out with the parody of "Do You Want to Build a Snowman?" from the Disney film Frozen titled "Do You Want to Lane Together?", sung from the perspective of Lina begging her canonical sister, Crystal Maiden, to help her win the early stages of the game (the laning phase, as it's called). An adorable little video with some very clever lyrics for those who have ever experienced a mopey player in Dota 2, this song saw a massive boom in her account's popularity, with this video in particular being her most viewed with 752,126 views, and it inspired her to set up a Patreon dedicated to her songs She followed this up a month later with "For the First Game In Forever", another Frozen parody based around the joy of playing a random game with people who actually know what they're doing, which can be quite the rarity when playing with randies in multiplayer games.
From there, she began releasing songs on a monthly basis as per her Patreon agreement, so allow me to ramble on about some of my favourites. The first one I ever discovered was "Shake It Off", which is a parody of... well, "Shake It Off" by Taylor Swift, written as a loving ode to the hero Earthshaker, a utility support hero whose ultimate deals more damage the more enemies are grouped up together (he even has a voice clip where he says "shake it off"!); "We Need Wards", a parody of "Sugar" by Maroon 5, dedicated to the beautiful art of placing wards on the map - cheap support items that grant players vision over an area (Observer Wards) or allows one to see invisible enemy units (Sentry Wards); "Hey There Lanaya", a parody of "Hey There Delilah" by Plain White T's, a somewhat corny but adorable love song between a support player and the hero Templar Assassin (her real name is Lanaya), which she performed with another Dota 2 songwriter, TheHorseRapper; "Dear Mr. Icefrog", a parody of "Dear Future Husband" by Meghan Trainor, a begging plead to IceFrog - lead creative designer for Dota 2 - on how to rebalance the game following the rather restrictive 6.85 patch; and "At TI5", a parody of "Blank Space" by Taylor Swift, which quips about The Dota 2 Internationals 2015 and the sort of ridiculous crap everyone got to bear witness to on that incredible week.
Not all of her parodies are amazing, of course, especially ones that require she use a far more dynamic or abrasive vocal range, as her naturally soft voice doesn't translate super well to these sorts of tracks. It's like how "Weird Al" Yankovic just couldn't do his parody of "Radioactive" justice because the instrumentals just were not up to scratch. But still, Fwosh has a good talent for translating in-game and community jokes to lyrics, and her vocal talents are improving with each song release. She continues to release songs on a monthly basis, as well as post art and cosplays on her Facebook and Tumblr. If nothing else, at least this has gotten you somewhat interested in Dota 2 or in writing dorky parody songs.
Packy's Packtastical Musical Adventures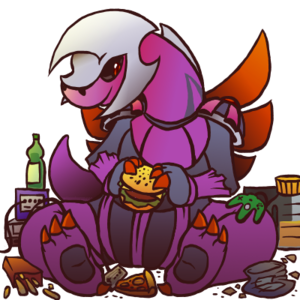 Oh, hi there. I didn't see you there. You're just in time, though, because I'm about to begin my lecture! So come on over, sit down in that nice, yellow chair right there. Yeah, that specific one I'm pointing out just for you. Don't question it, just enjoy it! So, erm… where to start?
Welcome to Packy's Packtastical Musical Adventures! I am here today to explain and review a group that, for the most part, has been the primary source of sound emanating from my headset nearly 12 hours a day. I am very strange when it comes to music, as I have a tendency to "adopt" a band for some really out-there reason and become obsessed with them almost immediately. It has happened with bands like Culture Club, Ben Folds Five, Keane, or They Might Be Giants, just to name a few. There are a few bands that I become obsessed with and lose interest within months, if not weeks, while others have become mainstays of my personal favorites playlist on Spotify. One of those mainstays, a group I have been heavily in love with for the past few months, is a bit out of the ordinary in that it is not your typical guitar/bass/drum-driven band. Instead, we are going to focus on a band that has steadily reached a podium in my top five musical acts of all-time: quite possibly the first mainstream a cappella group in modern history, a little five-person ensemble known as Pentatonix.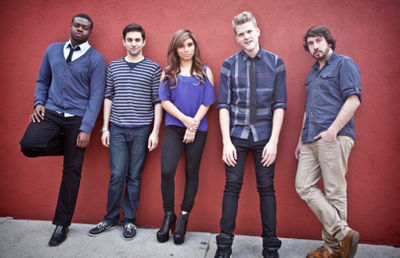 Pentatonix planted their roots at Martin High School in Arlington, Texas, when classmates Kirstin "Kirstie" Maldonado, Mitch Grassi, and Scott Hoying arranged an a cappella version of Lady Gaga's "Telephone" for a contest to meet the cast of
Glee
. Although the trio failed to win the contest, their interest in music stayed strong as Maldonado and Hoying graduated and moved on to college, with Hoying attending the University of Southern California. As a member of USC's SoCal VoCals, one of the most popular collegiate a cappella groups, Hoying caught word of the a cappella competition show
The Sing-Off
from SoCal VoCal member Ben Bram, and was encouraged to audition for the show. Hoying persuaded both Maldonado and Grassi to join him, but the show required each group to maintain at least four members. Hoying met Avi Kaplan, an extremely highly recognized vocal bassist in the a cappella community, and successfully was able to recruit Kaplan to join the group. To round-out their arsenal, the trio found Kevin Olusola on YouTube, after one of his videos in which he simultaneously beatboxed and played the cello went viral. The five got together for the first time the day before the auditions for the third season of
The Sing-Off
began, successfully auditioning with "Telephone" and would ultimately win the title for season three, capturing the world's attention with fifteen different performances throughout the season, including some of my favorites by the group during their early period:
a cover of Ke$ha's "Your Love is My Drug"
,
The Buggles' "Video Killed the Radio Star"
(which is widely considered as the performance that solidified Pentatonix as the favorite to win
The Sing-Off
), and
Florence and the Machine's "Dog Days Are Over"
(which is arguably the greatest performance in the history of the show's run).
Pentatonix is, essentially, powered by three primary vocalists in Maldonado, Grassi, and Hoying. Maldonado, as the sole female in the group, supplies a soprano vocal. Grassi, meanwhile, showcases a very high-pitched vocal range of that of a tenor, whereas Hoying rounds out the trio as the primary front-man of the group, utilizing a baritone vocal range. Kaplan serves, primarily, as the vocal bassist with an extremely outrageously beautiful basso profondo vocal range, and has sung lead on a few tracks that will be tackled later on. Olusola, finally, is the vocal percussionist and beatboxer of the group, and delivers some outright nasty sounds that make me question how exactly he can breathe. As we begin this journey together for this month and, yes, next month, I want to remind any reader that there are, for the most part, ZERO instruments used in this group. The only instances of any instruments used are the cello and the violin, in, to my knowledge, three songs. Any other sound is produced solely from the mouths of Maldonado, Grassi, Hoying, Kaplan, and Olusola.
After winning season three of The Sing-Off, Pentatonix relocated to Los Angeles and signed with the Sony Pictures-owned label Madison Gate Records, and began work on their first album with Hoying's old friend and now the group's producer, Ben Bram. As the group worked on their first official release for six months, they would release covers of both popular and classic songs on YouTube in an effort to remain connected with their audience, along with gaining new fans. The majority of the covers immediately went viral. On June 26, 2012, Pentatonix released their debut EP (extended play).
Pentatonix
Track Listing:

Starships
The Baddest Girl
Somebody That I Used to Know
Aha!
Show You How to Love
Love You Long Time
We Are Young

PTX, Volume 1
United States
A cappella
Madison Gate Records
Favorite Track(s): "Starships", "Aha!", "Love You Long Time"
PTX, Volume 1, totaling almost 23 minutes in length, is compiled with seven songs – five covers and two originals, and signaled the beginning of Pentatonix's rise and dominance in music.
"Starships"
, the opening track of the EP, is a cover of the 2012 song by Nicki Minaj, one of the best-selling digital singles of all-time. The tune is primarily sung by Hoying with snippets by Grassi and Maldonado, and was accompanied with a really kind of corny, albeit fun, music video.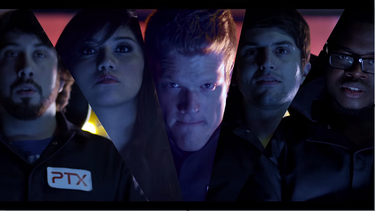 The video portrays the group as astronauts belonging to "ASNA", before having their space program shut down forever, and follows the band as they build their own, very intentional lackluster-looking rocket ship. It's a bit of a cute video, although the dancing would probably make anyone cringe. The song itself also isn't bad, and kind of matches the same pop-sounding style that the original version holds.
"Aha!"
is one of the heaviest-sounding Pentatonix songs in their entire catalog, and is one of the best early-PTX examples of Kaplan and Olusola's crucial involvement to their overall sound. A cover of the 2009 tune by Imogen Heap, the song is sang entirely by Grassi, showcasing his extremely high-vocal range, and is complemented beautifully with harmonies by, mostly, Maldonado and Hoying. "Aha!" has since become a concert-staple, and remains one of the only tracks from
PTX, Volume 1
to be performed live to this day. The music video released with "Aha!" uses the song as a scary story told around a campfire. The story portrays the five members of Pentatonix, dolled-up in spooky, torn-up zombie-type clothing, stalking and hunting a couple inside their house in an attempt to capture them.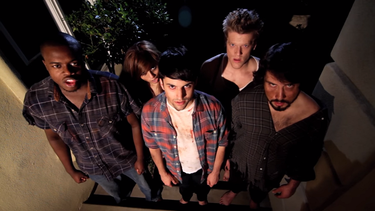 It's one of the few Pentatonix music videos that, basically, does not solely feature the band in one room singing the song, and for that reason, the music video alone is pretty nifty. The song itself is also fantastic and is arguably my second favorite track off the EP.
That being said, probably my favorite song off of PTX, Volume 1 is possibly the simplest track off the EP. "Love You Long Time", a cover of Jazmine Sullivan's 2010 original, features Hoying on lead, with Maldonado and Grassi supplying harmonies on nearly every line of the song. The song is backed-up by a deep bass by Kaplan and a constant drum-beat by Olusola that genuinely rises in volume as the song goes on. Aside from "Aha!", it was the only other song from PTX, Volume 1 that was performed live on Pentatonix's 2015 world tour. Unfortunately, it was not accompanied with a music video!
Highlighting those three favorites is not meant to take anything away from the other four tracks – "The Baddest Girl", "Show You How to Love" – both of which are originals, the former penned by Hoying, whereas the latter was written by Kaplan and Olusola – a cover of Gotye's "Somebody That I Used to Know", and finally, a cover of fun.'s "We Are Young" (which actually features a video done live, along with the actual studio version. All seven tracks hold their own and the album is overall extremely solid, particularly for a debut EP. Within a few weeks, however, Pentatonix was back at work creating the follow-up, appropriately titled PTX, Vol. II.
Pentatonix
Track Listing:

Can't Hold Us
Natural Disaster
Love Again
Valentine
Hey Momma / Hit the Road Jack
I Need Your Love
Run to You
Daft Punk
Save the World / Don't You Worry Child (iTunes pre-order exclusive)

PTX, Vol. II
United States
A cappella
Madison Gate Records
Favorite Track(s): "Hey Momma / Hit the Road Jack", "I Need Your Love", "Daft Punk"
Released on November 5, 2013, PTX, Vol. II features an even more ambitious Pentatonix group entering a foray of different genres, including the lovely world of mashups. The EP thrusts Pentatonix's sound into what I consider as close as "psychedelic a cappella" can get to, truthfully. The album, clocking in at just under 32 minutes, features 8 tracks, including a ninth if you pre-ordered it on iTunes.
My first favorite from PTX, Vol II is the first instance of a mashup on this album, "Hey Momma / Hit the Road Jack". Primarily sung by Hoying on lead, "Hey Momma" was conceived by lines written by Olusola that had no place to be put into, before the group decided to pair it with "Hit the Road Jack", a 1960 Percy Mayfield song made famous by the great late Ray Charles that was originally an a cappella piece. An absolutely genius mashup that is not even the best of its kind on the album, it is unfortunately just one of two songs on the EP that does not feature a music video. A song that has grown on me over time, it is kind of a strange mixture of the pop-y Pentatonix sound paired with the jazz/a cappella overtone of the original "Hit the Road Jack", complete with snippets of fantastic harmonies that accompanied the 1960 recording complemented by Olusola's beatboxing and Kaplan's bass.
With that being said about "Hey Momma / Hit the Road Jack"... the song does not really compete with my two favorites on this EP, personally. That brings us to
"I Need Your Love"
, Pentatonix's spin on the popular Ellie Goulding/Calvin Harris collaboration from 2012. Featuring a beautifully sung intro by Grassi, the song features absolutely fantastic harmonies between Hoying, Maldonado, and Grassi, entwined by solo-lead sections by Hoying and Grassi, and capped off with Kaplan nailing the bass notes and Olusola delivering a constant drum-beat that drives the song to the climax.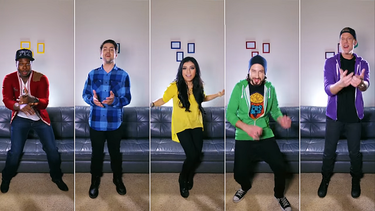 The song finishes off with one of the very first instances of Kaplan singing by himself, showcasing his beautifully deep voice (deep compared to Hoying and Grassi's, at the very least) that will become crucial to one of the most emotional Pentatonix songs in the catalog, but we will get to that soon! Oh yeah, and "I Need Your Love" does have a music video, as linked up above – if you have ever seen my rotating Maldonado gifs in my signature on the forums, they are from that music video! It is such a relatively simple music video but it is one of my favorites.
The final song from
PTX, Vol. II
that I really want to highlight is kind of a no-brainer for anyone that knows Pentatonix.
"Daft Punk"
is widely considered Pentatonix's magnus opus, and is possibly the most creative arrangement of the group's output. A mashup featuring seven Daft Punk songs ("Technologic", "One More Time", "Get Lucky", "Digital Love", "Harder, Better, Faster, Stronger", "Television Rules the Nation", and "Around the World"), the recording features solos by Grassi, Hoying, Maldonado, and Kaplan, intense three-part harmonies, a strong bass by Kaplan and outright fantastic percussion by Olusola, extremely smooth transitions between songs, and a killer complexity of sounds that outright make you question just how these sounds were made by human mouths.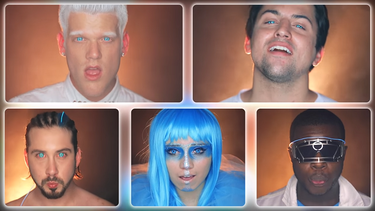 Brought to fruition by Hoying and Grassi, who were huge Daft Punk fans dating back to high school, the mashup was essentially the make-it point for Pentatonix, as the group was awarded, alongside producer Ben Bram, with the Grammy for Best Arrangement, Instrumental, or A Cappella in 2015 at the 57th Grammy Awards for "Daft Punk". The song also features one of my all-time favorite music videos, as the band puts their own spin on technologic "make-up" of sorts, as Hoying showcases a whiteout of white hair and eyebrows, Olusola wears a futuristic black-and-grey eyepiece, and Maldonado is cladded in a really pretty blue dress with blue hair, complete with blue make-up and glitter covering her eyes, nose, and down to her chin. Throughout the video, Hoying, Grassi, and Kaplan are all shown to have light blue shining wires wrapped around their faces/necks at certain points, and the three, along with Maldonado, are all wearing light blue contacts. Fun fact – if you watched the "I Need Your Love" music video and noticed Grassi and Kaplan's eyes were outrageously irritated, it was because that music video was filmed afterwards, on the same day, as the "Daft Punk" video – both Grassi and Kaplan's eyes did not respond well at all to the contacts!
The rest of the album is excellent as well, and overall a more adventurous album than its predecessor.
"Can't Hold Us"
, the opening track (and the opening to my Pentatonix playlist on Spotify, actually), is a Macklemore and Ryan Lewis cover, and is a really nifty opener.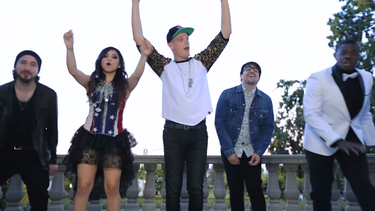 It is extremely uplifting and abrasively loud song that showcases all five members' abilities (and utilizes that as the basis around the accompanying music video), before all five members come together at the end for a terrific ending.
"Natural Disaster"
, the only other song on the EP to not have a video, is an original track utilizes stomping more than another tune that I know outside of the music video for Mumford and Sons' "Little Lion Man". That aside, it is also a really great, underrated tune primarily sang by Hoying that unfortunately does not receive much attention, from what I have seen. Kaplan's a beast on it, also.
"Love Again", on the other hand, is a completely different beast. The group's first official entry into actual dance music that a DJ would probably play, mixed in with a bit of psychedelic flavor, is really... strange and out-there. The music video is abnormally flashy and the get-ups of the group look like something out of Syfy's Face Off. Also an original, it feels like a slightly more outrageous counterpart to "Daft Punk", but it does hold its own and really is not that bad of a song.
"Valentine" and "Run to You", in the same vein, are also different beasts in that they are both ballads. "Valentine", as its name suggests, is the more romantic of the two, especially by the way the song sounds. Led by Hoying and Grassi, the song has a really interesting backing in the beginning by way of Maldonado, Hoying, and Kaplan faintly singing single words to back Grassi up, until Hoying and eventually Grassi duet in the middle section of the song, before closing off in the same way that the song began with Hoying, Maldonado, and Kaplan beautifully offering the closing lyrics one word-at-a-time. "Run to You" is different in that it is entirely vocal, with no usage whatsoever of either bass or beatbox by Kaplan and Olusola. Both join Hoying, Grassi, and Maldonado in singing perhaps the prettiest sounding song on PTX, Vol. II. The tune is genuinely straightforward until about two and a half minutes in when Hoying, Kaplan, and Grassi up the ante, before being joined by Maldonado and Olusola in a section that sounds unusual given how soft and quiet the vocals had been, but ultimately end up climaxing a perfectly gorgeous four and a half minutes.
The final song, "Save the World / Don't You Worry Child", is an iTunes pre-order exclusive and not actually on any physical copies of the EP. The third mash-up on PTX, Vol. II is a combination of two Swedish House Mafia tracks from 2011 and 2012, and, although probably not as creative as "Hey Momma / Hit the Road Jack", it is still a fantastic song and it's kind of a shame that it was saved as a pre-order exclusive. It offers some great harmonies and kind of has the same "dance music" vibe as "Love Again", although not nearly as psychedelic sounding and the music video is not as out there as well. It is, admittedly, another Pentatonix song that has warmed up to me over time and I could definitely see it overtaking "Hey Momma / Hit the Road Jack" as a favorite on this album at some point.
Just months after release of PTX, Vol. II, during their European tour in April and May 2014, Pentatonix began work on what I consider to be their best work yet. The follow-up EP to PTX, Vol. II, just as it was appropriately titled, was released on September 23, 2014, as PTX, Vol. III.
Pentatonix
Track Listing:

Problem
On My Way Home
La La Latch
Rather Be
See Through
Papaoutai (featuring Lindsey Stirling)
Standing By

PTX, Vol. III
United States
A cappella
RCA
Favorite Track(s): Literally every song.
This is the one album I knew coming in that I would have so much fun talking about. It is, without a doubt, my favorite album released by Pentatonix and one of my all-time favorite albums by any musical artist. Six of the seven songs on this EP have, at one point or another, been at the very top of my favorite Pentatonix songs, and I would very easily rank all seven of them very highly on whatever Pentatonix songs list I would ever create. Clocking in at just a second over 24 minutes, the album was the group's first release on RCA Records, and contains four covers and three original tracks.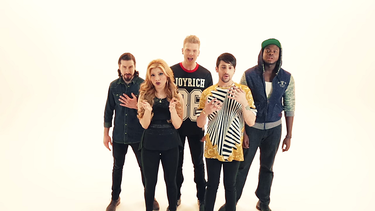 PTX, Vol. III
kicks off with what is probably the simplest of the three openers thus far but by far and away my favorite.
"Problem"
, a cover of Ariana Grande's 2014 hit, starts off with a few simultaneous notes by Olusola and Kaplan with intermediate breaks that are filled with Grassi, Hoying, and Maldonado, before finally joining together a few seconds in led by Kaplan. The tune, with Hoying on lead, is considerably standard by way of Grassi and Maldonado performing back-up, Olusola delivering a kick-ass beat, and Kaplan, in my opinion, showcasing one of his best recordings on any Pentatonix album. The song, halfway through, cuts into a bit of a rap section done by Grassi, firstly backed by a beat by Olusola, before Kaplan joins in with a really amazing deep whistling overtone, and closing out with Hoying and Maldonado providing back-up as the beat evolves into including handclaps. And, if that was not enough, the song closes out with Kaplan just being flat-out seductive in delivering "I got one less problem without you" in a voice that is just... jeez.
"On My Way Home", the first original on the album, was actually written by the British alternative rock band Coldplay for their seventh album, A Head Full of Dreams, and given to Pentatonix. Before I chase off anybody that dislikes Coldplay, I will definitely tell you that Pentatonix delivers in a way that is SO much better than Coldplay. The song, in really nifty ways, is kind of deeply rooted in "Pentatonix lore" (yes, I genuinely just said that) or history. It was ultimately the title for their 2015 tour (appropriately named the On My Way Home Tour), it is the name of the group's documentary that was released in June of 2015 (a really fantastic documentary, by the way; it tells of the group's journey reaching this point and covers the 2015 tour), and was used as the closing song at every concert during the On My Way Home Tour (excluding the encores). The song, sang by Hoying, is basically kind of an emotional chant that anyone attending their concerts can very easily sing along with and is the type of song that would fit as the closing on any other album. Sometimes I wonder why it was not used as the closing for PTX, Vol. III, but then I realize what is... but we will get there momentarily!
That does, however, bring us to the third track on the album.
"La La Latch"
is, honestly, my favorite Pentatonix song. The only mashup on the album, it combines Naughty Boy's "La La La" and Disclosure's "Latch", with both songs sharing one thing in common: both feature Sam Smith contributing vocals. It is similar to "Daft Punk" in a way that it gives Hoying, Grassi, and Maldonado all their own separate vocal sections with one another backing each other up, but, to me personally, "La La Latch" is a little more intricate than "Daft Punk" in a shorter amount of time.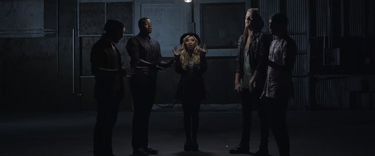 Featuring a rather complex-y beat by Olusola with a consistent, lasting bass by Kaplan, the song goes through a few different sections. The first section introduces the three main subsections that are heard two more times throughout the song: Maldonado's delivering of the 'la la' intro from "La La La", Hoying introducing the opening lyrics from "Latch", and changing over to Grassi singing the first verse of "La La La", before closing out with Maldonado delivering the chorus from "La La La". The mashup enters its second section, with Hoying belting out the next verse of "Latch" (with some really groovy backing by Grassi and Maldonado), before switching over to Grassi who just absolutely kills (in a good way) a bridge of "Latch", delivering one of the most notable high-pitched tenor performances Grassi has ever given out. The song then breaks-down, as the music video provides revolving videos of each member while Olusola, Grassi, and Kaplan kick-off the breakdown, being eventually joined by Hoying and then Maldonado, to deliver a brief entwined section that combines both "La La La" and "Latch". The song is, to me, an absolutely perfect representation of what Pentatonix is – three really fantastic, amazing vocalists, a deep, bone-chilling bassist, and a consistent, both quiet-and-loud beatboxer, all of whom are capable of arranging and performing insanely infatuating and interesting mashups, or, in the entire discographies' case, would also include covers and originals.
"Rather Be"
, one of my favorite Pentatonix songs overall (probably top five), is, to my knowledge, the first Pentatonix song on these first three EPs to feature Maldonado as the sole lead vocalist, and man, oh man, does she absolutely nail it. If having her voice come full force in "La La Latch" was not enough, "Rather Be" maximizes it and showcases just how brilliant and amazing of a singing voice Maldonado actually has. Featuring a really pretty intro by Grassi, Hoying, Kaplan, and Olusola, the song just immediately turns into a gorgeous, uplifting vocal performance by Maldonado with some great backing by Hoying, Grassi, Olusola, and admittedly, one of my favorite bass deliverances by Kaplan.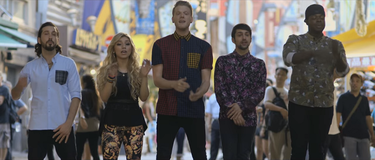 A cover of a pretty good Clean Bandit original, "Rather Be" is arguably one of the prettiest and nicest tunes in the group's catalog, from the cutesy intro to Hoying and Grassi's fantastic high-pitched backing to Maldonado's perfect first official solo lead performance. It is just a really pleasant song and omg fine I cannot help it, I am most definitely a Maldonado fanboy.
"See Through" is kind of the black sheep of the album. It is the second original on PTX, Vol. III, and unfortunately does not feature a music video. It is the only song on this album that has not climbed to being my all-time favorite Pentatonix song at one point or another, but that should not take away anything from this song. It features an incredibly haunting vocal performance by Grassi, and is kind of a strange emotional dance-pop mix that is relatively quiet in sections and loud in others and, again, really haunting. The song, however, does feature some fantastic upbeat parts and good lord Kaplan's bass in this song is unbelievable and prominent. I am also kind of a sucker for the "oh baby" backing vocal by, I think, Maldonado during the chorus – the way it sounds really fits the kind of haunting atmosphere that this song gives off and it is a really, really great track. By the way, have I mentioned that Grassi is one of the most talented vocalists I have ever heard? His tenor voice is beyond unbelievable and, between this, "La La Latch", and "Rather Be", I am beyond ecstatic that Grassi and Maldonado have both improved as overall singers and feel comfortable reaching new ranges and pitches and being able to execute them gorgeously.
But why stop new things there? Let me introduce you to Pentatonix's cover of Stromae's
"Papaoutai"
(which translates to "Dad, where are you?"), which, to my knowledge, is the first Pentatonix song ever to actually feature an instrument. Kind of breaks the a cappella feel, huh? Did I mention that this song is sung entirely in French? Oh, and that it also features famous violinist Lindsey Stirling? And remember that Kevin Olusola became viral on YouTube by playing a cello while beatboxing? Well, that is now a thing in this song!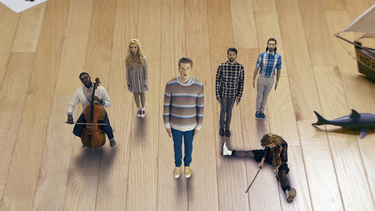 With all these differences, you might be a little worried that this song breaks away from the standard Pentatonix feel, and, truthfully, it does a little bit. The song features Hoying entirely on lead in one of the heavier-sounding songs (if not the heaviest) in the group's discography, with Maldonado and Grassi backing him up, and Kaplan... well, you know, he is off being a beast on the bass. I feel a really strange connection to this song by way of just how much it features strings, and I think that comes from being such a big fan of the Electric Light Orchestra (my all-time favorite band), a famous 70s/80s rock/pop band that blended rock music with classical elements by way of using stringed instruments – ironically enough, the cello and violin were the two most prominent instruments in reaching that goal. It is a little hard to describe this song just because of it being entirely in French, but I can say that Hoying absolutely destroys (AGAIN, in a good way) this song on lead, reaching a new point that I do not think has ever been ventured into with his vocals. The strings by Oluasola and Stirling are also fantastic, and drives this song into a completely different realm that ultimately climaxes at the appropriate moment. The music video for this song is also incredibly different, featuring the group and Stirling as dolls singing, dancing, and performing for a little boy whose father will not play with him because he is too busy – begging the question, "papaoutai?"
The final song on PTX, Vol. III and the final song that will be covered in this introductory might be the most emotional Pentatonix song out there. The third original on the EP, "Standing By" continues the trend of introducing new thing by ushering in Avi Kaplan's assertion that even the bassists' vocals can match the best vocalists in this group. Kaplan's first sole lead vocal, "Standing By" is just so flipping pretty that it often will get a tear out of me whenever I listen to it. It is a bit of a haunting track, albeit different that way compared to "See Through". The tune starts out entirely with Kaplan performing a bit of a quiet vocal, with Grassi, Hoying, Maldonado, and Olusola quietly backing him up, before Kaplan begins flirting with a bit of a longing "ohhh" segment, and the song escalates a bit into having the backing-four raise their voices higher, with Olusola coming through a bit more with a clearer beat. Kaplan continues to belt out some of the prettiest lyrics in any PTX song, as the harmonies reach a higher point that is absolutely beautiful sounding, until a quick beat by Olusola cuts it off. Kaplan continues with his "ohhh" segments, backed with a loud stomp that grows faster until the song reaches its climax in the best way to end off this perfect album. I cannot, personally, properly explain just how pretty this song is, or how drop-dead perfect and underrated Kaplan's singing voice is, but this song does it justice, and it does the entire album justice.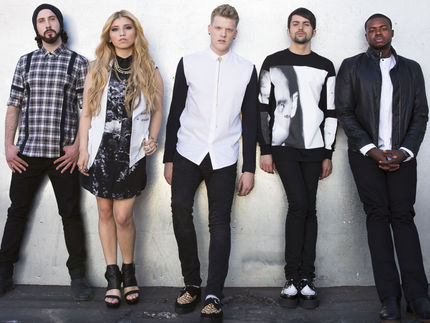 So, really, what does this all mean? Why did I just spend so much time reviewing and talking about three Pentatonix EPs (probably really awkwardly, sorry), just to end off here? I think we will have to wait till next month before I can properly answer that question. Pentatonix's music, and particularly Volume III, are kind of emotional rollercoaster rides that I have sold myself away to for the last few months, and I literally could not be any happier that I did. I hope you guys reading had as much fan as I did talking, typing, putting all this together... but I hope you guys truly enjoyed listening to the music, and I hope some of it sticks with any reader out there. I will certainly go a lot more in-depth and personal next month, when I will tackle Pentatonix's 2015
Pentatonix
album, and some of the songs that were not on any Pentatonix albums. I hope you all will join me, I would love it if you did!
I love you guys, enjoy the rest of your month! I will see you all next month! :)