The 'Shroom:Issue 108/Fun Stuff
From the Super Mario Wiki, the Mario encyclopedia
Jump to navigation
Jump to search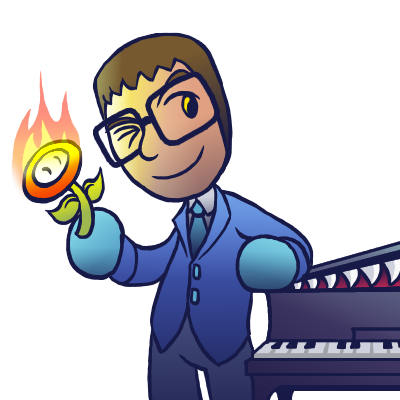 Staff Notes
It's March, the start of the season of sniffles and stuffy noses (at least in the United States). Quite a depressing time indeed. Luckily, you've got Fun Stuff to cheer you up!
With a maze of the lovable Yoshi, multiple Paper Mario-themed Picrosses, multiple Paper Mario-themed Guess Who! questions, a MARCHing-themed quiz (oh dear), and Donald Trump's opinion on Hotel Mario, there's enough activities to cure your springtime woes.
Enjoy!
Section of the Month
Last month's Section of the Month goes to… me again. Yay. But congrats also to Meta Knight (talk), Yoshi876 (talk), and everyone else who contributed!
FUN STUFF SECTION OF THE MONTH
Place
Section
Votes
%
Writer
1st
Silly Stories, By You!
18
42.86
Andymii
2nd
It's aMAZEing!
10
23.81
Meta Knight
3rd
Quiz
6
14.29
Yoshi876
---
Word Activities
---
Andy challenges your character knowledge in Guess Who!
[read more]
Graphic Activities
---
Pyro Guy offers some challenging Picross puzzles!
[read more]
It's aMAZEing
Written by: Meta Knight (talk)
In 1991, Super Mario World was released in the US. One of my favorite characters made his debut in this game, and this month I'd like to do a maze for him. I can't believe he's been around for 25 years! So this character is the maze. Please welcome the magnificent Yoshi! Ever since I first saw him, I instantly liked him. This dino dude has become very popular, and it's too bad that he wasn't playable in Super Mario 3D World.
How to Play:
-Copy the image in an art program (such as Paint, Photoshop, paint.net, etc.)
-Click the line tool and adjust the size as needed
-Use the line tool to get from arrow to arrow
-Zoom in and out as needed
Good luck!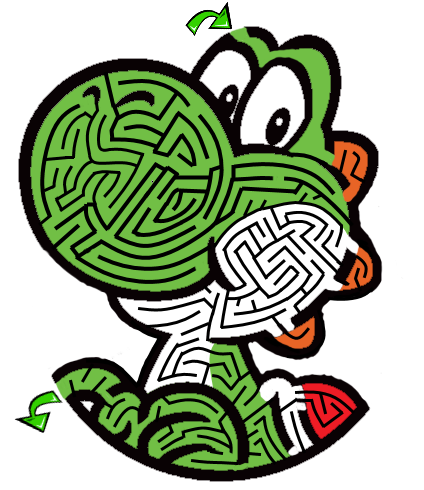 Picross
Written by: The Pyro Guy (talk)

Good day, 'Shroom readers. I believe I have a sincere apology to make; I completely butchered the anniversary dates last issue. Not only did I say that Pokémon turned 25, but that The Legend of Zelda also turned 25. I am so very sorry. ('n')
But other than that, welcome to my seventh issue of Picross! I've been spewing these puzzles out like mad this month, but most of them burnt in an unrelated, natural fireexplosion, so here's two pieces for you, from me! As promised, the theme is:
PAPER MARIO:
color splash
| | |
| --- | --- |
| EASY: | |
| HARD: | |
Answers (click show, then click the pictures)
EASY

The Crystal Star!
HARD

Kertsi the Second.
Yeah, Color Splash happened. Speaking of color, next month's theme just might be Mario Paint. See you next time!
Quiz
Welcome to Quiz, a place where I... quiz you on Mario stuff. Now, seeing as this month is March, I have given the Quiz a "marching" theme- well, actually, it's just a Mario vs. Donkey Kong theme- but those games contain a lot of marching.
Easy
Who is the villain in the first four games of the series?
On what consoles was Mario vs. Donkey Kong: Tipping Stars released on?
What was the name of the first game in the series?
Medium
How many types of playable minis are available in Mario vs. Donkey Kong: Mini-Land Mayhem!?
What is the name of the game in this series that is being released this year?
What is the name of the second floor in Mario vs. Donkey Kong 2: March of the Minis?
Hard
What is the name of Mario vs. Donkey Kong: Minis March Again! in Italian?
What toy do you get for collecting 90 stars in Mario and Donkey Kong: Minis on the Move?
What action does Mario have to do to avoid the Brick Monster in Mario vs. Donkey Kong?
Answers:
Easy
Donkey Kong.
Nintendo 3DS and Wii U.
Mario vs. Donkey Kong.
Medium
Five.
Mini Mario & Friends: amiibo Challenge.
Pipe Works.
Hard
Mario vs. Donkey Kong: Minimario alla riscossa.
Green Mini Fly Guy.
Handstand.
Guess Who!
Have an idea for a theme? Suggest it here!
Paper Mario: Color Splash has been announced, and it's time for me to get distracted and give a brief commentary.
Eh.
My distaste for Pokémon has the side effect of making be hate turn-based combat, so Paper Mario was never really my thing. It was plenty of fun to watch, though; the N64 and Wii versions had fantastic stories that were great even for an observer (I've never played Thousand Year Door). Partners were a great idea, and I always enjoyed the humor. The turn-based combat wasn't even as tedious as other games, and was mildly entertaining, even for me to watch.
Of course, Sticker Star removed all this and left a generic turn-based game with no real storyline, which is something that I hate. Why they removed partners is beyond me, and it doesn't look like they're coming back.
Considering Paper Mario may never be the same, let's celebrate the series as it was with a Paper Mario-themed issue. Partners, teammates, that random Toad behind the tree- they're all valid choices for today's questions. Get ready to start guessing!
Guess Who! January 2016
Theme:
Paper Mario

Level 1: Easy
Before becoming a Pixl, this character was a human.
She becomes unusable at the end of the game she appears in.
She ends most of her sentences like this…

Level 2: Normal
This ally can help Mario and co. "predict" (a.k.a. tell) what to do next.
His name is based of a character from the legends of King Arthur.
In Paper Mario, he lives in a house with a spinning roof.

Level 3: Hard
Whenever the bell tolls, everyone becomes a pig, thanks to this guy.
His duplicity is one of his major characteristics.
Who's the real Mario?

BONUS: Random Minor Character
Stay perky!
His business is implied to be illegal.
He converts things into stickers for free.

Answers:
Well, how did you do? Regardless, thank you for playing Guess Who, and please check back next month with a new theme!
Silly Stories, By You!
Special thanks to Roy Koopa (talk), CenturyOfLuigi (talk), and others for their contributions. Many other submissions will be used next issue.

Read last chapter here!
Chapter 2:

Silly Security

Sharing common goals, it was easy for Mario to bribe Luigi into the plan.
The brothers walked towards Trump's stronghold. Naturally, Trump had built a yuuuge wall surrounding his fortress. Sweat dripped down Luigi's face; but Mario remained cool. The two slowly met Trump Fortress Border Control.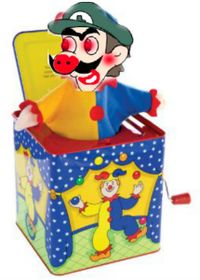 "Hello, there." Mario said. The guard did not look very nice.
"Do you have any firearms?" He asked.
"A Fire Flower."
"Mexican food?"
"Strictly Italian."
"Fresh fruits? Water?"
"No sir."
"Weapons of mass destruction? Jack-in-the-boxes?"
Mario froze. "Yes sir."
"I'm sorry, but we're not letting you in. Donald is afraid of jack-in-the-boxes, you know Now go away."

"B-but we have a check for Donald." Luigi interjected.
The guard blinked. "Donald loves money. If you do have a check for Donald, I'll have to let you guys in. Otherwise, I'll be fired.
"Go on in." he continued. "Give the check to Brock Obama, one of Trump's bodyguards. I'm calling him to meet you."
And so Mario and Luigi walked in through the security checkpoint, dazed. On one hand, they had entered the gates, even with a Weapon of Mass Destruction. On the other hand, they didn't have actually have a check to give Brock and John. They didn't have time to think. Brock Obama was already walking towards them. Fire was in Brock's eyes, though Mario could not locate them.
Brock stepped towards them. With the oversized head of a Pokémon trainer but the body of a former president, Brock was truly a terrifying sight to behold. There was nothing Mario and Luigi could do. Brock was only a few feet away.
"Give me the check."
Mario reached in his pocket. Obviously, there was no check. "I think I may have dropped it on the way in. There's no way to find it. Please let me in regardless."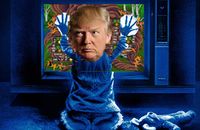 "You idiot," Brock replied. "The door is only a 5 feet away."
Oops.
"The check is made from a most magical and wondrous parchment." Luigi improvised. "It vanishes when near the unworthy. We must deliver it to Trump himself!"
Brock ignored this. He shoved his hands into Mario's pockets and pulled out a booklet. "And what is this?"
"Hotel Mario's enclosed instruction book," Mario muttered. He had planned to use it as scratch paper, as there was no other use for it.
"Will do." Brock smirked. "Trump is stuck on level 1-1, and has been looking for ages for a proper guide. The problem is that nobody else owns the game. This is even better than a check."
Brock promptly left. Mario and Luigi stared in awe at their luck. They were now fully in Trump territory. Now they only had to make the long trek to Donald Trump's front door.
What dangers lie on Trump's path? When and why will John Cena suddenly appear?
You can help decide this and more! Click the URL below.
CLICK HERE!