User talk:Platform
From the Super Mario Wiki, the Mario encyclopedia
Jump to navigation
Jump to search
Welcome, Platform!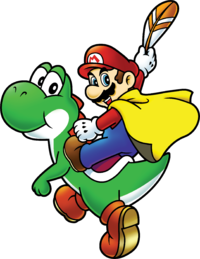 Hello and welcome to the Super Mario Wiki, a collaborative knowledge base dedicated to the Mario franchise. We're glad to have you as a member! If you have any questions, just post them on the FAQ talk page or ask an experienced member, patroller, or administrator.
The following pages contain guidance and information about reading, authoring, and participating in the Super Mario Wiki community. If this is your first time visiting, please read our introduction.
How do I do that?
Specific help
Categories
You are welcome to browse through the following categories:
External resources
Things you can do
Feel free to delete this message when you're done reading it. We hope that this information is helpful and that you have a great experience contributing to our encyclopedia and community. Remember to enjoy your time here and to also have fun!
Sincerely,
Super Mario Bros. (talk)
Culpeper
[
edit
]
May I ask where that name with that specific spelling is said? As if it's just said aloud, it might be Culpepper. Is it from the credits? Doc von Schmeltwick (talk) 05:09, 1 December 2018 (EST)
I don't know the actual spelling, it could be Colepeper as well. Only Donkey Kong's voice actor is identified in that episode's credits.--Platform (talk) 05:21, 1 December 2018 (EST)
I'm leaning towards Culpepper. This variant appears to have become the dominant spelling after 1800. Should the article be renamed with his full name+rank? I think it's Colonel Harlan T. Culpepper. It can be also spelled "Harland" but I didn't hear the "D" ending. The character is very loosely inspired by Colonel Harland D. Sanders.--Platform (talk) 05:54, 1 December 2018 (EST)

Well if it's said with an accent, they could have easily slurred over the "D" when enunciating the "T." initial. The article title should probably be the actual name he's most often referred to as, we still have the full name infobox parameter. Doc von Schmeltwick (talk) 06:28, 1 December 2018 (EST)
Hello, please do not upload .gif images unless they are animated. Thank you. Doc von Schmeltwick (talk) 00:29, 10 December 2018 (EST)
RE:Crazy Kong
[
edit
]
OK, I thought you were referring to the game itself. You should probably bring up the issue with an admin or someone familiar with Crazy Kong, because I'm not.


(T|C) 00:39, 26 January 2019 (EST)
Proposals
[
edit
]
Hi, regarding the "Delete Do the Donkey Kong" proposal, it should actually be a talk page proposal, since it only deals with one article. If you want, you can ask an admin to restart the proposal on the Do the Donkey Kong talk page, but keep in mind that proposals dealing with only one article should really be on the talk page of the article in question. Thanks!


(T|C) 01:41, 27 January 2019 (EST)
Categories
[
edit
]
Thanks for those categories, though keep in mind that the minimum for game-specific pages is 4 pages, per MarioWiki:Categories#Size and scope.

Mario JC 20:11, January 4, 2021 (EST)
Pauline in Super Mario-kun
[
edit
]
Really? Lady and Pauline are two separate characters in the manga? How come/Proofs? --

Mariuigi Khed 09:21, November 27, 2021 (EST)
In Japan, Lady and Pauline were considered to be separate characters for a very long time (until 2014?). Outside of Japan, she has always been one character. Go to volume 11 and look at her name and design. Please read the Pauline article to find out why.--Platform (talk) 09:38, November 27, 2021 (EST)