User:Lemmy Koopa Fan
From the Super Mario Wiki, the Mario encyclopedia
Jump to navigation
Jump to search
Welcome to my user page! I'm fairly new to the wiki so I don't know to add images yet but I'll learn...hopefully. I'm obviously a huge Lemmy Koopa fan and he owns a land which is called Lemmy's Land which is a reason why a reason why I like him.
List of favourite characters (1 best 12 worst)
Random Stuff
Mario: Hey, Luigi you're fat! Luigi: Have you looked in the mirror yourself tubby?
Bowser should consider firing all Hammer Bros.
Wario DOES hate Luigi.
How I Became a Lemmy fan
When I was over at my friends house he was on World 7, Ice Land in Super Mario Bros. 3 and was fighting Lemmy and that ball and mohawk and indian scars looked cool to me so I became a fan of him and then I discovered the website Lemmy's Land and then I became an even bigger fan of him and he is my favourite character in the Mario series.
My wishlist
Pokemon Sapphire (I had it but lost it)
Metroid Prime (looks fun)
Metroid Prime 2: Echoes (again, looks fun)
Metroid Prime 3: Corruption (once again, looks fun)
Giratina And The Sky Warrior (I have Rise of Darkrai)
Night at the Museum 2 (don't ask >_>)
Super Mario Galaxy 2 (agaaaaaiiin, looks fun. I don't expect it to be that good though)
Mario and Sonic at the Olympic Winter Games (I can't wait to pwn Sonic characters with Mario characters)
Mario and Sonic at the Olympic Games (same as above)
My Interests and Hobbies
Computer
Reading
sports (VERY slightly)
going places
Lake monsters (Loch Ness Monster, Champ, Ogopogo etc.)
My Comments on This Picture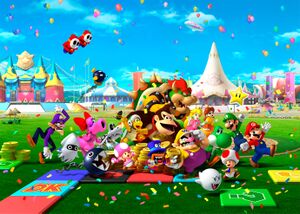 Meh Games!

And here's the gift: HI
AND: [1] Can you win this game? (no.)
The Gallery of Bowser Jr.
NSMBwii BowserJr..jpg

Aww.. isn't that idiotic. He got an ugly Koopa Clown Car.

Shadowmarioenterance.jpg

Is that Mario? No... It's just an idiot.

Bowserjrsunshine.jpg

I hope he's stranded out there.

NSMB BowserJr.jpg

You can't run away from your own stupidity.

Mgttbowserjr1.PNG

He didn't really get a PAR. Someone photoshopped that in.

MegastrikeBowserjr.png

YES! His hands are on fire! So he'll probably burn up and die!

Bowserjr hoops.png

Bowser should take that ball away and then Bowser Jr. will cry his eyes out (literaly)

Roster bowserjr.PNG

Since when did that idiot get a drivers lisence?

TrBowser jr.jpg

He got hit by a dark cannon haha.

Bowserjrball.jpg

He's about to get hit in the face by a ball.

Shadow Bowser Jr.PNG

He got covered in paint.

MKDDBOWSERPOP.PNG

Bowser's gonna throw that shell at Bowser Jr.

MPTBOWSERJR.PNG

What a retard. He's trying to paint the air.

MSSBBBOWSERJR.PNG

HAHAHAHAHA!!! He struck out!

MarioHoopsWin.PNG

Bowser Jr. didn't really win. Somebody edited a sprite of him in there.

Msc bowserjrairintro.jpg

Quit sleeping on the job!

Super-Mario-Galaxy 6123-34545boss10.jpg

Stop dancing. It's annoying.

BowserJr001.JPG

Bowser Jr. should get kicked out of the olympics for stupidity.

Bowser Bowserjrkart.jpg

Bowser: What are you pointing at? Bowser Jr: The air. It's moving! Bowser: Moron.

Mkdd bob-omb battle.jpg

Yeah, Bowser Jr.! Throw that Bob-omb! At yourself!

TennisJr..jpg

Now that I think about it, he has really bad drawing skills on that bandanna.

MH3on3 BowserJr1.jpg

He's just being idiotic.

Strikers Bowserjr.PNG

Oh, so now you wake up and weakly kick the ball harmlessly.

Jrwii.PNG

That's actually BOWSER'S car! Get your own!

BowserjrMSWG.PNG

BOO! YOU LOSER! *the audience throws things*