The 'Shroom:Issue XCIV/A Fresh New Start
From the Super Mario Wiki, the Mario encyclopedia
Jump to navigation
Jump to search
Guess who's back for another review! But wait, if you've been following along, it looks like we've covered all of the Paper Mario titles so i guess theres nothing left to review... Alright this section's over, have a good holiday everyone!

Well, cmon, why haven't you left yet?

You want another review??

You say you read the section title and already know what this is all about?

alright, alright, alright, well you can eat a dick too I was gonna make the best bridge from classic Paper Mario to the Mario & Luigi series, but ok, you got me, today I'll be starting a series of reviews focusing on the Mario & Luigi series. Mario & Luigi: Superstar Saga is up first, as you already guessed :T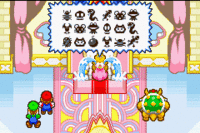 So it's 2003 and everyone is diggin this fresh new game but then people were like damn man, the man himself stayed at home doing laundry and housework and missed out on the adventure. Then we got hit with Superstar Saga, and even though Luigi is still doing laundry in the start of the game, his compadre is like lets-a go we gotta do stuff, stuff being getting back a certain bich's voice. Apparently beans came in and somehow stole Peach's voice, and now the Mario Bros. set off to to...the land of beans to find out more info on these kids. Now I know what you're thinking, "What the fuck man? How are vegetables able to pull off this shit? How do they even have a land dedicated to themselves?" Well the answer is clearer than you think my fellow readers: beans are superior to humans. Why do I say that? They made the first mothafucken jetpack, while humans have only made them in games and movies. Anyway the duo end up here and eventually have another adventure unfold, but this time, for the first time ever, <smash4> Luigi joins in! </smash4>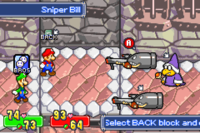 Superstar Saga is a fresh take to the Mario RPG franchise, now instead of just controlling Mario, you can control his brother as well! The gameplay really changes with the addition of two characters. Now you might say Paper Mario already did this with partners, but partners could only be used to do one thing, and often you couldn't control Mario at the same time. Luigi however has an arsenal of abilities such as beating the shit out of people with a stick and channeling electricity lol. And my favourite, Bros. Attack's, which combine the abilities of the duo and do amazing shit like whack-a-mole and how the fuck does this even work. What I really like about this game is that you can "upgrade" your moves by using them multiple times, and its pretty challenging to actually master some of them, while others are a walk in the park. Also, when in an actual battle, you are more free to do things, for example, when dodging attacks, you can press the button to make each brother jump or whatever, however, you need to time it precisely to dodge/counter-attack. There are Action Commands but they are available right from the start, as opposed to Paper Mario where you had to obtain an item to do so. The battle system also uses Heart Points and Flower Point Bros. Points (I mean really they pretty much are the same, how the fuck do you even get points for being bros? It makes as much sense as getting points from flowers). I dunno, maybe Nintendo really wanted to show that Mario still cares about his bro and thus made up points based on their bond. Anyway, there are no Star Points in here which kinda sucks as there isn't a way to do things like heal or put enemies to sleep. Badges on the other hand do return, however they are watered down here: you can only equip one at a time, which also really sucks. Other than the negatives, a range of items have been introduced, such as nuts. Some ups and downs, but overall nicely executed.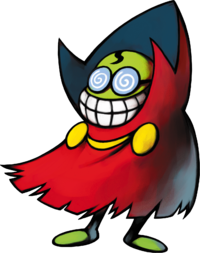 The characters and settings are both really great as well. It was the first game Faget appeared in and people instantly fell in love with his wacky characteristics and appearance. He was probably the most notable character of the game and because of his popularity, he got to be the star of a future game, but that's for another day. Other than him, the Beans are portrayed to be quite humble and weird themselves. Some of them are washed up and others are butt angrey. The game didn't have much more aside from that but we did see classic enemies such as you know who and allies such as these guys here. The Kingdom sure names its places weird, everywhere you go it seems like the place is named after short laugh noise, like teehee, oho, hoo hoo...you get the point. But the fun stops at the last place cause shit goes down here, actually, I dunno what goes down. Hell, I don't even know what the hell everyone is laughing at in all these places. Is the Beanbean Kingdom a comic routine? Sure looks like it.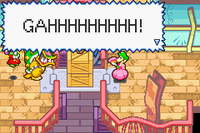 The music is glorious, shit son, like I thought it was gonna be like mediocore compared to some of the console classics but Superstar Saga really showed that handhelds are capable of producing music just as good as good ol home console music. My personal fav is definitely Bowser's Castle but there are lots of runner ups. I wouldn't say it had the best OST of all time but there are some gems in here that are memorable. Sound effects on the other hand were executed very well, they even had voices for Mario & Luigi, which was pretty neat, as most of the time they remain silent throughout their games (or have a jump effect). Not really much else to say here, overall the music and sounds were really nice and definitely gave a good vibe when hearing them.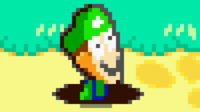 With all that said, Mario & Luigi: Superstar Saga is a really well made RPG, with an intriguing story, a colorful cast of characters, well-done humor, and just being awesome in general. I guarantee that this game will definitely leave a mark on you, as it's probably considered a classic by now in almost 2015. For the first of the series, it really set the bar high for future games of its kind and I'd probably give this game an 9/10 as it was a really good game to play but it did have some things that could have been improved, very little at that.
That's one down, 3 more to go! Keep an eye out for special issues cause that's probably when I'll be reviewing stuff again lol. I hope you guys enjoyed my review and also have a great holiday! Until next year, seeya around!