The 'Shroom:Issue 177/The 'Shroom Spotlight
From the Super Mario Wiki, the Mario encyclopedia
Jump to navigation
Jump to search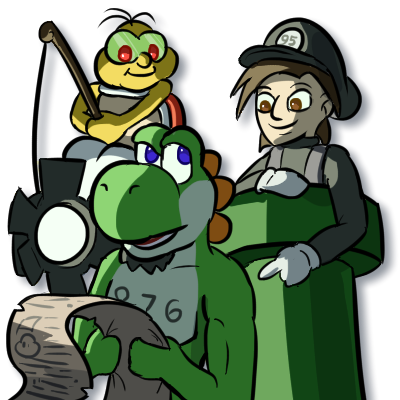 Hello readers of The 'Shroom, and welcome to Spotlight. Spotlight is a community project which aims to fix up the articles on the wiki which have issues. These issues can range from poor writing, to a lack of images, to even just needing a credible source.
Hello all, 876 here. My humblest apologies for missing out last month, sometimes events run out of your hand, but let's give a massive hand to Alex95 (talk) who handled it brilliantly. 2021 is nearly at its end, and I think for many it's been a year of ups and downs and I think I speak for many when I say I'm hoping for a lot more ups for 2022, which shall soon be upon us. And fingers crossed that we may soon begin travelling again, I know I'm hoping to get some trips abroad in soon!
We had a relatively uneventful month, but that's fine. We all have our slow months sometimes. The two articles that did get worked on, being Yasuaki Iwata by Mario jc (talk) and Special Attack (Mario & Sonic at the Olympic Games) by WildWario (talk), had good effort put into them and I thank those that took the time to work on them.
We were asked to include Mario Golf: Super Rush focuses to help expand on missing information for the new game, and we are happy to oblige. So now onto this month's focuses:
Now just before we leave you, we'd like to tell you about unimplemented proposals. There are currently twenty-six that need to be implemented, some of which date back to 2018, so think of this as a continuous Spotlight goal until they're all completed. Additionally, there are many unresolved discussions that we would love to see come to some sort of conclusion. Some might have already concluded and just need the template removed, others have been waiting for a response for years.
Thanks for tuning in to the newest edition of The 'Shroom Spotlight! Be sure to turn up next month, where we'll be reviewing the progress on the above focuses. If you have any questions or suggestions about this month's set of the article focuses, then please get in touch through the dedicated topic if you have a forum account. If not, then please contact us on Yoshi876's talk page or Alex95's talk page, but you are far more likely to get a quick response if you go through the forums. You are also welcome to make suggestions on what you think we could focus on in our next edition! Thank you, and good luck!