The 'Shroom:Issue 177/Fake News
From the Super Mario Wiki, the Mario encyclopedia
Jump to navigation
Jump to search

Director Notes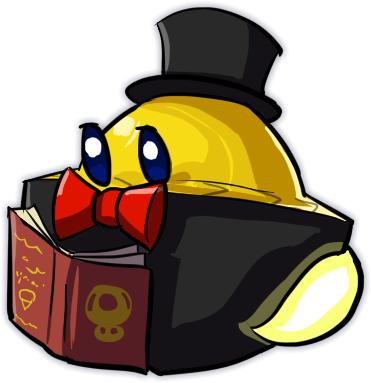 The holidays are here! I do hope that you will have a decent season. If you have time, make sure to read this issue.
Beyond our usual sections, we have several notable events in our paper. We have a new round of the 'Shroomfest, I would implore you to check out the End-of-the-Year Awards, and, by goodness, we even have the director election to look forward to. If you want to see something from our staff, make sure to check out this bonus section! We even have a special, one-time section from MrConcreteDonkey (talk), the former Fake News director. Check it out!
As per usual, if you wish to join the paper, make sure to check out the sign up page!
Section of the Month
I shall once again thank all of our writers and voters for their contributions to the paper and its community! GBAToad (talk) received first place, tied with Maximumriely (talk) with thirteen points each, and Quizmelon (talk) managed to snag third with ten. Please continue to vote, and to write!
FAKE NEWS SECTION OF THE MONTH
Place
Section
Votes
%
Writer
1st
Horrorscopes
13
23.21%
GBAToad
1st
Ask Cappy
13
23.21%
Maximumriley
3rd
TV Tomorrow
10
17.86%
Quizmelon

Written by: Walter G. Timeson
One Dead in Barbecue Night Tragedy: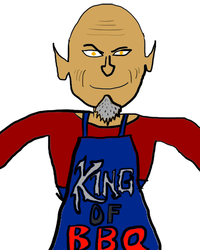 The citizens of Chaos Town are mourning the loss of longtime resident Mr. Xenahort following a tragic incident as he fulfilled his lifelong dream to host a Barbecue Night. According to eyewitnesses, the grill which Mr. Xenahort had been using to prepare the food was rigged with a remote explosive device, which was detonated as Mr. Xenahort planned to launch a fireworks show for the finale. In his last moments, Mr. Xenahort was able to activate his fireworks display, reportedly satisfied that his "destiny" had been fulfilled.
This incident took place on the fifth consecutive day of a series of ongoing political protests led by notorious troublemaker and Chaotic Party representative Lightning the Hedgehog, spurred by the inauguration of Mayor Stronghart of the Lawful Party. The chief suspect for the murder, Mater the Fox, a known associate of Lightning, is still at large. Eyewitnesses also noted that a sentient Nintendo GameCube console was trying to use the grill, seemingly against Mr. Xenahort's wishes, and may have been responsible for planting the device.
We have also been told that there are possibilities of an upcoming investigation into the source of Mr. Xenahort's cooking. According to one guest at Barbecue Night who prefers to remain anonymous, the hamburgers served were allegedly similar to the ones sold at the Kellonald's fast food establishment, prompting theories that he had purchased fast food and disguised it as his own cooking. This reporter cannot comment on the substance of the allegations, but notes that if they were true, such a plan would be delightfully devilish.
We will continue to monitor the tense situation unfolding here in Chaos Town and report future developments. This has been Walter G. Timeson reporting for The 'Shroom, and I am now out of time.
Mushroom Tribune
By: Chester Alan Arthur (talk) and Hooded Pitohui (talk)
This article sourced from the Mushroom Tribune, a sister publication serving the Toad Town metropolitan area with local news which goes uncovered by the national networks.
Kremling Kruiser Claims Victory in Toad Town Chase: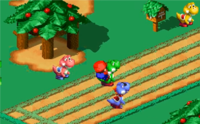 Residents of Toad Town donned their flashiest dress and once again came out in droves to attend the annual Toad Town Chase, the capital's premier Yoshi racing event and the third and final event in the so-called Triple Golden Dash Mushroom Crown. Expectations were high for Mr. Blizzard's Brigade, the winner of the Yoshi's Island Stakes nearly a month ago and winner of the Marrymore Derby two weeks ago. As the first Yoshi to win both races in the past thirty years, Mr. Blizzard's Brigade was, going into the race, the first contender with a shot at the Triple Golden Dash Mushroom Crown in three decades and a big draw for the stands, but low odds at the betting window reflected the public's expectation that the Yoshi's Island Stake's second-place finisher, Boshi, could overtake his rival in this final race and deny him the crown. Rounding out the pack was Kremling Kruiser, a Yoshi owned by the once-dominant Goldbob, who has seen middling results for the past decade. Featuring a rookie jockey, few thought Kremling Kruiser would be a serious contender for crown.
The crowds roared as the gates dropped, with Boshi pulling off into an early lead after rounding the first bend, with Mr. Blizzard's Brigade making a hard charge on the inside from a solid second place. Kremling Kruiser, the fifth-place finisher in the Yoshi's Island Stakes, settled into an early third, battling The Baseball Boys and The Very Loooooong Cave, who traded fourth and fifth among themselves. The Very Loooooong Cave managed to get clear of The Baseball Boys long enough to attempt to pass Kremling Kruiser, but was forced to the outside and held off by his opponent, soon after dropping back into fifth as The Very Loooooong Cave took advantage of the failed pass to pull ahead. The excitement coming in the first bend rallied the crowds, with race organizers calling the hollering "the loudest in seven years."
The front of the pack solidified during the next leg of the race, with Kremling Kruiser and Boshi narrowing their gap with front-runner Mr. Blizzard's Brigade as they ran the straights, creating a tight race between the three leaders as the rest of the pack fell behind on the straights and proved unable to maneuver successfully around the bends. The Baseball Boys pulled ahead of a flagging The Very Loooooong Cave, who in turn yielded fifth place to Kamek's Revenge. While the back of the pack jostled for whatever position they could get, the three front-runners entered the final bend, where Kremling Kruiser made it to the inside and took off in one final sprint during which he passed both Boshi and Mr. Blizzard's Brigade to secure victory.
In the post-race interviews, Kremling Kruiser's owner, Goldbob of Poshley Heights, praised his hired jockey, praising Baby Donkey Kong for his skill and familiarity with Yoshi riding, and celebrated his victory. He went on to share with reporters his strategy for breeding the best Yoshi for Yoshi racing.
This is to be expected, after all. Only the finest Yoshis can win these races. Yoshis from Dinosaur Land or Isle Delfino won't do when imports from the Yoshi Star Galaxy are available. Good money brings good results.
To further describe the scene and the upset victory, we turn to two of our seasoned reporters.
| | |
| --- | --- |
| | Maybe I'm just not old-fashioned enough for Yoshi racing, Shoe, but I don't understand the buzz about this victory. It's hardly an "upset". Sure, the betting windows had lower odds for Boshi and Mr. Blizzard's Brigade, but Kremling Kruiser wasn't exactly a dark Yoshi even after finishing in the middle of the pack in the past two races, either. I admit, there was an energy in the crowd, electricity during the event itself. When you're watching a pass like Kremling Kruiser made live, with the complimentary Yoshi Cookies and Yoshi Candies in your hands, it's hard not to get excited. But why are we acting like this is a surprise? Goldbob has had a rough few years, but he was the dominant force in Yoshi races last decade, with only Lumpy's Yoshis and the Mowz family's Yoshis even coming close to consistently putting up competition. It was only when he decided to cut back his spending in these races at his wife's urging that he faltered, but now he's back to buying up the best Yoshis and hiring the hotshot rookie jockeys with the best track records and spending huge sums to pave his path to victory. I'm not seeing a sport where the skill of the jockey or the training of the Yoshi makes a difference, but where the winner is almost invariably comes from the owner who can write the biggest check. How is this an upset victory just because Kremling Kruiser didn't come right out of the gate in the first race this year? Where's the tension in a sport like this if it's more or less decided from the moment these rich - and let's be clear in saying that this is a sport of the wealthy - owners splurge for a Yoshi? |
| | I must say, surprisingly I agree with my counterpart, at least in part. While the fact is that it was an upset on the basis that Goldbob has been in a slump since his break up with Boshi 10 years ago (he may claim otherwise but we all know the truth), the fact is the way he won the race is quiet simply a disgrace to the sport. There was a time when Yoshi breeders took their time, studied the hue of a Yoshi Egg, and carefully curated their Baby Yoshis' diets to ensure the fastest Yoshis. But now? Trainers are just buying up the best Yoshis they can find. It's disgusting. Where's the heart? Where are the homegrown Yoshis like the blazing Fireball, the Yoshis battling it out with the dizzying Big Smoke? This was once a sport of high drama where even the biggest underdog or an unknown jockey could win wth a well-raised Yoshi, but now, unless you have millions of coins and long network of contacts, you might as well not even compete. It's no wonder Yoshi racing went from one of the three most popular sports in the Kingdom to a sport where people only care about three races (there's fifteen races on the main circuit, people!). The truth is, I just don't see a way back up for Yoshi racing. It's a sport with the stigma that it's only for socialites and bettors, and, with people buying their way to victory, I just don't see how things will change. It's a crying shame, a crying shame. |
Sprite credits: Sonik (tSR), Lakituthequick

Written by:

MrConcreteDonkey (talk)
Once again this Christmas, we saw a tense battle erupt at the top of the Mushroom Kingdom Singles Chart - on the one side, Princess Peach, the touted frontrunner, with her Christmas hit 'Peachy Christmas' - predictable fare for a Christmas song but festive enough. However, a vocal group of detractors, who say they're sick of "corny" and "mushy" Christmas songs topping the charts every year, have started an online campaign to get to get Wario and Waluigi's 'WAAAAAAve Yourself a Rotten Christmas' to the top spot. It's as anti-Christmas as you can get, advising listeners to "have a rotten Christmas" and an "awful new year". There's been a lot of mudslinging in this contest - largely one-sided, Princess Peach barely seems to have noticed the whole drama.
Otherwise on the singles chart, predictably a few more Christmas songs have begun to show up, leaving other top artists such as Olivia dropping down the list a bit. Funky Kong and Tubba Blubba seem to be climbing up the charts fast, meanwhile Donkey Kong seems to have misunderstood the season slightly. Big falls for R.O.B., The Warp Pipes and Chris Pratt.
So, who did the Mushroom Kingdom side with? The perfect princess or the rank outsiders? Find out in this week's MKCC Singles Chart.
MUSHROOM KINGDOM SINGLES CHART - TOP 40
#
Artist
Single
Last Week
1
Wario and Waluigi
WAAAAAAve Yourself a Rotten Christmas
▲ 11
2
Princess Peach
Peachy Christmas
= 2
3
Olivia
Origami Trees
▼ 1
4
Olivia
Bobby
▼ 3
5
Mariah Carey
All I Want For Christmas Is Yoob
= 5
6
Galeem ft. Dharkon
Holiday Spirit
▲ 8
7
Funky Kong
Relaxed And Understanding Funky Kong Appreciates Your Gift ASMR
NEW
8
Olivia
Unfold
▼ 4
9
Yoshi ft. Birdo
Birdo! (Yoshi Mix)
NEW
10
The Mariouges ft. Pauline
Fairytale of New Donk
= 10
11
Donkey Kong
Donkey Kong Hits You With a Barrel Repeatedly ASMR
▼ 7
12
Bowser ft. Kamek
Once in Neo Bowser City
= 12
13
Roger the Potted Ghost
Pushed to My Limits
▼ 6
14
The Cabin Proprietors
Slide Down the Chimney
= 14
15
Kersti
Stick Around
▼ 13
16
Luigi Time
Just Milk
▼ 9
17
Imagine Draggadons
Luigi… thunder
▲ 51
18
Francis
Softblocked Again...
▲ 33
19
Power Star
120
▼ 16
20
Tubba Blubba
Last Christmas You Took Out My Heart
NEW
21
The Porcupuffer Boys
Maybe Next Year
▼ 15
22
Dorrie
Swimming in Circles
= 22
23
Michael Bub-ulbé
It's Beginning to Look A Lot Like Christmas (Oh No)
= 23
24
Whacka and The Whacka Singers
Don't Hit Me. Please.
▼ 21
25
Bric Party
Yoshi-Copter
▼ 24
26
Klubba
Kryptokurrency
▲ 37
27
Cat Brolder
Super Bell Rock
NEW
28
Doopliss
L45t_ChR1StmAs.exe Free Download Real
NEW
29
The Warp Pipes
Flushed Away
▼ 17
30
R.O.B.
These -LGS Are Made For Driving
▼ 20
31
Mario
Hit Whackas (It's OK They Don't Feel a Thing)
= 31
32
Mariofreak150
Boom Blox (at Wikipedia)
▼ 19
33
Boolossus
Crawling in My Plasm
▼ 18
34
Lil Kug
Hidden Underground
▲ 66
35
Chris Pratt
Uh? That Just Happened
▼ 25
36
The Joystick Twirlers
New Hands Please
NEW
37
Mimi Sound Machine
Dr. Bleck
▼ 28
38
MIPS
Sizeable Differences
▼ 26
39
The Chimp
NFT Blues
= 39
40
Taylor Swift
All Too Well (Waluigi's Version)
= 40
All information accurate as of December 18th, 2021.

Written by: Maximumriley (talk)
Dream Friend… Or Dream Foe?
Dear Cappy,
I need your help! After my trip to Pi'illo Island, I started having dreams where there was another me! He was stronger, faster, and he could turn into a moon! He was also very nice, but I want to be the main character of my own dreams, so how can I get rid of him?
Sincerely,
Luigi Mario
Dear Luigi,
I've never dealt with exorcism before, but you're Mario's brother, so I'll help, as I have a 3-step plan to get rid of him. My first step is to put a bag over your head, so that Dreamy Luigi can't possess objects or summon Luiginoids anymore, making him exactly like you. This prevents him from being absorbed into your body during the exorcism, because jiggling your nose is the only way he can do that. Step 2 is to make an appointment with Kamek to get rid of Dreamy Luigi. If he declines, show him your massive supply of coins you collected during our last endeavor, or tell him that you can get him a free trip to The Beanbean Kingdom if he helps you, even if the plane to the kingdom was destroyed several months ago. Step 3 is to let Kamek send this other you away to who-knows-where, and he is gone forever! This plan is 100 percent foolproof, and if it doesn't work for some reason, call me.
Sleepy trails,
Cappy
Home Sweet Home Security
Dear Cappy,
I need your help! I was just rescued by Mario, when I wondered how I could stop Bowser from future kidnappings. However, none of my defenses have worked so far, as little Goombas have kept getting into the castle via new methods. So can you help me find a better system to use against Bowser and his minions?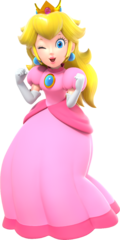 Sincerely,
Princess Peach Toadstool
Dear Princess,
Your situation sounds very dire, so I shall help! My first suggestion is to get a Toad to steal Bowser's magic microphone, as it can grant any wish. You could wish for a forcefield around the castle by a 300-foot radius to prevent Bowser from getting in that way, or you could turn Bowser to stone when he does get in, preventing all future kidnappings because of his immobile status.
My next suggestion is for you to grab your old talking umbrella, Perry, as he can change your emotions into significant powers to use. You could set Bowser on fire when you call upon your rage, or fly into unknown heights when you call upon your happiness, or even start crying and wash Bowser away once you call upon your sadness. My third and final suggestion is for you to have an emergency powerup stock for when Bowser's around, so that you could use invincibility with a Super Star, fireballs with the Fire Flower, or a tail with the Tanooki Suit. These solutions have worked on other princesses that suffered from massive-scale kidnappings, so I hope it works for you!
Hope this works,
Cappy

Far From Home
Dear Cappy,
I require your assistance. My ship was destroyed by a black and white plumber several years ago, but only recently have I thought about going home and taking all the little Nobokons and Chibibos and Ginas with me. So how can you help me get home and appease that goal?
Reply or I'll blow you to smithereens,
Tatanga
Dear Tatanga,
I would not normally help an alien get home, but otherwise I'll be a pile of remains and string, so I'll help. My first idea of transport to your world is Princess Shroob's spaceship, as it still has a full tank of vim inside Bowser's preservation room, and there are still crew members on board to serve you (or not). It also has a laser to blast away your enemies, and a throne room for the refined type of otherworldly traveler. My second idea is for you to steal the Star Rod and wish to be sent back home, as this may bring you back to your kind faster than a spaceship could ever dream of. However, it may send you a great deal of cosmic pain to try and find the Star Rod in the first place, as I don't even know where it is currently. My third option is for you to build a Pagosu Mk. II and use that to fly into space. The second model could even have a compartment for all the little friends you've made along the way!
Try to have a safe flight,
Cappy
Consumer Corner
Written by: Waluigi Time (talk)
You're tuned in to Consumer Corner, bringing you the latest and greatest products from the Mushroom Kingdom and beyond.
---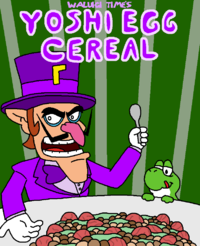 It's a beautiful day in the grassy plains of Yoshi's Island. The birds are chirping, the Crazee Dayzees are blooming, and... a baby is wailing somewhere. You just had to ruin it, didn't you? Alright, what seems to be the trouble?
Ah, it's Yoshi and Baby Mario! Who's having a worse day, the visibly exhausted Yoshi or the incessantly crying Baby Mario? Hard to say, really. "I wish I had some food to give this little guy," Yoshi groans. Right on cue, that bizarre cereal magnate Waluigi Time jumps out from a nearby bush! "Did someone say FOOD?" he shouts, "Wait a minute, that's not my catchphrase. Ah, wah-tever." Waluigi Time quickly grows irritated with Baby Mario's whining and lets out a superior "WAAAAAH" to assert dominance or something - how should I know why he acts the way he does? - and Baby Mario stops crying. Good, my ears were going numb. "I'm the only one who wahs around here, wahaha," Waluigi Time says, looking into the camera.
Yoshi clearly has no idea what in the world is happening anymore, not that I blame him. "So, you were saying about food?" Waluigi Time asks, attempting to steer the conversation back on track so he can shill for things. "Oh, um, yeah. Hey, wait a minute, how long were you waiting in that bush?" the confused Yoshi responds. "Oh... Don't worry about that. The name's Waluigi Time, cereal extraordinaire," Waluigi Time says, adjusting his top hat as a shilly gleam appears in his eye, "Could I interest you in some CEREAL?" "Um, I guess?" Yoshi says, still bewildered. "Perfect, give me wahn second," Waluigi Time says before jumping back into the bush.
"Um, Mr. Time?" Yoshi says, peering into the bush as Waluigi Time springs back out with a box of cereal. "Behold, Yoshi Egg Cereal! The delicious cereal you've come to expect from us at Waluigi Time Cereal Incorporated, now with scrambled Yoshi Eggs, dried berries, and maple syrup!" he says proudly, "Scrambled Yoshi eggs because Yoshis, dried berries because also Yoshis, and maple syrup because Waluigi Time loves maple syrup!"
"Cool, can I-" Yoshi tries to ask before being yelled at by the cereal magnate. "DON'T INTERRUPT! I'm not done with my sales pitch! Wah!" "Oh, um, sorry..." "And look at the box! It has an incredibly marketable- er, I mean, adorable Baby Yoshi on it! And yes, we're selling merch of this cute little guy, like plushies, lunchboxes, and t-shirts! Buy all the merch! Wahaha!"
By this point, Yoshi is growing annoyed with the lengthy sales pitch. "Can I just have the-" "NO! I'm still not done! Don't you have any manners? I was just about to explain how every box comes with a wind-up Poochy toy," Waluigi Time says, plunging his arm into the box and pulling out a maple syrup-covered wind-up Poochy toy. "Everyone loves Poochy!"
"Just give me the dang cereal," Yoshi grumbles, clearly done with all of this. "Alright, alright, yeesh. No need to be so grouchy," Waluigi Time says, handing him the box before getting into his comically out-of-place car parked nearby, "corporate will be sending you the bill." "Fine... Hey, where did you get the Yoshi Eggs for this, anyway?" Yoshi wonders. "Oh, I took them from your little arsenal. I figured you wouldn't mind," Waluigi Time replies. Sure enough, Yoshi looks behind him to find that every last one of his Yoshi Eggs is gone! The cereal magnate strikes again! With very unfortunate timing, a group of Toadies appear in the distance, headed straight for Baby Mario. "Uh oh, looks like trouble," Waluigi Time notes, "have fun with that!" With that, he speeds off in his car, narrowly avoiding running over multiple Shy Guys.
Yoshi Egg Cereal, the latest innovative product from Waluigi Time Cereal Incorporated! Now available anywhere you can purchase Waluigi Time Cereal products! Copious amounts of Baby Yoshi merchandise sold separately.
"Eat this or else! Wahaha!"
Mushroom Kingdom Smackdown
Written by: Waluigi Time (talk)
Welcome back to Mushroom Kingdom Smackdown, the only fighting tournament where we are now selling my brand new Yoshi Egg Cereal at the concession stand! You've seen the commercial, right? I'm sure you have. But I'm not just here to peddle Yoshi-themed cereal, I'm also here to announce a Yoshi-themed Smackdown match! It's Yoshi month! EVERYTHING IS YOSHI!!! WAAAAAHAHAHA!!! Erm, sorry, got carried away there. I'm, uh, just going to introduce the fighters now.
Our first contestant, representing the honor of all Yoshis while simultaneously having no honor whatsoever, is none other than the Dino of Deceit, the Trickster of the Track, BOSHI!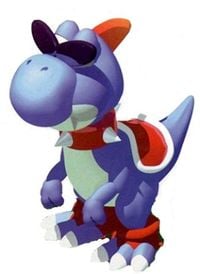 The former champion of the Yoshi's Island Mushroom Derby has made his way into the fighting ring! So yeah, Boshi is, obviously, a Yoshi. He's got all the standard Yoshi abilities, egg throwing, the tongue, flutter jumping, all that good stuff. But if that's all we cared about then we would've just kidnaaaaaaa- aaaaaah, hahaha, I mean, contracted, yeah, contracted, an ordinary Yoshi. So what makes Boshi stand out besides those cool sunglasses? Well, those nasty-looking teeth and claws are probably good for something. Also, this guy's a trickster, and that's respectable in my book. We'll allow him to cheat as long as it doesn't break the Smackdown rules. Now you may be thinking, "but Waluigi Time, how do you cheat without breaking rules?", and to that I say, I'm going to gloss over that. Moving on to the second fighter!
We're not just going Yoshi-on-Yoshi here, so give a warm welcome to the Big Fat Idiot Bird - wait, that's not one of the introductions I wrote, how did that get in there... Okay, uh, give a warm welcome to the Gigantic Goonie, the Ample Avian, MOLTZ THE VERY GOONIE!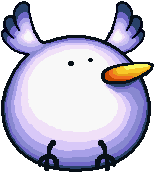 Now that's what I call a big bird, heh heh. First of all, this Goonie can't fly. Technically we could've had this fight in the air and have them freefall, but then we would've had to shoot him out of a cannon, and I can't find anyone who's actually willing to sell me one, so... But hey, who cares? You don't need to fly when you can just roll around and squash opponents! You heard of Paper Mario, now get ready for Paper Boshi. Maybe. Also, he can shoot feathers! If that doesn't really intimidate you, well, he can also summon Shy Guys on rockets when he's hurt! Now you may be thinking "but Waluigi Time, how does that even work?", and to that I say, look, I'm just the promoter, stop asking me so many questions. Who do I look like, W. P. Hoodington? Anyway, as for defenses, his weak spot's all the way on top of his head. Good luck getting up there!
So for my prediction, I think this is pretty evenly matched. I hear Moltz was defeated by a Yoshi a while back, but from what I understand, that fight could've easily gone either way. So, I'm going to go with the patented scientific method of a coin flip! Okay, heads for Boshi because he has a head, tails for Moltz because he has a tail... Wait a minute, they both have both of those. Eh, who cares. It's tails, so my prediction is that Moltz is the winner. With that out of the way, let's get ready to Smackdown!
---
Moltz seems a little sluggish to start off, giving Boshi the opportunity to go for the first blow! Boshi starts things off by munching a Yoshi Cookie he had stashed away and turning it into an egg. With a wind-up of his arm, he makes quite the impressive throw and flings it right into Moltz's face! Ah, but unfortunately for him, Moltz doesn't seem all too bothered by it. Looks like Moltz is finally ready to get into the match and starts rolling toward Boshi. If he's not able to dodge, this match could be over real quick. Luckily for him, Boshi is able to get out of the way, and goes for a flutter jump up to the top of Moltz's head! He goes for the ground pound, but Moltz rolls out of the way just in time and Boshi just pounds the ring floor! It's hard to read his expression under those sunglasses, but he looks like he's getting a little irritated.
Boshi is now rushing in for another swing at Moltz! He flutter jumps again and this time the ground pound hits Moltz right on his head! Ouch! And here come those Rocket Guys, right on cue. I have no idea how they actually got in the building. Boshi seems to be avoiding them pretty well for now, but these guys are relentless. Hopefully they don't blow up anything important... And one of them catches up and crashes right into Boshi! He's not down just yet, but the explosion from the rocket looks like it did a number on him. And now Moltz is once again rolling toward the injured Boshi! Could this be the end for him?
But wait! Boshi escapes in the nick of time! Looks like he played up his injuries a bit to lure Moltz into a sense of complacency. Pretty clever play, there. Moltz isn't able to adjust and just keeps on going into the ropes on the edge of the ring. Hopefully those are heavy-duty enough to hold him back... But what's this? Boshi rushed to the other side of Moltz and is pushing him farther into the ropes! What sort of play is he going for? Wait a minute- WAAAH!
Okay, so what just happened was Boshi pushed Moltz into the ropes and then let go and dashed out of the way, using them to catapult Moltz out of the ring! Which, in turn, created a Moltz sized hole in the wall as he crashed through that we're going to have to clean up... And almost clobbered me on the way out... But hey, at least it was an exciting finish to the match! Boshi is the winner!
Oh, um, apparently Boshi has now declared himself the ultimate champion of Smackdown and canceled all future matches. Sorry Boshi, but I'm still in charge here! Wahaha! Wh- hey! Give me my hat back! Chuck, go get him while I wrap things up here. The nerve of some people...
Anyway, thanks for tuning into the match! Speaking of ultimate champions, next month marks an entire year since we started hosting these matches, so it seems like the perfect time to finally crown a champion, eh? So be sure to come back next month, you won't want to miss it. See you then!
And I've just gotten word from the outside that Moltz has apparently flattened at least three cars. Oops. I can't be sued for that, right?

Tomorrow, as everybody knows, is the Mushroom Kingdom National Day of Yoshi Pride. For many Yoshis, this will involve participating in celebratory Yoshi Parades, or eating eggs specially laid for the occasion. Those who prefer to remain in front of their televisions, however, will find a cornucopia of Yoshi-themed shows on the screen before them, taking precedence over the season's usual Christmas fare. If you're looking to celebrate Yoshi culture this December, whether because of your heritage or simply out of curiosity, look no further than my top three TV treats of tomorrow!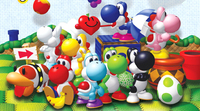 Yoshi's Island: The 5,000th Episode
MKBC2, 8.30pm
Genre: Soap

As well as it being Yoshi Pride Day, Mushroom Kingdom's longest-running and most popular soap reaches a big episode milestone tomorrow, a brilliant coincidence (and one totally contrived, as they've aired 83 episodes over the past two weeks). The special episode sees a lot of old favourites return to the island, and a dramatic storyline like no other (well, that's not true, it's quite like the one they did for the 2,500th episode, actually). A must-see for diehard fans. Also, stick around until after the episode to catch an hour-long documentary following the series's history, featuring an exclusive interview with the series's creator, Kamek.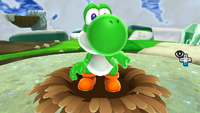 In the Nest with T Yoshisaur Munchakoopas
MKBC1, 9pm
Genre: Talk show

One of the most well-known Yoshi celebrities not to be a soap actor, television presenter T Yoshisaur Munchakoopas will tomorrow try his hand at hosting a live talk show, the first such show hosted by a Yoshi. Rumour has it that this is not a one-off for Yoshi Pride Day, but actually the pilot for a possible full series to be hosted by Munchakoopas next year. With plenty of wit, charm, and tongue extension, he seems a natural choice for host, and tomorrow he'll invite Mario, Blue Yoshi, and Raphael the Raven into his 'nest' for a (hopefully) amusing chat.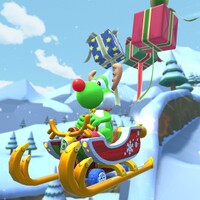 A Merry Yoshi Christmas
MKBC1, 6pm
Genre: Family Christmas film

Before Yoshi's Island, though, there's something a little Christmassy, because Yoshi affairs can't completely dominate the holiday season. One of the classic family Christmas films, A Merry Yoshi Christmas follows the tale of Yudolph, a Yoshi with a desire to be a reindeer, who gets the opportunity to achieve his lifelong dream of helping Santa after an unexpected Christmas crisis. The writing isn't great - one-note characterisation, overreliant on the deus ex machina - but its charm and cheer provides adequate compensation.
That's all the TV Tomorrow I've got for 2021. But television never stops, and tomorrow never comes. So with all that considered, my job here will probably go on forever. And I'm thoroughly looking forward to my lifelong servitude, playing an integral part in the development of modern society. May you have happy holidays, and enjoy any and all television you happen to watch in the next year. I'll see you in 2022 for the eternal continuation of TV Tomorrow!
The Big Cheeses Of The Mushroom Kingdom
Written by: Flygon64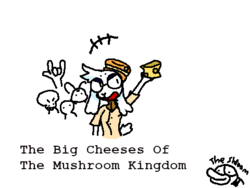 This is completely done out of my own free will, 100%
Hello, Vid again once more! Outstanding, shocking, a complete surprise! Third time around, you probably know the schtick, I interview villains, and somehow don't die. So let's not waste any more time, the interviewee for this month is…
Eeeyah ha ha ha ha!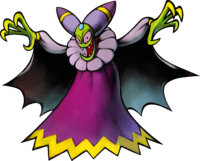 Cackletta! An evil witch from the Beanbean kingdom, she wants to conquer the Beanbean kingdom, which borders the Mushroom Kingdom, she wants a piece of that cake too. She disguised herself as The Goodwill Ambassador to steal Peach's voice to then use to awaken the Beanstar, only a beautiful voice can awaken it. Yeeeesh, Peach's voice isn't that beautiful, err uh… Peach is great heh heh, I love the Mushroom Kingdom!
Anyway, the Mario brothers, the obviously "legendary" duo were having none of that and headed off to the Beanbean Kingdom to kick her cackling butt. She tricked them into turning off the security system that protected the Beanstar, after some more shenanigans, she and her minion Fawful went to Woohoo Hooniversity. The aforementioned brothers proceeded to fulfil their aforementioned goal of "Kicking her cackling butt". Cackletta had then gone the way of the Alphadream, Fawful sucked her ghost up with his little tech thing, Cackletta's ghost then proceeded to order Fawful to attack the bros. However, suddenly, Prince Peasley appeared and courageously poked them about a trillion times, sending them flying into the skies. That's basically the story for now…
Yes for now because…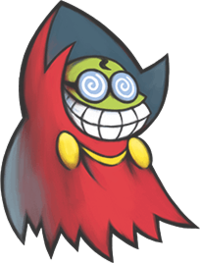 Juicy stuff
Vid : Heyo Vid! Cheese rolling in™. Ah… How I love copyright law when it involves personal gain for me. Anyhow, I went to Stardust Fields because according to the script, the two doofuses land near here.
"Vid how did you know that?"
Time is a joke, we changed the punchline.
*Vid takes notice of a familiar face laying on the ground unconscious*
Vid : Oh hey! It's the Koopa King, a lot more… Lifeless, and that's much better.
Fawful : ARRGH!!! I groan in fury to the events that happened to me in recent times!
Cackletta : GYAH!!! I have more than mild anger too, my dear Fawful, but we must persist! Like a something and something!
*Vid dashes in front of them*
Vid : Like an interviewer or a speeding bullet, both are probably equally as bad to get hit with out of the blue.
Fawful : I roll my eyes, the body parts for sight and perception, in a sign of annoyance due to the annoyance in front of me.
Vid : I have some questions I say to you!
Cackletta : Pondering is the act in which I participate in due to the statement uttered. Now shut up and get out of the way!
Vid : No.
Cackletta : Damn.
---
Vid : Mrs.Cackletta! Thoughts on plumbers?
Cackletta : Annoying and gullible little things.
Vid : Use of the word "gullible" does things for the reputation, y'know?
Cackletta : Bubble bubble toil, all it takes is an accusation of slander and all your asses get into deep legal trouble.

---
Vid : How would you describe the feeling you would have completing your goal of taking over the Beanbean Kingdom?
Cackletta : Oh… Hmm… I'm bad with words, oh I could never describe what I'd feel…
Fawful : She'd feel the taste of victory, which tastes like the taste of satisfaction!. That feeling is felt when experiencing the feelings of eating a complete sandwich with the butter of your defeated foes!
Cackletta : I feel like I could shed a tear…
---
Vid : What's so great about the Beanbean kingdom?
Cackletta : It's so beautiful, with its mountains and grasslands, and that beachside-
Fawful : The liquid caffeinated bean products in which we consume are astounding, like an elegant cheesecake of deliciousness and taste.
Cackletta : Ooh yes!.
Vid : Ah, I love the blood of artistic souls with deadlines too!
---
Vid : What are your thoughts on Poochy?
Cackletta : Horrid little thing… With it's disgusting tongue.
Vid : You truly are a villain… I'm disgusted by you!
Cackletta : Well I'm not- WAIT!!! You wretched little goat! You tried to waste my time left on this planet! Get away!
Vid : Ugh… Fine…
*Vid walking away, slaps the jar containing Cackletta to the ground, causing it to shatter*
Cackletta : GYAH!!!!!!!!
Vid : Run! Run! Run!
---
After that I ran away screaming for my life, as a short little green man and a ticked off ghost chased me while screaming foul curses. I got away from them and I'm now writing this back in 'Shroom HQ. I hope you enjoyed reading this. For now I'll just sit back and relax and take a sip of some artistic soul blood.
---
The text above was written by the defendant for the local New Wikisburg paper; "The 'Shroom"

Prosecutor : As you can plainly see here, our defendant had slandered the poor innocent name of my client "Cackletta".
Cackletta : Eeeyah ha ha ha!
Prosecutor : Please madam, do not cackle maniacally at the defendant.
Vid : Oh how I hate law when it proves disadvantageous to me…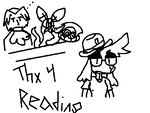 Written by: Merlthazar The Oracle
| | |
| --- | --- |
| | …? |
| | Ah, you're right, I shouldn't be getting emotional. |
| | Writing this upcoming section just reminded me of the times I would gather with friends near and far. |
| | A simpler existence where we could meet in special worlds of our own creation with avatars of our choosing, and celebrate... |
| | That mysteriously powerful Goomba was one such person. Many of them are gone, or in other realms unreachable to me even now. |
| | ...... |
| | Not to worry though, star child, your destiny will be inscribed with even more powerful bonds than I can imagine. Adjust my telescope, grab one of those egg-shaped cookies and let us begin our final section of the earth's yearly cycle. |
| | ...~♫ |
---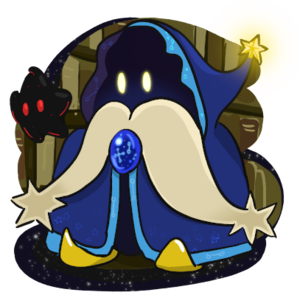 'Tis the season for horrible fates and fortuitous salvation, O festively clad reader! Ah, would you look at that, I've exhausted my scrabble dictionary word count for the section already. What a pity!
With only so many sleeps until the solstice-related holiday of your choice, it's no wonder so many of you are running around looking for the ideal gift or trinket to brighten up someone's year. I certainly have much to do in the way of festive baking, as being a universal recluse gives one many an opportunity to dedicate time to cooking, or drinking terribly unbecoming amounts of eggnog for a shaman. I get all of my recommendations for these indulgences from another barefoot wizard I crossed paths with in one of my previous lifetimes...
Oho, but silly me! This ordained meeting across the stars is not about discussing the best refrigerators of the milky way, ohoho! Fate certainly can come crashing down one's cosmic chimney with a sack of coal at the most joyous of times, but fear not, my stocking-stuffing gift to you will help you decide which path down the crowded aisles of the universe's shopping mall you should take for your perfect holiday. I myself should have asked my particular cosmic gift-giving deity for a better book of idioms in my stocking.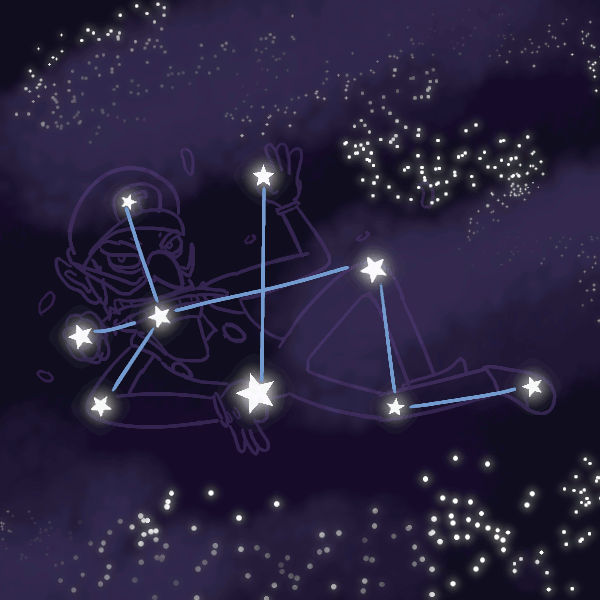 This month's constellation is Walfugius, the Inverted Hand. Given the issue's special theming for this month, as dictated to me by a particular footwear-clad Goomba, one would have certainly preferred to talk about Yosio or even the humble Puchis, but when I started writing this section, I didn't think to line up the constellations for t--I mean, the divine passage of the stars above wills it not, so as their chosen messenger I dare not interfere! Ohoho!
The Inverted Hand is agreed to be the most mischievous and devious of the twelve, representing a cosmic legacy of various tricks and pranks that oracles would play on each other and unsuspecting outsiders when they couldn't think of actual gifts to send for the solstice. Perhaps oracles have too much of the universe on their hands to be thinking of others, or perhaps we are a troubled group of shut-ins who try to surprise those who cannot be surprised. You should never take an oracle's gift at face value, either way!
Nonetheless, a scourge in every sense, the Inverted Hand would cheat at tennis matches to "cause a racket", challenge people to impromptu dance contests (side note, Walfugius star signs are exceptionally good at breakdancing, even if they do not know it yet), or even show up at Christmas parties unannounced before drinking all of the eggnog and then falling asleep on the couch, refusing to wake up no matter how many times he was poked with a golf club. Not well liked by many, adored by the few! However, the Inverted Hand's lovable traits shine through above all else, and many perceive him to be not much more than a harmless sympathetic prankster, fooling everyone by being unexpectedly warm-hearted at just the right moments. Or, he double fools them by crotch chopping.
In fact, Walfugius' most prominent star, held by the eponymous inverted hand, is not actually a star, but a beacon of pure thought that radiates a certain concept to all lifeforms in the universe. One of many, these ancient obelisks have existed since the dawn of time, and may very well survive until the end.
Allow me to adjust my telescope for a better view, and you'll see what I mean. Star child, if you would please...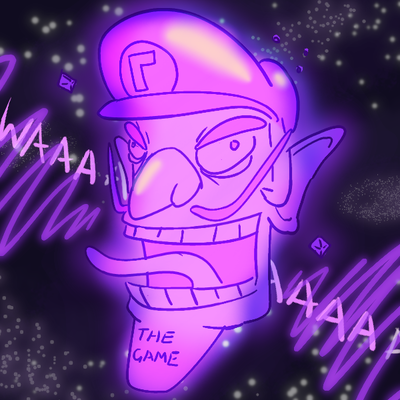 Simply magnificent.

Across the stars this concept radiates outward, an ever-universal constant that is unchanging and consistently interpreted the same way by many different civilisations, as true as the numbers of mathematics. For an oracle like myself, it takes years of training to forget what these powerful beacons represent, and delve deeper into the unseen truths of this universe; any meaning my mind might have derived thousands of years ago has long been exchanged for a higher field of thought. Many of you readers may have some kind of primal response to this, however! These beacons truly serve as poignant reminders of unshakeable, forever-lingering concepts, like end-of-year festivities or after-Christmas eggnog sales.
Ohohohoho! Do take care, O reader, as when next we meet, you will have celebrated the passing of a new year in Gregorian-dictated times. Until then, let these horoscopes guide you ever-so-closer to your destiny...
Ignio
The Firebrand
March 21 –
April 19
The days pass and the end of the year fast approaches, which means your forgotten new-years resolutions will need to be revisited, lest calamity ensue as you once again forget to cancel that yearly gym membership you used for one or two months before its automatic renewal charges you for another year. If you forget once again, most subscriptions can be cancelled with a baseball bat in person.
Bawrus
The Demonkoopa
April 20 –
May 20
Arm yourself for an internet fight this month, as the memes of "Mariah Carey's All I Want For Christmas Is You is bad" and "Die Hard is a Christmas movie" have plagued the internet zeitgeist once more. You must very angrily point out how unoriginal the poster of such things is, sanctifying and purifying them in front of their family and friends for all to witness.
Kalii
The Greater Banana
May 21 –
June 21
With many fates being unavoidable, encountering gingerbread or peppermint flavoured things is an inevitability you will need to accept. Mastery of the elements of fire and ice—gifting gingerbread to those who like it and peppermint to those who don't—will be key to unlocking your inner peace, as neither shall be in your cupboard by the end of the festive season. Unless you of course like these flavours, in which case, back off, this peppermint slice is mine.
Warum
The Gold Digger
June 22 –
July 22
As the snowflakes fall this month and begin to accumulate, so too does the reflection of past mistakes and missed opportunities weigh heavily on ones mind like a cold, ever-growing pile of misery. However, such things can usually be washed away with a stream of warm, golden positivity, and provide an overwhelming sense of relief! You may find catharsis using the stream to write your name, symbolically owning these mistakes, but that usually makes it easier for the authorities to identify you.
Yosio
The Saddle Bearer
July 23 –
August 22
Fortune smiles upon you, reader, as your seasonal gifts will be many and varied, provided your username starts with a G. If your username does not meet that requirement, then woe, misfortune frowns upon you dear reader! You must purchase a gift for the former group immediately to reverse your bad luck! Anonymous IPs will be punished regardless of what they do. Oho!
Fulugi
The Thunderhand
August 23 – September 22
The ghosts of holidays past, present and future may haunt you in these final weeks of the year, but you can prepare yourself. Camp your door with a vacuum cleaner and flashlight and prepare for a long, thrilling three-stage boss fight with them. It will be a silent night, but it will not be a holy one.
Alroia
The Starmother
September 23 – October 22
This month, strange dancing lights might approach you from unexpected places, but do not be fooled by their softly chanting music and rhythmic blinking. I beg of you, misfortunate light-averse reader, do not look at the top of this 'Shroom issue's front page, lest you succumb to their colorful and nostalgic Geocities vibe. There are some beguiling cosmic horrors even oracles cannot hope to comprehend.
Sarasae
The Blossoms
October 23 – November 22
Strapped for gift ideas? A slightly worn and beaten up Toad costume is this season's hottest gift. And by hottest, I mean literally set the costume on fire before throwing it down someone's chimney in a frenzied hurry, then vanish into the wintry night, laughing maniacally at the sky at your freedom from this three month recurring joke, but shhh! Don't wake anyone! May the stars protect you as you tiptoe across the roof of your chosen victim.
Walfugius
The Inverted Hand
November 23 – December 21
Carolling is one way to spread the festive spirit, but spice it up even further by singing horribly off-key and replacing random notes with long, accentuated WAAAAAAAAAAAAAAAAAAAAAAAAAAAAAAAAAAAAs. Wear a helmet because fruitcake can cause concussions if thrown hard enough, and using other carollers as meat shields is considered unsportsmanlike behaviour.
Dovia
The Ribbonmaiden
December 22 – January 19
Fear not, O seasonally anxious reader, as your chimneyless house will not be skipped this year, provided you blow a giant hole in the roof for the presents to drop through. If you don't celebrate Christmas, then surely there will be at least one chimneyless house in your area in dire need of seasonal renovation...
Amanita
The Royal Castles
January 20 – February 18
Good fortune! The stars have blessed you with a holiday gift-card that lets you choose one other horoscope that you like and apply it to yourself this month. Oh no, it's not that I couldn't think of anything for you! This special offer expires by the next 'Shroom issue and is not redeemable at any other horoscope news section or 'Shroom section in general. Ohoho!
Puchis
The Hound
February 19 – March 20
Don't hesitate to get competitive when it comes to breaking open Christmas crackers (or bon-bons, if you live in Australia). There are not many joys in this universe, but those that exist are worth fighting for. When offered to break one at a party or family dinner, chomp down on one side with your teeth and pull it like a rabid bulldog on all fours, violently shaking your head back and forth and growling when you claim your prize. Let the bang from the inlaid friction strip serve as your triumphant horn of victory as you don the paper crown within. Nothing, and I mean nothing, is worth losing the fight over a cheap plastic slinky.