The 'Shroom
:
Issue 156/The 'Shroom Spotlight
From the Super Mario Wiki, the Mario encyclopedia
Jump to navigation
Jump to search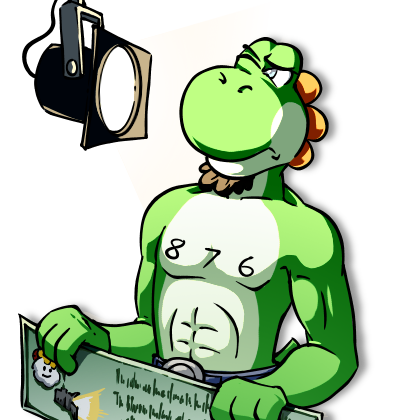 Hello readers of The 'Shroom, and welcome to Spotlight. Spotlight is a community project which aims to fix up the articles on the wiki which have issues. These issues can range from poor writing to a lack of images, to even just needing a credible source.
Welcome to March's edition of Spotlight. For those of us in the Northern hemisphere, days are starting to last longer, temperatures are starting to rise. However, as, at the time of writing, it's still only early March, I am actually still considerably chilly. In fact, I have some nice Pac-Man slippers I got for Christmas on. However, I do doubt I'll continue this Pac-Man theme into this edition of Spotlight, I'm sure I could throw in some Mario Arcade GP focuses in, but I will avoid them this time around.
February may not have been as successful as January, but we got four focuses completed, with the other two focuses being uncompleted, although one was partially completed. Yoshi the SSM (talk) found out that it wasn't an unused planet you could see from Megaleg if the cutscene doesn't active, but actually the Starting Planet, although the other claim on that article is still unverified; while First Strike still requires images, although some were added by Moustachetana (talk). As for what was completed, The Mansion (talk) created a page for the Luigi's Mansion 3 room, Royal Coffers, Random Penguins14 (talk) added a proper layout section to Touchstone Turmoil, Yoshi the SSM (talk) added a description for Pink Apple and Scrooge200 (talk) improved the quality of File:DryBowserBISBJJ.png.
And now onto this month's focuses:
| Article | Category | Focuses |
| --- | --- | --- |
| Blob & Key | Wanted article | Quite a few microgames from WarioWare: D.I.Y. are uncreated, so are in a way under lock and key. However, this microgame is actually under Blob & Key, although it would still be neat if it was created. |
| Toodles | Rewrite required | I would like to say toodles to the poor writing that is plaguing Toodles's article. To note just one example "She even ignored the (apparently) attractive Mario as she waited." RPG articles usually suffer from this style of writing, and it'd be nice for there to be one less example of this. |
| Super Mario Kart | Rewrite and expansion required | This looks like a very complete article, other than one small issue. And that issue is the fact that it doesn't have the controls for how to play this game on the Nintendo Switch. This Spotlight goal shouldn't be too difficult. |
| Control Coin | Citation needed | There are a lot of different types of coin throughout the Mario series, including this kind from Super Mario World. However, apparently these coins have two other names, those being Coin Snake and Directional Coin, we'd like a reference for both of these names. |
| Shakespeare Bust | Image requested | Mario is Missing! may have an infamous reputation, and I'm sure many people harbour some form of animosity toward the world-famous playwright due to constant studying of his plays and sonnets, but his bust, as it appears in game, is something we need for this article. |
| File:DaisyBogeyWorldTour.png | Image quality requested | This isn't the worst image we have on the wiki, not even by a longshot, but it could just be a little sharper. |
Now just before I leave you, I'd like to tell you about unimplemented proposals. There are currently seventeen that need to be implemented, one of which dating back to 2015, so think of this as a continuous Spotlight goal until they're all completed.
Thanks for tuning in to the newest edition of The 'Shroom Spotlight! Be sure to turn up next month, where we'll be reviewing the progress on the above focuses. If you have any questions or suggestions about this month's set of the article focuses, then please get in touch through the dedicated topic if you have a forum account. If not, then please contact myself on my wiki talk page, but you are far more likely to get a quick response if you go through the forums. You are also welcome to make suggestions on what you think we could focus on in our next edition! Thank you, and good luck!