The 'Shroom
:
Issue 155/The 'Shroom Spotlight
From the Super Mario Wiki, the Mario encyclopedia
Jump to navigation
Jump to search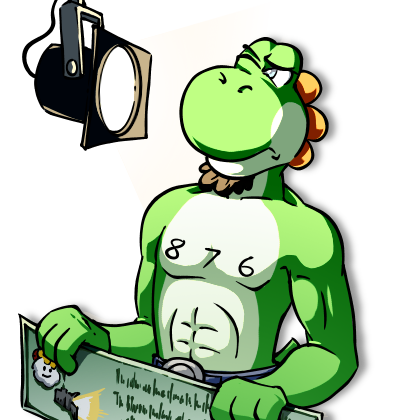 Hello readers of The 'Shroom, and welcome to Spotlight. Spotlight is a community project which aims to fix up the articles on the wiki which have issues. These issues can range from poor writing to a lack of images, to even just needing a credible source.
Welcome to February's slightly less chilly edition of Spotlight. Thankfully, we're approaching the end of the cold season, and will be seeing more hours of sunlight. And as it's a leap year this year, not only do we get an extra on the end of February, more importantly we get an extra day for February's edition of Spotlight. And what could be more important than additional days here?
We started 2020 in the best way possible, as all six of our focuses that were chosen for the month were completed. Jolly Jigsaw Holiday Puzzle Online was created as a redirect by Toadette the Achiever (talk), while Bye Guy (talk) made the overall puzzle page that it redirects to (although this page was created before 'Shroom release); meanwhile The Mansion (talk) had a busy month, adding additional details to Fire Mountain (court) and uploading additional images so we can now see all the Flamethrowers in Super Mario 64 and Super Mario 64 DS. TheFlameChomp (talk) added a proper layout section to Piranha Plants on Ice, Mario jc (talk) managed to track down a video confirming the Koopa audio effect on Big Penguin and Scrooge200 (talk) and Trig Jegman (talk) improved the image quality on File:NSMBW World 9-5 Screenshot.png, mere minutes after Spotlight was released!
And now onto this month's focuses:
| Article | Category | Focuses |
| --- | --- | --- |
| Royal Coffers | Wanted article | It might not be particularly spooky at this time of the year, but with a lot of rooms from Luigi's Mansion 3 still needing pages, we can't wait for Halloween. And although I can't offer payment for this section, we can at least fill the Royal Coffers shaped hole on this wiki. |
| Touchstone Turmoil | Stub article | I must confess, I am in turmoil at the state of this article's layout section. One section that barely even explains the level is not acceptable, let's get this one expanded. |
| Pink Apple | Rewrite and expansion required | We're going with another 'P' focus for this month's rewrite-expand focus. However, this one should be relatively simple when compared to past sections, as here we're just looking for a description for the item. |
| Megaleg | Citation needed | We're looking at not one, but two citation focuses this time. One is sourcing a Nintendo Power interview that claimed that Megaleg would return in Super Mario Galaxy 2 and the other is whether a glitch can get you to Megaleg's planet without starting the cutscene for the battle, and whether an unused planet can be seen if done so. |
| First Strike | Articles that need more images | Make sure you strike first to get this focus done! The only image on the article is the First Strike being used in Paper Mario, even though the move can be used in further games in both the Paper Mario and the Mario & Luigi series. |
| File:DryBowserBISBJJ.png | Image quality requested | Dry Bowser has never looked so blurry, and this image could certainly be a lot sharper. I'm also not convinced that it necessarily needs to be cropped. |
Now just before I leave you, I'd like to tell you about unimplemented proposals. There are currently twelve, which is the same as last month, that need to be implemented, some of which date back to 2015, so think of this as a continuous Spotlight goal until they're all completed.
Thanks for tuning in to the newest edition of The 'Shroom Spotlight! Be sure to turn up next month, where we'll be reviewing the progress on the above focuses. If you have any questions or suggestions about this month's set of the article focuses, then please get in touch through the dedicated topic if you have a forum account. If not, then please contact myself on my wiki talk page, but you are far more likely to get a quick response if you go through the forums. You are also welcome to make suggestions on what you think we could focus on in our next edition! Thank you, and good luck!