The 'Shroom
:
Issue 155/Fun Stuff
From the Super Mario Wiki, the Mario encyclopedia
Jump to navigation
Jump to search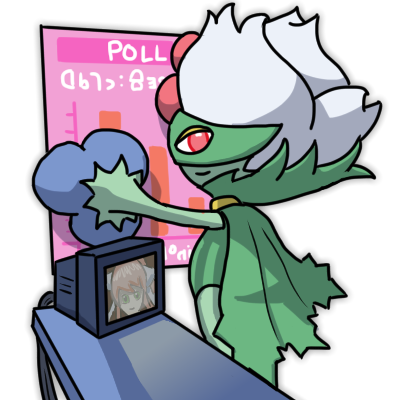 Staff Notes
Greetings, beautiful 'Shroom readers! Welcome to the love-filled February edition of Fun Stuff! While you're here to play some fantastic activities, one could argue that no mistress plays as cruel of a game as Love... If you're pessimistic towards Valentine's Day, of course! Personally, I adore the holiday, even if I've hardly ever celebrated it romantically. Spreading positivity and love isn't something I believe we need a holiday to fulfill, but hey, if we've got the day, why not use it? Hopefully you all had fantastic Valentine's as well, and a good first chunk of your February to begin with!
Fun news! Ninja Squid (talk), your wonderful Statistics Manager, really knocked it out of the park this month, bringing you an addition Thousand-Year Door themed Quiz, and a Word Search that'll make you choose your house. Thank you for your additional contributions to Fun Stuff this month, it's much appreciated! For all of you reading at home, you're more than welcome to apply for Fun Stuff yourself! Just check out the 'Shroom sign up page for more details. Any ideas you can envision will work, so we hope to see your application soon!
Sit down with that heart-shaped box of dollar store chocolates and enjoy this month's Fun Stuff!
Section of the Month
Congratulations to FunkyK38 (talk) for another grab at first place! Congrats to Ninja Squid (talk) for second and Lakituthequick (talk) for third, and thank you to all of our writers, readers, and voters!
FUN STUFF SECTION OF THE MONTH
Place
Section
Votes
%
Writer
1st
Where in the Marioverse is Carmen Sandiego?
10
47.62%
FunkyK38
2nd
Hiding Koopa
7
33.33%
Ninja Squid
3rd
It's aMAZEing!
4
19.05%
Lakituthequick
---
Word Activities
---
Play the classic game loved by the entire Woolly World!
[read more]
Graphic Activities
---
How was your Valentine's Day? Mine was just peachy...
[read more]
---
Why does Ninja Squid keep adding FE content to the 'Shroom they're all basically Marth clo
[read more]
Mind Games
---
One thousand years of knowledge all in one quiz!
[read more]
Anagrams
Written by: BBQ Turtle (talk)
Hi again everyone, welcome to this month's edition of anagrams! I'd also like to welcome and congratulate Hooded Pitohui and Roserade on their new roles as director and sub-director, I'm sure you'll both do a great job! I realised that I haven't actually done any Yoshi-themed sections yet, so this month I've decided to remedy that with a set of anagrams based on my personal favourite Yoshi game, Yoshi's Woolly World. As I don't think any of our immediately upcoming issues are themed, I'd be more than happy to hear any ideas for themes that I could use that you may have, or potentially a funny Mario-related anagram that you've found that I could integrate into a separate theme. If you do, please let me know on either my talk page or by sending me a message on the forums. I hope you enjoy these anagrams!
How it works... Basically, this puzzle consists of solving the anagrams. Each month has a specific theme, which will give you a clue about what sort of words or phrases the anagrams will be. I've also included the boxes that the anagrams will fit into, so you'll be able to tell how many words it will solve to be and how many letters will be in each word, which should give you a hand too. You'll also notice that within each set of boxes, one of the squares are yellow. As you solve each anagram, note down the letter which appears in the yellow squares, and if you can solve all of the anagrams, you'll also get a bonus anagram to solve from completing all of the others. I've included the letter configuration for this one at the bottom too, just to give you an extra helping hand. Best of luck!
1. CLICK SUMS
2. WOO NEW LORD
3. HID COMPOSERS
4. I LOWER MYSELF
5. FRANTIC LADS
6. WAY ORB EBBS
7. A HORSEBACK POTTER
8. A PENGUIN TENT
9. TOWEL NAMER
10. GUIDED CLOWN
11. I ABOUT HIM
12. ALPHA RAIN VAN
13. BOWED GRAPE
Bonus Anagram:
Answers
Miss Cluck
Wonder Wool
Smooch Spider
Smiley Flower
Craft Island
Baby Bowser
Scrapbook Theatre
Giant Nep-enut
Watermelon
Winged Cloud
amiibo Hut
Naval Piranha
Power Badge
Bonus Anagram: Big Montgomery
It's aMAZEing
Written by: Lakituthequick (talk)
Hello there. It's another bold It's aMAZEing.
This month we have a Peach Juice from the game Super Paper Mario. Handy if your valentine's hit you in the heart and you lost some HP!
Do you have an idea for a maze you'd like to see? Leave a message on my talkpage or find me on the forums and send me a personal message, and your idea and name may be featured in a future episode!
How to play:
Copy the image into your favourite art program (like Paint, Photoshop, GIMP, etc.)
Click the line, pencil or brush tool and adjust the size as needed
Draw your line through the maze from start to finish
Zoom in and out as needed
Alternatively, print it out and use a pencil!
To view the answer, click here!
Word Search
Written by: Ninja Squid (talk)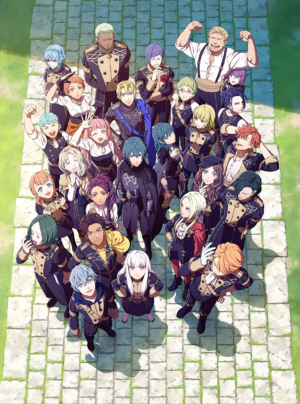 REACH FOR MY HAAAND...
Oh! Hello my dear 'Shroom readers! Welcome to a Word Search that I wanted to prepare you for this issue. A few days ago, the fourth DLC wave of Fire Emblem: Three Houses was release, which includes a secret fourth house which is hidden in Garreg Mach Monastery's underground (that means it's no more "Three Houses"). To celebrate this occasion, I chose to do a word search that included all the students of the Officers Academy's four houses. Be sure to find out my best boy Dimitri, and my best girl Lysithea!
The words can be found in all directions (up, down, diagonally, forward, and backward). With that, it's up to you to find them!

Answer:
Hiding Koopa
Written by: Ninja Squid (talk)

Hello, 'Shroom readers! Welcome to another Hiding Koopa from your adorable Statistics Manager.
This month, my five Koopas chose to hide in an artwork of Super Smash Bros. Ultimate. They seem to like the five new playable characters from the Fighters Pass DLC. Oh! By the way, no Rosalina this month (and no hidden sixth character). She told me that she was not paid enough for this (as if I were paying the Koopas in the first place).
In any case, have fun finding my five little Koopas!

Answer:
Did you find them? No matter the outcome, thank you for playing this game. Be sure to come again next month!
Where in the Marioverse is Carmen Sandiego?
HOW TO PLAY
Each issue, you will be given a case to solve and clues to use to help you find the solution! Use your Mario knowledge to crack the case!
You will begin each case at the scene of the crime, and you will be given three clues from passerby as to where the next hot spot is and what game it's from. Using your knowledge of Mario games and the Super Mario Wiki, figure out where the crook is and go track them down! There are four locations each round: the crime scene (1) at the start, two locations (2 and 3) with clues, and the hideout for the crook of the month (4). Answers for locations will be given with the corresponding round, for example, the clues from the crime scene will lead you to location 2, and once you open the spoiler bubbles for location 2, you will be given the correct answer. You can open the clues for each location in any order you'd like, but be careful! You may encounter an incorrect clue that could throw you off the case!
Clues offered will give you a hint either about the next location or the game it's in. Unlike a regular Carmen Sandiego game, you do not have to collect information about the crook you are tracking down.
Challenge round (optional):
-Find all locations and games correctly in two minutes or less
-Find all locations and games correctly without using the rest of the Wiki for help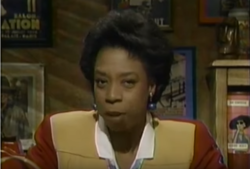 "Gumshoe, we have another big case for you this time! We got another call from Madame Broode. This time, it seems like one of her employees' tools has gone missing. When we looked into the details further, we discovered that it was the RoboBrood that had not just gone missing- it was stolen by a group of Carmen's cronies! Yes, it seems like a group of Toads who were upset about the Broodals working with Bowser for his marriage to Peach are behind this caper, and they are going to deliver the mech to Carmen so she can use it for her thievery! Gumshoe, I don't have to tell you what a colossal disaster it would be if Carmen had a giant mecha robot to help her steal things, you already know! Track down those Toads and keep that Robo-rabbit out of Carmen's clutches!"
Crime Scene

The Crime

Locate the RoboBrood before it gets delivered to Carmen.

CLUE 1

"They said they had something shipped to a deep, dark place, and they were going to retrieve it there."

CLUE 2

"Keep quiet down there, or you'll wake the sleeping monster!"

CLUE 3

"This game had a real Jurassic world in it!"
Location 2

CORRECT ANSWER

Deep Woods from Super Mario Odyssey

CLUE 1

"They said they were having their package shipped to store, whatever that means."

CLUE 2

"Oh, I love going shopping there! You don't even have to have a reservation!"

CLUE 3

"This game had all the luxuries of a nice trip away from home!"
Location 3

CORRECT ANSWER

Hotel Shops from Luigi's Mansion 3

CLUE 1

"They said it was the perfect place to hide a giant, wooden robot."

CLUE 2

"Hope they don't mind big purple juice stains on their clothes!"

CLUE 3

"This game gave you the opportunity to dive in and get your feet wet!"
CASE CLOSED
HIDEOUT ANSWER: Reckless Ride from Donkey Kong Country: Tropical Freeze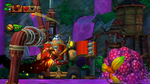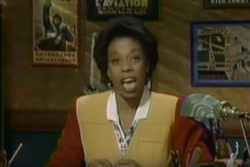 "Gumshoe, you did it! With your quick detective work, we rushed to the fruit juice factory and found the RoboBrood waiting to be claimed by Carmen, stacked among multiple other mechs that work around the factory! Without your quick sleuthing, we would have lost the mech and Carmen would have one big tool for her evils! We've returned the robot to the Broodals, and Madame Broode is sending you a very generous reward for your efforts. She's promised to send any new troubles your way. Whether that's a good thing or not is up to you to decide. Good work, gumshoe!"
Quiz
Written by: Ninja Squid (talk)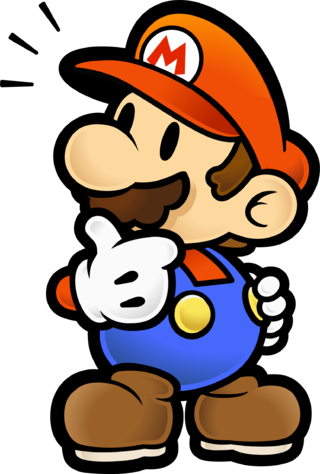 Hello, readers! This month, I offer you a quiz where I'm asking you some questions about Paper Mario: The Thousand-Year Door. You think you know everything about the game or you just know a few things about it? In any case, this is where we will test your knowledge. Who knows, maybe you will even learn some things. Go ahead, and have fun!
Quiz
Paper Mario: The Thousand-Year Door
Easy
Who is your first party member in Paper Mario: The Thousand-Year Door?
Where is the Thousand-Year Door located?
What is Mario forced to buy in order to get access to the west side of Rogueport?
Medium
What is the name of Flavio's ship that is used to sail to Keelhaul Key?
What is the badge that Mario gets as a reward after defeating Bonetail?
What is Mini-Yoshi's pseudonym, while fighting in the Glitz Pit at the end of the game?
Hard
Which organization is in charge of the Rogueport Direct Mail Service?
What is the favorite Game Boy Advance game of one of Petalburg's Toad villagers?
Known to his friends as the "White Torpedo", but thanks to Luigi, he accidentally ends up landing in lava. Now, his skin is crispified, and... not so white. What's his name?

Answers:
Easy
Goombella
Rogueport Sewers
Contact Lens
Medium
S.S. Flavion
Return Postage
The Great Gonzales Jr.
Hard
Rogueport Restoration Committee
Fire Emblem
Blooey
How did you do? Regardless, thank you so much for playing!