The 'Shroom
:
Issue 155/Fake News
From the Super Mario Wiki, the Mario encyclopedia
Jump to navigation
Jump to search

Director Notes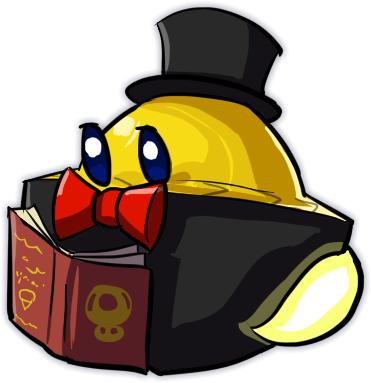 Hello, and welcome to another edition of Fake News! After one hundred issues as a director, as you might know, MrConcreteDonkey (talk) has retired from his position. I am replacing him as the director of Fake News, so you can now message me for any questions or concerns regarding the section, on my talk page, on the forum, or even on Discord. Will I live up to his legacy? Maybe, maybe not. That's up to you.
It other news, FunkyK38 (talk) will retire from writing Weather Report after this issue. Thanks for the many sections! She'll still be directing Palette Swap, so you'll still see her in new issues as of the writing of these notes. On the other hand, Coffee is now writing for Fake News on a monthly basis, bringing back Peddler's Place. You can read it in this issue!
Speaking of sections, if you want to write for Fake News, or any other part of the 'Shroom, you can check out the sign up page. The page is going to get an update, which will be out by the release of this issue. This will add an example for each current section as well as four past sections for each team which can be picked up and written by anyone. These will also have an example each of an edition of the section in the past to give an idea of how these sections are written. So once this update is done, you can also use the page for inspiration or to straight up get a section to write! Though having vacant sections listed on the sign up page isn't a new thing, this time is will be better organized, while also having less vacant sections listed, to be less cramped.
Finally, a huge thanks to The Pyro Guy (talk) for creating my staff portrait! He did a really great job.
Section of the Month
The Pyro Guy (talk) wins first place with his returning guest section, being a tribute to MCD, gaining sixteen votes! TV Tomorrow and Obituaries also did quite well. Congratulations and thanks to all of our writers, and thanks to everyone who voted!
FAKE NEWS SECTION OF THE MONTH
Place
Section
Votes
%
Writer
1st
Cooking Guide
16
38.1%
The Pyro Guy
2nd
TV Tomorrow
15
35.71%
Quizmelon
3rd
Obituaries
7
16.67%
Yoshi876
---
News Report
---
A look at the weather for the week ahead, including advice for boards to party on.
[read more]
---
A character dies which will likely result in everyone in the Mushroom Kingdom dying soon.
[read more]
Entertainment Features
---
Coffee advertises milk, perhaps for use in coffee.
[read more]
---
Quizmelon tells us what to watch on the telly during the month of February.
[read more]

Good evening, viewers, and welcome to Mushroom Kingdom Broadcasting Channel 6. We now provide your weekly weather report.
| Day | Predicted | Temperatures | Forecast | Chance of Precipitation |
| --- | --- | --- | --- | --- |
| Monday | | High: 29 Low: 15 | Temperatures will stay near freezing. Overnight frost possible. | 10% |
| Tuesday | | High: 30 Low: 16 | Snow showers starting early and stretching into the evening. Snow accumulation 1-2 inches. | 90% |
| Wednesday | | High: 34 Low: 17 | A wintery mix arrives around noon and continues into the afternoon. 1-2 inches of precipitation expected. | 90% |
| Thursday | | High: 30 Low: 16 | Temperatures will fluctuate throughout the day. Watch for freezing overnight. | 40% |
| Friday | | High: 28 Low: 12 | Expect icy spots and frozen puddles. Temperatures will drop overnight. | 20% |
| Saturday | | High: 30 Low: 16 | Winds picking up in the afternoon. Sunny skies expected all day. | 10% |
| Sunday | | High: 34 Low: 16 | Breezy and cold. Few clouds. | 10% |
This week, temperatures will hover right around the freezing point. During overnight hours, expect frost and freezing conditions, which will make your commute tricky. Be prepared for icy roads and walkways. The end of the week will bring some sun to help melt any icy spots, and looking ahead into next week, we will see some warmer temperatures and rain that might help to melt away any residual snow and ice.
This week, we will be providing your forecast for the best party locations for your Mardi Gras parties, the Mario Parties!
| Day | Predicted | Temperatures | Forecast | Chance of Precipitation |
| --- | --- | --- | --- | --- |
| Monday | | High: 74 Low: 61 | Lots of sun will make the boards easy to read. | 0% |
| Tuesday | | High: 76 Low: 60 | Clear skies late into the night. A good day to visit night boards. | 0% |
| Wednesday | | High: 72 Low: 61 | Some clouds moving in during the day. Expect thicker cloud cover overnight. | 10% |
| Thursday | | High: 61 Low: 48 | Thick cloud cover all day. Look for a party at a desert board. | 10% |
| Friday | | High: 21 Low: 8 | Lots of snow will blow in. A winter board is a good idea today! | 90% |
| Saturday | | High: 50 Low: 37 | Expect a wet day today. Look for an indoor board. | 80% |
| Sunday | | High: 62 Low: 51 | Bright and breezy. Take a day for party recovery. | 10% |

Brighton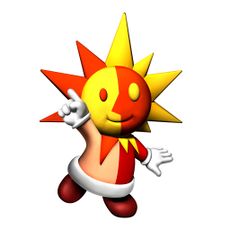 Greetings inhabitants of the Mushroom Kingdom! I am Yoshi876, and for those of you counting the days to the final moments of Winter, I'm afraid you are going to have to wait. The Sun will not be shining anymore due to the death of Brighton. And sadly, being the "dude" of daytime did not stop his unfortunate demise.
It is not yet known what led to the death of Brighton, but expert Mushroom Kingdom scientists say that at the end of most stars' lifetimes, they start exhausting their nuclear fuel, and that some stars become either red giants, white dwarfs, or even black holes. I was also told about the exploding supernovae, but the Mushroom Kingdom scientists assured me that had that happened we all likely would've been vaporized by now.
Inhabitants in the Mushroom Kingdom were distraught that the Sun would no longer shine following the death of Brighton. Chief among them was the Angry Sun, who deemed it an outrage. When asked whether he would take over from Brighton, he quickly claimed that he wasn't actually a sun, and was known as a comet. He then quickly went back to harassing the Mario brothers as they attempted to make their way through various desert lands.
When I asked Twila for some words about her now deceased friend, she refused to talk to me, insiting that their feud had remained following the events of Mario Party 6 and that she only pretended to end the feud to prevent participants from going onto Clockwork Castle again. She also wanted to avoid E. Gadd's Garage for cramped conditions, and my questions due to her attempting to take over the day/night cycle of the Mushroom Kingdom and plunge us all into the dark depths of night. Snowflake Lake was however deemed a nice part of her feud with Brighton.
Due to Brighton residing in space, and no one wanting to get into contact with Squirps, due to his overbearing personality, to go fetch him, no funeral will be held for Brighton. Instead, a memorial service will be held next week. Attendees are advised to wrap up warmly, due to the fact that there is no sun, and temperatures are now plunging around the Mushroom Kingdom.

Oh, February. What would I do without you? Without February, I would have no month where I wish to spend every day indoors, waiting impatiently for March. And it doesn't help that this year, February is even longer. The good news is that Mushroom Kingdom TV is clearly aware of the everlasting dreariness of the second month, and so there's plenty of good television to watch - and this year, we get a whole extra day of spectacular MKTV goodness. So huddle under a blanket, close all of your curtains, and read up on my top three picks for tomorrow's television!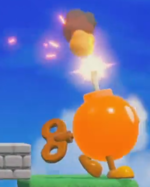 New: Bomb Busters 101
MKBC2, 10pm
Genre: Action comedy
From the same team that made spy drama MORTON, Bomb Busters 101 focuses on a ragtag bomb disposal squad, consisting of a Hammer Bro, a Boomerang Bro, a Fire Bro, and a Shy Guy called Hugh. While there are enough witty lines and amusing situations to make this a comedy, the focus is on the action here, with several tension-raising cinematographic camera shots of Bob-ombs about to blow up and cause mass destruction in the Mushroom Kingdom.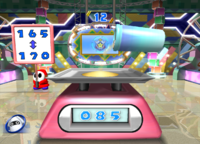 Champion of the Challenges
MKBC3, 8.30pm
Genre: Panel game
MKBC3's hit show Champion of the Challenges concludes its second series tomorrow. The show sees five enthusiastic characters - in this series Blooper, Daisy, Luigi, Toadette, and Yoshi - as they struggle to complete bizarre and confusing challenges for points, while MC Ballyhoo, joined by his trusty assistant Big Top, judges their efforts. In tomorrow's episode, Daisy tries to make the most pleasing cake, while Yoshi has some difficulty popping green balloons.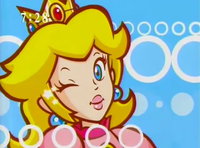 Film: Peachy
MKBC1, 5pm
Genre: Animated film
MKBC1 airs an unexpected rerun of classic children's animated film Peachy tomorrow, with Princess Peach voicing herself in one of her earlier roles. After the Mario Bros. are unexpectedly kidnapped and taken to one of Bowser's airships, Peach begins a long journey to save them, and learns new things about herself. A fun film for all the family to enjoy, with a heartwarming message at the end - though don't bother with the two sequels, they were awful.
There, that should be plenty to keep you away from the bitter dullness of February for one day at least, and you can always just watch reruns of Yoshi's Island or play Mario Party if you get bored. Otherwise, that's all from me; I'm halfway through writing an email to the United Nations proposing abolition of February from the calendar. I'll update you on that next time, but until then, goodbye!