The 'Shroom
:
Issue 127/The 'Shroom Spotlight
From the Super Mario Wiki, the Mario encyclopedia
Jump to navigation
Jump to search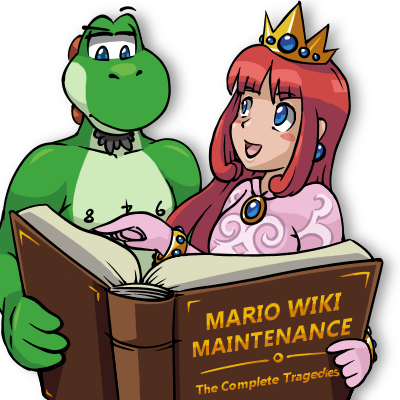 Hello readers! I'm your spooky host Yoshi876. Myself and university work have managed to scare Shokora so much that he is hiding under the covers in his room until the month has passed. I didn't think my costume was that scary, but I do have a habit of making people weak at their knees..
Much like last month, fives focuses were fixed. Those were Poochy Hut, Skillit, Diamond Police, Airship's Revenge, and File:YWW Big Frame Boo.jpg. It was only Burrow that wasn't fixed. So thank you to LuigiMaster123 (talk) for creating Poochy Hut, TheFlameChomp (talk) for working on Skillit, Luigifan312 (talk), TheFlameChomp (talk) and Time Turner (talk) for rewriting Diamond Police, TheFlameChomp (talk) for expanding Airship's Revenge, and finally LuigiMaster123 (talk) for reuploading our image quality focus.
And now, let's look at our spooooooooky focuses for this month.
| Article | Category | Focuses |
| --- | --- | --- |
| Tale of the Spirit of Fright | Wanted article | Now gather around for this spooky tale of fear and terror.... Oh wait, the text is entirely blank. How am I supposed to read this spooky tale if we have nothing on it? |
| Monster Mixer | Stub article | He did the mix. He did the Monster Mix(er). The Monster Mix(er). But to make it a graveyard smash, it needs quite a bit more content, like when it's used in the book. |
| Tubba Blubba | Rewrite required | You may not say this article's subject is incredibly spooky, but the writing certainly is. Lots of flowery, grimdark, and opinionated writing makes the Paper Mario section one of the scariest things I've seen in years. |
| Broozers and Barrels | Rewrite and expansion required | Shiny star in the night sky, lots of barrels, lots of Broozers. But not that much of a layout, that could be considerably lengthened. |
| File:Mario Seek.png | Image quality requested | At first look this image is fine, but upon closer inspection the IGN logo is there. Please recapture this image without the logo, and no we don't mean just crop the image. |
| Luigi's Mansion Arcade | Articles that need more images | It might only be an arcade machine, but it would be nice to see this in use. Maybe even some images in the gameplay section. |
Thanks for tuning in to the newest edition of The 'Shroom Spotlight! Be sure to turn up next month, where we'll be reviewing the progress on the above focuses. If you have any questions or suggestions about this month's set of article focuses, then please get in touch through the dedicated topic if you have a forum account. If not, then please contact Yoshi876 or Shokora on their wiki talk pages. You are also welcome to make suggestions on what you think we could focus on in our next edition. Thank you, and good luck!