The 'Shroom:Issue 121/Palette Swap
From the Super Mario Wiki, the Mario encyclopedia
Jump to navigation
Jump to search

Director's Notes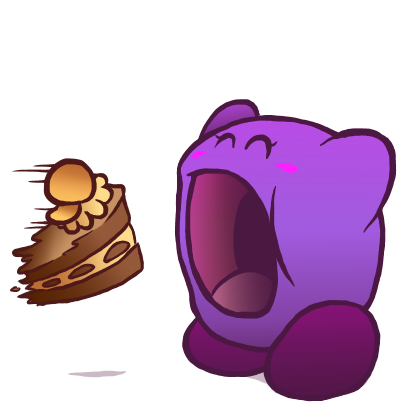 Hi, everybody! I hope you all are doing well, and haven't been too busy with schoolwork.
I've got some news for you regarding the upcoming special issue! We'll be running at least one art gallery for you to submit artwork to, opening next issue for submissions. Think of it as an art contest, without the contest. We'll be giving you a prompt, and you can let your imagination go crazy. Additionally, I'm trying to gauge interest in a Minecraft contest as well. If you are planning on getting Minecraft for Switch, plus the Mario expansion pack, and you think you'd like to participate in a contest, please send me a PM and let me know! If we get enough people interested, we'll give you more information! After all, a contest isn't so much fun with only two people contributing.
Consider the art possibilities! And read on! ~FunkyK38
Section of the Month
WOW, what an incredible turnout this month! Thank you to everyone who voted! Our SotM winner for issue 120 is Yoshi876 (talk) in his comeback of What's on the Box? Congratulations, and everyone, please keep voting!
What's on the Box?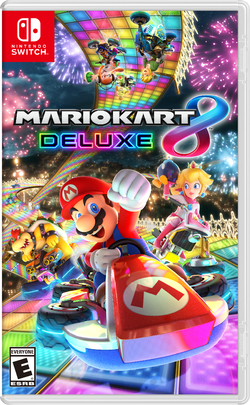 Hello readers, and welcome back to What's on the Box? This month I will be covering our first Nintendo Switch game, and hopefully the first of many. I enjoyed the Wii U, but the games never seemed to come to it. I mean Mario Tennis: Ultra Smash was the last game I covered when I wrote this section, and since then only three more Mario Wii U games were released. Anyway, let's get to focusing on this month's boxart, the North American Mario Kart 8 Deluxe boxart.
The boxart features eight characters, although two are hard to make out. They are: Mario, Princess Peach, Bowser, Link, an Inkling, Isabelle, Yoshi, and Toad. Obviously all eight of them are in Karts and they are: the Standard Kart, the Standard Bike, the Standard ATV, the Master Cycle, one of the new ATVs, another Standard Kart, the Mach 8, and the Sneeker respectively. Something I like about this boxart is how Link and the Inkling are driving vehicles that were introduced at the same time as they were. I do find it odd, however, that Isabelle isn't driving the Streetle, as it would have been nice to have referenced her DLC. Something else to point out is how all of the non-Mario characters are above the Mario characters, although they are upside down. Perhaps this is to show how the Mario Kart series was flipped on its head with the introduction of these characters.
All of the characters are driving on Rainbow Road, although it is the remake of its Nintendo 64 incarnation instead of the more recent Wii U version, perhaps due to the course's newfound popularity. I am slightly disappointed, however, that the fireworks are just generic ones instead of characters from the Mario series like it does during the race.
There's not much left to point out. Princess Peach is holding a Bob-omb, and judging by the way she's looking at Bowser, it looks like she may be planning on throwing it at Mario. The Inkling is holding a Green Shell, and looks primed to throw it at the unsuspecting Link. Also, you can see Yoshi and Toad approaching Item Boxes at the rear, and if you look closely you can see Double Item Boxes, like in Mario Kart: Double Dash!!, perhaps this is foreshadowing a return to that style of gameplay in a future Mario Kart game. However, since they're highlighting a returning feature on the boxart, I think it would've been nicer to have had some of the returning characters, like Dry Bones or King Boo approaching them instead of series regulars Yoshi and Toad.
Ongoing Fan Projects
Hello guys, welcome to the Ongoing Fan Projects. What I do here, is provide links to all of the updated art threads of the past month. Our Fan Creations board on the forums has lots of different kind of sections though, some of which don't appear here, so do check it out.
Take Cover!
Written by: Henry Tucayo Clay (talk)

HI, readers! I'm your juvenile Statistics Manager, Tucayo, here with a brand new edition of Take Cover! I don't have much to say here this month, so let's get right into the music!
To start us out, let's begin with one of the most widely-covered songs of all time, the 1972 country classic, Always on My Mind. This is one of those songs were the original version is nowhere as famous as the covers, and that definitely comes as no surprise when you see the artists who have covered it. But we're getting ahead of us, let's first talk about the original version. Two artists are recognized as having recorded the song first; Gwen McCrae and Brenda Lee. Out of the two versions, the one which charted the highest was Lee's, whereas McCrae's was not as popular. In the same year, the King himself, Elvis Presley, recorded his take on the song, in what is even called by some as one of Elvis' best recordings, and it undoubtedly is a terrific cover, but ten years later came Willie Nelson and upped the game with his rendition of this classic, which even scored three Grammy's. And of course, we can't ignore the Pet Shop Boys' version, which completely redefined the song in a way only the Pet Shop Boys can. And after that brief introduction, we get to our featured version, which was performed live by Willie, Jon Bon Jovi, and Richie Sambora, which made for a terrific cover.
And now, for something as different as you could imagine, a Harry Potter medley! This cover takes six John Williams' terrific compositions and turns them into an amazing medley, performed by YouTube artist sleightlymusical, who specialize in instrumental covers and medleys, so if you like that you should definitely look through their channel. This particular medley is performed by two violins, a cello, and a piano. The piano starts us out with Hedwig's Theme from Philosopher's Stone, the rest of the instruments join in before transitioning to Fawkes the Phoenix from Chamber of Secrets. It then continues chronologically through the films with Buckbeak's Flight from Prisoner of Azkaban. Then comes one of my favorite songs in the HP series, Leaving Hogwarts, from the first and last films, the latter of which was scored by the great Alexandre Desplat but took many elements from Williams' compositions, such as this theme which he used for the epilogue. I personally would have finished with that song because of its significance, but the medley continues with Harry's Wondrous World from the first movie, before going back to and concluding with a brief reprise of Hedwig's Theme.
That's all for this month! And to add another thing to the eclectic combination this month's covers were, here's a fairground organ playing Queen's all-time classic, Bohemian Rhapsody. Enjoy.