User talk:Fly Guy 2
From the Super Mario Wiki, the Mario encyclopedia
Jump to navigation
Jump to search
Welcome, Fly Guy 2!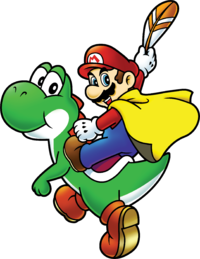 Hello and welcome to the Super Mario Wiki, a collaborative knowledge-base dedicated to the Mario franchise. We're glad to have you as a member. If you have any questions, just post them on the FAQ talk page or ask an experienced member, patroller, or administrator.
The following articles contain guidance and information about reading, authoring, and participating in the Super Mario Wiki community. If this is your first time visiting, please read our introduction.
How do I do that?
Specific help
Categories
You are welcome to browse through the following categories:
External resources
Things you can do
Feel free to delete this message when you're done reading it. We hope this information is helpful, and that you'll have a great experience contributing to our knowledge-base and our community. Remember to enjoy your experience here and to also have fun!
Sincerely,
Pokemon DP (Talk)
Peach Nomination
[
edit
]
Please stop signing by wrong name on the Super Mario Wiki. This isn't a warning, and it's possible that you made a mistake by accident or without realizing it; this is simply a reminder for your information. If the action continues, then a warning will be issued. Thanks for reading and keep contributing.
If this reminder was not issued by an administrator or patroller and you feel it was undeserved, you may appeal it.
Don't sign as another user again, even if it's an invented one ("T3H SYSOP"). - Cobold (talk · contribs) 18:51, 28 October 2007 (EDT)
HA! I'm on your talk page, spamming your messages! Anoynomous user
You do know someone can look through the History and see that you made that edit, it was a very unneeded, and nonsense post. Don't do it again. And as Cobold said, sign by YOUR username, not anonymous user.

XzelionETC
I needz da friendz!
[
edit
]
I need friends here. Who can be my friend? User:Fly_Guy_2
The Shroom, at your service...
[
edit
]
Yes, I'm InfectedShroom, from Nsider. Could this be Fly_Guy? I NEED TO KNOW WHO YOU ARE!!! InfectedShroom.

Yup, I'm FLY_GUY_. User:Fly_Guy_2
HAHAHAHAHAHAHAHAHAHAHAHAHAHAHAHAHAHAHAHAHAHAHAHAHA!!! Wow, that makes me laugh. I always stole your Fly Guys... LOL. Anyway, I'll be your friend. I miss Nsider. InfectedShroom.

Same here. Wonder if they'll ever reopen it. Hope so. You know, I think they might soon. There aren't many upcoming games, so they're not as busy. What do you think? Also, Mattvideo's a user here too.User:Fly_Guy_2P.S.: My Fly Guys! Give them back!
Who was Mattvideo? Was he Mattvideo? If so, I never knew him. Oh well. And BTW, the Fly Guys I stole weren't actually yours. They were from MarioWiki. :D InfectedShroom.

Mattvideo is NY Gamer here. And the Fly Guys have pics here, but the Fly Guys themselves are mine.User:Fly_Guy_2
Ah. I see. This is so funny, talking to someone I never thought I'd ever talk to again since Nsider closed... Did you know it's reopening sometime next year? I read that in Nintendo Power! InfectedShroom.

I bet it's in February or March...User:Fly_Guy_2
Probably... Oh well. I like this website, except for one thing: it screws up all the time. :( InfectedShroom.

So true. FLY_GUY_
I wish this place had PM's... But hey, no NOA_Andy! InfectedShroom.

Yeah, we need pms. Hey! I'll tell Steve!FLY_GUY_
LOL, fantastic Idea. InfectedShroom.

Actually, I told him already.FLY_GUY_
Oh. I see. InfectedShroom.

Hey, BTW, I made a new account. My official name is now InfectedShroom, not Infecto. so go to my new account from now on. See ya! InfectedShroom.

What do you want to use my sprites for?

Storm Yoshi

Let me make ppl FLUDD Alphaclaw11 you make them wrong(sry) and FLUDD is my thing :'(
Ok. User:Fly Guy 2
Re:Chat
[
edit
]
What!!!!!!! I don't flame anyone in chat I'm not the person to flame and who are you to give warning to?! You not a Sysop/Patroller/'Crat ! King Mario
Name ONE time I flamed you!
"Oh no... Wait he's away" User:Fly Guy 2
u got banned from the chat, good going >_>

Explosive Pants Modifier OK, FORGET IT.
THE NSIDER TECH FORUMS!
[
edit
]
THEY (kinda) REOPENED NSIDER! They are, for the time being, called the tech forums. You are only supposed to help answer people's questions. Pretty stupid temporary replacement for Nsider, but it's the next-best-thing. See you around! InfectedShroom.

Awesome! User: Fly Guy 2
Check out my Spiny page.
[
edit
]
Hey. I revamped the Spiny page. go check it out, and could you either support or deny its FAness? I want it featured. :P InfectedShroom.

|Talk|Reviews|
Thanks for the Spiny thing. Anyway, I need your skill over at those stupid Nsider Tech Forums. Could you PM me at INFECTEDSHROOM once you get over there? I'll explain everything once your there. >: ) InfectedShroom.

|Talk|Reviews|
Spamming User Talk
[
edit
]
This is a warning to stop your inappropriate behavior (spamming user talk pages & blaming it on an admin) on the Super Mario Wiki. Please adhere to the rules or you will be blocked from editing this site.
If this warning was not issued by an administrator or patroller and you feel it was undeserved, you may appeal it.
You might have issues on chat, but don't bring those issues over to the wiki, please. Wa

TC@Y 11:25, 28 December 2007 (EST)
ur userboxes
[
edit
]
mind if i give u tips 4 the userboxes?

Explosive Pants Modifier u dont need 2
I'm supposed to believe you? Your like the spammiest user!
Is that becaise your to wimpy to do it yourself. <_<
So wait, are you...
[
edit
]
Are you that FLY_GUY_ from Nsider who was one of the people who called Mario "Jumpman" (boy, was that annoying) or am I confusing you with someone else?
Paper Jorge! I give paper cuts so stand back!
I dunno if you linked, but you DID SPAM! With "Super Princess Daisy is the coolest!" AND you have been known to spam, so NO. HyperToad Sorry.
Dude, stop creating sockpuppets trying to convince Master Crash to unblock you! Your getting LONGER blocks because of that >_< GrodenE T C El From 1 week to 2.
sorry FG2, i dont own SMG :(

Explosive Pants Modifier What a stupid name!
i havent gotten there MISSION 3 IS F***ING HARD

Explosive Pants Modifier What a stupid name!
BTW i cant pass mission 2 now OMFG

Explosive Pants Modifier What a stupid name!
i passed it now dont worry : P

Explosive Pants Modifier why do u spam?
i think you beat mission 4 by jumping on the piranha plants: jump from the start down and step on the piranha plants
AND THEN COMES THE FIRST BOSS!! A F***ING HUGE PIRANHA PLANT HEAD!!!

Explosive Pants Modifier F***ING HUGE!!
jump on him 3 times (thats easy) and he dies, and you beat the demo!!
Proposals
[
edit
]
Please do not change the content of other user's votes. It is up to them what they say in there, and they are untouchable for you. Considering you already had a warning, you'll get a
This is your last warning. The next time you break the rules in any way, you will be blocked from editing the Super Mario Wiki.
If this last warning was not issued by an administrator or patroller and you feel it was undeserved, you may appeal it.
Though most likely, you'll only serve a 24 hour block when/if there is another incident. - Cobold (talk · contribs) 11:01, 23 January 2008 (EST)
Hey, F_G_. How's it goin? Do you have MKDS on Wifi? Cuz I love that game. :D BLOC PARTIER.
Why do you wanna know? Lemmie guess, you wanna spam it in revenge. I'm not telling you. HyperToad
Userboxes
[
edit
]
MWA HA HA HA! I HAVE READ ALL OF YOUR USERBOXES! YOU DID WELL! From, --Evil L. 19:39, 8 February 2008 (EST) P.S. Yes, I always speak in Italics! (YAY!!!!!)
Proposal
[
edit
]
Hey, cold I ask you to look over the Bob Hoskins proposal and move your vote if you want to win it? Cuz we need you to move the vote if we want to win. BLOC PARTIER.
Yeah, here's what's happening: A new issue came up regarding your vote because the wording of the proposal was changed at some point in time and those in favor of using "f***" in place of the full word have begun a new voting section. Please check the proposal page and make sure your vote is in the proper location. Currently, you are voting to delete the entire quote. Because of the split between people who want partial and total censorship, the "no censorship" side may win. Please consider that while voting. Thank you! Stumpers! 00:54, 9 February 2008 (EST)
Why did you leave userpedia. I know Super Yoshi did something, bu still, don't leave. Talking Volt Shroom aim cri noa! HyperToad
How did you find Mi Wiki? -_- GrodenE T C El
ShroomWarning
[
edit
]
'el tasty shroomwarning
[
edit
]
-Blitzwing (talk · gnome work)
Shroom-Warning
[
edit
]
-Blitzwing (talk · gnome work)
Your 'Shroom is late. Any reason why? --Blitzwing 06:05, 8 June 2008 (EDT)
... So, are you doing it or not? --Blitzwing 17:11, 8 June 2008 (EDT)
Warning fo' Shroom
[
edit
]
Shroom delay
[
edit
]
Thanks to an OVERWHELMING lateness from almost every 'Shroom writers, the issue has been postponed to July 12th. Hopefully, you will be able to release it by then... Right? Blitzwing (talk · gnome work)
Too Many Awards
[
edit
]
Please read the text above the sign-up before re-signing up. Wa

TC@Y 08:28, 9 July 2008 (EDT)
Did you stole my username or was it just a coincidence that you pick your usernme FG2?F g

Proposal
[
edit
]
Hello. This is about your vote on the Proposal that deals with splitting Category:Special Moves. It seems kind of odd that you support the idea, yet your vote is in the oppose section. Judging from the reason you gave, it seems likely that you misinterpreted the rules. A Proposal with more than ten supports does not need three opposes to pass. It is rather that the winning side must have a margin of three for the Proposal to pass. If you subtract the oppose section (0 votes without your vote) from the support section (12 votes), then you have still more than three votes (12 - 0 = 12), which means the Proposal passes. Would you like to reconsider your vote? -

Gabumon(talk) 14:11, 1 January 2010 (EST)