The 'Shroom
:
Issue XCIX/Palette Swap
From the Super Mario Wiki, the Mario encyclopedia
Jump to navigation
Jump to search

Greetings, everyone! Welcome to the calm before the whirlwind of Issue 100! We have some fabulous sections for you this month, and I can only promise that there will be much, much more in store for you all in the upcoming major milestone issue! With that, please enjoy this month's issue!

For this issue, I'm gonna talk with one of my favourite Mario fan-songs: "Mario Kart Love Song", by Sam Hart. Odds are, you've heard of it before: even my more casual gamer friends IRL know about this lovely ditty from 2008, but just in case, click that link! It's an adorable song: so clever and silly and touching all in one, and very pleasing to the ear thanks to Sam Hart's lovely voice and guitar-playing. Because I can't write an article about it on the wiki, lowly fanon as it is, I'll put the lyrics here instead (adapted from the video's description):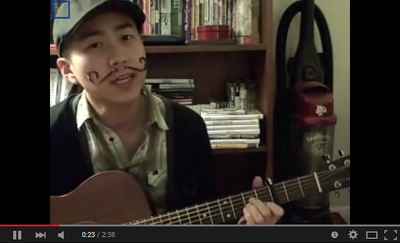 You be my Princess and I'll be your Toad
I'll follow behind you on Rainbow Road
Protect you from Red Shells wherever we go
I promise

No one will touch us if we pick up a Star
And if you spin out you can ride in my Kart
When we slide together we generate sparks
In our wheels and our hearts

[Chorus:]
And the finish line is just around the bend
I'll pause this game so our love will never end
Let's go again

The Blue Shell is coming so I'll go ahead
If you hang behind it will hit me instead
But never look back cause I'm down but not dead
I'll catch up to you

Don't worry about Bowser or DK
Just eat this glowing mushroom and they'll all fade away

[Chorus x2]

To the Mushroom Cup
And the Flower Cup
And the Star Cup
And the Reverse Cup

Wala-wala-wala-wala-wa-
Wala-wala-wala-Waluigiiiiiii
So fun, and catchy. There's lots of fanmade covers of it, as well as a few "responses" on behalf of other characters like Bowser or Peach. There was even a duet version of it by Selena Gomez and Jimmy Fallon on a 2013 episode of Late Night with Jimmy Fallon: both of them are wearing fake moustaches like Hart does in the original, with Fallon also sporting a Mario cap has he plays guitar and sings Toad's parts, while Gomez dons a Peach crown and adds some original (as far as I can tell) responses from Peach. Another big break for the song in popular media came a year later when it was featured in a wedding in late season 3 of the TV series 2 Broke Girls. Looking around the internet, it seems like a pretty popular song at real weddings too, which is pretty damn awesome!
While "Mario Lart Love Song" is Sam Hart's only original Mario song to date, he also did a cover of Katy Perry's "California Gurls" with modified lyrics about Peach and Daisy, a.k.a. the "Mushroom Kingdom Gurls" - in my biased opinion, it's a big improvement over the original. He also wrote a song about the Pokémon anime episode where Ash almost made Pikachu evolve into Raichu, a short little ukulele-accompanied ode to the Super Nintendo, and numerous other originals, including one that features Luigi and Peach Mario Kart Wii toys as part of its quirky music video.
Overall, this guy is just plain awesome, from his videogame-inspired tunes like "Mario Kart Love Song" to covers of songs like Death Cab for Cutie's "I Will Follow You Into the Dark" (refrigerator edition), to silly originals like "61 Things On My Cat". Check him out!

Oh, hey! It's June! Month of all things video games and whatnot! So, to accompany that, for this month, I have a sprite of a pixie

! Okay, so she's definitely not a pixie at all, she's actually…something very different! Sorry, guys, but this one is actually a pretty big spoiler for Wario: Master of Disguise, so if you want to learn more about her, you can check out her page at Tiaramisu. I'd have to say, clicking on her page while not knowing anything about her except her name, I was not expecting a princess-fairy-looking lady to pop up on my screen. A cake fairy, I could understand, because this is a Wario game we're talking about here.

---