The 'Shroom:Issue LXXXVI/The 'Shroom Spotlight
From the Super Mario Wiki, the Mario encyclopedia
Jump to navigation
Jump to search

Hey there 'Shroomers! It's that time of the month again, and you all know what that means! That's right, a new edition of the 'Shroom Spotlight is out, hooray™! Time to get out your old Mario golf clubs, because this month we're hitting the green and tackling six golf-themed focuses in light of the recent release of Mario Golf: World Tour! What's that, you say? Another themed spotlight?! Well we think it's a good idea, and we're out of good ideas have you seen the back of my 9-Iron, it's amazing! *THWACK*
Last month, like always, we focused on six articles that needed improvement and received fantastic input on nearly all of them! Our Wanted focus, Design, was created by Glowsquid (talk) (and Dr. Crygor has awarded it with a gold trophy, which we'll withhold for selfish legal reasons). Our Images focus, Ice Block, is now sitting cool with images illustrating all of the games mentioned on its page thanks to Icemario (talk), Dashbot (talk) and Driftmaster130 (talk)! Another special thanks to Dashbot (talk), who in addition to adding images to the Ice Block article, uploaded a superb replacement for what was probably one of the worst images on the wiki and rewrote Itty Bits entirely! Great work!
And now that the caddie has brought us our golf clubs, it's time to tee up and hit an albatross with our focuses for the month of May! Over to you, Yoshi876!
And that's all FORE the Spotlight this month. Thanks for reading, and good luck with this month's focuses! We'll hit the back-9 and return here next month to review our scorecards and any contributions made to these articles. If you have any ideas, articles you want us to focus on, complaints, compliments, and anything in between, be sure to contact either of us or post in our always lonely lively forum thread and we'll respond ASAP.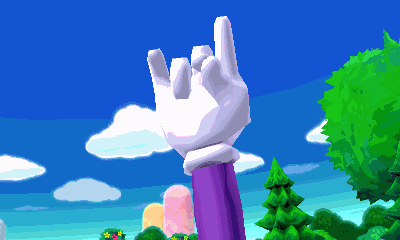 This month's edition of the 'Shroom Spotlight is brought to you by Waluigi, the undisputed King of the Spotlight.