The 'Shroom
:
Issue 179/The 'Shroom Spotlight
From the Super Mario Wiki, the Mario encyclopedia
Jump to navigation
Jump to search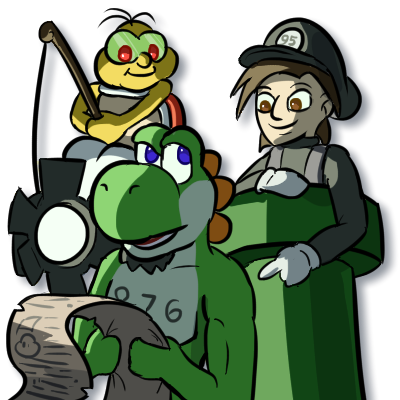 Hello readers of The 'Shroom, and welcome to Spotlight. Spotlight is a community project which aims to fix up the articles on the wiki which have issues. These issues can range from poor writing, to a lack of images, to even just needing a credible source.
Y876 left me with the introduction, meaning I have the introduction two months in a row, and I don't have much to say for this month, I was thinking I wouldn't have to write something here, so now I have to find something to talk about to fill this space, something about love probably, I mean it's February, yeah, let's go with that. Hope people are having a good year so far! Spend time with your loved ones and edit wiki articles together! People do that, right? I'm pretty sure there are couples that met over wiki editing before.
2022 hasn't yet gotten off to the start we wanted for the Spotlight, but with several more months left, I just know we'll smash it. And we can hold our heads up high with pride for every article we do manage to get better. Special thanks this time to Somethingone (talk) who expanded the level layout for Ride the Blarggwich and fixed the trivia section for Red Coin Field. And we're not forgetting RHG1951 (talk) who also fixed up the trivia section. WildWario (talk) also appears to have made corrections from "Power Ball" to Power Pill.
And now onto this month's focuses:
| Article | Category | Focuses |
| --- | --- | --- |
| Yuka Tsujiyoko | Wanted article | Yuka Tsujiyoko is best known for her work composing music for the Fire Emblem series, but she also does music for Paper Mario and Super Smash Bros. For someone who has been with Nintendo and Intelligent Systems for a while, I would've thought she'd have her own article here by now. |
| The Great Gold Coin Rush | Rewrite required | It is possible to be overdetailed, as the section, dealing with the plot of this episode proves. There is a lot of fluff to cut from this episode, but do keep some golden nuggets. |
| List of references in animated television | Rewrite and expansion required | This is going to be a beast to rewrite properly, but there's a lot of poor writing here. Because several editors have different tastes in animated shows, the overall structure of the article here is all over the place - the problem being is that there's no real established structure for pages like this in the first place. |
| List of Puzzle & Dragons: Super Mario Bros. Edition characters | Long trivia section | Incorporating a trivia section in an article like this won't be easy, but it is possible. Just decide whether it's worthy enough to stay in general, or whether it could perhaps fit as a notation instead. |
| File:PeachFryingPanSmash.jpg | Image quality requested | Everyone's favourite pink princess needs a little bit up a touch-up and a sharper image to show her whacking foes about with her trusty frying pan. |
| Crystal Caves | Citation needed | The article states the music track for Crystal Caves was originally composed for Banjo-Kazooie during early development. Where does this information come from? |
Now just before we leave you, we'd like to tell you about unimplemented proposals. There are currently twenty-five that need to be implemented, dating as far back as 2018, so think of this as a continuous Spotlight goal until they're all completed. Additionally, there are many unresolved discussions that we would love to see come to some sort of conclusion. Some might have already concluded and just need the template removed, others have been waiting for a response for years.
Thanks for tuning in to the newest edition of The 'Shroom Spotlight! Be sure to turn up next month, where we'll be reviewing the progress on the above focuses. If you have any questions or suggestions about this month's set of the article focuses, then please get in touch through the dedicated topic if you have a forum account. If not, then please contact us on Yoshi876's talk page or Alex95's talk page, but you are far more likely to get a quick response if you go through the forums. You are also welcome to make suggestions on what you think we could focus on in our next edition! Thank you, and good luck!