The 'Shroom
:
Issue 169/Fun Stuff
From the Super Mario Wiki, the Mario encyclopedia
Jump to navigation
Jump to search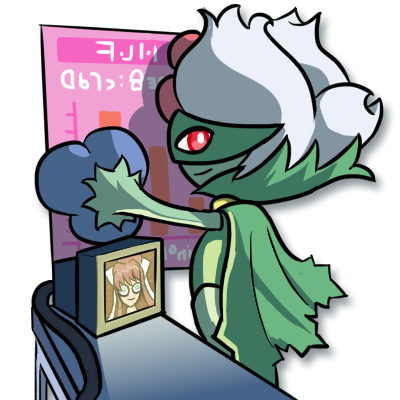 Staff Notes
Greetings, beautiful 'Shroom readers! Welcome to the April edition of Fun Stuff, where I nearly wrote that it was March. Should tell you where my head's at right now.
I hope you've been enjoying your April so far! I'm pretty happy to be out of March. I always find it to be my least productive month of the year, so moving forward is always welcome. And hey, I can't complain about it getting sunnier! The sunlight with a pleasant breeze truly is a treat.
This month also started with April Fool's, one of my favorite days in the year. I'm not a huge pranker, and I can't excuse jokes made at the direct expense of others, but I do like a few harmless jokes here and there to really bring some fun through the day. In the course of one day, I joked that I was actually Hooded Pitohui (talk), a bot "deleted" my entire Discord server, and I convinced a few of my relatives that I was going to clown college. There's a lot of joy to be found in April, especially with the way it kicks off, and I hope you've been feeling that joy too.
I don't have anything to announce with Fun Stuff this month; it's the classic goodness you know and love. Make sure to give all of our sections a read, and reach out to writers if you enjoy the work they're doing! I know I'm appreciative of the quality the Fun Stuff team brings to the table, so thank you for all that you do.
With all of that aside, settle in with a refreshing cold beverage and give our Mar- er, April edition of Fun Stuff a read!
Section of the Month
Congratulations to FunkyK38 (talk) for securing another solid first place! Congratulations also go to Kirbyo (talk) and Ninja Squid (talk) for second and third place respectively. Thank you to all of our writers and readers, and make sure to vote in Section of the Month!
FUN STUFF SECTION OF THE MONTH
Place
Section
Votes
%
Writer
1st
Where in the Marioverse is Carmen Sandiego?
13
35.14%
FunkyK38
2nd
Trivia
11
29.73%
Kirbyo
3rd
Hiding Koopa
5
13.51%
Ninja Squid
---
Anagrams
Written by: BBQ Turtle (talk)
Hi everyone, and welcome to April's edition of anagrams. This month, I decided to go with a Yoshi series enemies theme... and then only realised afterwards that it's quite fitting for Easter! So happy Easter to anyone who's celebrated it this month, and I hope you'll enjoy these anagrams for things you can hit with eggs. If you have any suggestions for future themes for the section, or have perhaps found a funny anagram for something Mario-related I could make use of, please let me know on my talk page or by sending me a PM on the forums, it'd be great to hear your suggestions. And with that, I'll leave you to get cracking!
How it works... Basically, this puzzle consists of solving the anagrams. Each month has a specific theme, which will give you a clue about what sort of words or phrases the anagrams will be. I've also included the boxes that the anagrams will fit into, so you'll be able to tell how many words it will solve to be and how many letters will be in each word, which should give you a hand too. You'll also notice that within each set of boxes, one of the squares are yellow. As you solve each anagram, note down the letter which appears in the yellow squares, and if you can solve all of the anagrams, you'll also get a bonus anagram to solve from completing all of the others. I've included the letter configuration for this one at the bottom too, just to give you an extra helping hand. Best of luck!
1. EYE DAZE CRAZE
2. OH HER HYDRA EGG
3. GURGLES
4. REVENGE LOG
5. SLIM ROULETTE
6. WHIRLED PIANO PATIO
7. SEE LOOKING NOTE
8. AGE SYRUP
9. BURST ORB
10. SLEIGH FUN
11. SPAR IF SHY
Bonus anagram:
Answers
Crazee Dayzee
Harry Hedgehog
Slugger
Green Glove
Little Mouser
Wild Ptooie Piranha
Skeleton Goonie
Spear Guy
Burt Bros.
Lunge Fish
Spray Fish
Bonus anagram: Fooly Flower
Word Search
Written by: Chester Alan Arthur (talk)
Welcome back Fun Stuff readers, and welcome to another month of exciting word searches! After the astounding success that was last month's Super Mario 64 themed word search, I decided to do this month's Word Search about that game Rosechat won't shut up about! That's right folks, this month's word search is Super Mario Sunshine themed! There are 14 words all based on something from Super Mario Sunshine (I forgot about Chuckster because I'm a failure). For this month, words can be found vertically, horizontally, backwards, and for you experts, the generator has made one of the words starts in another word. So good luck and have fun!!!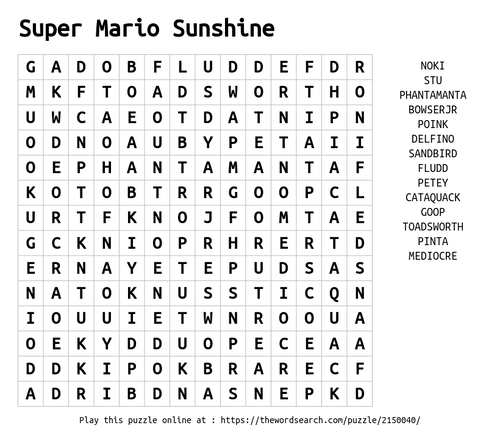 Answers
Hiding Koopa
Written by: Ninja Squid (talk)

Hello there, 'Shroom readers! Welcome a new edition of Hiding Koopa.
Spring is now upon us, and here the snow is finally melting. Although I wish the temperature would start to rise, it doesn't seem to be the case, unfortunately. It is rather cold and rainy right now. I find this rather boring, to be honest. Although, I guess this is the time to play some board games inside, right?
Well, with Clubhouse Games: 51 Worldwide Classics, we have enough choices to find a game that we like. I guess this is the case as well for my five Koopas who are at my service, since they are hiding in the artwork of that game. You only have one option left, and that is to find them!

Answer:
Did you find them all? Regardless, thank you very much for your support, and I hope you will come back next month!
Picross
Welcome back to Picross! It's the month of April, spring is well underway, the end of the school year is creeping up, and it's been one year since I started writing this section! Since the first section that I wrote was themed around mushrooms, I decided to make this month's picrosses focus on more mushrooms! Can you uncover all of the mushrooms? There's only one way to find out!

For new readers:
For new readers to this section, here's a short explanation about it: Every issue, you'll find two to four picross puzzles based on a certain theme, based on a Mario game, series, character, or item. If you're new to picross, or need a refresher on the rules, here is a step-by-step walkthrough. You can also find many tutorials online. To play, download the picture and print it, or open it in a drawing program of your choice. Happy solving!

Level 1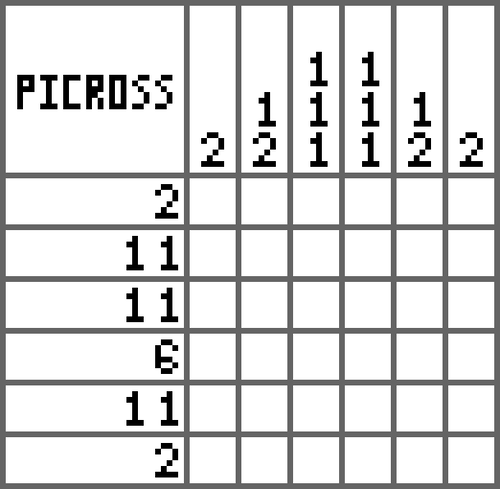 Level 2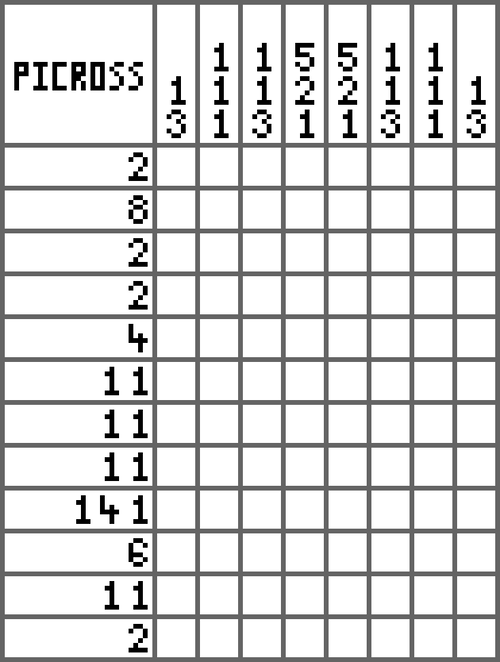 Level 3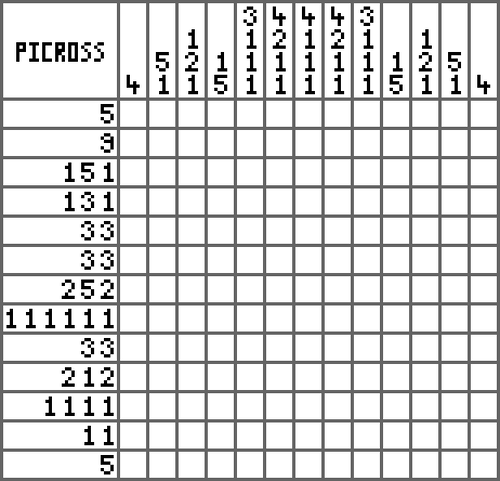 Solutions:


Level 1

Level 2

Level 3
I hope that you enjoyed this month's puzzles, and that you enjoy this section in general. If you have any suggestions for improvements, please let me know! See you next month!
Trivia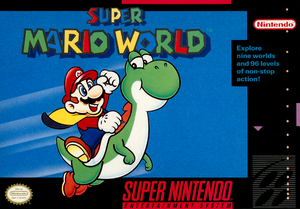 Trivia Time!
Hello, it's me Kirbyo, and this is another edition of Trivia Time! I ask the questions, and you answer with the help of the wiki and your Mario knowledge! Each Trivia Time has a different theme, but I couldn't come up with a theme on my own. Luckily, I have a Mario Boards account now, so I asked you, the readers, to vote for what I should do for April's Trivia Time!, and in the end, the winner was Super Mario World! I hope you enjoy this month's Trivia Time! and I'll be seeing you again in May! So, without further ado, let's-a go! (Bonus: get all five right without the help of the wiki.)
Question 1: In World 4, Twin Bridges, there is a level called Cheese Bridge Area, which has a secret exit that takes you to Soda Lake. How do you get to the secret exit?
Hint:
You need this game's signature power-up (or maybe power-ups).
Answer:
Use a Cape feather (and Yoshi if you want to make things easier) and go under and around the main exit.
Question 2: Speaking of World 4, there's actually two bridges, The Cheese Bridge, and The Butter Bridge. How do you get to The Butter Bridge?
Hint:
It begins with Vanilla Dome 1.
Answer:
First, find the secret exit in Vanilla Dome 1. Then, finish Vanilla Secret 1 using the normal exit. Finally, complete Vanilla Secret 2, Vanilla Secret 3, and Vanilla Fortress, and boom! You now have access to Butter Bridge.
Question 3: In Valley of Bowser 1, there is a 3-Up Moon. How do you get it?
Hint:
The moon and the Munchers.
Answer:
Once you get to the checkpoint, go up to the top-most area, use the Moles (or just damage boost) to get across the Munchers, and jump over the gap.
Question 4: At the end of each world, there is a Koopaling you have to fight. Who is the boss of World 1, Yoshi's Island?
Hint:
He has a "giant" reputation.
Question 5: There was a feature planned to be in Super Mario Bros. , but never made it in because of the limited power of the NES. That feature was then added to Super Mario World, because the SNES, with its high processing power, could handle it. What was it?
Hint:
Issue 168+ZelenPixel (good luck).
Well, that's it for this edition of Trivia Time! Thank you so much for playing, as well as for voting for this month's game, and I'll see you... NEXT TIME! (Meanwhile, I'll be taking my writing FSA and waiting for a new Kirby game.)
Where in the Marioverse is Carmen Sandiego?
HOW TO PLAY
Each issue, you will be given a case to solve and clues to use to help you find the solution! Use your Mario knowledge to crack the case!
You will begin each case at the scene of the crime, and you will be given three clues from passerby as to where the next hot spot is and what game it's from. Using your knowledge of Mario games and the Super Mario Wiki, figure out where the crook is and go track them down! There are four locations each round: the crime scene (1) at the start, two locations (2 and 3) with clues, and the hideout for the crook of the month (4). Answers for locations will be given with the corresponding round, for example, the clues from the crime scene will lead you to location 2, and once you open the spoiler bubbles for location 2, you will be given the correct answer. You can open the clues for each location in any order you'd like, but be careful! You may encounter an incorrect clue that could throw you off the case!
Clues offered will give you a hint either about the next location or the game it's in. Unlike a regular Carmen Sandiego game, you do not have to collect information about the crook you are tracking down.
Challenge round (optional):
-Find all locations and games correctly in two minutes or less
-Find all locations and games correctly without using the rest of the Wiki for help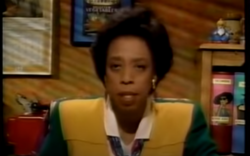 "Gumshoe, we've got your next case ready for you! It's a very interesting case this time. It would appear that Carmen is looking to have some fun, as she has stolen a packet of tickets to the new Super Mario World theme park in Japan from Princess Peach's castle. Mario and co. were looking to use these tickets to visit the new theme park, but they have been swiped. Princess Peach's staff believes that one of their own has gone rogue, and they have taken the tickets on Carmen's behalf. Mario and Luigi have requested your help finding the tickets. Time to get to work, gumshoe!"
Crime Scene

The Crime

Take back the stolen Super Mario World tickets!

CLUE 1

"If you bring a Pokemon stone, you'll get a good fight."

CLUE 2

"Be nice to the monsters, they've reformed here!"

CLUE 3

"This game is so Square!"
Location 2

CORRECT ANSWER

Monstro Town from Super Mario RPG: Legend of the Seven Stars

CLUE 1

"You better solve the maze quickly before you sink!"

CLUE 2

"I hope you brought your sand boots."

CLUE 3

"This was your first trip to space- did you enjoy it?"
Location 3

CORRECT ANSWER

Maze Planet, Dusty Dune Galaxy from Super Mario Galaxy

CLUE 1

"You have to hurry, they are nearly at the park!"

CLUE 2

"Does this count as a Luigi game?"

CLUE 3

"I hear the cherry blossoms have bloomed early this year."
CASE CLOSED
HIDEOUT ANSWER: Tokyo, Japan from Mario is Missing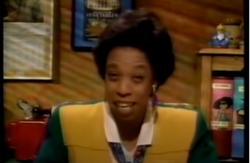 "Good work, gumshoe! ACME officers noticed Carmen's blimp hovering a few miles away from the park, and thanks to your quick thinking, we managed to apprehend the rogue Toad before he could meet up with Carmen and hand the passes over. We've returned them to Mario and Princess Peach, and Mario has sent you a small gift as thanks: a box of Stars. I know it's not as exciting as your own ticket to the park, gumshoe, but you've done good work today. We'll let you know when your next case is ready for you!"