The 'Shroom:Issue 168/Fun Stuff
From the Super Mario Wiki, the Mario encyclopedia
Jump to navigation
Jump to search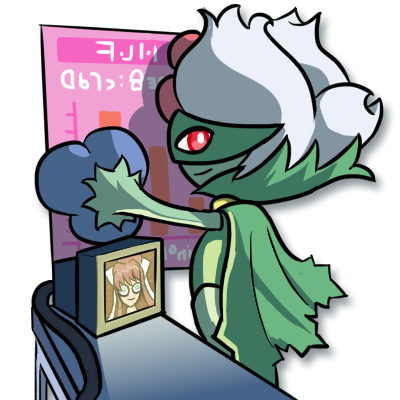 Staff Notes
Greetings, beautiful 'Shroom readers! Welcome into the March edition of Fun Stuff, where we're celebrating the nearing of spring! That's right, with the changing weather comes the blooming of flowers, so I've gotten as many seeds planted as I could manage. Hopefully soon, the Fun Stuff office will look just like its own Rose Garden!
I do genuinely love the transition into March. It is the month where everything ramps up for school, so I can't exactly call that fortunate, but the longer sunlight more than makes up for this. My productivity and creativity goes through the roof the moment the days become longer, so here's hoping this spring is one of inspiration and artistry for you as well as me.
I've got some exciting news to share this month! Once again, our pal Shoey (Chester Alan Arthur (talk)) is employed by yours truly! Glad to have you back on the team, Sergeant Shoe. Make sure to check out his Word Search, as well as all the other sections we have prepared for you! Our team puts in tons of effort, and with six regular sections now under our belt, Fun Stuff is looking stronger than ever.
I don't have too much time, so we'll cap these Staff Notes off here. Settle in, grab a nice, brisk cold beverage, and enjoy the sections we have in store!
Section of the Month
Congratulations to FunkyK38 (talk) for once again claiming first place on the SOTM podium! Congratulations also go to Ninja Squid (talk) and Kirbyo (talk) for second and third place respectively, and a massive thank you goes to all of our readers, contributors, and voters.
FUN STUFF SECTION OF THE MONTH
Place
Section
Votes
%
Writer
1st
Where in the Marioverse is Carmen Sandiego?
16
37.21%
FunkyK38
2nd
Hiding Koopa
10
23.26%
Ninja Squid
3rd
Trivia
9
20.93%
Kirbyo
---
Word Activities
---
I'm feeling Rabbid for anagrams, I just need more!
[read more]
Graphic Activities
---
Geez, is it getting hot in here, or is it just me?
[read more]
Mind Games
---
I already made a fury pun last month what do I do oh go
[read more]
---
Don't stand there Broode-ing in the corner, gumshoe!
[read more]
Anagrams
Written by: BBQ Turtle (talk)
Hello everyone, I hope you're all doing OK this month. I haven't really got all that much to say this month, but I have got plenty of Mario + Rabbids: Kingdom Battle anagrams for you to solve, so I hope you can enjoy those. I think I've managed to stick to the main game, but just watch out in case I've accidentally managed to slip something from the Donkey Kong Adventure in there too. Of course, if you have any ideas for a future section's theme or perhaps a funny Mario-related anagram that you've found that I could make use of in one, please let me know on my talk page or by sending me a PM on the forums, I'd love to hear from you. And now I guess it's time to let you take a crack at those anagrams!
How it works... Basically, this puzzle consists of solving the anagrams. Each month has a specific theme, which will give you a clue about what sort of words or phrases the anagrams will be. I've also included the boxes that the anagrams will fit into, so you'll be able to tell how many words it will solve to be and how many letters will be in each word, which should give you a hand too. You'll also notice that within each set of boxes, one of the squares are yellow. As you solve each anagram, note down the letter which appears in the yellow squares, and if you can solve all of the anagrams, you'll also get a bonus anagram to solve from completing all of the others. I've included the letter configuration for this one at the bottom too, just to give you an extra helping hand. Best of luck!
1. MANGER BULB
2. SCREENING TAN AD
3. WOOD GREEN ARM BAGS
4. KEY RIVAL
5. BOYISH BRAID
6. DRUNK CAGE
7. APT VIAL
8. BLIND BLIP APART
9. MOTH BOOS
10. COMIC LIE GEL
11. LAVA CARE
10. BETTER RES SHED
Bonus anagram:
Answers
Rumblebang
Ancient Gardens
MegaDragonBowser
Valkyrie
Rabbid Yoshi
Grenaduck
Lava Pit
Pirabbid Plant
Boomshot
Icicle Golem
Calavera
Sherbet Desert
Bonus anagram: Spooky Trails
Word Search
Written by: Chester Alan Arthur (talk)
Hello Fun Stuff, it is I, Shoey, returning after so long! Since my usual baby, Trivia, is currently being taken by somebody better than me, I thought I'd try my hand at Word Search. This month's section is themed around bosses and enemies from Super Mario 64, a good game no matter what a certain 'Shroom staff member who may or may not be the Sub-Director thinks. Anyways good luck have fun! Answers can be found vertically and horizontally, forwards and backwards.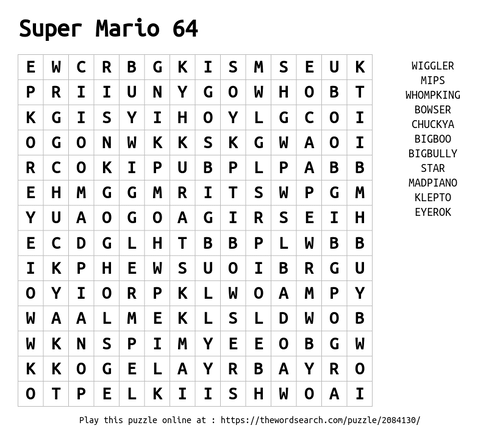 Answers
Hiding Koopa
Written by: Ninja Squid (talk)

Hey there, 'Shroom readers! Welcome again to Hiding Koopa.
If I learned something last month, it's to trust nobody, not even yourself. Yeah, I can't trust people to vote in a reasonable way. Also, if you have seen a certain someone contradict some allegations of bribery in Strategy Wing, I'll have you know that there was nothing legal about the things he did, and what this month's News Flush was saying was 100% true. Even Waluigi says that the Fake News team contains 100% real news in our sign up page, and Waluigi is definitely a trustworthy individual. I gotta thank that Anonymous Avian for investigating this, by the way.
Now regarding Hiding Koopa, I heard that the gods are hot in Hades, so I sent my five Koopas to investigate this in my stead. Make sure to find them all in the artwork below. Good luck!

Answer:
Did you find them all? Regardless, thank you very much for your support, and I hope you will come back next month!
Picross
Welcome to another edition of Picross! You've undoubtedly heard that the Super Mario Bros. 35th anniversary is concluding this month, but that's not what the theme is. Instead, the picrosses are focused on Super Mario RPG: Legend of the Seven Stars, since it's turning 25 this month. In my opinion, it's quite a unique game, which is why I decided to make it the theme of this month's section. I hope you enjoy!
For new readers:
For new readers to this section, here's a short explanation about it: Every issue, you'll find two to four picross puzzles based on a certain theme, based on a Mario game, series, character, or item. If you have any ideas for themes, feel free to suggest them here. If you're new to picross, or need a refresher on the rules, here is a step-by-step walkthrough. You can also find many tutorials online. To play, download the picture and print it, or open it in a drawing program of your choice. Happy solving!
Level 1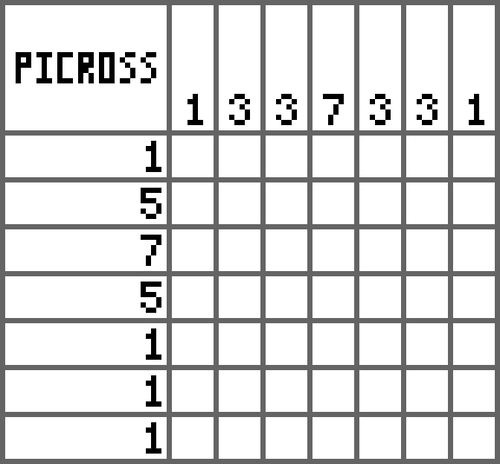 Level 2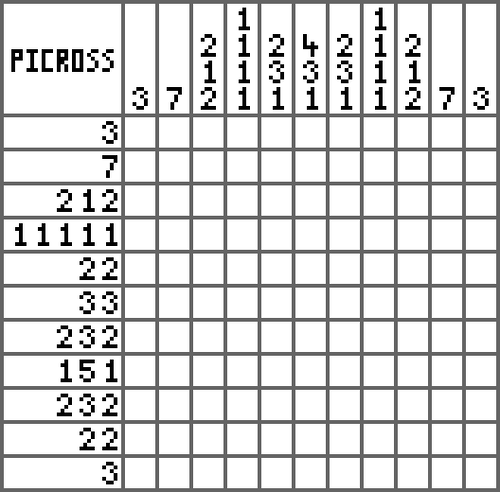 Solutions:

Level 1

Level 2



Hopefully, you enjoyed the picrosses that this month has to offer, and as always, join back next month for more!
Trivia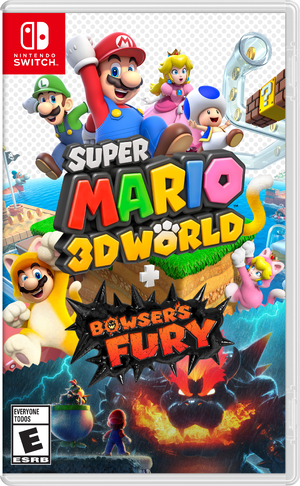 Trivia Time!
Hello, it's me Kirbyo, and it's time for the 3rd edition of Trivia Time! I ask the questions, and you answer with the help of the wiki and your Mario knowledge! Each Trivia Time has a different theme, and since Super Mario 3D World + Bowser's Fury just came out, I thought I might as well do one on that game! Also, I'd quickly like to say thank you for voting this section as Section of the Month for January. I didn't believe it myself at first! Also, the five main questions will be 3D World based, with their being a bonus 6th question for Bowser's Fury. So, without further ado, let's-a go! (Bonus: get all six questions right without the help of the wiki.)
Question 1: In Super Mario 3D World, once you get to the final world, World Crown, there's three stages you can beat. One of them is the last Captain Toad stage. What is that stage called in Italian?
Hint:
The Captain Toad stage in question has to do with lava, and what's another name for lava?
Answer:
Captain Toad and the magma tower.
Question 2: In Super Mario 3D World, you can gain access to the secret train level, the Coin Express, once you get to World 5. Once you play it once, though, you can't play it again until you do what?
Hint:
You do not have to beat the game, you just have to do something that has to do with a factor of 100.
Question 3: In World 3-3, Shifty Boo Mansion, how do you get the first Green Star?
Hint:
Remember Super Mario 64?
Answer:
Enter a Boo portrait near the beginning and complete the challenge that follows.
Question 4: In Super Mario 3D World, there is an enemy called Coin Coffer. In what stage does this enemy first appear?
Hint:
It's the first stage to take place underwater.
Question 5: In World Crown-Mystery Box, Mystery Box Marathon, there are 30 Green Stars to collect. Most of the Green Stars come from older mystery boxes. Which mystery box does Green Star 24's challenge come from?
Hint:
Three Flipswitch Panels, two Thwomps, one Bomb, and zero room for error.
Answer:
The mystery house in World 6, Mystery House Throwdown.
Bonus Question: In Bowser's Fury, how do you get a Lucky Bell, excluding swimming under the Ruins Giga Bell and getting one randomly after collecting 100 coins?
Hint:
Get a certain power-up, find a certain enemy, and act like a clown.
Answer:
Juggle a Koopa Troopa shell eight times using fireballs, boomerangs, or tail whips.
Well, that's it for this claw-ver edition of Trivia Time! Purr-haps I'll be back next month if I'm not too focused on school. Thanks once again for voting this section as January's SOTM, and on that note, thank you so much for playing, and I'll see you…NEXT TIME! (Now if you excuse me, I have to prepare for those end-of-the-year tests. See ya!)
Where in the Marioverse is Carmen Sandiego?
HOW TO PLAY
Each issue, you will be given a case to solve and clues to use to help you find the solution! Use your Mario knowledge to crack the case!
You will begin each case at the scene of the crime, and you will be given three clues from passerby as to where the next hot spot is and what game it's from. Using your knowledge of Mario games and the Super Mario Wiki, figure out where the crook is and go track them down! There are four locations each round: the crime scene (1) at the start, two locations (2 and 3) with clues, and the hideout for the crook of the month (4). Answers for locations will be given with the corresponding round, for example, the clues from the crime scene will lead you to location 2, and once you open the spoiler bubbles for location 2, you will be given the correct answer. You can open the clues for each location in any order you'd like, but be careful! You may encounter an incorrect clue that could throw you off the case!
Clues offered will give you a hint either about the next location or the game it's in. Unlike a regular Carmen Sandiego game, you do not have to collect information about the crook you are tracking down.
Challenge round (optional):
-Find all locations and games correctly in two minutes or less
-Find all locations and games correctly without using the rest of the Wiki for help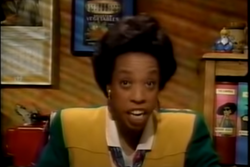 "Gumshoe, we've got an interesting case for you this time. It seems that your services are being requested again by Madame Broode- she asked for you specifically, even though the ACME department is focused on apprehending Carmen. Either way, we're allowing her request to come through since we don't have any leads on Carmen at the moment. So, your case- Madame Broode has reported that several pieces of her jewelry featuring custom Power Moon gem settings have been stolen. She does not suspect Mario and co., as the entire piece of jewelry is missing rather then just the Power Moons inside. She has some grainy footage of a masked robbers that we have looked at, and it appears to be a Toad crew that is working on this heist. Your job is to track down these bandits and the stolen jewelry. Get cracking on this case, gumshoe!"
Crime Scene

The Crime

Madame Broode's Power Moon jewelry has been stolen. Find the crooks and get it back for her.

CLUE 1

"They brought in several nice pieces of jewelry and had us verify that they were the real deal. All of the gear shops around here agreed that the Power Moons were real."

CLUE 2

"This is a lovely shopping experience- having a slow stroll through the mall with a hot tea is the best part of my week."

CLUE 3

"This game took you deep into the Mario world, especially with the bosses."
Location 2

CORRECT ANSWER

Toad Town Mall from Mario & Luigi: Bowser's Inside Story

CLUE 1

"There was a group of Toads here, yeah, they stopped for a pizza. But they squeezed lemon on it…"

CLUE 2

"Unfortunately, you cannot get orange juice here. I know, you'd think it would be our best seller but we don't have it."

CLUE 3

"Grab your brush and let's get moving through this adventure!"
Location 3

CORRECT ANSWER

Tangerino Grill from Paper Mario: Color Splash

CLUE 1

"They mentioned something about jewelry in a palace at night?"

CLUE 2

"You'll have to have help to get up to the top, it requires more than one person to operate all the switches."

CLUE 3

"This game seems appropriate for this section, finding loot wherever it is."
CASE CLOSED
HIDEOUT ANSWER: Double Cherry Spires from Captain Toad: Treasure Tracker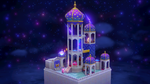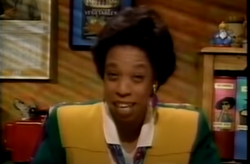 "Gumshoe, you've done it once again! We traveled to the location you specified, and not only did we find the jewelry and moons, but we also found the entire team of Toads waiting there. From what they have told us so far, they were waiting to meet up with the buyer of the gems they'd stolen. We haven't managed to get any information about the mysterious buyer, but it seems like they were interested in the Power Moons on the jewelry more than anything else. We'll turn it over to another department for them to follow up on. Madame Broode is thrilled with the return of her jewelry, and she sent you an extra-large reward for this case. We've sent it to your account. Good work on this case, gumshoe, and we'll let you know if we get any new intel on Carmen."