The 'Shroom
:
Issue 157/The 'Shroom Spotlight
From the Super Mario Wiki, the Mario encyclopedia
Jump to navigation
Jump to search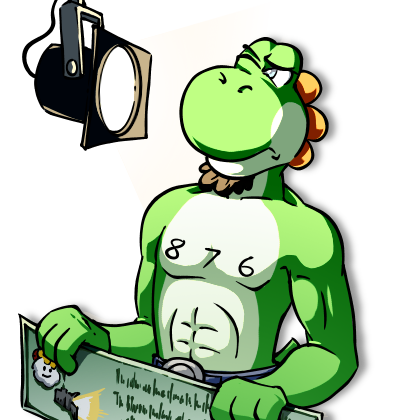 Hello readers of The 'Shroom, and welcome to Spotlight. Spotlight is a community project which aims to fix up the articles on the wiki which have issues. These issues can range from poor writing to a lack of images, to even just needing a credible source.
Welcome to April's edition of Spotlight. Current world events mean that many of us are stuck inside at the moment, hopefully finding ways to enjoy ourselves, whether through movies, or more likely games. However, with so many of us indoors at the moment, something great that you could do with your time is contribute to this month's edition of Spotlight, especially since last month wasn't our best outing.
Sadly, the only focus that we managed to get completed was Super Mario Kart, with LuigiMaster123 (talk) adding the button controls. Everything else was untouched, apart from Toodles, where Toadette the Achiever (talk) removed the one example I noted of bad writing in the article. So, hopefully this month, we'll have a lot more success.
And now onto this month's focuses:
| Article | Category | Focuses |
| --- | --- | --- |
| World 3 (Dr. Mario World) | Wanted article | Given the situation we find ourselves in at the moment, perhaps now would be the best time to start playing Dr. Mario World, and as we play, perhaps someone could create an article for the third world of the game. |
| Raven | Stub article | The Yoshi's Crafted World section is likely mostly what's there, but considering the gallery shows the Raven in a blimp form, and this isn't mentioned in the section, I think you can see where I'm going with this one. |
| Dr. Mario (game) | Rewrite and expansion required | Another Dr. Mario focus this time around, and it would be great if the game could have a story mode added into it. |
| Russ T. | Citation needed | Russ T. is a very wise Toad, giving out lots of information about things in Paper Mario, but is he actually referred to as a "Wise Toad"? The article says it's happened on multiple occasions, so could someone find an NPC, or another form of official information, that gives him this moniker? |
| Sticky Situation (level) | Articles that need more images | We're in a bit of a sticky situation with this article. It;s almost complete, it just needs images of the locations of the K-O-N-G letters and Puzzle Pieces. |
| File:BC-MK7.png | Image quality requested | If you read Racing Like the Staff last month, you might've spotted this image, and it's a bit blurry. Something sharper is needed in this instance, but if you don't like racing with this combination, do not fear, the main image we'll be after is someone gliding into the castle with both the top and bottom deck visible. |
Now just before I leave you, I'd like to tell you about unimplemented proposals. There are currently eighteen that need to be implemented, one of which dating back to 2015, so think of this as a continuous Spotlight goal until they're all completed.
Thanks for tuning in to the newest edition of The 'Shroom Spotlight! Be sure to turn up next month, where we'll be reviewing the progress on the above focuses. If you have any questions or suggestions about this month's set of the article focuses, then please get in touch through the dedicated topic if you have a forum account. If not, then please contact myself on my wiki talk page, but you are far more likely to get a quick response if you go through the forums. You are also welcome to make suggestions on what you think we could focus on in our next edition! Thank you, and good luck!