The 'Shroom
:
Issue 151/The 'Shroom Spotlight
From the Super Mario Wiki, the Mario encyclopedia
Jump to navigation
Jump to search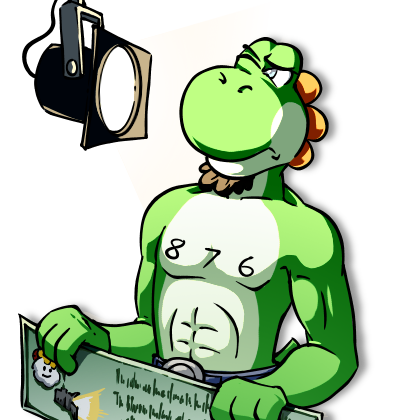 Hello readers of The 'Shroom, and welcome to Spotlight. Spotlight is a community project which aims to fix up the articles on the wiki which have issues. These issues can range from poor writing to a lack of images, to even just needing a credible source.
Welcome to October's spooky edition of Spotlight. As is the tradition when it comes to October, I have chosen a selection of spooky focuses to get our skin-crawling, and not just because of their lack of quality. So don't have nightmares looking at the focuses, but be the hero of the horror flick and vanquish the evil monsters, otherwise known as the improvement tags.
We might not have had the 100% success rate that we were aiming for, but a 60% success rate is still something to shout home about. Our unfinished focuses were Blown Away (microgame) which remains uncreated and Swiss Cheese Alps which remains a stub. But let's not focus on those, but look at what was achieved. TheFlameChomp (talk) was able to expand Dry Desert Mushrooms, although I still don't want to eat a mushroom. Luigimaster123 (talk) found a reference for Abandon Ship (minigame), so you can view the advert that it featured in. L151 (talk) added an image of the Sasquatch Family so we can have a look at them and WigglyWiggler (talk) removed the watermark on File:NSMBU Inventory.png, and even gave it a better setting.
And now onto this month's focuses:
| Article | Category | Focuses |
| --- | --- | --- |
| King MacFrights | Wanted article | Now Luigi's Mansion 3 isn't officially out yet, so I don't expect this focus to be completed until later on into the month. However, what's more fitting for Haloween than a spooky Scottish king? |
| Boo Valley | Stub article | This spooky golf course has a lot of information its holes missing. Now while things disappearing is common with spooky things, we want this information to appear, so it can look like the other Mario Golf 64 articles. |
| Scare-Oh! | Rewrite and expansion required | This might be one of the worst puns I have ever seen, but that won't prevent us making it a focus. Let's scare the rewrite-expansion tag off this article by putting in the information how to actually beat this enemy, or even if there isn't a way to beat them. |
| Luigi's Ghost Mansion | Citation needed | The article claims that an interview said this game mode was the inspiration for the ScareScraper mode in Luigi's Mansion: Dark Moon. This sounds super cool, but we need this interview to be cited! |
| Stone (Luigi's Mansion) | Articles that need more images | With an article detailing a lot of locations for the stones, we only have one actual image of it. It'd be great to see the other kinds of stones in Luigi's Mansion, but it would be even better to see the locations in some nice tables. |
| File:YWW Wik.jpg | Image quality requested | I have wanted to feature this image for a while, but decided to save it for the spooky season. This spooky candle, which reminds me of Litwick, should be recaptured so it's in sharper focus. |
Now just before I leave you, I'd like to tell you about unimplemented proposals. There are currently eleven, which is one less than last month, that need to be implemented, some of which date back to 2015, so think of this as a continuous Spotlight goal until they're all completed.
Thanks for tuning in to the newest edition of The 'Shroom Spotlight! Be sure to turn up next month, where we'll be reviewing the progress on the above focuses. If you have any questions or suggestions about this month's set of the article focuses, then please get in touch through the dedicated topic if you have a forum account. If not, then please contact myself on my wiki talk page, but you are far more likely to get a quick response if you go through the forums. You are also welcome to make suggestions on what you think we could focus on in our next edition, and as the next one is Halloween, we will be focusing on spooky focuses only! Thank you, and good luck!