The 'Shroom
:
Issue 151/Fake News
From the Super Mario Wiki, the Mario encyclopedia
Jump to navigation
Jump to search

Editorial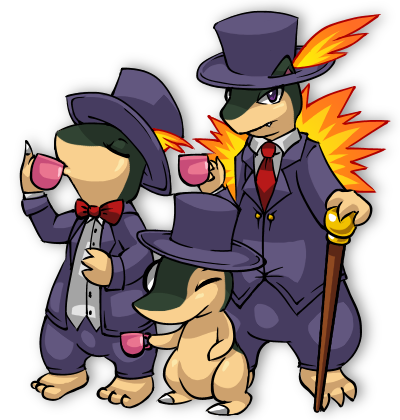 Welcome to Issue 151 of The 'Shroom! That's as many issues as there were Pokémon in the original Pokémon games. We're officially in Generation II of The 'Shroom and that's the best generation in Pokémon so hopefully this will be the best generation of The 'Shroom.
And if that wasn't enough, it's the Halloween issue! As in, I don't think we've ever officially done a Halloween issue, but it's October and everyone knows October's the month when people get scared the most. So here's a fun costume idea - impress all your friends this Halloween by dressing up as me, your favourite Fake News Director unless you've been reading this for a very long time then it could be somebody else I guess. None of your friends will recognise your costume but correct me if I'm wrong but that makes you really cool.
Don't dress as a ghost, though. They aren't real. Dress as something real like that cat sitting at a table who looks really mad. And there's, uh, there's someone shouting at him???? You know the guy right??? Now there's a guy who exists
Section of the Month
FAKE NEWS SECTION OF THE MONTH
Place
Section
Votes
%
Writer
1st
Obituaries
36
52.94%
Yoshi876
2nd
TV Tomorrow
32
47.06%
Quizmelon
---
News Report
---
Bootler's been given the boot (the mortal boot) (he's dead).
[read more]
Entertainment Features
---
Quizmelon tells us what to watch on the telly.
[read more]

| Day | Predicted | Temperatures | Forecast | Chance of Precipitation |
| --- | --- | --- | --- | --- |
| Monday | | High: 54 Low: 37 | Brisk winds and few clouds. Temperatures dropping overnight. | 0% |
| Tuesday | | High:48 Low: 36 | Windy and cool. Sunny in the morning with clouds moving in later. | 10% |
| Wednesday | | High: 45 Low: 35 | Cloudy all day. Temperatures dropping below freezing overnight, with chances of frost. | 10% |
| Thursday | | High: 44 Low: 32 | Windy with scattered showers. Rain continues overnight. | 60% |
| Friday | | High: 46 Low: 33 | Rain drying up around midday. Winds will pick up overnight. | 40% |
| Saturday | | High: 49 Low: 34 | Clouds breaking up after noon. Winds still strong and breezy. | 20% |
| Sunday | | High: 68 Low: 50 | Winds dying early. Lots of sun expected. | 10% |
Looking ahead for this week, it looks like your work week will be cloudy and cold. A front will move in and bring a lot of cloud cover, along with cold winds and some rain showers on Thursday and Friday. Wednesday through Friday looks like the best chance for some possible overnight frost, so if you have delicate plants outside, you might want to bring them indoors or cover them securely. Fall temperatures will continue to stay in the mid to low 40s, and winds will drop those temperatures down an additional 8 to 10 degrees, so make sure to bundle up when you go outside.
We are also bringing you your spooky mansion weather forecast for this month, looking at the best ghost-hunting times and when to expect your leaky roof to start dripping.
| Day | Predicted | Temperatures | Forecast | Chance of Precipitation |
| --- | --- | --- | --- | --- |
| Monday | | High: 42 Low: 30 | Dark clouds brewing all day. Good weather for hunting. | 10% |
| Tuesday | | High: 44 Low: 30 | It is a dark and stormy night. Poor hunting conditions, since thunder masks ghost noise. | 100% |
| Wednesday | | High: 40 Low: 29 | Rain showers throughout the day. Your leaky roof might get a few more holes in it. | 80% |
| Thursday | | High: 42 Low: 30 | Plenty of wispy clouds to obscure the moon. Ghosts love haunted vibes. | 30% |
| Friday | | High: 42 Low: 31 | Thick cloud cover will make everything extra dark. Bring extra flashlight batteries. | 20% |
| Saturday | | High: 43 Low: 29 | A bright day will give way to a bright moon. Expect lots of haunted happenings. | 0% |
| Sunday | | High: 43 Low: 30 | Big chance for those leaks to come back. | 90% |

Bootler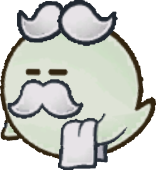 Hello 'Shroom readers! October always seems to be a strange one when it comes to deaths in the Mushroom Kingdom, and this month is no different as the butler of Lady Bow, Bootler has unexpectedly died. The reason his death was unexpected? Well, he is a ghost, and as we all know 'Ghosts can't die!' unless Super Mario 64 was lying to me.
A cause of death for Bootler is unknown, as Mushroom Kingdom coroners were unable to perform an autopsy as all their tools are meant for living creatures, not ghosts. There are currently ongoing discussions as to whether it's fine to kill Doctor Mario and send his ghost in to perform the autopsy. I'm hoping that if the decision is yes for this that they will at least wait until November so I can do an Obituary on that.
Lady Bow said Bootler's passing caused her great sorrow, and decided it was just the excuse for her to relax at Poshley Heights. "Only being surrounded by expensive treasures and other high-class Boos could possibly relax me at this time," she told me. She added that at least she'll have the poster from Super Paper Mario to remind her of him.
Tubba Blubba denied being responsible for the death of Bootler, pointing out that had he eaten the Boo, a body wouldn't be visible. Tubba Blubba offered me to have a look inside, and regretfully I have not yet found a way out, and the light source he promised me appears to have vanished as well.
I haven't been able to hear details about Bootler's funeral due to being stuck inside of what I presume may be Tubba Blubba's stomach, but given how conventional Mushroom Kingdom scalpels couldn't be used to perform an autopsy, I don't know how conventional Mushroom Kingdom coffins will work.
Join us next month to find out who has passed away, if anyone, and if I've been able to escape Tubba Blubba's stomach. If not, then join us for Yoshi876: Tubba Blubba's Inside Story.

October is often described as the spookiest month of the year. Really, I beg to differ - February can be just as terrifying - but nevertheless the TV corporations love to jump on board the Halloween bandwagon and show some severely scary stuff. Don't worry - tomorrow isn't Halloween and so we haven't reached the worst of the haunting Halloween specials yet, but let's just say that the faint of heart shouldn't be watching TV after 8pm. With a mix of light entertainment and dark mystery, here's tomorrow's top three!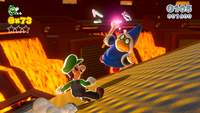 New: The Wizard in the Volcano
MKBC2, 10pm
Genre: Fantasy drama
While not strictly horror, this drama - starring Luigi, Toad and Kamek - can be quite horrifying at times, suitable for October. The series focuses on Luigi and Toad's journey to an ancient volcanic island, which rumour has it contains the reanimated corpse of a long-banished powerful wizard, or something like that. The first in a chilling four-part series sees them make the journey - and their first encounter with what could be the wizard.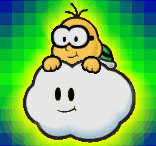 Lakitu! Live at Midday on MKBC1
MKBC1, 12pm
Genre: Talk show
For those preferring more calming, relaxed television this October, Lakitu's long-running midday talk show is considered the pinnacle of daytime television nowadays. While critics will eschew it in favour of late night talk shows, Lakitu! has remained consistent throughout its run. Tomorrow's episode sees him invite Spear Guy and Rosalina into the studio for a chat, while Tayce T is on hand to show you how to cook up a succulent Shroom Steak.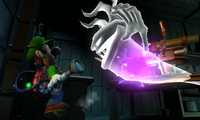 Possessors
MKBC3, 11pm
Genre: Television film/comic horror
As MKBC3 desperately searches for more programming to fill its schedules, they have stumbled across Possessors, a forgotten television film that aired on Halloween 2013 on MKBC1. Despite having a very low budget, the film actually holds up as a successful comic horror film; Luigi's performance as a weak and cowardly man is extremely convincing, and the CGI ghosts don't even look that bad.
Yet again, as I struggle to come up with an original conclusion, that's just some of the televisual gems in store for Mushroom Kingdom TV viewers tomorrow. For the demented souls who love horror films, you may want to spend the next two weeks in front of the television; for the faint-hearted angels who hate them, you ought to unplug your TV from the wall. Either way, the spookiness should have cleared up by November, when my column returns. See you then!