The 'Shroom
:
Issue 146/The 'Shroom Spotlight
From the Super Mario Wiki, the Mario encyclopedia
Jump to navigation
Jump to search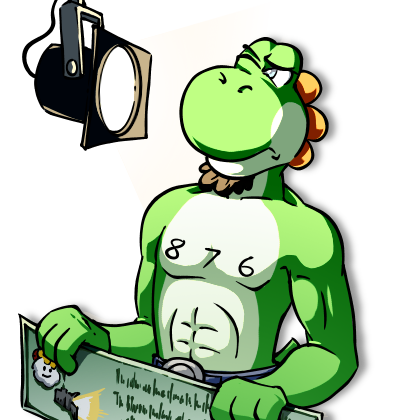 Hello readers of The 'Shroom, and welcome to Spotlight. Spotlight is a community project which aims to fix up the articles on the wiki which have issues. These issues can range from poor writing to a lack of images, to even just needing a credible source.
Welcome to May's edition of Spotlight. And this edition has nothing special attached to it, other than a thank you for your continuous support and reading.
We didn't hit that perfect score last month, but we did better than the previous month as we completed four out of our six goals, although one of them was actually completed before Spotlight even went live. It seems that Syncro263892XL (talk) beat me to the punch onFile:Dice Block MP6.png by over a week, so I'll make sure to keep checking focuses beforehand so we don't run into this issue again. Elsewhere, WigglyWiggler (talk) created Omega-onion, Doomhiker (talk) rewrote King Kaliente's Battle Fleet and YoshiFlutterJump (talk) removed the citation tag from Unfurl Block after determining a name was just a fan-made one. Sadly, Yarn Block and Asako Kozuki were untouched.
And now onto this month's focuses:
| Article | Category | Focuses |
| --- | --- | --- |
| Pyramid Land | Wanted article | We've done very well in our coverage of the animated The Super Mario Bros. Super Show! other than in one area. Pyramid Land has yet to be created, so let's fix that and complete our coverage on the series. |
| Lakitu Valley | Stub article | As we get into Summer, we should all aim to be a little more active in the heat. One way is to play golf, or failing that play Mario Golf: Toadstool Tour and put in all the holes that are missing on this article. |
| Lakeside Park | Rewrite and expansion required | Look at our Mario Kart articles and you'll see course layouts, but not on this one. Simple fix here, just add the course layout to this Super Circuit course, and the job's done. Just don't get hit by that volcano. |
| Spiny Desert | Citation needed | I have never been in a desert unless you count a beach. But I'm guessing that most deserts don't have creatures that move you about. Apparently, this creature's name is Arijigokun. We need a source for this, otherwise, it's likely a fan name. |
| Shy Guy Tower | Articles that need more images | Shy Guy Towers have appeared in Mario sports games and games in the Yoshi series, yet we only see their Paper Mario iteration. We're looking for images from all Yoshi games they appear in, plus Mario Sports Superstars and each colour variant in Mario Tennis Aces. |
| File:Grand Goomba 64.png | Image quality requested | A little bit of a strange one here as what needs to be fixed is missing shadows on Mario and the Grand Goomba. It looks like the sun was shining so they should be there. |
Now just before I leave you, I'd like to tell you about the NIWA Spotlight. This is a project being run by Alex95 (talk) and can be found in this paper's Pipe Plaza section. Much like this Spotlight, the NIWA Spotlight aims to fix up articles across various Nintendo franchises, that are all part of our NIWA group. I'd also like to tell you about unimplemented proposals. There are currently six, which was one less than last month, that need to be implemented, some of which date back to 2015, so think of this as a continuous Spotlight goal until they're all completed.
Thanks for tuning in to the newest edition of The 'Shroom Spotlight! Be sure to turn up next month, where we'll be reviewing the progress on the above focuses. If you have any questions or suggestions about this month's set of the article focuses, then please get in touch through the dedicated topic if you have a forum account. If not, then please contact myself on my wiki talk page, but you are far more likely to get a quick response if you go through the forums. You are also welcome to make suggestions on what you think we could focus on in our next edition. Thank you, and good luck!