The 'Shroom:Issue 143/Staff Notes
From the Super Mario Wiki, the Mario encyclopedia
Jump to navigation
Jump to search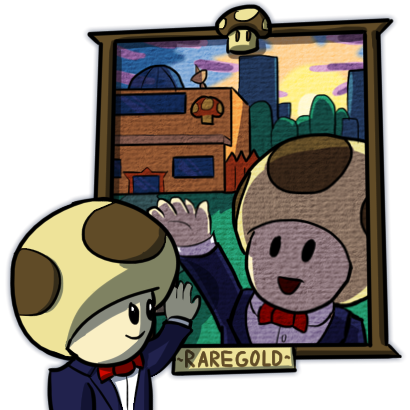 Hello Dear Readers! I'd like to thank you all for joining us for Geeky and I's first issue. We couldn't do it without our wonderful readers, writers, and staff. Our former Director and Sub-Director have been extremely helpful too in aiding us during this transition. We would like to thank you all for entrusting us with the 'Shroom for this upcoming year. A big thanks also goes out to The Pyro Guy for this wonderful staff portrait. It shows my favorite pastime, looking at myself admiring art. Also, I would like to congratulate Edo on becoming our Social Media Manager. You can look forward to hearing from him on our Facebook and Twitter pages from now on. I think thats all I have to say for now so if you excuse me I've got an appointment with a full-length mirror.
—Raregold, Director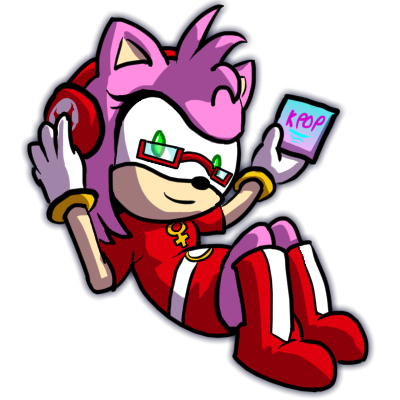 Hi Everyone! Happy February to you all. Geeky here taking over for Perch, and I honestly can't believe Raregold and I are here. We went through so much preparation just to run in the elections and this honestly feels so surreal to be here as your Sub-Director. I'm grateful to everyone who had voted for us, I'll do my utmost best to be your Sub-Director. There are a few things that I would like to announce right now. The first is I would like to thank The Pyro Guy for this awesome staff portrait. I absolutely love it!
The second is that I would like to announce that I have a community project committee that I have started. There will be more to come from my committee, however, I would like to talk about my first project. My first project for this committee was to create a thank you collage for Meta Knight and Supechao. These two have done so much for the 'Shroom that a big thank you is in order. I want to thank everyone who had left messages, and give a special thank you to Roserade, Hooded Pitohui, Alex95, and Koops for their special parts in my project. I know that this isn't enough to thank you both, but please take this as a token of appreciation from all of us.
Congratulations to Edo for becoming our new Social Media Manager, Edo! I look forward to working with you. Everyone, please give him a warm welcoming.
Thank you for reading and please check out all the awesome sections we have this month!
—MsRetroGeek, Sub-Director
Staff Section of the Month for January 2019
STAFF-VOTED SECTION OF THE MONTH
Place
Section
Writer
Reasoning
1st
Anton's Half-Baked Reviews
Hypnotoad (talk)
Long blocks of text really benefit from either a visual gimmick that sets them apart, or at least subdivisions under their own headers, and you can definitely see this being taken advantage by Anton's Half-Baked Reviews, making reading, much more enjoyable.
2nd
It's aMAZEing
Lakituthequick (talk)
We really love the outlining of the cake aesthetic Lakituthequick is going for in the picture. The colors aren't too bright and aren't too dark. They create this eye-catching piece that goes along with the whole picture. We also really like how he did a fun piece for his birthday.
3rd
Interview
Superchao (talk)
Superchao always does such a great job interviewing people. However, we think he does a great job in trying to open up everyone that he speaks to. He also really knows the guest that he interviews. An instance within his interview was when he asked Shygul about when she had joined Mariowiki. To which he automatically related his answer to Rose who had been around just as long.
3rd
'Shroom Recap
Hooded Pitohui (talk) and Raregold (talk)
Nice and in-depth look into the histories of The Pyro Guy and Cooking Guide. We had noticed that the style of Cooking Guide differs between writers, but without this section, the readers wouldn't have seen how different the styles can and have been.
4th
Hot Pot Reviews
Chibiki Daisy (talk)
Clever name for a section that talks about the different interests she has. We were also really interested in the subject she chose to talk about this month. One major thing that she did that really helped with her description of the songs is that she added links to the songs with her descriptions so that the readers could understand what she was saying as she read through her section.
5th
TV Tomorrow
Quizmelon (talk)
His sections are consistently of high quality and are always imaginative. He takes his job in Fake News seriously and it really shows.
6th
Where in the Marioverse is Carmen Sandiego?
FunkyK38 (talk)
These sections have always been consistently high quality from the start, with fun and challenging locations without ever getting too obscure. Funky's constant commitment to this section is impressive.
7th
Mach Speed Mayhem
Superchao (talk)
Superchao puts a lot of effort and enthusiasm into this section. We also find it interesting that it involves the community by letting them choose the next character to highlight, which is a good way to attract interest in the section, but also in The 'Shroom as a whole.
8th
PK144's Course Corner
Parakoopa144 (talk)
PK144 has shown great initiative in his writing. The section while being able to be used as a walkthrough provides insight into mechanics, comments fairly on design choices, and has plenty of voice to it. This spirit of constant improvement is what we like to see from 'Shroom writers.
Congratulations to all of our writers for their amazing work!