The 'Shroom:Issue 143/A Special Presentation
From the Super Mario Wiki, the Mario encyclopedia
Jump to navigation
Jump to search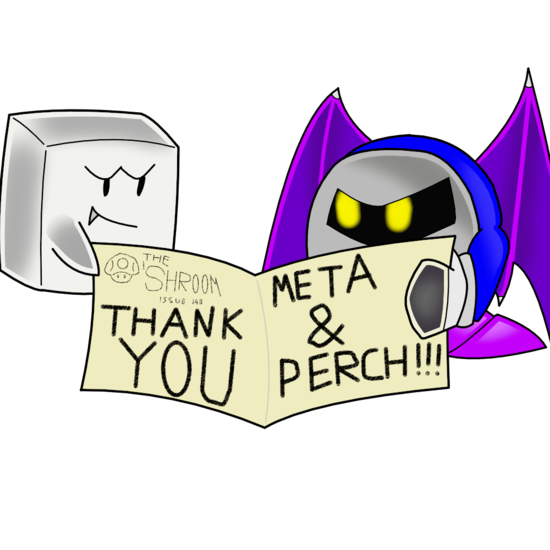 Hi Everyone! Geeky here to reveal the project that I have been working on with my Community Project Committee. I had this idea when Raregold and I had been running for office. I thought about how long Meta Knight and Perch have both been working hard as the Director and Sub-Director. Figuring out new types of ways to handle situations that may have had happened to them. They've been through years of work uploading the Shroon' for the staff, the writers, and the reader's enjoyment. When was the last time we showed some sort of appreciation towards them? When was the last time we thought of the amount of hard work that they had done for us? That is why I had wanted to go ahead and give them a project that they can look at and see how many people appreciated how much work they've done throughout the years. I asked all of the staff members that I knew for messages to try and show how they have appreciated all that they have done. I also had some artwork done by Hooded Pitohui (talk), Alex95 (talk), and ManKoops (talk). I have appreciated all of the messages that I have gathered for this project. I appreciate everyone that had allowed me to speak to them about this project and everyone that had helped contribute. Thank you all so much! Now without further ado, I will reveal the project.

"It was great to be able to write during their term as director. They always felt very approachable and offered great advice from section formatting to just general community advice. I wish them well in their future projects and thank them from the bottom of my heart."
- Raregold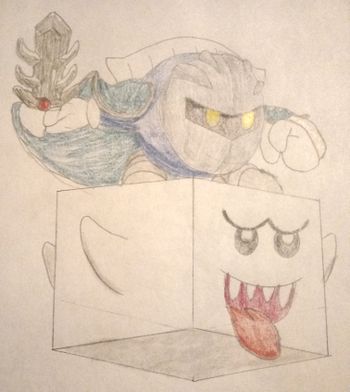 "I also want to thank Meta and Perch for all of their work. I recall a good while ago, perhaps near the start of 2018, Meta messaged me and told me that he thought I would be a good fit for a 'Shroom Staff position. It sort of came out of the blue, and I felt honored to receive the praise. That exchange alone filled me with a sense of confidence that I didn't have before, and the encouragement I received from the two of them since that day only exponentially made that feeling grow. It's because of their faith and kind words towards me that I had the courage to not only apply for a Staff position, but to continue working and stretching with the community, through Awards Presentations, another term of Poll Committee, and so on. I recall my first time putting together Fun Stuff, and Perch walking me through the steps when it was near two am his time; I recall Meta checking in and seeing how I was adjusting, and letting me access the board early to gain my barrings; both of these actions made me feel right at home with The 'Shroom. Because of them, I'm in a position today with this community that I love, so."

"Thank you, Meta and Perch, wholeheartedly, for all you have done for me. May retirement treat you well."
- Roserade

"I've been working on The 'Shroom Staff for about a year now. 12 issues, 365 days, one term. Both MK and Perch have been great to work with, both as a boss (or sub-boss) and as a friend. When I was originally brought on, it was heartwarming to see the praise from them and the rest of the staff, and that feeling has stayed with throughout the year. Because of those two, I eased into my job very comfortably and were responsible for me sticking with this community for so long. If I'm a prisoner to this community, then I'm… a really happy… prisoner, who respects and is good friends with the prison wardens (MK and perch). That was a really bad analogy. Look, they're both hard working, nice and considerate guys, and I'm really glad that they were in command these last two terms. Enjoy the future." - TPG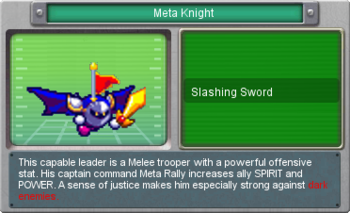 "Since its inception over a decade ago, The 'Shroom has become a bedrock of the MarioWiki community. Thank you for all the work you've put in to keep that tradition going!" - Porplemontage

"I can absolutely guarantee you that I'd barely be where I am in this community without all that Meta Knight and Superchao have done for me. In that odd period between me actually signing up on the Boards and really taking to engaging with the community, Meta Knight was such a gracious help, a real blessing. Through one of those Pokémon Tournaments with Packy, I ended up reaching out to MK about an idea for a presentation for Awards, hoping to get feedback from someone in the community and get a clue as to what in the world I was doing. I mean, I seriously had no idea how anything worked in terms of this place and, honestly, online communities in general. I don't recall exactly why I thought to reach out to MK in particular, but I do know that something about him told me that he was the right choice, someone kind enough to help out someone who was completely lost but experienced enough to have good advice and share constructive criticism. So I took his words into account and then… proceeded to sit on it for another year or two, returning to lurking as I did in the past.
But then, in the summer of 2017, I decided that I wanted to write for the 'Shroom. So, I put in the research, finding out what I needed to do and trying to figure out the coding and all that, but I pretty quickly realized that, once again, I had no idea what I was doing. So, I took the advice on the sign-up page and reached out to Meta Knight for advice. He was absolutely great to me, patiently answering questions about the simplest of concepts like what I should use to compose the section and how I would send it via the forum. I mean, I clearly was starting with the very basics, but Meta Knight made the process as easy as he could and went out of his way to make sure I felt prepared and that I focused on what I was learning rather than lament all I didn't know. That immediately made an impression on me; it told me something significant about The 'Shroom and about MK as a person. MK really does have the hallmarks of a leader. He has an open mind towards anyone who wants to contribute and join in and the patience and skillfulness necessary to ease them in and support them as they make an effort to learn. It's something which MK showed me right away, as I first joined on with The 'Shroom, and something he has continued to demonstrate towards me through all of my time with The 'Shroom and the community. As I've joined in events, worked on Awards, learned my way as Strategy Wing Director, and even just found my place chatting with folks on Discord, Meta Knight has been in the background, still providing that careful and steady guidance. I am undoubtedly a nervous wreck trying new things and I'm quite skilled at finding any mistake to be made, yet through successes and mistakes, Meta Knight has consistently been behind me, helping me correct what goes wrong, learn to improve, and, most importantly, feel welcomed and valuable. And it hasn't been just me! I've seen MK take the exact same mentoring role with plenty of writers, other Staff members, and the community all around. Firm when he needs to be yet always willing to give folks a chance and encouraging them to grow and improve, Meta Knight has been an exemplary member of this community and an excellent 'Shroom Director. I'm deeply appreciative of my good fortune in having joined this project with Meta Knight at the helm, a real leader who was willing to invest time and energy in encouraging the growth of someone who came to him with little skill to offer but a desire to help out. Meta Knight, thank you! For all you've done for me, for The 'Shroom, and for this community, I thank you!"

"As for Perch, I struggle to express how much meeting him has meant to me in terms of this community and beyond. Not only is he an absolute joy to speak to, always offering some fascinating discussion or introducing me to some new concept or piece of media, but he has been an invaluable mentor and source of support for me. From questions about The 'Shroom to my adjustment to the cultures of the Web, Perch has been happily giving me guidance and answering my questions no matter how basic or detailed. Having his support has given me the confidence to push myself into new activities and realms. I remember how much it meant to me when Perch mentioned that he thought I should consider a Staff position. I knew that my goal was to apply to the Staff at some point, but it was his encouragement and support which gave me the confidence to go for it and put my ideas out there. And, then, of course, he was always right there to help me learn my responsibilities and give me advice when I did end up on the Staff. He's been a source of confidence for me as I've run in Director elections, taken on some new creative projects and tasks, and even as I've simply branched out with video games, shows, and books. He's responsible for me playing my first ever PC game, a Touhou title, of course."
"And, you know, I could say thank you to him for so many things, but I think I'd most like to thank him for just being an all-around great guy and friend. I've had an incomparably pleasurable time learning all about F-Zero and Touhou, watching Mach Speed Mayhem come together and seeing Perch so enthusiastic about the voting and writing the articles, chatting with someone who's been here for much of the community's history and who likes to reminisce and talk about it as much as I like to listen to someone speak on it. Superchao is a passionate guy, someone who really knows what he's looking for out of life and ready to enjoy it. That rubs off, and I can't think of any experience quite as much as seeing him express his passions, a real passion for life and an attitude of enjoying everything it has to offer. You know, he found a little quote that he shared with me. "There are two ways to live your life. One is as though nothing is a miracle. The other is as though everything is a miracle." Perhaps that's not the exact quote, but it captures it well enough. Superchao reminds me, almost every time I speak with him, of the miracle in everything. Call it sentimental, but, hey, there's something to be said for the fact that in all of the time, overall the situations and places life could've taken me, I had the honor and pleasure of meeting him in the brief time we share. So, I want to thank him not only for all he's done but just for being who he is. Thank you, so very much I thank you Perch, for being a wonderful reflection of those miracles all around, for being such a wonderful friend!"
- Hooded Pitohui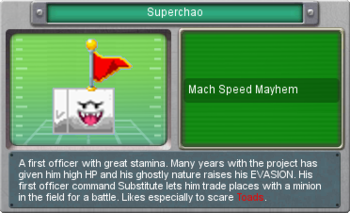 "I would like to thank Meta Knight and Superchao for all the work they did during their years as Director and Sub-Director for The 'Shroom. During my first year as Statistics Manager, they gave me valuable help so that I could adapt myself to something that was new to me. Considering how 2018 was a difficult year for me, where I had to face many challenges as a person, The 'Shroom was for me something that brought me a lot of happiness, during these difficult moments, and this means a lot to me."
"I really enjoyed having the chance to collaborate with you on this project, thanks for all your help, and I hope to have the opportunity to work with both of you again. I wish you the best of luck for all your future projects."
"Thank you!" - LudwigVon
"It was an honor serving as the Website Manager of The 'Shroom under Meta Knight and Superchao, who asked me for the role in December 2017. Thanks to both for having the trust in managing this fairly important part of the process of making the paper, and also for being great people in general. Thanks to both for serving the past few years and keeping the paper going strong! Have a good one!" - Lakituthequick
"MK and Perch, it was an absolute pleasure to serve as Statistics Manager under your command. You guys did great for the newsletter, thank you for all your hard work!!" - Tucayo

"You guys did a fantastic job and it was a blast working with you. You were always easy to reach and very knowledgeable, and I'm happy to have worked with you on the Core Staff!" - FunkyK38

"Thank you guys so much for all of the hard hours that you've been put into the Shroom'. I know that the Shroom' wouldn't be anywhere without you the sheer amount of hard work that you guys have put in. I really appreciated you guys showing Raregold and myself what to do when we had first become Director and Sub-Director. You guys took the time to make sure that we understood what we had to do to do to upload the Shroom'. You didn't judge any questions we had. Perch best of luck with you and Mach Speed Mayhem and your new Touhou Project. Thank you for giving me some great tips on how I can represent myself as a Sub-Director. I'll do my best to implement them. Meta, thank you for being the person to show me the Shroom' and this Community. I'm grateful to you for allowing me to meet and work with so many awesome people. Thank you for allowing me to be a part of your world. I hope you both have an awesome future" - MsRetroGeek
Note: The banner image was provided courtesy of Koops