The 'Shroom
:
Issue 135/The 'Shroom Spotlight
From the Super Mario Wiki, the Mario encyclopedia
Jump to navigation
Jump to search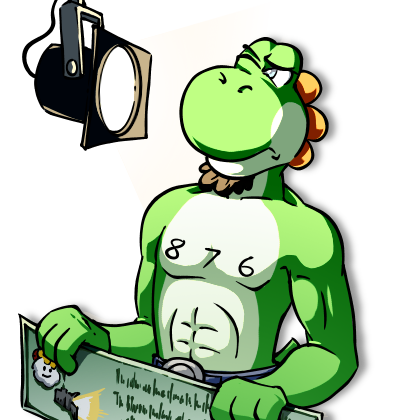 Hello readers of The 'Shroom, and welcome to Spotlight. Spotlight is a community project which aims to fix up the articles on the wiki which have issues. These issues can range from poor writing, to a lack of images, to even just needing a credible source.
Welcome to this June addition of the project. As you may be aware this month we are belatedly celebrating the Year of Luigi with our own Luigi-themed issue. Yes, the man in green is our principle focus, and as such all of our Spotlight goals for this month will either be themed around Luigi, or at his own series of games. Sorry Luigi, but just because you appeared in Super Smash Bros. Brawl, it doesn't mean that its articles will be appearing here.
It was a 50/50 affair last month. Wildgoosespeeder (talk) was able to assist the project in more than one way as he created Masterpiece (microgame) and also reuploaded a better version of File:SM64 Screenshot - Star Door.png for us. Our other success came from Toadette the Achiever (talk) and Alex95 (talk). Sadly, however, Laki was a waste of a goal considering the information was readily available on the wiki, and anyone could easily have linked to it rather than putting a citation tag on it. Please make sure you do browse the wiki to see if the relevant information is already on the site before using this tag.
Now even though I said that last month was a 50/50 affair, Spike Trap was rewritten, although it has now been tagged with a rewrite-expand tag. Many users contributed to the rewiring efforts, so thank you to Baby Luigi (talk), Carlos M (talk), TheFlameChomp (talk), Alexyo? (talk) and RollerC (talk). The other two focuses that weren't completed were Toadstool Castle and Block Star (Mario Party series), both of which were untouched.
Now, even though all of these focuses are Luigi-themed, I do hope that you are able to contribute this month.
And now onto this month's focuses:
| Article | Category | Focuses |
| --- | --- | --- |
| Tony Rosato | Wanted article | We all loved the DIC Mario cartoons, didn't we? After all they gave us the iconic line of, "That's Mama Luigi to you." And if Tony Rosato can give us that line, surely we can give the actor his own page on the wiki? |
| Luigi | Stub article | The man himself is a focus for this month. Even though the game has been out for a year, Luigi's Mario + Rabbids Kingdom Battle section is still rather small. What Luigi's role is in the game's story would help bolster it up. |
| List of Luigi quotes | Rewrite and expansion required | Although Mario characters aren't well known for their vocabulary, Luigi does have a few lines in Super Mario Odyssey, and if you add those quotes here then this focus will be completed. |
| Paper Luigi | Citation needed | There is a citation for the claim about Luigi in Mario & Luigi: Paper Jam, but the issue is that it's a dead link. So what I need you to do is go out and see if that link is available elsewhere on the internet. |
| File:NSMBWiiTC-F24-Front.png | Image quality requested | This trading card image is quite blurry, it would be much better to swap it out with a better scanned new version. |
| Marrakech | Image requested | In Mario Is Missing!, Luigi has to travel the globe collecting items to save Mario. However, he never collected a picture of Marrakech which is what we're looking for on the wiki. |
Thanks for tuning in to the newest edition of The 'Shroom Spotlight! Be sure to turn up next month, where we'll be reviewing the progress on the above focuses. If you have any questions or suggestions about this month's set of article focuses, then please get in touch through the dedicated topic if you have a forum account. If not, then please contact myself on my wiki talk page. You are also welcome to make suggestions on what you think we could focus on in our next edition. Thank you, and good luck!