The 'Shroom
:
Issue 135/Fake News
From the Super Mario Wiki, the Mario encyclopedia
Jump to navigation
Jump to search

Editorial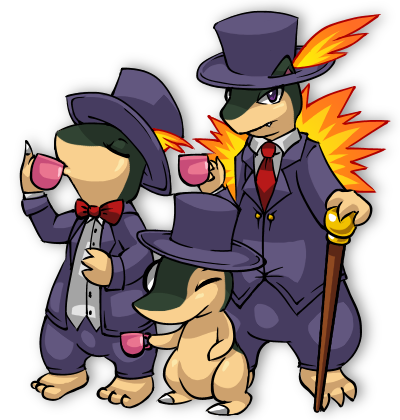 Hello, and welcome to another edition of the Fake News! I am back after having to leave the section in Perch's hands last month - thanks a lot to him for taking care of it!
It's the summer special issue, which means we're already halfway through 2018. It's been an interesting year so far. It's also officially the Year of Luigi again - well, the Month of Luigi. Well, unofficially the Month of Luigi. But still. Luigi!
Hope you all enjoy the special issue!
~ MrConcreteDonkey (talk)
Section of the Month
FAKE NEWS SECTION OF THE MONTH
Place
Section
Votes
%
Writer
1st
TV Tomorrow
24
39.34%
Quizmelon
2nd
Obituaries
19
31.15%
Yoshi876
3rd
Shop Scout
12
19.67%
Hooded Pitohui
---
News Report
---
A look at the weather for the upcoming week.
[read more]

Good evening, viewers, from MKBC6, with your weather forecast for the week ahead.
| Day | Predicted | Temperatures | Forecast | Chance of Precipitation |
| --- | --- | --- | --- | --- |
| Monday | | High: 73 Low: 55 | Sunny and bright. Clouds to develop overnight. | 10% |
| Tuesday | | High: 75 Low: 55 | Sunny and breezy. | 0% |
| Wednesday | | High: 78 Low: 54 | Cloudy and humid. | 10% |
| Thursday | | High:80 Low: 58 | Temperature rising through the end of the week. Sunny and windy. | 10% |
| Friday | | High: 84 Low: 60 | Hot and humid. Winds dying down a bit. | 10% |
| Saturday | | High: 87 Low: 64 | Few clouds and small chance of rain overnight. | 40% |
| Sunday | | High: 90 Low: 65 | Hot and windy. Small chance of thunderstorms. | 40% |
Temperatures will be on the rise this week, so be sure to keep cool and stay inside whenever possible as the week goes on. Humidity is expected to rise as well, so this would be a great week to stay inside and finish your Spring cleaning.
Here is your tourist's forecast for Isle Delfino.
| Day | Predicted | Temperatures | Forecast | Chance of Precipitation |
| --- | --- | --- | --- | --- |
| Monday | | High: 70 Low: 52 | Warm with tropical rains. | 100% |
| Tuesday | | High: 72 Low: 53 | Stormy throughout the day, thunder possible through the night. | 90% |
| Wednesday | | High: 70 Low: 54 | Rain steady through the afternoon. Two inches of rainfall expected. | 80% |
| Thursday | | High: 71 Low: 53 | Rain showers ending early with thick cloudy cover the rest of the day. | 40% |
| Friday | | High: 72 Low: 54 | Mostly cloudy with points of sun peeking through. | 30% |
| Saturday | | High: 75 Low: 56 | Sun with a few cloudy. Breezy. | 20% |
| Sunday | | High: 76 Low: 54 | Sunny and warm with stronger breezes. | 0% |

Princess Daisy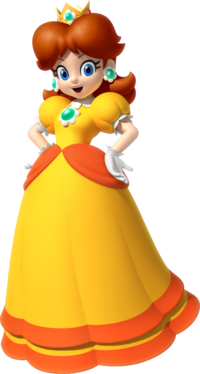 Fans worldwide were devastated yesterday when it was announced that Princess Daisy would no longer be appearing in Super Smash Bros. Ultimate following the upbeat princess's death. Due to the sudden nature of her death, a cause is currently unknown but things like a nut allergy nor a lesser known allergy to submarines.
We immediately reached out to Luigi for own assessment on the death, but following his untimely demise following his year, he was unavailable for comment. To be fair, we should have probably anticipated that when we showed up to his gravesite. Luckily however, Princess Peach was available for comment. "It's a massive shame that Daisy has died, I was planning on have Bowser kidnap her next time around so I could take a game off. Failing that, she could carry my Toads around me when I fight, I hate being lumbered down by them."
It's been announced that following Princess Daisy's death her cruise ship would be turned into a floating graveyard for her. But fans of the race there needn't worry as it has been confirmed that the race would still take place. One competitor, Petey Piranha told me "GLAGZSDHUGFD," while another competitor, Diddy Kong made incomprehensible monkey noises. I finally spoke to one competitor, Waluigi who able to provide me with something I could understand, surprisingly. "The cruise ship idea seemed good in theory, until they announced that it would serve as an obstacle. These races are freaky enough without monkeys, flying turtles, ghosts and myself driving around, we don't need a coffin sliding all over the place as well."
Since Daisy's death, rumours have been flying around about who may take her place. Waluigi ruled himself out, saying he preferred to hit everybody with his tennis racket and suffer no consequences from it. From my understanding, a Mercedes, a mahjong tile, and the Wii U Balance Board are all in advanced stages of negotiations following their successful appearances in Super Mario Maker.

Written by:

MrConcreteDonkey (talk)
Summer has well and truly arrived, and it turns out we have a new number one - "My Ghosts" by Luigi, the title track from his album...well, My Ghosts, which was released unannounced on Friday. The single has propelled from number 10 (after it peaked at number 3 and looked set to fall out of the charts altogether) and straight to number one!
In addition, Luigi's other previously released single, "I'm Not Scared (Except When I Am)", has shot up 14 places to number 8, and he has new entries at 3, 13, 26 and 39, and many more further down the charts from the album.
This will undoubtedly come as an upset to Birdo, who looked all set to take the pole position up until Luigi's flaming comeback.
Waluigi, who has recently been involved in a feud with Luigi, has also seen his summer hit "Is It Waluigi Time (It Is Waluigi Time)" drastically fall in the charts. Seems like the public have chosen which side they're on.
MUSHROOM KINGDOM SINGLES CHART - TOP 40
#
Artist
Single
Last Week
1
Luigi
My Ghosts
▲ 10
2
Birdo
Egg on Your Face
= 2
3
Luigi ft. King Boo, Nabbit
This is Not My Beautiful Mansion
NEW
4
LaVa
The Heat is On
▲ 6
5
The Virtual Boys
Red, Red, Red (Everything is Red)
= 5
6
Flurrie & Punio
Beneath the Great Tree
▼ 4
7
czardragon
Flamin' Hot (Remix)
▼ 1
8
Luigi
I'm Not Scared (Except When I Am)
▲ 22
9
The Purple Coins
Collect Me, I'm Yours
= 9
10
Twis T. ft. Dot T.
Move!
▼ 7
11
Diddy Kong
Slip
▼ 8
12
Rosalina
Launch Star to My Heart
= 12
13
Luigi
Is It Waluigi Time? (No)
NEW
14
The Slow Blocks
Take It Easy
NEW
15
Waluigi
Is It Waluigi Time? (It is Waluigi Time)
▼ 3
16
The Crygors ft. Mike
Mechanical Love
▼ 11
17
The Clogged Pipes
Freak Out
▲ 18
18
Captain & Toadette
Secrets in the Stars
▼ 14
19
The amiiboys
Party Guest (Let Me Be Your)
= 19
20
The Koopa Bros.
Pizza Party
= 20
21
The Screwtops
Summer Twist
▼ 13
22
Spinner
Ball 'n' Chain
▼ 16
23
Prince Pine and the Jewels
Shine
▲ 37
24
The Brick Blocks
Brick Blocks
▼ 17
25
Masahiro Sakurai
Everyone is Here! (Except Waluigi)
NEW
26
Luigi ft. Donkey Kong
Second Banana (All I Hear)
NEW
27
The Beezos
Endless Arrival
▼ 19
28
Ridley
AAAAAHHHH!!
▲ 31
29
Gooper Blooper
Ink (Just Ink)
▼ 21
30
Golden D.
Legendary Treasure
▼ 20
31
The Nipper Plants
Snap
▼ 24
32
Tabuu ft. Master Hand
Tortuous
▲ 38
33
King Boo
Disappear
▼ 23
34
Yoshi Sphinx
Lost in the Desert
▲ 44
35
The Squeeklies
Run Away
▼ 26
36
Zess T.
Jammin' Jelly
▼ 30
37
Solid Snake
Guess Who's Back
▼ 27
38
Princess Daisy
Echo
▲ 93
39
Luigi
Green Star
NEW
40
The Venus Fire Trap Orchestra
Burning Love
NEW
Thanks for tuning in and see you again soon!

Welcome back to TV Tomorrow! You may have heard about the television deal that happened recently - all the major Mushroom Kingdom TV networks will get more than 50 million coins each. The hitch? They have to devote an entire day of programming to Luigi's favourite shows. And, lucky for me, this day happens to fall tomorrow. The day I'm reporting on. So, here are the top three shows from tomorrow's Day of Luigi TV!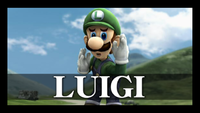 New: The Luigi Show Revived
MKBC1, 7pm
Genre: Talk show
Luigi attempts to revamp his talk show from fifteen years ago. Older viewers of Mushroom Kingdom TV may remember that the show was a complete and utter failure, only lasting three episodes before being cut by the corporation bosses. But no matter; it's here again, starting tomorrow, where Luigi's guests are Green Toad and a cardboard cutout of Daisy.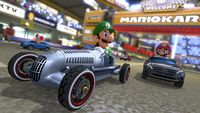 Luigi and the Quest to Beat Mario
MKBC2, 8.30pm
Genre: Documentary
In this two hour-long documentary, Luigi attempts several times to beat his more successful older brother Mario in a kart race. Stemming from a childhood inferiority complex, Luigi's intense desire to be number one at something is brought to the forefront of this rather compelling show. Plus, there's a lot of kart racing in it for people who like kart racing.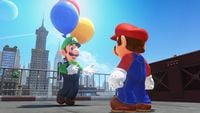 Film: Luigi the Balloon Hero
Party Channel, 9pm
Genre: Comedy film
Luigi stars as himself in Luigi the Balloon Hero, a classic comedy film where Luigi discovers a magical set of balloons that enable him to fly around and save people in New Donk City, resulting in hilarious consequences. This is the only film ever to star Luigi that got a rating higher than 30% on Rotten Super Mushrooms, so it must be worth watching.
Look out for other Luigi-related television showing throughout the day, from his unsuccessful cookery show to his low-rated and unfunny sitcom. And in case you miss it, Luigi has promised to tape the whole thing on an old video recorder, which he will then sell for some much-needed cash. Don't worry, non-Luigi fans; the TV schedule will be restored the day after tomorrow. But until next time, it's goodbye from me.

Hey, y'all! It's me! Everyone's favorite dude YKMR3000 back with a groundbreaking installment of Game Corner! I've spend months preparing for this, and now it's finally time for me to prove myself as the leading journalistic doyen (it's a word; look it up) of the twenty-first century. As I'm writing this legendary issue, I am currently tucked into a ball behind a cardboard cutout of Reggie at the Nintendo E3 booth for an inside scoop on the latest ruiner of many a fanboy's pants, Super Smash Bros. Ultimate!
Now, I know what you're thinking: "YKMR, I recognize that your linguistic artistry and talent in the field of journalism are unmatched across much of modern history, but what exactly are you doing here today at E3 that is so revolutionary? (Love your work by the way. I have a signed copy of your autobiography at my bedside.)" Well, I'm glad you asked! You see, I have insider information from an anonymous source that the copy of Smash Ultimate they have here has programmed into it five new characters not yet revealed to the general public.
I have tried several times to hack into the system and uncover these characters, but after the fifth time attempting to plug my Apple II computer into a controller port on the GameCube adapter, I was asked to leave. Not to worry! I snuck back in and have now formulated a new plan of attack. I will track down Masahiro Sakurai himself and force him to grant me access to these new characters. I will be putting my personal safety at risk. If caught, I could be tortured or even killed, but that is a risk I am willing to take for that oh-so-coveted top spot in the Fake News Section of the Month. Wish me luck!
Five New Characters Confirmed for Super Smash Bros. Ultimate!
All right, everyone! I'm back and I have with me here a very special guest, the head honcho of Smash, Mr. Masahiro Sakurai, to whose throat I am currently holding a cheap samurai sword I bought at the E3 gift shop! It took some doing. I had to spend a good half-hour trying to communicate effectively though his useless translator, but my intentions have been conveyed, and Mr. Sakurai has loaded up the new characters for me to use and, conveniently for the purposes of this wiki, all five of them are Mario characters!
So, let's get right into it, shall we?
Character #1: Waluigi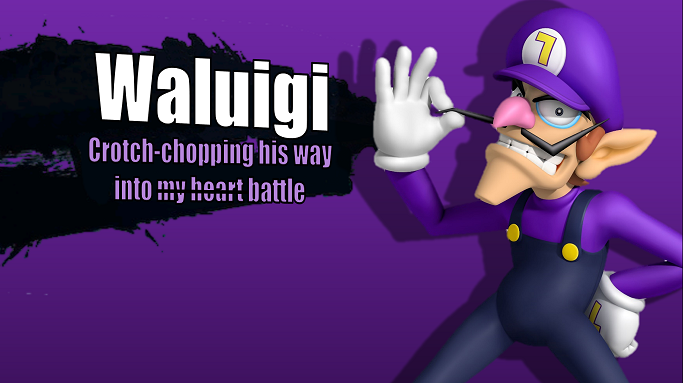 Now, I know what you're thinking: "Oh, YKMR! You're muscles are so manly and your beautiful face makes me—" Yeah, yeah, yeah, just cut to the chase. You're wondering how he can be a character when he's already been confirmed as an assist trophy. Remember? All he was doing during the preview was running around with nothing but a harmless tennis racket and the player just straight-up murdered him. Well, that was all an elaborate ruse by Sakurai to fool the fanbase! You see, as the footage was streamed to the world's computers, he intercepted the signal and edited the video live as it was being broadcasted to keep his new status as a playable character a secret! Does that seem like a lot more effort than it's worth? Well, that's what Sakurai told me, and what reason would he have to lie to a crazy person who will try to slice his throat with a dull blade if he doesn't give enough information?
Anyway, let's get down to business. How does Waluigi play? Well, he's finally ditched that crummy racket in favor of a much more effective technique: the aforementioned crotch-chop, made famous from his victory dance in the Mario Strikers games! Pressing any button with any direction will cause the purple demon to thrust accordingly, although I must admit, the downward crotch-chop is quite hard to look at. Why is every move just a variant on this silly little meme? Well, according to Sakurai('s translator), "Everyone wanted Waluigi as a character, but what moves could we realistically give to him? Eventually we realized that only the memers and the whiney little eleven-year-old b****es would even care if he's in the game, so we said "screw it" and basically made him a s***post."
Okay, so I guess I get where Mr. Sakurai is coming from, although I can't say I can exactly sympathize with these fans. After all, I am eleven AND A HALF, so I'm kind of an outsider looking in here.
Character #2: Toad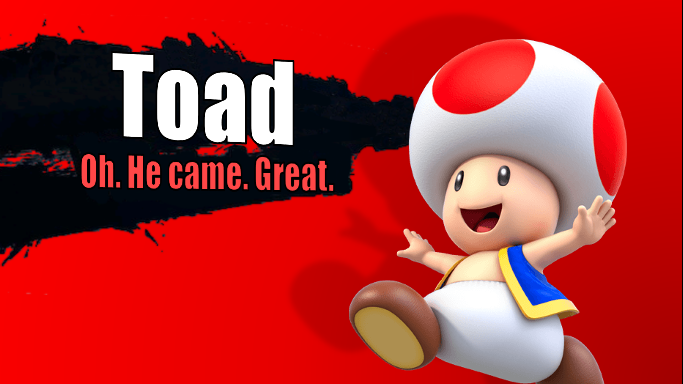 What a surprise addition! Characteristically the biggest pansy in the Mario series will now be duking it out with the likes of Bowser and Captain Falcon. Much like Pichu, Toad hurts himself when he attacks, but, wait… Upon further inspection of the animation, it almost seems like he's hurting himself…intentionally…?
Gosh. Is Toad all right? I…I mean I know we like to poke fun at him a bit in these articles, but…wow… I mean, should we—
Actually, wait, no. It appears he's just too stupid to realize he's hitting himself and not the other person. Also, he's a fictional character, so I don't care.
Anyway, he's a completely useless fighter. Once again, I question why a character with such an awful moveset was even included. So far, this new roster is leaving a lot to be desired. Come to think of it, how can Toad be a character if he's already used by Princess Peach as a meat shield?
According to Sakurai, "This is a different f****** toad, a**hole!"
Geez, such colorful language we're getting from Mr. Sakurai today. This is a E-rated news site we're running here. Although I guess I can't blame him. After all he IS tied to a chair and being threatened by a maniac with a sharp object. Hm. I'm starting to think maybe I'm taking this a little too far…
Character #3: Pauline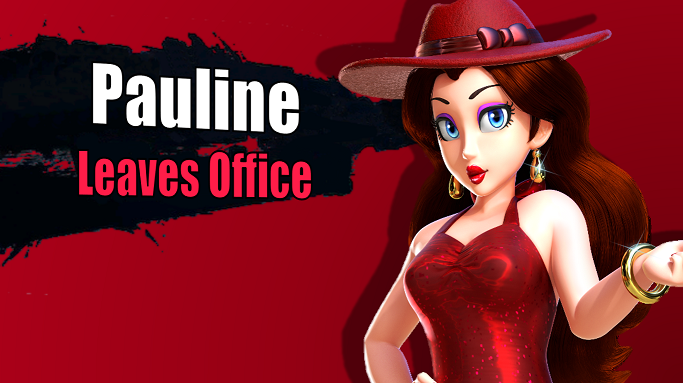 That's right! Nintendo's only democratically elected damsel in distress is throwing down in the newest Smash installment! Great, right? Wrong. Just like Dark Pit and Lucina, she is one of Nintendo's "Echo fighters" with the same moveset as some other character, and seeing how Daisy was recently revealed as an Echo fighter to Peach, two other simple Mario females, I think you can see where this is going.
As said by Sakurai, "Of course we made Pauline a Ganondorf clone. What else would we do with her?"
And although I do find it difficult to argue with that logic, it irks me that yet another new character brings nothing new to the table.
Character #4: Bowser's Sister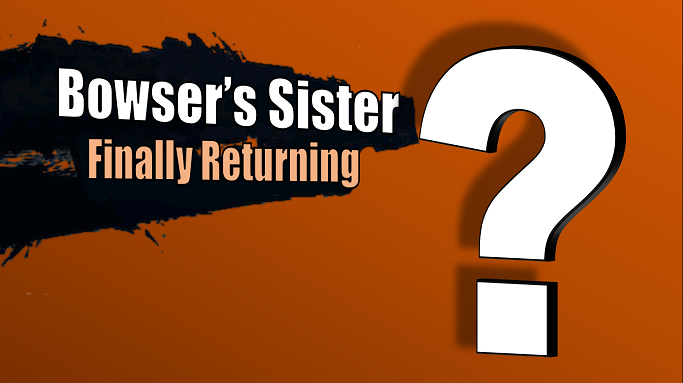 YES! FINALLY! THIS IS EXACTLY WHAT I WAS ASKING FOR! SAKURAI, I'M SORRY I EVER DOUBTED YOU!!!
What? You don't know who this is? Well, I guess you're not a REAL Super Mario Wiki aficionado. Everyone who's anyone on the Wiki knows about character number fifteen on our List of Implied Characters, those in the Mario series that are briefly mentioned in passing. And of course, as is the rule for Smash characters, the more obscure the better! Well, for the REST of us real fans, I'll get into her moveset.
Keeping with tradition, she is never shown on screen. However, the dialogue of the other fighters show that if she WAS on screen, she would have perhaps the most faithful moveset of any character! As so famously (briefly) referenced by Bowser in the ultra-popular Mario song "Ignorance is Bliss" designed to promote reading in children, most of Bowser's Sister's (implied) moves revolve around her obsessive reading. How does this work? I don't know. It's never mentioned again. In addition, she (allegedly) begins to grow, in the words of Bowser, "a blister. A big one, I mean big, on her brain," if she reads too much. And, of course, throughout the game, several fighters make multiple ambiguous comments which can be used to infer that she seems to have a variety of qualities characteristic of a "schnook," a term which Bowser, of course, calls her in the source material.
As I'm sure you can see, she is a very straightforward fighter, as well as a welcome addition to the roster, and it's all uphill from here!
Character #5: Jeff Hand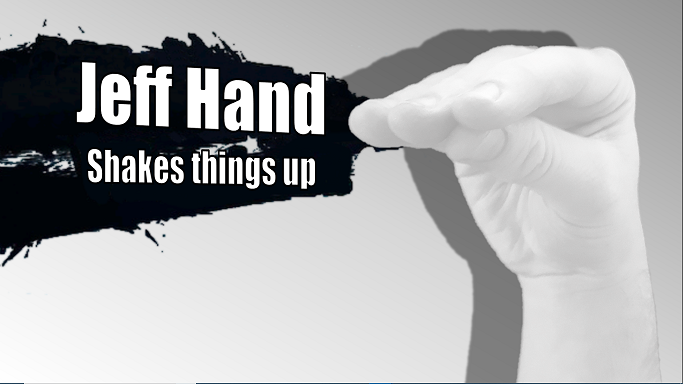 So fans have been asking for Master Hand to become a playable character for quite some time now, but, unfortunately, both him and his twin brother, Crazy Hand, have their own commitments in other areas of Smash, so Nintendo had to get their much less famous little brother, Jeff Hand.
After trying his hand in acting (get it?) in a minor role in "The Empire Strikes Back" as Luke's disembodied hand, and as "Thing" in the off-Broadway sequel to "The Addams Family" musical, "The Addams Family Meets 'Family Matters,'" Jeff's career seemed to be slipping through his fingers (I have plenty more where that came from).
But, now, it appears, that the third Hand brother (technically fourth, but Prescott Hand became an accountant and has largely stayed out of the public eye), is finally getting a taste of Master and Crazy's fame.
In terms of moves, he has many of the same moves of his brothers, although the fact that he is canonically a "clammy hand" makes his controls a bit more slippery. It's also not hard to imagine the kind of "taunt" a floating hand might have.
Overall, he's a great addition, and quite fun to play as. Now, I know I said that there were only five new characters, but through some persuasion, I was able to convince Sakurai to put one more character in….
Character #6: Pheanux the Hedgehog!!!!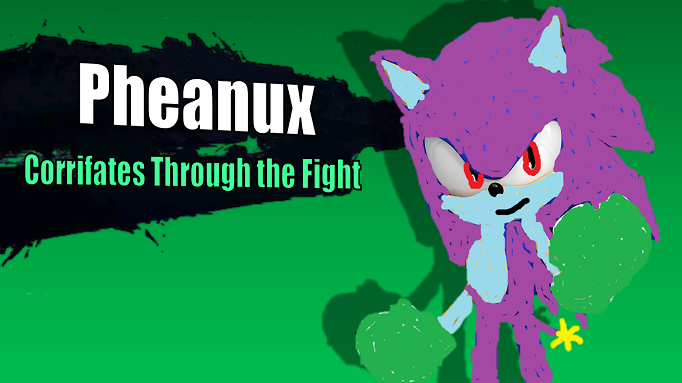 Finally, after years of campaigning, I was able to, *ahem,* "persuade" Sakurai to implement my Sonic Fanfiction character, Pheanux the Hedgehog! I even got to make his Smash design myself (bet you couldn't even tell) and make up my own "newcomer" pun. (It's a reference to Pheanux the Hedgehog Series Eight, Book Two. You wouldn't understand.)
I haven't actually gotten a chance to play as him yet, but Sakurai told me that he's in there! Just look at these screenshots he gave me. I think you'll find them perfectly acceptable proof: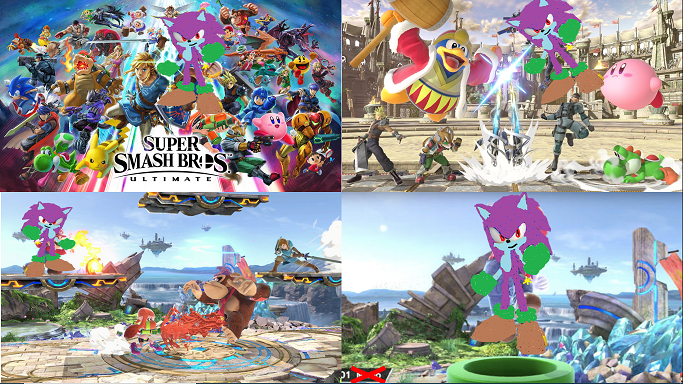 Awww. Look at the little guy. I'm so proud! He's finally going to be hanging out with his friends! And by that, I mean murdering them!
And since he's my character, I get to design his moveset! Of course, he's going to have to be the most powerful fighter! His neutral attack is sending out eight heat seeking missiles that do 30% each, his forward smash is his super-ultra-mega-super gun, which is an instant knock-out, and his down smash is his Cooltec 10000 jetpack, which sets people on fire and launches him upward out of range of any attack (also his jetpack never runs out and goes a thousand miles per hour and can fire electric superbeams). Also also his shield makes him invisible and unable to be hurt, and you can hold it for as long as you want. By the way, his final smash is a nuke which instantly kills everyone else and also kills them every time they respawn due to radiation.
I really think this character will create some interesting battles and add layers of strategic complexity!
Final Thoughts
Overall, I think the Smash series is in good hands here. Sure, there are some disappointments, but the good definitely outweighs the bad. More importantly, though, I'm totally winning the Pulitzer Prize for this article. Never before has anyone leaked such groundbreaking info about the Smash series! Six whole characters GUARENTEED to be in the next game.
That is, unless, this was all part of a plan to provide a ridiculously fake roster to crazy fans to keep them occupied…
…
…But that can't be! You would never do that to me, Sakurai, would you..?
…
…Uh, right Sakurai…?
…
Uh…oh…
Um, well, it, uh, seems that in my, uh, my eagerness to share this information, Sakurai and his translator have…well…escaped, which means that I'm probably going to be arrested pretty soon…again…
*sigh*
Maybe I should become an accountant…

Written by: Hooded Pitohui (talk)
You expect a story on the Marrymore Wedding Chapel, no? Unfortunately, I must confess that I cannot deliver that quite yet. You see, while on my way to Marrymore, the cruise liner I was on made a stop in the ports of New Donk City, in the Metro Kingdom. I stepped off and into the city, intending to only spend a few minutes stretching my legs. Ultimately, fate would have it that I would spend hours in the city, nearly forgetting to board the boat before it departed. What caused this, you ask? Flavio tells you. I had a most unusual encounter with a peculiar man in green.
Now, having spent time in the grandest cities of the world, I am quite used to the hustle and bustle of the city. Being intimately familiar with the rhythms of a city, I can quickly distinguish the usual fare which attracts crowds from commotion over something truly worth investigating. In business and life, it seems, Flavio has an eye for value. Flavio can spot the exceptional from miles away. I could tell immediately that the assemblage of citizens in Squawks Park had gathered for something significant. Not one to mingle with such crowds, I maintained my distance and strained to see what was happening. It appeared to be some sort of festival, or perhaps a carnival troupe? Whatever the case was, throngs of New Donkers, Toads, Koopas, and assorted species ran to and fro with oversized balloons with their faces plastered on the front. A show of egotism, no? It is unbecoming to boast and glorify oneself, yet this crowd proudly paraded their profiles without remorse. Flavio, being far more knowledgeable of proper etiquette, would never behave in such a manner.
Caught up in my thoughts, I failed to notice the Shy Guy darting towards me. The wretched soul knocked me to the ground as if I were some common thief in Rogueport. Outraged though I was, I squandered the opportunity to scold the masked fiend while distracted by a Koopa rushing past us. While I feared that I had become the mark in some robbery scheme, I found instead that the Shy Guy had no interest in me. He was chasing after the Koopa, instead. Soon enough, the Koopa discovered a large balloon adorned with the face of a Toad. The balloon had been carefully hidden behind shipping containers, but the turtle had no qualms about popping it and claiming the ticket inside for himself. The Shy Guy, for his part, seemed disappointed. The pair scurried back, ticket in the reptile's hand, to Squawks Park. At this point, Flavio was intrigued. I decided that, despite the crowds, I would walk over and see what was going on.
Walking bristly through the crowds, I was able to get into the center of the park with only a minor incident where I tripped on the remains of an abused jump-rope which appeared to have been burnt, chewed upon, cut in pieces, and run over by a motor scooter. Picking myself up, I spotted a sharply dressed proprietor who was exchanging tickets for coins and coins for personalized balloons. Despite the crowds, it appeared this event was being run by only this single man. Inquiring with a few of the citizens running around, I found out that this "Balloon World" was an entertainment enterprise. Participants are given the opportunity to hide a personalized balloon, and then may pay for a chance to find a balloon someone else has hidden. If they are successful, they will find a ticket which can be redeemed for coins. This seems like a solid business model, a little bit of entertaining gambling, in a sense. Figuring that one round or two could not hurt, Flavio decided to perform his duty as a Shop Scout and try the Balloon World game. As my experience matched the basic gameplay which I have already described, I shall spare you the details.
While it was enjoyable enough, I soon found that I was making far more coins back than I was spending. Thinking that perhaps my experience was a statistical anomaly, I began asking others how much money they had lost playing the game. Oddly, every participant that I spoke to answered that they had not lost a cent; on the contrary, everyone was making bundles of cash. Flavio was baffled. Flavio needed answers. I marched up to the proprietor and asked if he could spare a moment of his time. With as friendly a demeanor as Flavio has ever seen, he agreed to answer a few questions.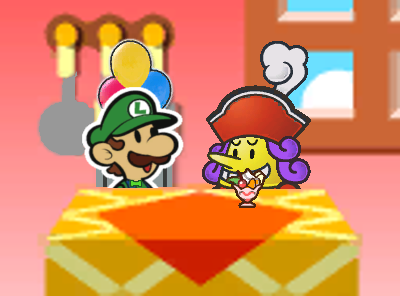 Of course, I began by asking him if he knew his business model was untenable. As a fellow entrepreneur, I could not let this new start-up, idealistic as he seemed, crash and burn. Flavio is generous and kind like that. He responded affirmatively, and began going on and on about how the joy on the faces of his customers made the massive losses worth it. Apparently, He had enough cash reserves that he did not even have to concern himself with making a profit. While I take issue with this view, I admit that a little philanthropy has always done wonders for Flavio's mood. We walked to a nearby building, where he grabbed some utensils and ingredients out of his pack and made a fruit parfait for me. Flavio does not give out praise often, so be certain that I speak the truth when I say that this man's fruit parfait was a culinary masterpiece. It had a delicate yet rich flavor which I have never before had the pleasure of tasting. As I ate, he went on to describe his life story, a story of thrills, emotion, passion, heartbreak, love, loss, and adventure. This strange man in green who sat next to me had once been a lowly plumber, but at various points in his life had worked as an intern for a paranormal researcher, procured a mansion, obtained a medical license, driven in professional racing events, won tennis tournaments, adopted a dog, defeated a rival in a dancing competition, ran a casino (where he no doubt made the riches which funded the Balloon World venture), scoured far-off galaxies for treasures, conquered his fears, saved his brother, collected priceless artifacts from around the world, raced as a professional driver, acted in a famous play, served as an inspector who shut down unsafe hotels, authored a collection of autobiographical books, served as a mechanic, and rescued royalty from the Mushroom, BeanBean, and Waffle Kingdoms. Flavio might have doubted that this fellow, who appeared weak in mind and body, had accomplished so much in such a short time had he not possessed the musk of an adventurer and an unusual aura. Indeed, he exuded such a powerful aura that one might guess he was blessed by a Star Spirit as an infant, though even I could sense some strange darkness at the heart of this aura. We spoke for hours, the emotion in his voice having a profound effect on Flavio. I hung on his every word. This chance meeting provided me a fresh outlook on life. Ultimately, though, we had to end the conversation as the departing time for my ship approached. With a hearty wave, the strange fellow returned to the park to continue running his game.
I would like to conclude by officially recommending that everyone try out the Balloon World. It offers a great opportunity to pass the time while making a little bit of cash. Should you see this strange man in green be sure to thank him on behalf of Flavio. Meeting him, I was reminded that, even for the most ambitious of us, there are simply some things which are more important than profit and good business. Though, on second thought, I cannot even recall his name… Perhaps, after all, it is better to be like Flavio, whose name is known by the whole world? Whatever path you find to be right for you, be true to yourself like Flavio, and you will never lose sight of your goals.

Written by: The Pyro Guy (talk)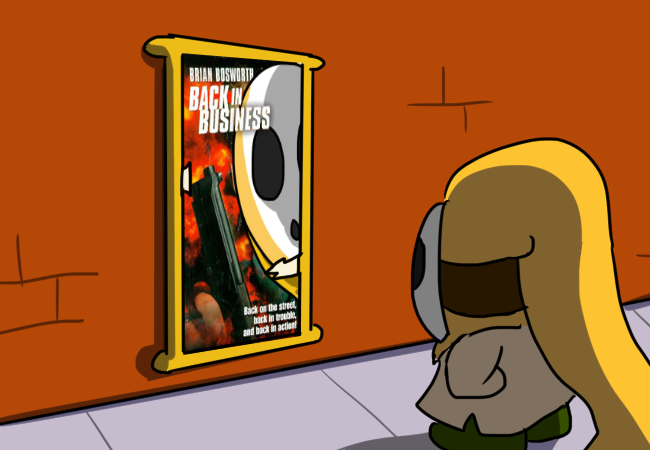 It's time. I'm finally back after a few seasons of retirement, and I'm here to celebrate our good friend Luigi, through intense cuisine action.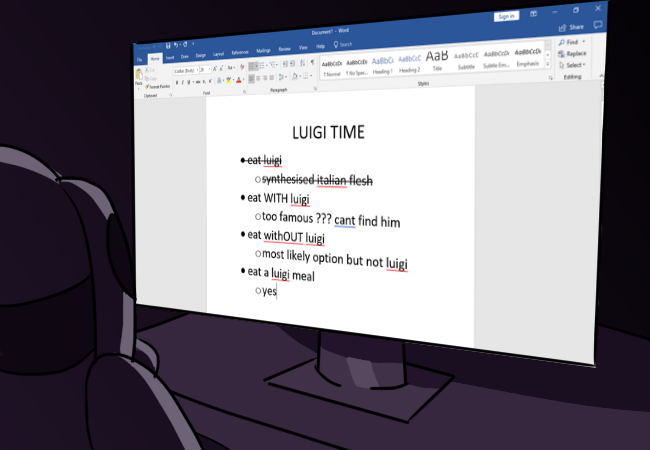 But of course, the concept of a fine meal is not exactly synonymous with Luigi. He's a heroic, loving figure of strength and authority, whereas food is often... not. I can't actually *eat* Luigi. I wouldn't be able to stomach the idea of cooking up the winner of M11 Favorite Major Character. I couldn't dine with him either; a celebrity like him would surely have the tightest schedules.
My only option, clearly, is to prepare a dish about Luigi, rather than from or with him.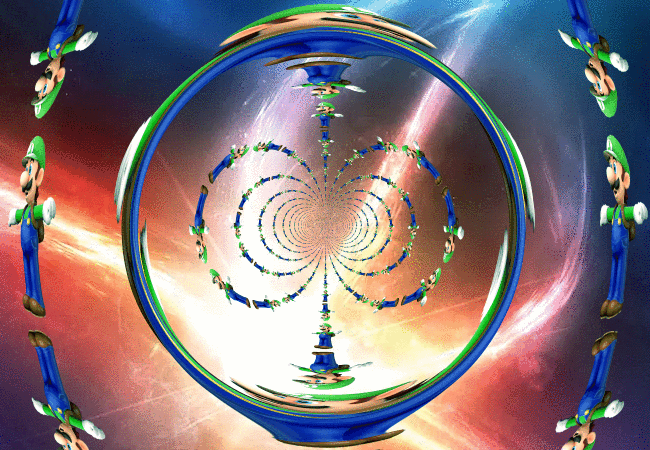 But what dish could ever represent Luigi? Has he ever officially mentioned a meal in his game history? I had to dive deep into my childhood memories of the guy, thinking about the foods that represent the Green Thunder.
And then, the answer came to me.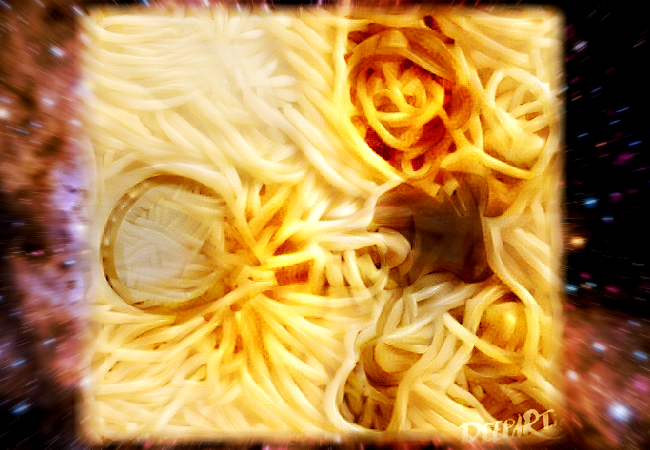 Of course! Spaghetti, the one, the only, THE meal that represents all that Luigi stands for. It's Italian, springy, and appears in Super Smash Bros. for Wii U. Don't believe me? You should.
But undoubtedly, this meal needs to represent more than just Luigi. We need to create something that celebrates all of Luigi's adventures. I say all. I mean Luigi's Mansion. Great game. But there's some discussion to be had on the cuisine of the dead.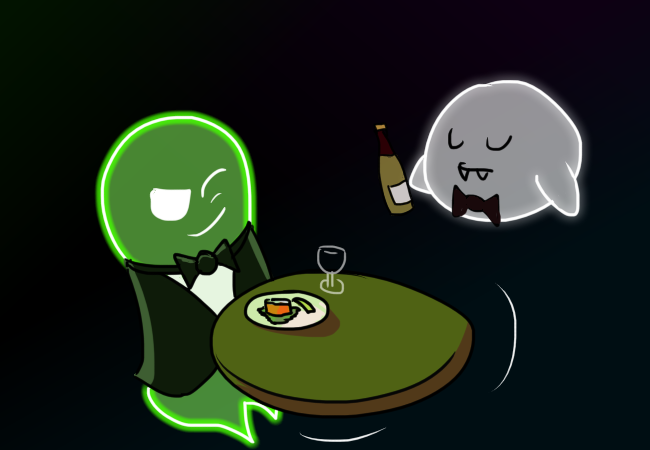 Do all organisms gain a taste for the fine arts of food upon their death? Do we get to see a Boo with a clear taste for only the best wines? A Greenie wearing the best dinner suit available? Perhaps we would experience the opposite; I assume ghosts have no need for the corporeal, especially related to nourishment. I was clearly confronting one of the most dumbfounding mysteries of our time, so I needed some help in getting the answers we need for this meal with a mansion motif.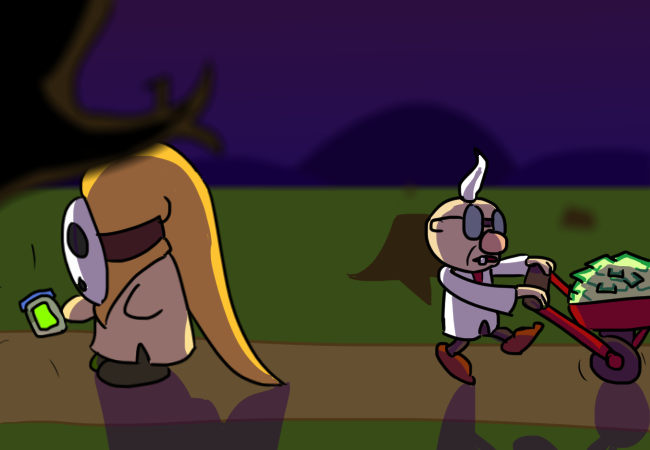 I spoke with a local paranormal researcher about these burning questions I had. Even though his initial response was to tell me to stop wasting his time- I was dealing with a busy man here- upon a healthy dose of persuasion he had some more to say. Professor Gadd claimed that ghosts are "selectively intangible", meaning that food would phase right through their body unless they chose to make their digestive system solid. Weird. I was hungry for more, but all I was given was ectoplasm. This kind gentleman was giving me the ingredients I needed to craft my most delightfully devilish meal yet.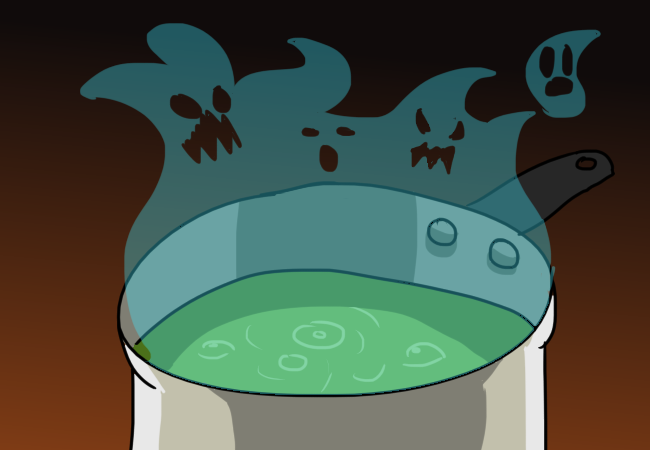 Back in the kitchen. We're going to make a bolognese sauce to go with our spaghetti, but instead of tomato sauce and purée we're going to use the ectoplasm. So! You know the drill; olive oil, onions, garlic and carrot over a simmering saucepan, then add the minced beef (or kidney beans for the vegetarians out there) and cook it to perfection. Then, add the ectoplasm with some Italian herbs, stock and chilli. Let the souls boil off, be sure to wash out any inflicted curses or voodoo tricks with soap, and the sauce is finished.
When you're ready, boil up some fresh spaghetti. Whatever the packet recommends- I may be dealing with the paranormal, but I'm not psychic enough to know the cooking instructions on whatever pasta you bought. Yet.
And this is our finished product. I call it... Luigi de l'Ouija, which probably sounds like 'Luigi de Luigi' if you have the right accent. And without a doubt, the only way to tell if this is my greatest work is to give it a taste test!
I'll be sampling it first because no one else wanted to. Wow, the nerve of these diners. Don't they know how to eat their greens?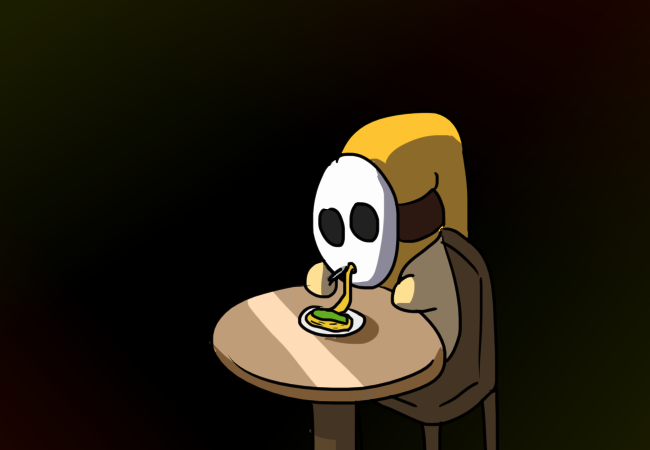 Spaghetti is one of those foods that I can actually fit in my mouth hole, which is always a nice thing. How considerate of myself! Anyway, here goes.
... *hrp*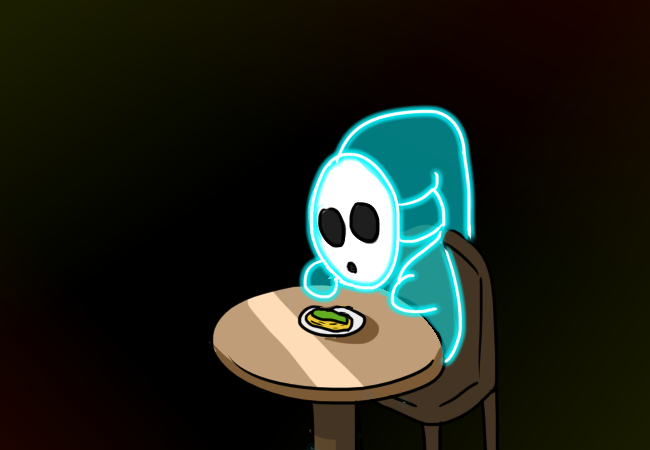 ... Yikes. Okay, never mind don't try this. I think I just died of food poisoning; not the way I was hoping to go. Well, now I know how ghosts eat food! The true answer? That's a spectral secret. Enjoy being alive!
Selling Out
Selling Out Issue V: The Biggest Boo In Real Estate
Note From the Author: With real estate values on a downwards trend few residents have not been too keen to sell their property. Rumor amongst the towns is low market values should only be sticking around for a week or two longer. This has led many residents to choose to wait out the mini-recession rather than lose out on any potential gains. With this properties have been sparse for the month. At the advice of Realah T.'s ever helpful intern Sereni T., this month's Selling Out will feature a special topic that has been of much discussion with the arrival of a peculiar green-hatted fellow, enjoy.
At the Completely Real Estate Academy there exists a saying: "An undead property is a dead property." This was taught to Realah T.'s class time and time again. Especially during a trip to a cleaning store haunted by a nasty Poltergust. By the time the shop closed up twenty years later all the life was sucked out of the owner. Now if you want to avoid that same fate, Realah T. has a deal for you (please note the following advice is not endorsed by Realah T. or the Completely Real Estate Academy but is due to "regulations" on ethical practice and if not followed Realah T. may lose her license).
When it comes to dealing with a haunted house the key is, to be honest with any potential buyers. If you believe your house to be inhabited by any gastly fiends, it is best to say so up front. Now depending upon where you live you may not have to disclose this fact, so long as you do not express that belief, especially publically. Though Realah T. cannot comment upon the validity of such as statement not endorse it. Though she can provide more advice.
Another key factor in the sellability of any sort of haunted property is the type of activity. Many more potential customers are willing to live in a potentially haunted home if someone has only died there. As long as there isn't anything like cold spots reported your sales shouldn't suffer from any chills. Though if voices are speaking to you on the regular you will either want to do three things. You can pass off the property to a family member, call an exorcist, or perhaps pay a visit to a psychiatrist in case it gets too much but you are determined to sell.
In a business like real estate, death does not doom you to a financial grave. Things may become a lot tougher in terms of seeing any sort of gain, but there is always a niche market for any sort of product. So do not feel like you are being blocky-ed into a single choice. Take the time to do your research, and be willing to sit on the property for a while and look far and wide for any potential buyers. If you have any sort of questions feel free to call Realah T. today at (868) 259-7325, cause unlike other realtors we won't be so easily spooked.