The 'Shroom
:
Issue 115/Fake News
From the Super Mario Wiki, the Mario encyclopedia
Jump to navigation
Jump to search

Editorial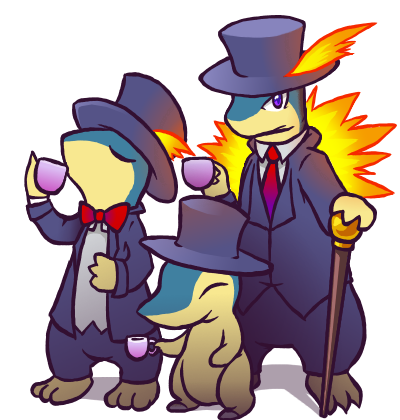 Written by:

MrConcreteDonkey (talk)
Hi, welcome back to the Fake News!
First of all, some sad news, Freakworld (talk) has quit writing The Clogged Pipe, which is a shame because that's been consistently superb. On a much lighter note, Dear Anton is back, and the results are in for our feedback poll!
Sorry I haven't had much to say here, been really busy this month. Here's a spooky GIF to compensate my lack of a halloween-themed editorial. See you next month!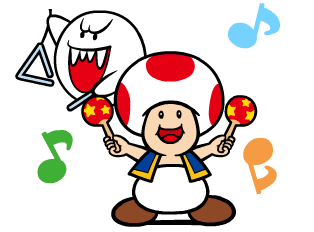 Section of the Month
FAKE NEWS SECTION OF THE MONTH
Place
Section
Votes
%
Writer
1st
TV Tomorrow
15
38.46%
Quizmelon
2nd
Cooking Guide
10
25.64%
The Pyro Guy
3rd
The Clogged Pipe
4
10.26%
Freakworld
Feedback Poll Results
First of all, thanks to everyone who voted - there were definitely at least 40 of you (unless you, like, really wanted to vote twice for some reason) which is way more than I was expecting.
What would you like to see in Fake News?
Name
Votes (137)
Percentage
More entertainment sections
41
29.93%
More news sections
20
14.6%
More MarioWiki community-themed ections
16
11.68%
More gossip sections
14
10.22%
More advice sections
11
8.03%
More culture sections
11
8.03%
More non-Mario sections
11
8.03%
O. More Freakworld
1
0.73%
O. Nintendo/Mario related satire
1
0.73%
O. more slapstick
1
0.73%
O. Video games.
1
0.73%
O. More real sections
1
0.73%
O. More sections like the Issue 100 News Flush
1
0.73%
O. More bowser!
1
0.73%
O. kys
1
0.73%
O. Pokemon
1
0.73%
O. MORE OF FAKE TV
1
0.73%
O. Game Corner
1
0.73%
O. That depends, what do we not want?
1
0.73%
O. more how-to's
1
0.73%
So, more entertainment sections and more news sections got the most votes. I mean, I'm, uh, pretty sure most of our sections are entertainment or news sections already. But you can never have too many. Community-themed sections also seem to be doing well. I think 11 people just voted for every option, but still, it looks like pretty much everything has some level of popularity. If you want to help us improve based on these results, be sure to sign up to write for us! and not one of the other, less cool sub-teams
---

Written by: Lord Bowser (talk)

Greetings, 'Shroom readers. This is Lord Judge Bowser here with this month's edition of Police Blotter.
Last issue, I reported on the corruption of Mario and Princess Peach discovered by my loyal scout, Pyro Guy. The crooks were apprehended and punished for their actions, but the case didn't quite stop there yet. A reader last issue happened to notice a particular detail about the absolutely accurate and totally not photoshopped image that Pyro Guy was able to provide us with.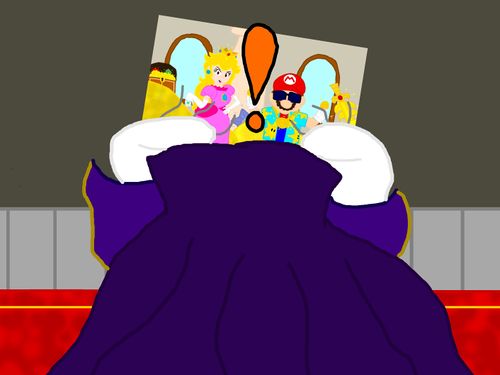 Meta Knight came running to my courtroom after noticing that the two despicable thieves had made off with his sword, Galaxia. However, there was a bit of a language barrier when he came to tell me about the situation.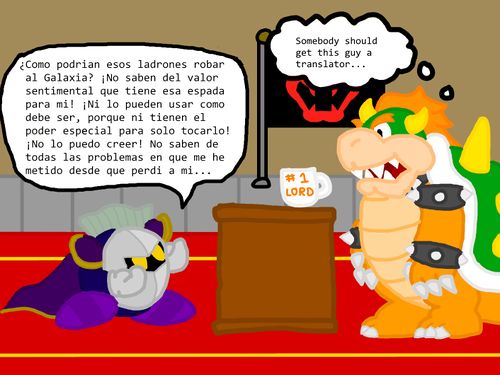 From what I was able to gather, he was muttering something about sentimental value and the Galaxia having special powers and them not being able to touch it, but honestly I didn't pay attention all that well. Regardless, I had enough testimony to get Princess Peach out of her cell and have her stand trial… again!
It was a chaotic trial, filled with insults and mudslinging, much of it in Spanish. Pyro Guy, who I forcibly appointed as my scribe, translator, sketch artist, defense attorney, prosecutor, bailiff, and janitor, was able to conjure up this scene of the courtroom in the heat of the action.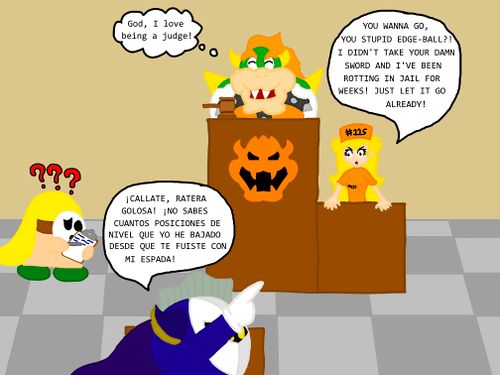 Peach repeatedly denied that she stole the sword and tried to pin it all on Mario, and often challenged Meta Knight to a fistfight while saying something about "kangaroo court" and how laughter is a violation. Meta Knight fired back with testimony about him dropping several tier positions after he had his sword stolen, and how he had lost all of his "edginess points" back in Cappy Town. After this altercation, I sent the jury of twelve Cappies out to deliberate on Peach's fate. I let them argue for a solid 30 seconds before I lost my patience and went ahead without their input.
As you likely expected, I read the verdict aloud and found Peach…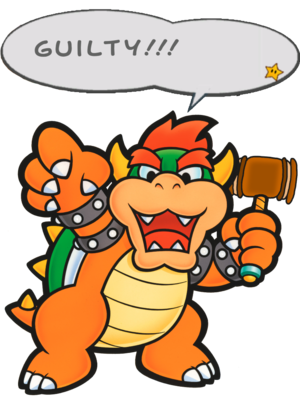 ...of grand theft Galaxia, threats, perjury, and talking back to a judge. I sentenced her to life in a maximum-security cell which blasts Princess Daisy's voice every 30 seconds via a loudspeaker. Meta Knight was given his sword back, and he immediately rose back up to his former glory and maximum edginess.
This has been this month's issue of Police Blotter. Stay tuned for next month, where I'll be covering some new strange cases. Thanks for reading!

Hello everyone, and welcome back to Sport Report! I am your host, Alex95, here to give you the play-by-play on the current sporting event in the Mushroom Kingdom.
Continuing on Mario Kart 64's 150cc Mushroom Cup, the next race takes place on Koopa Troopa Beach. Like last time, we'll be focusing on Luigi as he tries to go for the gold. The racers line up at the starting line and Lakitu gives the countdown. 3… 2… GO! Luigi gets a speedy start, immediately taking first, though Princess Peach is right behind him! Luigi gets a Banana and holds it behind him, which Peach then runs into! Toad enters the running and starts ramming into Luigi as they go over the first jump. Luigi nabs a Star and… wait, he's heading for the waterfall shortcut! Can he make it?! …YES! Luigi nearly hits his head on the cavern roof, but he makes it, giving him a huge lead! The other racers don't know what to make of him! Luigi crosses into the second lap with ease!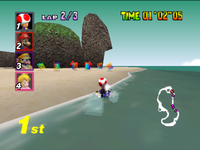 The other racers are trying to close their distance between them and Luigi, but he doesn't look the least bit worried. Luigi appears to be holding onto a Mushroom, and he appears to be waiting for the right chance to use it. Going over a ramp, Luigi lands directly on a Banana, but he is able to quickly regain control! Luigi appears to once again be going for the waterfall shortcut aaaand he makes it once more! This gives Luigi a greater lead than he had before! He has a bit of trouble getting out, as he nearly runs into the trees, but he appears to be unfazed. Luigi crosses into the final lap unopposed.
Coming into the final lap, Peach takes a hit and Toad does as well just before he crosses. The gap between Luigi and second place Peach is slowly closing. Luigi needs to get the shortcut once more if he really wants to secure his lead. Luigi doesn't manage to get any speed-boosting items, so he's going purely on skill. If he misses this jump, it could cost him! He goes for it and…wait, he doesn't go for it? I guess he decided he has a good lead already, but let's see where this goes. He has a Red Shell trailing behind him, so he's not completely unprepared. Peach is quickly gaining on Luigi, but Luigi is also quickly approaching the finish line! Luigi hits a crab and spins across the finish line! Oh, what a show-off Luigi is! Haha, here's the scoreboard, folks!
Luigi – 21
Peach – 15
Bowser – 12
D.K. - 06
Mario – 02
Yoshi – 01
Toad & Wario - 00
Toad and Wario can't seem to get any points! Donkey Kong was proving a formidable opponent in the first race, but seems to have lost his edge moving forward, and Peach is coming back with a vengeance. Toon in next week for the exciting conclusion, taking place on Kalimari Desert! See you around!

Greetings, viewers, from MKBC 6, here with your weekly weather report.
This week, we will be bringing you the forecast for the annual Harvest Festival. Mushroom-growing season has come to an end, and since the summer was so wet, farmers are reporting a good crop for this year. If you need to stock up for the winter, now would be the time to do it.
| Day | Predicted | Temperatures | Forecast | Chance of Precipitation |
| --- | --- | --- | --- | --- |
| Monday | | High: 68 Low: 56 | Cool with long periods of sun | 10% |
| Tuesday | | High: 65 Low: 52 | Cooler with clouds in the evening | 10% |
| Wednesday | | High: 60 Low: 48 | Cloudy with wind | 20% |
| Thursday | | High: 61 Low: 48 | Cloudy during the day, clearer skies late | 10% |
| Friday | | High: 65 Low: 53 | Clear skies through the evening | 10% |
| Saturday | | High: 68 Low: 55 | Sunny and clear with breezy winds | 20% |
| Sunday | | High: 62 Low: 50 | Storms moving in early with cooler temperatures | 80% |
We are looking at a temperate week, temperatures dropping slightly, but with little chance of rain until Sunday. The forecast looks great for the artisans' market on Monday and Tuesday, and the clouds that are moving in on Wednesday and Thursday are expected to clear for the Harvest Moon festival on Friday. This year's festival will be a treat as reports show that the Harvest Moon will be especially bright and full this year, a good sign for farmers for their crops next year. Sunday's thunderstorms are not expected to impact the opening of Princess Peach's new boutique, and the princess is expected to draw quite a crowd as she begins to release her new line designed after the styles of the recent Olympic Games, a highly awaited collection here in town.
This week, we are also bringing you the forecast for the Castle Club World Golf Tournament, taking place next week at Castle Club. The odds to win on Bowser this year are very high, as the Koopa King showed an unexpected amount of improvement last year at the tournament he hosted. Provided below the weather forecast are the events taking place during the week.
Temperatures will be high all week long, with storms moving out of the area late on Sunday. Castle Club staff has advised fans to pack smartly for the tournament; bring sunscreen and plenty of water to drink as many of the courses that are not directly on club grounds have shops to purchase essential items. Princess Peach herself has advised her fans to be safe in the sun as they come to watch the tournament.
| Day | Predicted | Temperatures | Forecast | Chance of Precipitation |
| --- | --- | --- | --- | --- |
| Monday | | High: 78 Low: 65 | Very warm with tropical conditions | 80% |
| Tuesday | | High: 80 Low: 68 | Rain leaving early with clouds clearing midday | 30% |
| Wednesday | | High: 82 Low: 70 | Hot and sunny, chances of high humidity | 0% |
| Thursday | | High: 83 Low: 78 | Humidity drying up with lots of sun | 0% |
| Friday | | High: 85 Low: 79 | Sunny and breezy, clouds late | 10% |
| Saturday | | High: 81 Low: 75 | Cooler temperatures with mostly cloudy skies | 10% |
| Sunday | | High: 78 Low: 70 | Windy with partly cloudy skies | 20% |
Event Schedule
Monday
Athletes scheduled to arrive
Tournament concourse opens
Tuesday
Opening parade
Tourney tree revealed
Wednesday
Castle Club tournament begins
Thursday
Castle Club Tournament continues
Speed challenge
Friday
Castle Club Tournament ends
Saturday
Sunday
Tournament parade
Awards ceremony

Count Zoltan Dracula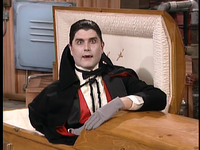 I think this is a first, I am the first person to find out about this death, honestly no one else has beaten me to it. There's not even a coroner here, so not only do I get to write an obituary, I get to conduct an autopsy at the same time.
The deceased is one Count Zoltan Dracula and I'm going to get so rich from his money and he is, by my best guess, a vampire. He died at approximately 9:24 a.m. this morning, my estimation comes from the fact that when I woke up and pulled back the curtains, I heard screaming and soon discovered a pile of ash that hadn't been there before. At least I don't think it was there, I do remember recently hoovering.
Due to the suddenness of Count Zoltan's demise, and the fact that I need to keep this to myself just in case it's seen as some form of manslaughter, I've been unable to collect any form of witness testimony or ask people who was close to the deceased what they thought about him. But according to his Facebook page he joined on September 17, 1568 and had over 8000 friends, although a quick search through professional other people's obituaries over the years reveal that many of these people are dead, most from blood loss. I messaged some of his living friends, but they weren't really helpful, just stating that they were scared of him for whatever reason, they also didn't know where his hidden riches were.
As for the autopsy, I concluded that he died from exposure to sunlight, and as I did such a bang-up job on this, I decided to keep this whole story to myself so I could beat everyone to the printing press with this. Anyway, a vampire is dead and I'm the first person to get the scoop on it.

Hello, readers! Welcome to another edition of TV Tomorrow, the article where I... oh you probably know it by now. For those of you who really, really, love my section, and attend weekly TV Tomorrow Fan Club meetings (last meeting head count was 1, but I'm sure someone will join... eventually) then I'm trying to find ways to make my section even better. If you have got any ideas for me on how to make this section better, then please get the message across to me in some way. Thanks! Here are the top three shows I recommend you watch.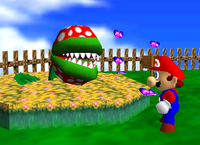 New: My Amazing Garden
MKBC Kids, 1pm
Genre: Children's
Excellent actor, TV presenter, and hero of almost everything Mario presents this brand new TV show with the aim of teaching gardening and talking about nature to kids. Mario pretends he has an amazing back garden, in which he grows wonderful plants, and also speaks about wildlife. Wonderful, calming pictures and an educating tone, with the occasional Piranha Plant popping up, this show is a must-see for any nature-enhanced child.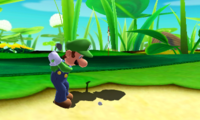 Golf: World Tour 2016
MKBC Sports, most of the day
Genre: Sport
The golfing craze continues with the Golf World Tour now into its third day. At the moment, contestant Nabbit is in the lead, but Luigi and Daisy could be catching up. On this day, there could be plenty of hole-in-ones, plenty of amazing albatrosses, and plenty of spectacular fails. Oh, and since it's Mario Golf, there'll be a lot of weird obstacles getting in the way. If you're a golf fan, make sure to watch this.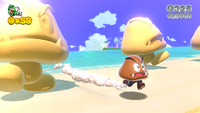 FILM: Escape from Bowser's Castle
MKBC2, 7.30pm
Genre: Adventure film
This amazing film, first shown back in the 1990s, stars Luigi as himself, a plumber captured by Bowser while picking mushrooms. Luigi concocts some amazing plans to escape and finally does, with Bowser pursuing right behind. With the help of a new friend, Luigi tries to escape Bowser's Castle and return to where he belongs. A heartwarming film that was received well by critics.
Well, that is all from me today. And since I haven't really got a very good closing statement, I will simply say: See you next time. (That works, doesn't it?)


Quirky introduction! Welcome to the next edition of the greatest review article web series in the world! Guess what? Terrific news! After years of just being a fan project, Super Mario Wiki, the Mario encyclopedia, is finally getting the recognition it deserves in the newest game for the Wii U (which is a dying system but whatever), Super Mario Wiki: The Game!!!
Super Mario Wiki: The Game (Great googly moogly!)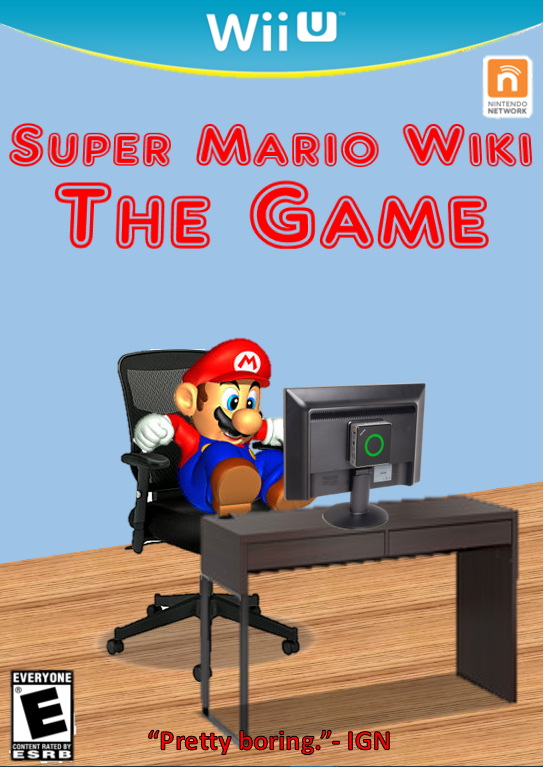 Oh thank the Stars this game is here! After years of making questionable business decisions at best, Nintendo has finally stopped caring and released a first party game targeted to an extremely niche portion of their fanbase. And boy, am I excited to share this experience with you! So excited that I'll shelter myself inside my bedroom playing it for a month after its release before I talk about it. See you then!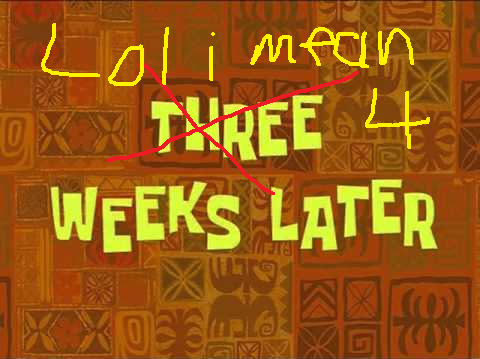 That was simply an enchanting occurrence that I will not soon forget. Nintendo has really outdone themselves this time. I mean WOW! I can tell you right now: 10/10. They perfectly captured the feel of the original! So, in order to fully convey my experience, I shall walk you through my Month of Mario Wiki. Well, the first step, of course, is registering for the site. You could just use your own account, but I wanted to capture the full journey from start to finish. So I did the unthinkable…I created a second account.
*GASP*
I know, I know, this is strictly against Wiki policy, and I could get into huge trouble for it, but I am making the sacrifice for you, my loyal fans, so I hope the both of you will appreciate this. In order to prevent capture, I first had to come up with the most inconspicuous username. One that wouldn't stick out among the others.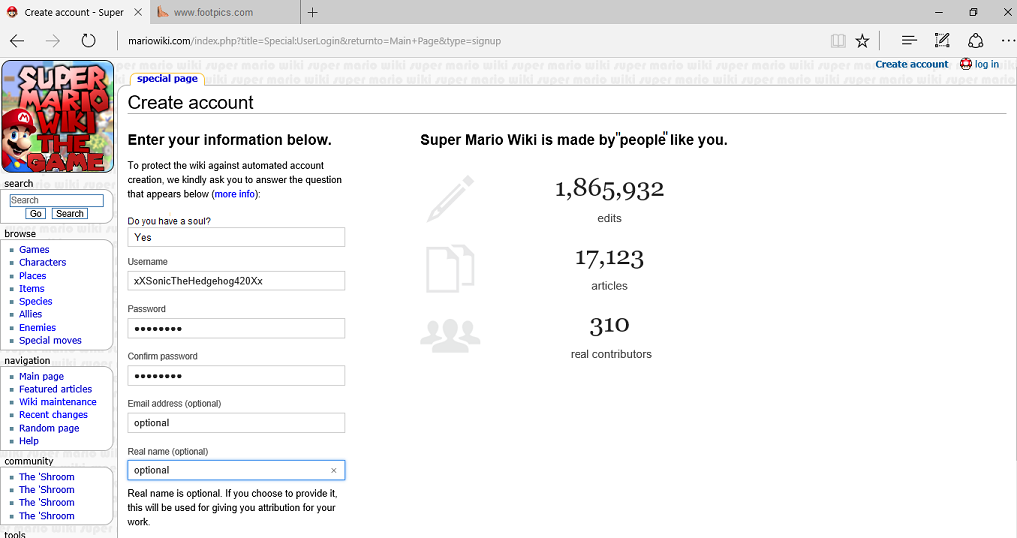 Perfect! No one will suspect a thing!
So, now that that's taken care of, what should we do first? Well, as you may have guessed, the main point of this game is to contribute to as many articles as possible. "But where to start?" you may ask, with a look of desperation on your face. It's really quite simplistic. All you have to do is visit the Shroom Spotlight page, which Nintendo has quite skillfully replicated for us. This serves as a sort of quest log: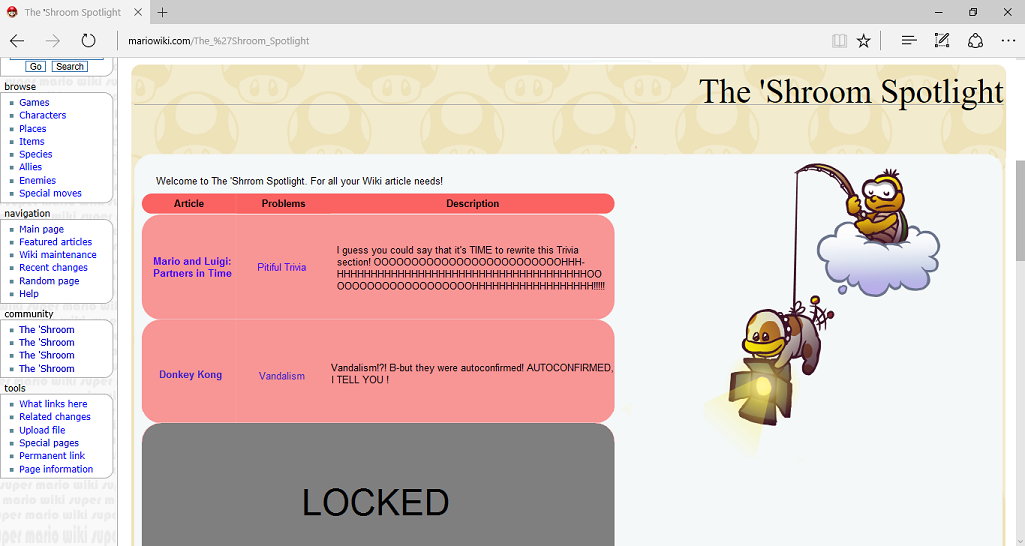 Now I don't know about you, but I haven't played much of Mario and Luigi: Partners and Time. It's not like I don't like babies because believe me
I do like me some babies
I just never really got into it. So instead I'll take a look at the vandalism on the second article. But here's the thing: I'm not autoconfirmed yet. I need to contribute to at least five small articles before that happens. Not a problem. I simply add a few unobtrusive, extra commas, between, some of the words, on a few,, articles, and,,, there we go. Easy autoconfirmation. (DON'T TRY THIS AT HOME) So, let's take a look at that article: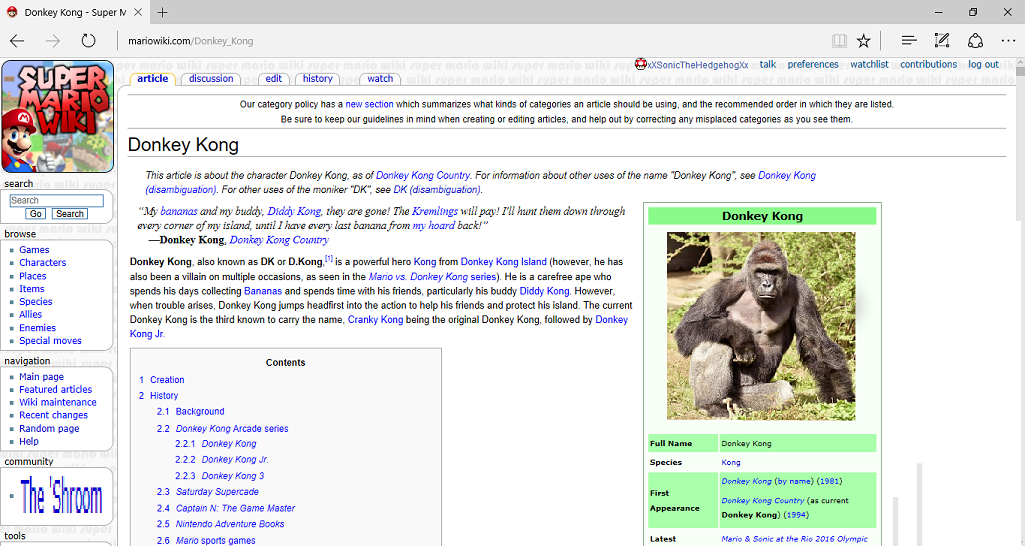 Oh wow. That's just great. Yep, we have all the latest memes here on the Super Mario Wiki. Yes, sir. Geez, do these people have anything better to do. Whatever, this should be an easy fix: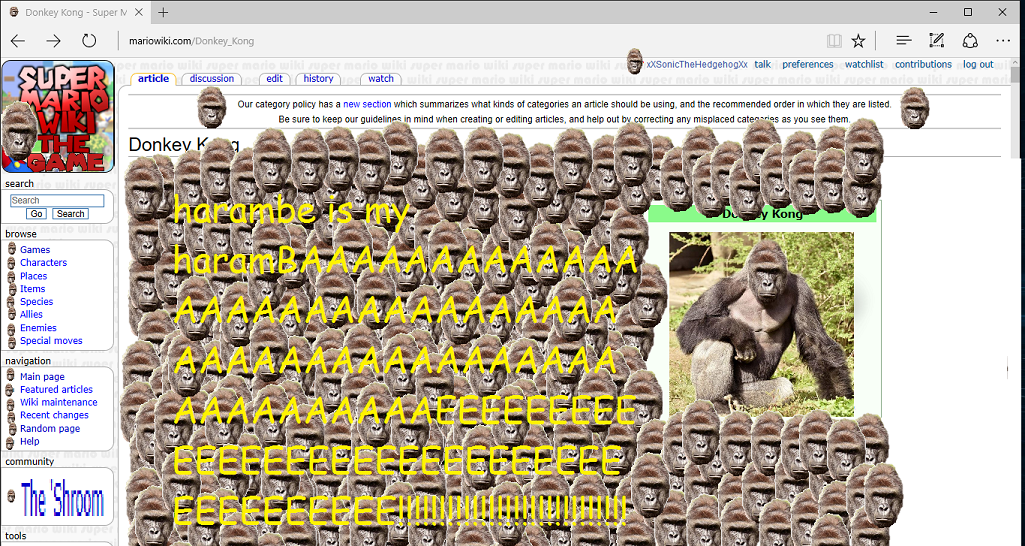 There! The Harambe article back to its original glory! I hated to undo all that hard work someone did, fabricating an entire article based on this "Donkey Kong" meme. But I had to do it. For my hero. Godspeed little chimp. Godspeed indeed.
…
Okay, now let's really fix it.
Now that that's over, we can finally harvest the fruit of our labors. And by that, I mean Shroom Tokens.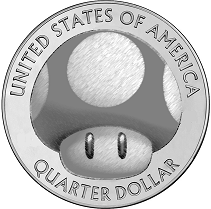 This is where Nintendo starts to take a few liberties. You see, in the real world, there's no actual reward or reason to contribute to an article. Shocking I know. But in-game, you can get these Shroom Tokens to buy some cool stuff from the Shroom Bazaar page: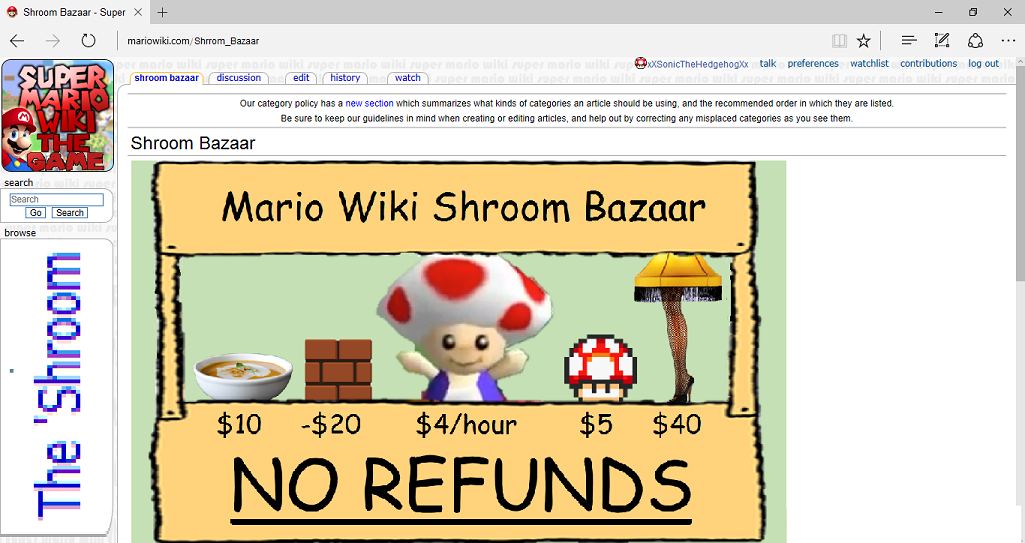 Let's see here…my edit was only a small one, so I only got two tokens. I don't really see anything that– Wait! On the right! Negative twenty? Does that mean I get twenty tokens when I buy it? Sweet! Someone paying me to take a mysterious brick box! What could possibly go wrong? Strange. It seems like I've seen that box somewhere before…like in a running gag back in 2012 in the Shop Scout section of Fake News that I felt like referencing for some reason. Whatever! I'm sure nothing bad will come of this! I'll take it!
So I've got twenty-two tokens now. Which is quite a lot, but I want to have my tokens stockpile before I spend them. So let's take another look at the Spotlight to see what else has opened up hmmmmmmmm?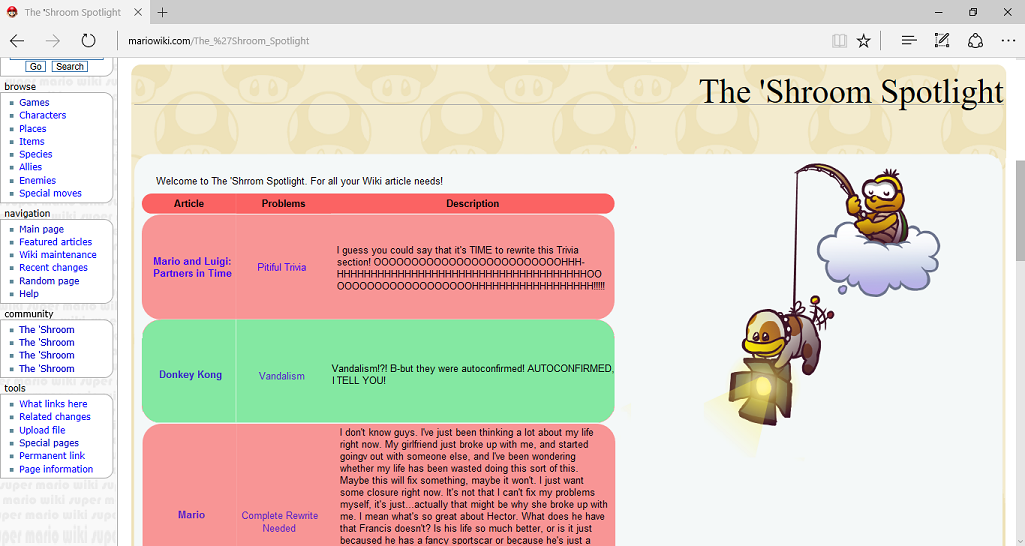 Yikes. Whoever Nintendo hired to write this section has some serious issues to work out. And I think we'd better leave poor Francis to figure things out for himself. But you know, there are other ways to earn tokens in this game besides editing articles. For example, there's creating a userpage, writing for the 'Shroom, writing a proposal, writing for the 'Shroom, voting in a daily poll, writing for the 'Shroom, writing for the 'Shroom, writing for the 'Shroom, and writing for the 'Shroom. And at least six of those things are worthwhile. And as a seasoned 'Shroom writer muhself, I think it's about time I show you the true glamor of the profession. So, without further ado…BEHOLD! The life of a 'Shroomer!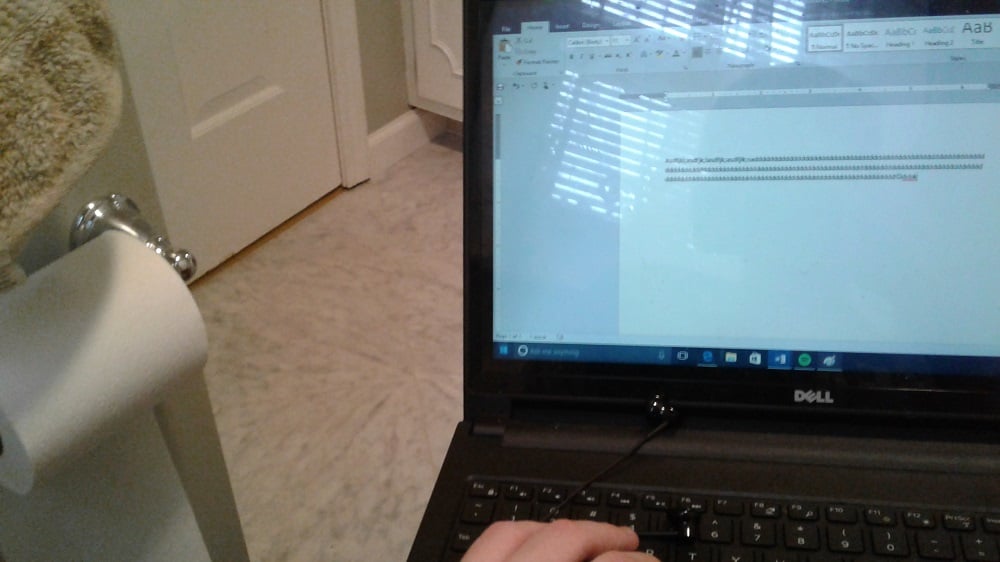 Okay, maybe it's not that exciting, but you know what is exciting. Proposals! Ooooooo! I mean just look at the sophistication of the Proposals section:

…
Could someone maybe turn down the irony in here? It's suffocating.
Huh. Maybe this game isn't as brilliant as I thought. Sure, on the surface it looks similar to the original, but something about it just isn't quite the same. Maybe the Super Mario Wiki is best left as it was. Just us in our small, niche community, without any interference from OH SHOOT THEY FOUND ME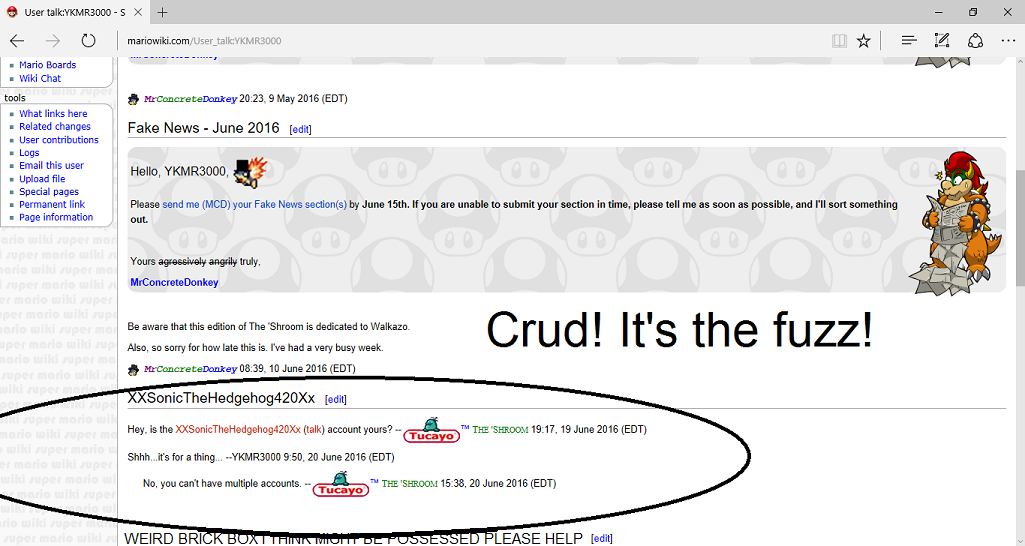 ohfrickohfrickohfrickohfrickohfrickohfrickohfrickohfrickohfrickohfrickohfrickohfrickohfrickoh FRICK!
wHaT aM i GoInG tO dO!?!
Uh…um, uh…seeyalaterbye

Written by: Toadbert101 (talk)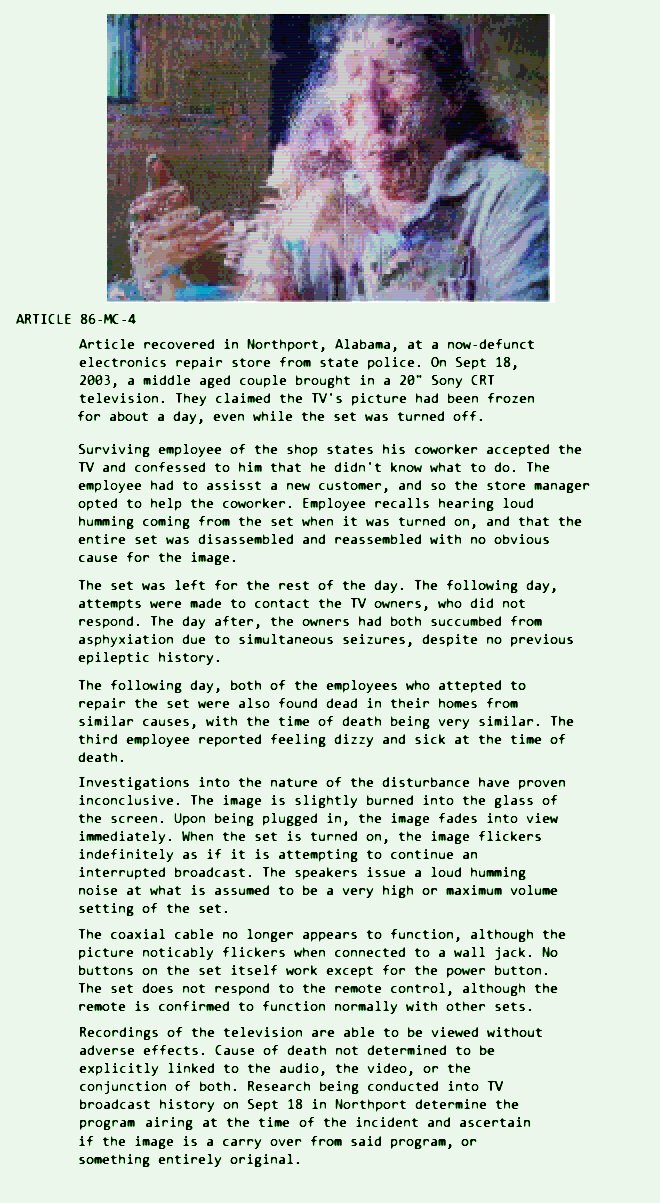 Written by: The Pyro Guy (talk)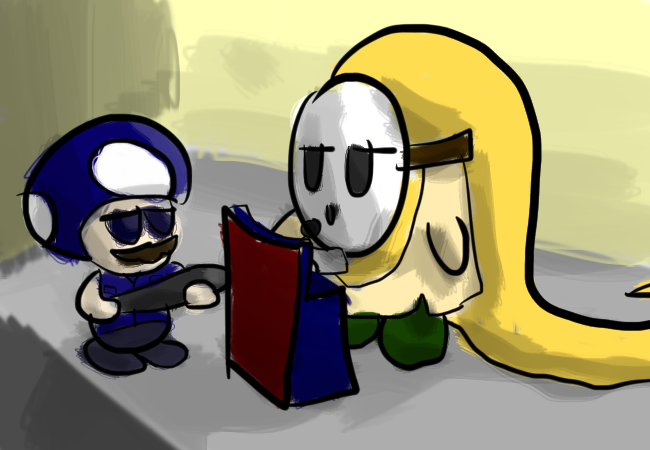 "...that yes, the evidence against the Mushroom Kingdom government was doctored and fake, and there is no proof that Princess Peach owns a golden statue of herself."
Alright, is that enough blackmailing for today?
Well, not blackmailing specifically- I got something back- but I'm through with being publicly televised. Now, time to start the new Cooking Show!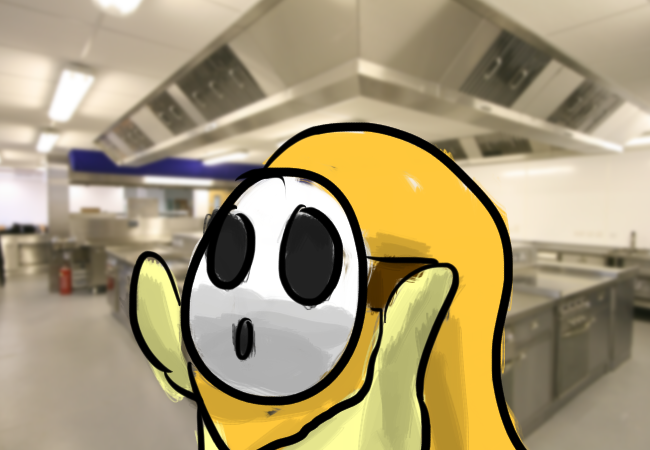 After a little bit of trading on my behalf (I gave them words, they gave me a professional kitchen, studio and a license not to wear that silly hat), Cooking Guide is back in full swing, with Chef TPG ready to... cook. And since we're getting close to that spookfest of a day, Halloween, I thought that we'd celebrate...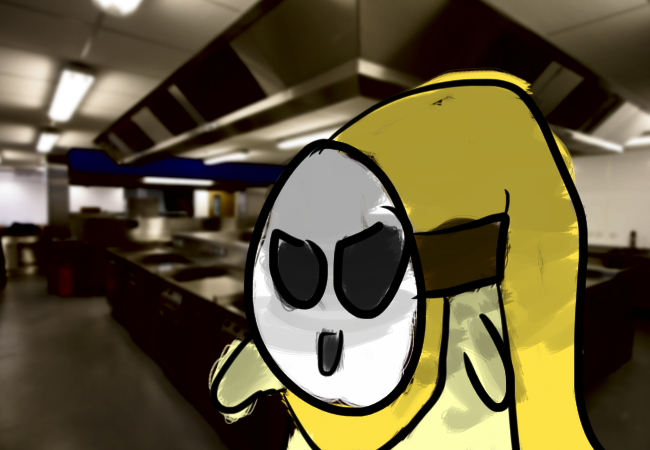 ...By cooking up a ghost.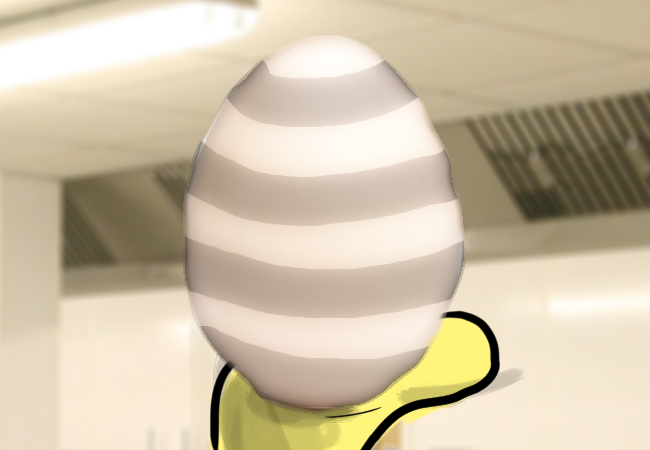 The ghostly meal is called the Zess Dynamite, and I hear that it's slightly explosive, with a pinch of spook hidden away. So first up, you'll need two main ingredients; one of them is this glowing, stripy and mystical egg. It, uh, provides protein. For the ghost to appear. Ghost protein, yeah.

Next we have a coconut, which is rich in cocoa and nuts. Double combo, if you ask me. So with these two ingredients we form the base of the Z.D. meal. Spooked yet? You better be, otherwise my pay goes down by 25%.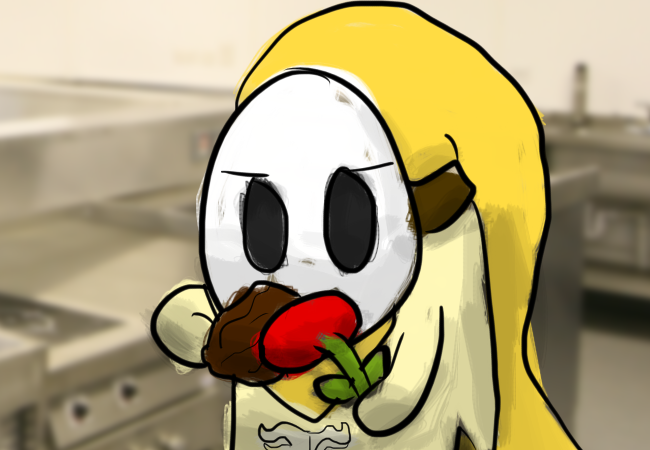 We achieve the preparation by, uh, rubbing them with flowers. Fire Flowers. The flowers provide the herby essence for properly summoning the ghost. That's a true fact. Another true fact is that these two things grow delightful little spaghetti fuses that...
Alright. I don't know why the spaghetties are there.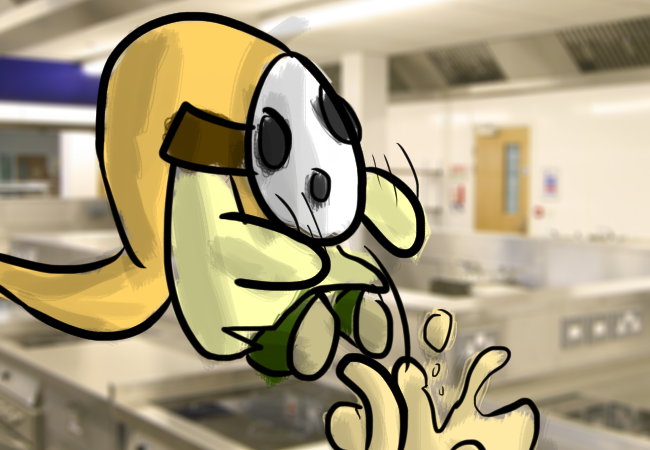 Next you'll wanna make a cake mix and put some cherries in it. I won't show you that though. It's boring, and if you really want to sit down and watch someone make some pale slop then go watch Bake Off, I'm sure that show has a cake in it.
Afterwards, dunk everything into a pan.
Boo. Yeah.
Let's turn some lights off, because we're getting to the summoning stage.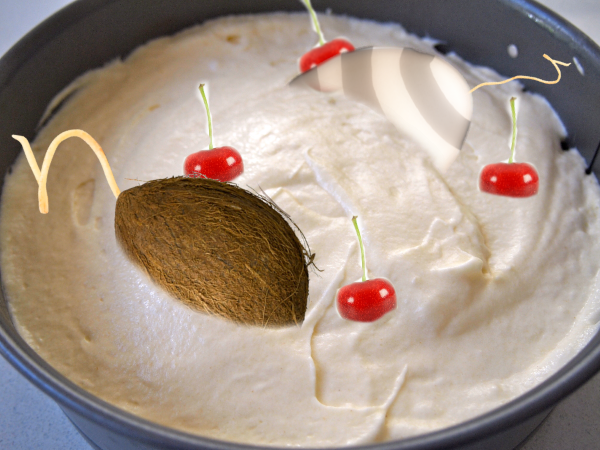 This is what you should end up with. Looks yummy, right? Moving on.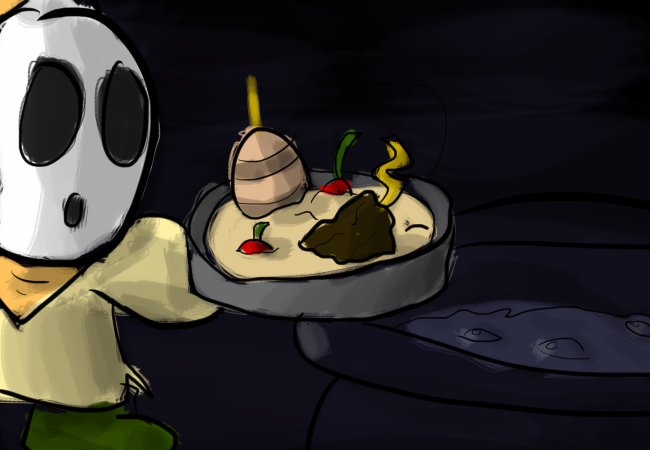 You'll need a pot and a pan. Pots and pans. Don't witches say that? Probably. Man, a shiver just went down my spine- that means that it's scary.

Quick tip: while the pot does need heating for the water to boil and... bake... the Zess Dynamite, don't. Use. A. Flamethrower. Eveh I have trouble controlling the fire, and I'm supposed to be pyrokinetic!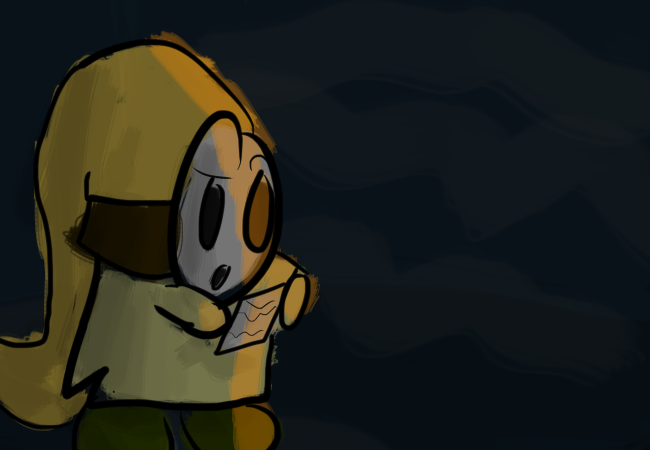 Alright, what next...
"Upon production of the Zess Dynamite, the ghost will blow up and damage any enemies."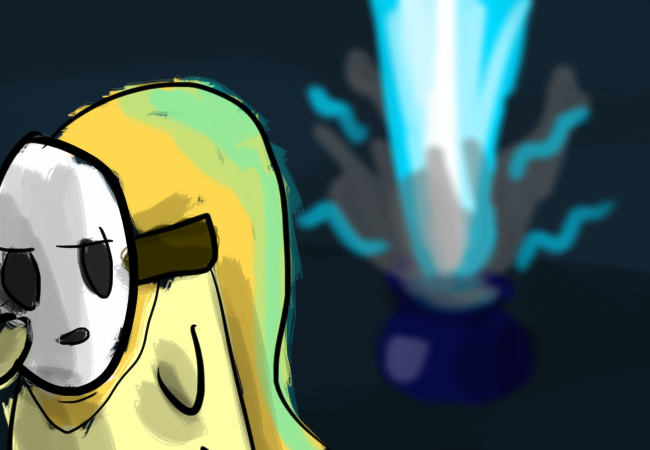 ...Oooohhh. Right. Just when I thought the explosion gag was underused.


Guess I'm back! As it will be again, if you seek my flawless advice, please send questions to me on the forum, find me in chat, or if you don't care about anonymity post them on my talk page! If you would like for there to be a doodle with the response to your question, feel free to request so and I'll see what I can do.