The 'Shroom
:
Issue 190/Palette Swap
From the Super Mario Wiki, the Mario encyclopedia
Jump to navigation
Jump to search

Director's Notes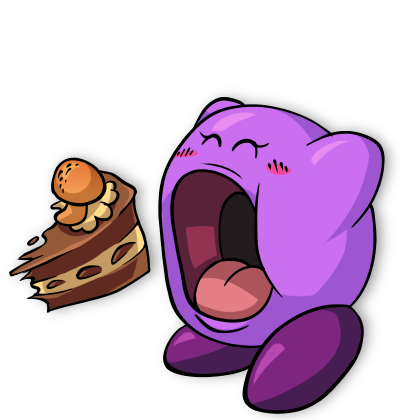 Welcome to the first 'Shroom of the new year! It's great to have you all here!
This year I'm hoping Nintendo gives me a break from new releases so I can get my backlog under control. I still have to go back and finish Sonic Frontiers and Bayonetta 3, but I would also like to play another route in Fire Emblem Heroes: Three Hopes. The only game I have set on my schedule this year so far is Legend of Zelda: Tears of the Kingdom, and the eventual Xenoblade Chronicles 3 DLC, whenever we get that. The biggest thing I'm looking forward to this year right now is the eventual release of the Pyra and Mythra Smash amiibos. I never bought wave 2, even though it was full of characters I like, which is a shame. I was turned off of Smash after Byleth's inclusion in wave 1, and I never bought wave 2 as a result. But a Mythra amiibo? Yes, please! If they sell them separately, I'll probably buy a couple of Mythra to have one at home and one on my desk at work.
Anyways, we have a couple new sections for you to start off this year! First up is a one-off from Mustard Machine (talk)- Random Image of the Month. An abomination found in the weirder part of the wiki awaits you there. Cosmic Cowboy (talk) is starting a new section called StoryCentral to feature her writings. It will feature different stories, so if you're a fan of her writing, definitely check that one out! I'm happy to welcome Meta Knight (talk) with a new section- Meta's Poem, which will feature poetry each month. I believe this is our first ever poetry-based section, so welcome, Meta Knight! And, last but certainly not least, we have a brand new comic section by our resident comic historian, winstein (talk)! His new comic, The ? Panel debuts in the issue, and I'm so excited for you all to see it!
There's a lot of good stuff down below, so I won't keep you up here any longer!
Happy reading!
~FunkyK38
Section of the Month
December Section of the Month results are here, and a LOT of you voted last month! Thank you! Our writers really enjoy being recognized for their hard work. Coming in first, we have Waluigi Time (talk) with his Waluigi Time Comic. Next up is also Waluigi Time with his other section, Shmaluigi, Private Investigator. Finally, we have winstein (talk) with Drawn and Pressed in third. Once again, thank you for voting, and please keep it up for this month as well!
---
Fictions
Cruise ship customer service is middling at best...
You're having an exclusive meeting???
Site Seeing
Written by: Lakituthequick (talk)
Hello dear readers and welcome to Site Seeing, in which I'll go over some of the websites Nintendo releases to inform the public about their games and series!
Today we will be looking at the site for Mario Kart 8 Deluxe! …what do you mean I'm a month late?
Overview
This website is, for the most part, a one-page site, which means that all content is displayed on a single, long page. When the Booster Course Pass arrived, it got its own page, which we will cover later.
Upon entering the site, the first thing we see is a large hero image featuring Mario, Princess Peach, and Bowser in the foreground, and an Inkling girl, Link, and Isabelle in the background, racing on N64 Rainbow Road, with Lakitu holding a start signal floating nearby.
The hero contains the Mario Kart 8 Deluxe logo, with underneath it a video preview that plays a review trailer and a button to scroll ahead to the "buy now" section further down the page. On top of the hero, and staying there even as we continue down the page, a banner is shown that informs us that the (as of writing) third wave of the Booster Course Pass is available.

As we go down, we come across a scrolling gallery of eight courses (from the Mushroom and Flower cups), overlaid with art of Mario and an Inkling girl playing Balloon Battle, followed by a slogan. Then, another scrolling gallery of eight courses (Star and Special cups), with on top of that artwork of Link on the Master Cycle and a spinning emblem of the Triforce cup.
We then enter a section starring the playable character roster, which shows all of the characters in a grid. Each of them can be clicked or tapped on to show a modal with an image of them in action, and a small video underneath it next to their name. From this modal, arrows can be used to navigate between the other characters.
Continuing on, another scrolling gallery of courses (Shell and Banana cups) with art of Isabelle and the Crossing cup emblem divide this and the next section. This section details all cups and courses in the game, excluding the ones in the Booster Course Pass, listed by cup. Again, these can be clicked or tapped, opening a modal with a video of the course.
The following section is a short summary of the Booster Course Pass, including a badge about the third wave (as of writing), along with artwork of Mario, Luigi, Princess Peach, and Toad driving over course icons. This section links to the aforementioned subpage.
A few game features are described in the next section, which names and has images of Smart Steering, 200cc time trials, and wireless and online multiplayer.
Up next, another intermission with sliding courses (Leaf and Lightning cups) with Baby Rosalina and the Bell cup emblem on top, before moving to the power-up section.
The power-up section contains a similar grid to the character roster, with all of the available items click/tappable to open a modal with a larger image and a description of the item.
After a course gallery (Egg and Crossing cups) with Baby Mario and Baby Luigi atop the Egg cup emblem, the new and expanded battle mode is detailed. This section features a gallery with the five battles modes than can be swiped though, as well as the eight dedicated battle courses in the same style as the regular courses further up the page.
The main page ends with a section on where and for how much to purchase the game, featuring the box art, and another note about the Booster Course Pass.
As previously mentioned, the Booster Course Pass has its own page, available from a few places on the page, as well as the menu at the top. Entering this page, we see the same artwork of the four drivers on the course icons as a hero image, with the pass logo and a link to the trailer of the most recent wave.
After scrolling past another gallery of courses (Turnip cup, from wave 2), artwork of Mario is shown alongside a box describing the pass, followed by another scrolling gallery, which instead shows the other eight main Mario Kart titles (including Tour).
Then, a section follows that, similar to the one on the main page, lists all the new cups and courses in the pass, additionally categorised per wave. Unlike the other one, these cannot be clicked for a video. Above the list, Art of Pink Gold Peach atop the course icon for Paris Promenade is shown alongside another blurb. The section is closed by another scrolling gallery of course icons (Propellor cup, also from wave 2).
The ways the pass can be acquired are listed in the next section, first advertising the Nintendo Switch Online Expansion Pack, and then the standalone purchase, which is accompanied by Bowser.
The page ends with a banner to return to the main page.
Design
Where Mario Kart 8 had a mostly blue theming around it, Mario Kart 8 Deluxe adds red and purple to the mix, especially combined with gradients such as in the logo. This is reflected in this site, with mostly red used for single-colour accents, and said gradient for other accented pieces. Most backgrounds, however, are white or black with a pattern, such as sponsor logos, traffic signs, and checkerboards.
Slight accents can be found on a small number of elements, such as a video frame, the clickable courses when hovered over, and the footer border. A darker red and blue gradient is used as a background of several text boxes, using white for the text.
The site makes heavy use of imagery, mainly character art, to make it more eye-catching and interesting. It also uses moving elements, such as the mentioned scrolling course icons and rotating cup emblems, to make it more dynamic. These movements can be disabled with a button on top of the site, "reduce motion". The course galleries are tilted at an angle for added dynamic.
Some elements emulate parts of the interface of the game. An example of that is the name of courses in the cup and course overviews, which looks like menu items when they are selected. A few headers for game features and the header for the battle courses have a slight resemblance to HUD elements used for coin and lap counts. Interestingly, call-to-action buttons do not resemble any element in the game, instead being big, round, and pink.
The Booster Course Pass banner and a few elements on the pass' page are decorated with laurels. The pass page in general seems to follow a slightly different design pattern than the main page, using a blue background with a slight gradient for the courses, a different design for the cup and course labels, and laurels for the wave headers.
There are a few nuanced effects in place as well. For example, the "reduce motion" button has a purple glow around it to set it apart a bit. Another example is that a few bits of text actually use a gradient instead of a solid colour, such as the headers and blurbs for the main page sections.
Let's look at the mobile layout as well. The site has been adapted for viewing on small screens fairly well, stacking things on top of each other where needed instead of side-to-side, and making big images smaller. The character and item rosters become smaller to still allow as many items on screen as possible, but without making these too small to interact with. Courses are laid out in a max of two courses per row, which does get a bit too small (but, interestingly enough, this is executed better on the pass page). The scrolling course galleries stop scrolling and instead become static.
All text that isn't found in an image uses the Roboto typeface.
Tech
This part may not be of interest to everyone, or may you even understand any of it. But it can be interesting to some people who are curious about some of the technology used to create this site.
In short, this site appears to not use a framework, instead having been built with libraries such as jQuery and nclood, and is hosted, as many a site, on Amazon Web Services.
jQuery is a JavaScript library that was used in the past to bridge the differences between the various browsers. Mostly obsolete these days due to browser progression, but still in frequent use for simple tasks and when combined with plugins.
Nclood, which is a pun on "include" and the N for Nintendo, is a library that includes a bunch of commonly required features that are used on Nintendo's sites. This includes things like accounts, eShop connections, metrics, and social media, but also more standard things like navigation menus, headers, and footers.
To go a bit more in-depth with one specific aspect on this site, the scrolling courses. The way these have been implemented is by updating the position of each image every 20 milliseconds, so about 50 frames per second, using the CSS property left. This is being done more or less manually. A tip for people who want to implement this element: don't use the left property for this, this is pretty inefficient for a variety of reasons. Instead, look up CSS animations. Interestingly, all other animations found on the site do make use of CSS animations.
While we are on the topic of animation, let's talk about the "reduce motion" button we found earlier. As the name implies, motion on-site is reduced when activated. This includes the scrolling galleries, rotating cup emblems, and videos (which need to be clicked to play). Modal galleries are still animated, even if the videos in them aren't.
Reduced motion is a great feature, and we have encountered it on sites previously covered in Site Seeing. It helps for people who are sensitive to motion, so they can enjoy the site's contents without risk.
CSS, cascading style sheets, actually includes a feature to detect when a user prefers reduced motion, which is available as a setting in browsers and operating systems. Unfortunately, this site does not use that, instead only having the button as a toggle. This can be justified as the site has existed for longer than the feature, but could potentially have been included later down the line.
Conclusion
This website looks pretty slick, I would say. The design and features are well done and I like the inclusion of the characters, courses, and items in their entirety. The animations are nice, if the tech used for parts of it is a bit dated.
That was Site Seeing, with a December theme in January. Next month we will be back on schedule again, with a very… timely site, I dare say. Until then!
Meta's Poem
Written by: Meta Knight (talk)
The following poem you're about to read was created during Roserade's (talk) Poemtober 2022. For those unaware, during the month of October, every day you feel like, you create a poem! Each day had a prompt that was a singular word and you could write about however you interpreted it. This poem was written for the theme Conflict. If you wish to know more about the creative process, or anything like that, you're welcome to read my commentary as well.
Like Clockwork
Dense nebula ignites, planets collide.
The wind howls, the waves chant, ash spews.
Prey numbs for the beast to devour.
The dust settles, the world turns, the clock ticks.
Blessed with knowledge, favored conscious, gifted conscience.
Tools misused to abuse everything in its wake,
Mere pawns playing a devil's game.
The breath fades, the sand falls, the clock ticks.
Good and bad, black and white, light and dark,
Must this duality be the price of living?
Do we otherwise condemn ourselves into a shallow breadth of apathy?
The moon tides, the river runs, the clock ticks.
Innovation driving its ungrateful recipients to new heights.
Ascension squandered by whipping the will of guidance.
Sentenced to consume whilst abandoning where strife strikes the unfortunate.
The dust settles, the world turns, the clock ticks.
---
Author Comments
The inspiration for this poem stemmed from my frustrations with how people in power just continue to screw others over, as well as the hypocrisy of people that use religion to justify their misdeeds. In the first verse, I wanted to demonstrate how conflict is inevitable throughout nature, and needed for survival in some instances, then contrast it throughout the rest of the poem with the idea that humans should be better. In particular, I was influenced by the song
Right in Two
by the band Tool, which has similar themes throughout its lyrics.
Random Image of the Month
Written by: Mustard Machine (talk)
Hello Palette Swap readers. It's me, Shoey, everyone's sixth favorite 'Shroom writer. So, one day, I was scrolling along, reading about the legendarily bad Mario cartoons, when I found it, the most horrifying image on the entire website. I realized I needed to talk about it. I realized I needed to spread this cursed knowledge to all of you. So without further ado, here's this month's featured image, an early promotional poster for the Super Mario Bros. Super Show!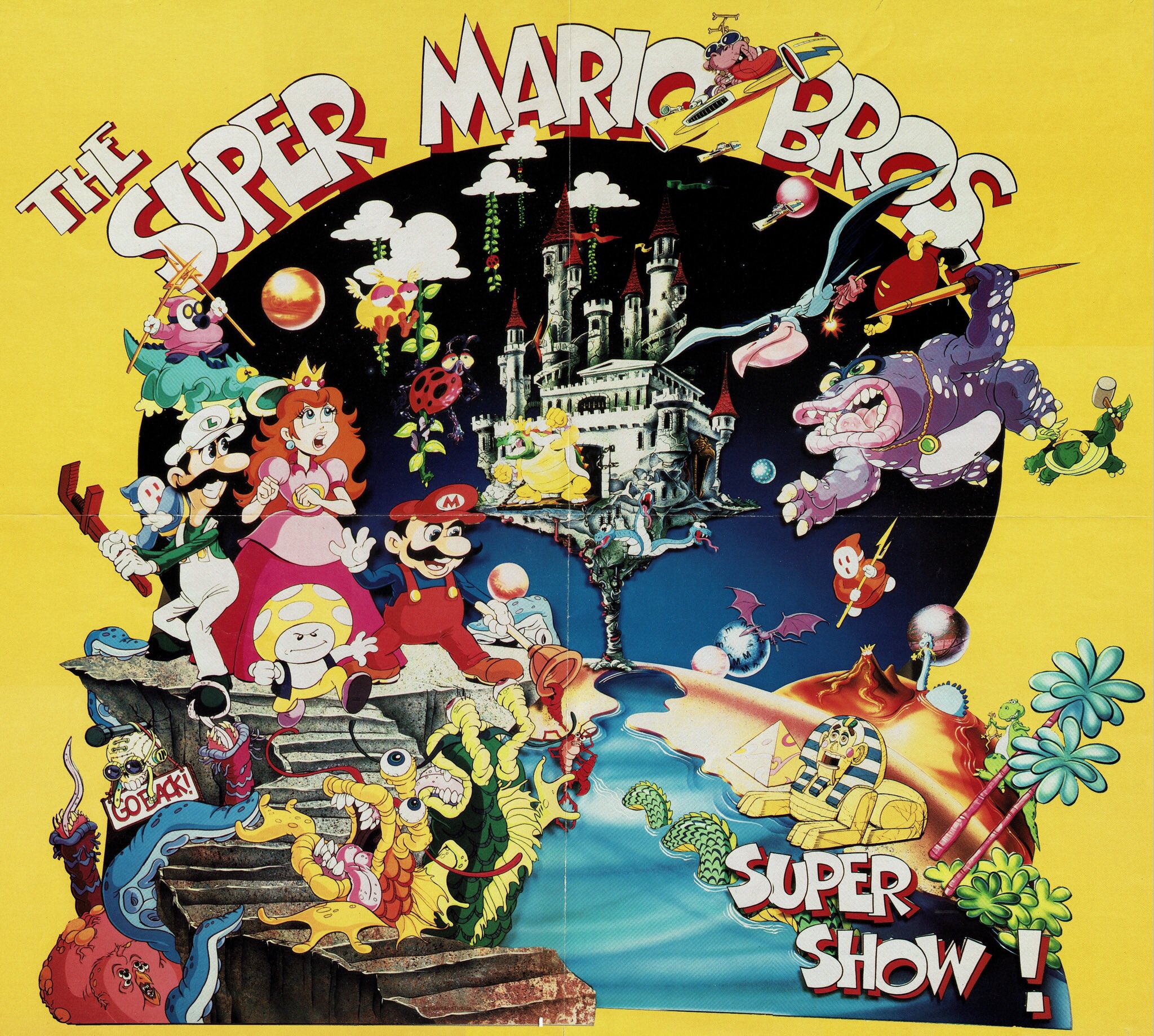 So let's talk about the good things in this poster first, because there aren't a lot of them! I like how the princess looks. I think it's a very solid character design. I like how Mario and Luigi look like they're about to whoop a bunch of ass with their plumbing tools. They both look pretty solid even though, like, is Luigi supposed to be Fire Luigi? Why are his colors like that? Outside of that, though, what in the hell is going on with this poster? By my count, outside of our heroes, there are only five things that are clearly related to Mario, those being what appears to be a Blue Shy Guy, a Snifit, a very fat Beezo, and a Hammer Brother. There's also Bowser as the fifth, but he's wearing a mask? Those are the only things that seem to have been based on things from Mario games.
With everything else, though, what is going on? What was this show supposed to be about? You've got a whole bunch of nightmare creatures! There are flying pig monsters, weird tentacle fish creatures, and a skull wearing sunglasses with a go back sign. Was this cartoon originally going to be a huge mind trip? How was this supposed to advertise the Mario series? Then you have the bottom corner with the Super Mario Land-like Egyptian area. Was there originally going to be Super Mario Land aspects in the Mario cartoon? Everything about this poster just raises more questions than answers! What are these creatures? Are they working for Bowser? Who the hell is that guy in the flying car at the top? Every time I look at this poster, I just get more and more confused! Even the stuff that's directly Mario-related is so grotesque and abstract that I can't figure out what they're going for.
This might be the worst promotional poster I've ever seen! When I look at it, I just can't figure out what kind of show the Super Mario Bros. Super Show! was going to be from looking at this poster. It doesn't look like it's a fun kids cartoon; instead, it looks like it's some weird late night Adult Swim show where Mario fights nightmare monsters. I have to imagine that Nintendo stepped in and went "guys, what the hell is this?" because I can't imagine Nintendo allowing them to advertise their property like this. Whatever happened, I'm glad they came to their senses, because, as bad as the Super Mario Bros. Super Show!, is I can't imagine how much worse it would have been had they gone with these designs.
Waluigi Time Comic
Drawn by: Waluigi Time (talk)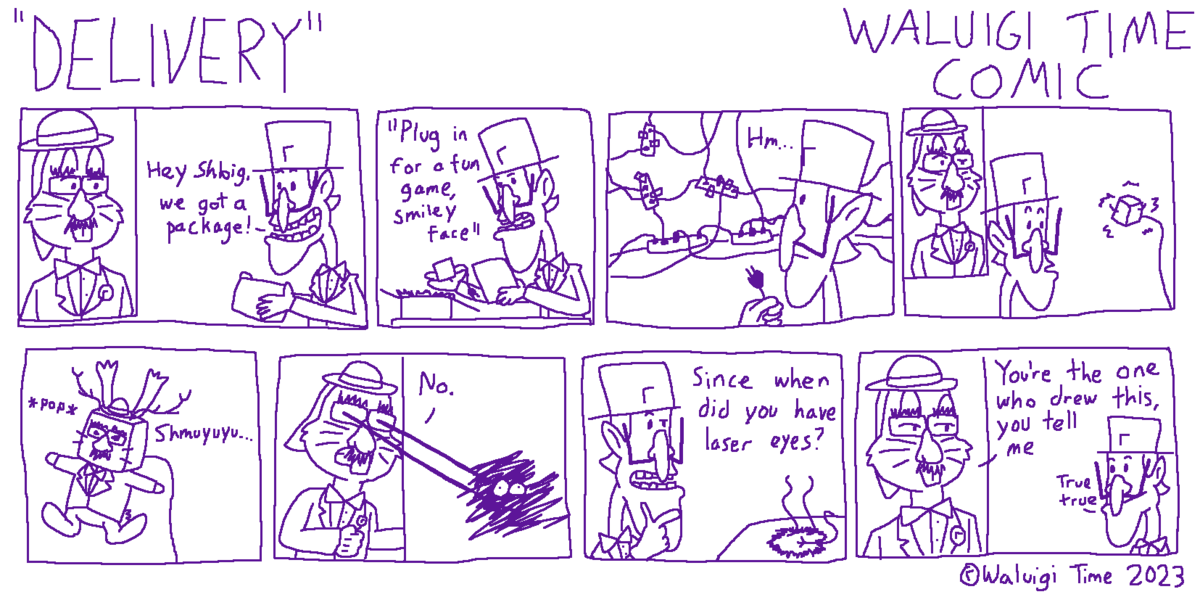 Shmaluigi, Private Investigator
Written by: Waluigi Time (talk)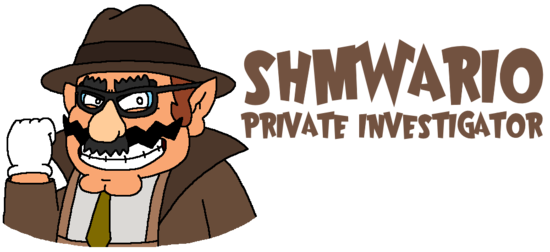 Brains and Brawn: Part 1
JUNE 2022
Oh yeah, Shmwario time!
All this time, I've been living in my brother's shadow, but not anymore! He's goin' on a cruise for a little while, so who's everyone in this city gonna come to when they need some private investigatin' done? That's right, me! All I need is one big case to make a name for myself! Gettin' one will be easy as pie!
At least I hope so... There's a lot of detectives around here.
Anyway, no point thinkin' about that right now. I gotta see Shmaluigi off first. He barely asks me to help with any of his cases, but when he needs someone to watch his place while I'm gone, then I'm the first one he calls. I see how it is.
---
"Alright, if anything crazy happens I left some phone numbers for you on the fridge," Shmaluigi said, "The chief, Detective Fulbright, um, Luigi and Yuri if you get desperate... Oh, and this is Mr. Goose's address, he prefers written correspondence."
"Nothin' crazy's gonna happen! Besides, I'm sure I could handle it myself," I replied.
"Well, it doesn't hurt to be prepared... And don't forget to water the eggplant, okay?"
"I'm not gonna forget!"
Somehow I got the feeling that he was monologuing in his head about how there was a 50/50 chance he'd still have an eggplant when he got home. Pssh.
"Look, don't worry about it, I got this," I told him, putting on my irresistible Shmwario charm, "Enjoy your vacation! Everything's gonna be fine."
"I suppose the Sticky Warrior should be around somewhere," he mumbled.
"Your confidence in me is overwhelming," I said sarcastically.
"Don't get me wrong, bro, I... Er, you... Hm. I have no idea how to finish this sentence, so I'm just going to go double check my luggage."
---
Everything started out fine, if quiet. And I mean, really, really quiet! Not a single person called to hire the services of the great Shmwario! You're tellin' me no one needs a mystery solved? Bah, whatever.
So, I mostly just sat around, eatin' stuff and watching TV. And I gotta say, that new Vandalised Life show on MKBC seems like a racket to me. Yeah, Mario's got it so rough. Sure.
Oh yeah, and uh, keepin' my brother's eggplant alive. That too.
But a couple of days in, I was feelin' pretty bored already. My brother's off on a luxury cruise, and here I am with nothing to do. So I decide, hey, I'm-a gonna call Shmaluigi! I wanna hear what he's up to. Well, actually, first I was gonna come up with a fake case to talk about to make it sound like I'm doin' important stuff. Not like he's ever gonna know the difference.
I cooked up a brilliant story on how I was workin' on a case for some high roller about criminals breaking in and stealin' their stuff, and that it was all being kept under wraps so he wouldn't hear about it in the papers or anything. With that all squared away, I called his cell.
Nothing.
"What kinda cruise doesn't have wi-fi?!" I said aloud to myself in frustration. Well, back to loafing around for me.
---
Then things got weird. The day that Shmaluigi was supposed to be back came, and I didn't hear a word from him. I tried callin' him myself, but I still wasn't able to get through. I wouldn't admit this to anybody, but I was pretty worried! My brother's supposedly the better detective, but he's still always gettin' himself into trouble.
Maybe it was all just a misunderstanding? Calling the cruise line would probably clear things up... Surely Shmaluigi must've left something around here with the details. I doubt he'd mind if I rummaged through his desk a little.
Aha, here it is! Noble Clipper Cruises, S.S. Dolphin. Let's just give 'em a call...
"This is Noble Clipper Cruises, how may I help you?"
"Hey, I gotta question about one of your ships, the S.S. Dolphin? My brother Shmaluigi was on it, and he was supposed to be back today, but I haven't heard anything from him, what's the deal with that?"
"Um, I'll look into that, please hold."
The employee left me alone with the cheesy hold music, which was about the biggest mood dissonance you could ask for. I waited for what seemed like a really long amount of time - I have to admit I ain't the most patient person in the world, though - before they came back on the phone.
"I'm sorry sir, the S.S. Dolphin docked today and according to our records your brother never boarded the ship."
"Ah, crud... Well, uh, thanks, I guess," I said before hanging up.
Well, this was a bigger problem than I thought. Shmaluigi never even made it on the cruise at all, so where was he now?
I paced around the apartment, tryin' to think of what to do next. All those cop shows I've seen had to be good for something, right?
Eventually, I came up with an idea! Cell tower records! They use those all the time to find where abouts people's whereabouts are. Although, I probably wouldn't be able to get 'em myself... But I was pretty sure I knew someone who could.
"Come on, pick up..."
"Hello, you've reached Chief Palmer."
"Palmer, this is-"
"I'm out of the office right now, leave me a message and I'll get back to you when I can."
Shoot! I hung up and didn't bother leaving a message. If he wasn't gonna answer my calls, then it was time for me to head down there and get some help myself!
---
I barreled my way through the NWPD headquarters and headed straight to the chief's office. Commence the door pounding!
"PALMER! Open up in there!"
"Um, excuse me?"
I turned around to see a Noki standing behind me.
"I'm Deputy Chief Shell. The chief's gone home for the night, but I might be able to help you," she said. "Hey, you're Shmaluigi's brother, right? Shmwario, isn't it?"
Normally I'd be happy to be recognized for once, but things were lookin' kinda dire here... "Yeah, that's me. Listen, I think my brother's in trouble, he was s'posed to be on a cruise and then he wasn't, and I'm not gettin' anything when I call him, and, and... Look, I just need to get access to his cell tower records, alright? I think that'll give me something I can work with."
"Oh dear, that's certainly a problem... Well, um, we'll need a warrant for that, so you'll have to file a missing persons report."
Yuck, red tape!
---
Things went pretty well, and we were able to get the records after a few days. Shmaluigi's last known location was in a tunnel about half an hour away. The next step was to hunt for clues, so I went there to meet up with Deputy Shell.
"Hey... Uh, if you don't mind me saying, you don't look so good," she said as I stepped outta my car. I hadn't slept much, or bothered to shave, I guess it was showing.
"Nevermind that, what do we got here?"
"Well, I've been searching the area while I was waiting for you to get here, and... I just can't find anything. It's like he just vanished into thin air."
Doing my own search, I had to agree with her. There was nothin' out of place here. Except litter.
"Yeah, I think you're right," I admitted. I didn't know what else to do, so I just sat down on the side of the road in defeat. The one thing I could think of, and it just went up in smoke.
I think Shell could see that whatever was left of my morale at this point had gone down the toilet, 'cause she piped up. "Hey, listen, we'll, um, we'll do all we can, alright? He's one of our best."
"Yeah," I thought to myself, "mine too."
---
More time passed. The summer dragged on and eventually slipped away. The NWPD kept lookin' into things in their usual ways, and I did some investigating on my own. Grasped at straws a bit. Neither of us came up with much.
Then, one day, my phone rang.
"This is Shmwario, whaddaya want?"
"Shmwario, this is Chief Palmer. Listen, you need to come down to the shoreline."
"Alright, I'm on my way."
It seems odd, but even though I didn't know what to expect, I almost felt a sense of relief? I'd rather know something than be kept in the dark.
Beats bein' emotionally numb for months on end, anyway.
I showed up at the shoreline, and right away noticed the amount of NWPD activity here. I found Chief Palmer and made my way over to him.
"Oh, you're here," he said, "I have to warn you, it's not pretty..."
He gestured to a nearby Koopa Troopa, who lifted up the tarp lying on the ground. Sure enough, there was Shmaluigi - or what was left of him, I guess. His skin was all bluish-greenish, his hair was full of seaweed, and the outfit he'd bought to wear on vacation had definitely seen better days.
I scratched my head, wondering how I was gonna fix this mess.
I certainly didn't expect what happened next though - his eyes shot open, glowing bright blue through the shattered lenses of his sunglasses.
"Waaahhh!"
"GAH! Jumpin' Jersey!" shouted a mustachioed blue Toad standing nearby. "He's... He's undead! Da man's back again! Sham-luigi's become Shamble-igi!!"
"Well, this shouldn't be too much of a problem," I said, pulling Shmaluigi up off the ground, trying not to break off an arm or anything because that would've made things even more complicated. "Just gotta do a little, uh, unzombification, and we'll be good to go! No sweat, bwahaha!"
"Are you sure about this?" the chief asked. "I have a feeling you're a little in over your head here."
"Don't worry, I got this covered!" I replied.
I definitely didn't have this covered.
But come on, how hard could it be?
"Waaahhh?"
"Ah shut up, even when you're dead ya gotta give me flack."
To be continued...
---
Thanks for reading the first Shmaluigi, Private Investigator story of the year! Or I guess more like Shmwario, Private Investigator for the time being. I'm excited to be finally getting around to tying up loose ends from the hit forum game Awards Killing Game: Odyssey with this new arc. If you missed it, don't worry, all you really need to know for now is that things didn't end too well for poor Shmaluigi! We'll cover the rest in due time. Anyway, I'd like to thank Roserade for returning to write that bit of dialogue for Shmue Toad towards the end there. Be sure to come back next month to see how things unfold for these brothers!
StoryCentral
Written by: Cosmic Cowboy (talk)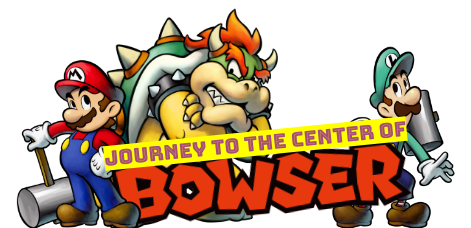 Tonight, AN ILLNESS HAS PLAGUED THE MUSHROOM KINGDOM! Our heroes Mario and Luigi have been called, but who's coming to crash the party?! Find out tonight on JOURNEY TO THE CENTER OF BOWSER!!
---
Chapter 1: The Blorbs?! YIKES!!
Mario was a recreational doctor, and, in his medical opinion, this epidemic sure was something. Toads, inflating like balloons, unable to move except for being rolled like beach balls. It was as if they all lived in some weird internet fanfiction. The lovely Princess Peach, obviously, had called an emergency meeting to discuss this disease, which had obtained the name of "The Blorbs". And so, Mario and Luigi had arrived at the Princess's pretty pink castle. Well, Luigi wasn't invited, but Mario had brought him anyway. Why? Because Luigi had a right to be in the know, damn it.
Mario opened the lavish, oversized doors to the castle, being greeted by yet another Toad.
"Hey, Mario! Hurry! Hurry!!" exclaimed the Toad.
"I'mma hurrying! I'mma hurrying!!" Mario responded, "Hey, Luigi! Come on!!"
Luigi hopped in the door, still trying to put his overalls on, "Yeah! I'm here- OOF!!"
Luigi had tripped on thin air, falling to the floor in a spectacular fashion. "You gotta hurry! Everyone's waiting for you in the conference room!!" the Toad screamed.
"Hey, we got it!" Mario nodded, "You just tell everyone that the Super Mario Brothers are on the way!"
The Toad raised his eyebrow before turning to the taller of the two twin brothers, seemingly not noticing him before. "Oh, Luigi came too," the Toad snarked, "Super."
Mario snarled, "You'd best watch that mouth if you know what's good for you." "Eep!" they gulped, "L-Look…the conference room is in the back…j-just hurry! I'll let everyone know you're here!!"
The Toad rushed off, leaving Mario and Luigi in the dust. Mario picked up his brother off of the floor, patting him on the back.
"You okay, bro?" The portly plumber asked.
"...yeah. I'll be okay," Luigi sighed.
"...okie-dokey, then. Let's-a go."
Mario and Luigi started their trek through the expensive-looking halls of Peach's Castle. It seemed as though every time they entered the castle, the layout had changed. However, despite the seemingly magical ability of the castle, Mario and Luigi found themselves nearing the conference room sooner rather than later, and, much to their surprise, the conference had already started. The brothers equipped nervous smiles. "Ah!" Called out an elderly voice, belonging to the Mushroom Retainer Toadsworth, "Master Mario! Master Luigi! We have awaited your arrival!"
"Yeeeeaaaaaahhhh," The plumbers seethed in unison, taking their seats at the table. A nerdy-looking Toad cleared his throat, pulling some papers out of a binder, "Alright…so, from what we've gathered, a likely cause is a mushroom sold by a merchant just outside of town."
"Oh my…" said the Princess, "You mean to tell me that a mushroom, of all things, is the cause of all this?"
"It looks like it. We spoke to all the infected Toads that we could, and they all said they had bought this funky looking mushroom."
"So, this mushroom…" Mario spoke up, "It can't possibly be a local variant, right..? But who'd introduce such a thing?"
"Well," Explained the nerdy Toad, "It seems to be some guy wrapped in a cape, and they don't seem to be from around here at ALL."
A young, humanoid blonde woman spoke up from across the room, "That guy's our only lead…we gotta go find them!"
"Master Mario! Master Luigi!" Called Toadsworth, "The hour of action is now! You must stomp this fiend as if they were Bowser!"
"Oh, yeah!" Exclaimed Mario, "We got this, right, Luigi?"
Mario only got his brother's snores as a response. That, and deep, evil laughter. "DID SOMEONE PAGE THE KING OF AWESOME?!?!?!"
The room instantly went into a panic, with most trying to flee out a back door.
"PEACH!!" Called the conference crashing Koopa King, "So, I'm an outcast to ya, huh?! What'd I ever do to deserve that?!" Bowser punched a hole through the table, allowing a clear path to the Princess. "W-Whatever are you doing here?" Peach stuttered out, "We are in the middle of a very important meeting! The very kingdom is in peril!"
"You don't think I already knew?! Guess what, your Royal Genius, I LIVE HERE!! I have a right to be here, duh! Come on, uh, you! Green Stache! Back me up here!!" Luigi did not respond, as he was too busy snoozing, causing the foul king to facepalm.
"Oh, whatever, my point still stands!!" Mario leapt in front of the Princess, "Er, Scusi, but did you RSVP? We didn't exactly save a seat for you, you know."
In a fit of rage, Bowser breathed fire at the two, causing Mario to tackle the Princess out of the way.
"CRUD!!!" Bowser cried, "MARRRIIIOOO!! Are you SERIOUSLY trying to start with me AGAIN?! I hear about this meeting, and think, 'hey, I should act all nice', right?? But, hoo boy, the second I see your ugly mug, Mr. Nice Bowser is GONE! Yeah, you know what?! Forget your dumb meeting!! I'll just pummel you and snatch Peach!! SHOWTIME!!"
"Alright, if you insist!" Mario snapped back, "LET'S-A GO!!"
---
Bowser's at it again!! Will Mario be able to beat back the evil Koopa King?! WILL LUIGI EVER WAKE UP?! Tune in next time for Mario versus Bowser, ONLY ON STORYCENTRAL!!