The 'Shroom:Issue 186/The 'Shroom Spotlight
From the Super Mario Wiki, the Mario encyclopedia
Jump to navigation
Jump to search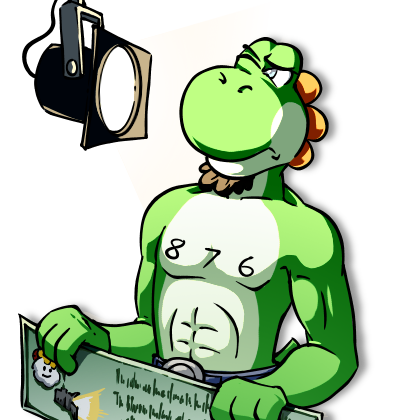 Hello readers of The 'Shroom, and welcome to Spotlight. Spotlight is a community project which aims to fix up the articles on the wiki which have issues. These issues can range from poor writing, to a lack of images, to even just needing a credible source.
The autumn months are now drawing in, and as such skies are greying and darkening much sooner, leaves are falling from the trees, and acorns and pine cones can be found in the trees if you're still playing New Horizons. It also means that it might be good to curl up with a book and a cup of hot chocolate, gaze out the windows at the beautiful scenery and then get cracking on with this month's edition of Spotlight.
We had an absolute belter of a month last time out as all of our goals were successfully completed. Thank you so much our hard-working readers and editors, it really means a lot to see our wiki improve itself. It was Yoshi the SSM (talk) who went ahead and created Boo's Treasure Chest!, while 0blivion (talk) was the one who added the information to Sombrero. It's special thanks to ThePowerPlayer (talk) who added a table for the level appearances of Slidebrella, as well as updating our source for File:YCW Egg Plant.png and fixing the quality for File:DropBlock.png. Finally it took three of our users, WildWario (talk), HedgehogGaming (talk) and Oinkers42 (talk) to fix the writing quality of World 2-3 (Super Mario 3D Land).
And now onto this month's focuses:
| Article | Category | Focuses |
| --- | --- | --- |
| Amsterdam Diamond Center | Wanted article | Mario Is Missing! is missing a lot of content, including an article on this Dutch landmark. |
| Donkey Kong | Stub article | Donkey Kong does have issues with its writing, but we're also concerned about the section concerning his Mario + Rabbids Kingdom Battle appearance, with no information on his abilities and weapons as a playable character. |
| Web | Rewrite and expansion required | The issue with this article is that it only deals with Webs from New Super Mario Bros. 2, but there are plenty of other games that use them like in Donkey Kong Country 2 or Super Mario Galaxy. Let's make sure all of their appearances are heeded. |
| Flopside | Articles that need more images | Not only would it be great for some more info on this Super Paper Mario world, it is in desperate need of more images. There is only one to illustrate the area, and given it has plenty of headings that could do with an image let's get that fixed up! |
| File:M&LDT Hint Command Block.png | Image quality requested | Much like last month, we have another tiny blurry image of a block. Maybe variety isn't the spice of life. |
| Party Host | Citation needed | We all love a party, but the Party Host is either a title we've come up with and therefore should be conjecture, or it's hiding somewhere and we need to source it. |
Now just before I leave you, I'd like to tell you about unimplemented proposals. There are currently thirty-one that need to be implemented, dating as far back as 2018, so think of this as a continuous Spotlight goal until they're all completed. Additionally, there are many unresolved discussions that we would love to see come to some sort of conclusion. Some might have already concluded and just need the template removed, others have been waiting for a response for years.
Thanks for tuning in to the newest edition of The 'Shroom Spotlight! Be sure to turn up next month, where we'll be reviewing the progress on the above focuses. If you have any questions or suggestions about this month's set of the article focuses, then please get in touch through the dedicated topic if you have a forum account. If not, then please contact me on my talk page, but you are far more likely to get a quick response if you go through the forums. You are also welcome to make suggestions on what you think we could focus on in our next edition! Thank you, and good luck!